Amazon Prime Day 2023: Save Big on This Mega Event!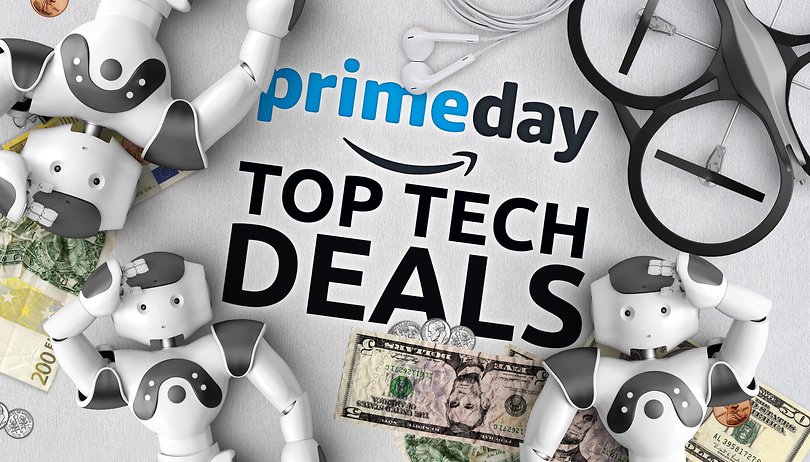 The time has finally arrived and Amazon has officially started Prime Day 2023. On July 11 and 12 of this year, Prime members will once again be able to enjoy numerous offers, with rock-bottom prices waiting for you. In this overview, we will keep you up to date on the best tech deals and you'll also discover offers in the smart home, gaming, smartphone, and other product categories.
When does Prime Day start?
Update: Prime Day* is live! Prime Day is of the most important and biggest discounts online campaigns, with Black Friday coming in a close second. All you need is an active Amazon Prime subscription and a little bit of patience.
This is because, during these sales, Amazon tends to offer lightning deals with rock-bottom prices on popular devices. You ought to act quickly before the stock runs out! In our overview, we provide you with the most important offers from the entire tech range that is available on Amazon, so be sure to check back regularly as soon as things kick off.
---
Note: Amazon Prime Day remains exclusive for Amazon customers with a Prime subscription. Such an event with huge savings will take place again next year! Not a Prime customer yet?—Here's where you can sign up for a trial subscription*
---
The 2023 edition of Amazon's big sales day officially runs on July 11 and 12. In our selection, we compare the offers with the general prices on the net. You might be able to find cheaper prices elsewhere as Amazon's discounts are based on the recommended retail prices, some of which have remained unchanged for years.
Amazon Prime Music, Kindle & others: Amazon services on offer!
Even before Prime Day started, the company offered the first deals on its own services. For example, Prime members will receive Amazon Unlimited Music* for 3 months without having to fork out a single cent. If you like this Amazon service, you will pay $8.99 per month after the trial period.
In addition, you have the option to check out the Audible audiobook service for free for three months. At the end of the trial period, you will pay the usual $14.95 per month. Book lovers can also get their money's worth with Kindle Unlimited. You normally have to fork out $11.99 per month for a subscription.
Gamers among you might know by now that the Twitch streaming platform belongs to Amazon. This means as a Prime customer, you can enjoy numerous free goodies and games. Until Prime Day, you will receive free new games each week and can thus obtain games like Prey or Star Wars: The Force Unleashed for free.
In addition, there is a lot of in-game content for Overwatch 2, World of Warcraft, League of Legends, and others. All you need is an active Prime subscription*. As a little bonus, you can also give a free sub to your favorite streamer every month.
If you already use the "Amazon Photos" app, you should quickly upload your first picture. This is because you can now receive an Amazon voucher worth $15 if you download the app and upload a picture. You can find all the relevant information by clicking on the button.
Always exciting: Echo devices, Fire TV sticks, Kindle & more!
Even before Prime Day, we already found amazing prices for Amazon's various Echo devices. The second-generation Echo Show 5 is available for $89.99. Check a few other Amazon deals below:
The best smartphone deals for Samsung & others on Prime Day
Amazon is also slashing prices for its smartphone offers on Prime Day. Flagship shoppers may not find the best deals yet (those usually come around Black Friday), but everyone else will have plenty of options to upgrade in 2023:
If you want a new smartphone but do not quite know just which one you should pick up, we have prepared some "Best Of" lists:
Robot vacuum cleaners, robotic mowers, and more: the best smart home deals
Smart helpers such as suction and mowing robots are available again to the masses on Prime Day at exciting prices. This include security cameras, smart doorbells, or thermostats that are often available at greatly discounted prices.
In order to get the best our of your money, we recommend our "Best Of" lists here:
Saving energy on Prime Day: balcony power plants, power stations & other offers
More and more people are trying to live with green energy sources by generating it themselves. Balcony power plants are particularly suitable for this purpose. Because of that, power stations and other energy solutions are also available at significantly reduced prices on Prime Day.
We have some exciting articles on the topic of "saving energy" here:
Smartwatches and headphones deals for Prime subscribers
Are you looking to upgrade to a better/newer smartwatch, earbuds or headphones? Then Prime Day is one of the best times of the year to shop for a new model:
LG, Philips, or Sony: the best TV deals on Prime Day!
Is it time to finally get rid of the old, fat, and chunky CRT TV? If so, you have the opportunity to pick up excellent TVs at low prices on Prime Day. In this section, you can read about the offers from LG, Philips, Sony, and other manufacturers. Amazon is offering its own-branded TV for a impulse-buy-level $100:
Gaming on Prime Day: the best deals for gamers
Of course, gamers would not want to miss out on Prime Day either, so you can not only find massively discounted games or the Prime gaming service, but also big discounts on peripherals like gaming mice or keyboards, and gaming furniture. You can find out which deals are available on Prime Day in this section.
The Amazon Prime Day 2023
The two days are likely to be among the most important days of the year for many bargain hunters. So do check back regularly to make sure you don't miss anything and secure the best deals for yourself. We will update this article regularly to keep you up to date at all times.
What do you think about Prime Day? Do you already have an active Prime subscription and are looking forward to it, or would you rather wait for Black Friday in November? Please let us know in the comments! Also, feel free to send us your favorite deals on July 11 and 12!
---
Updated on July 12th with additional Prime Day deals.