Buying Guide: The Best Portable Power Stations With Solar Option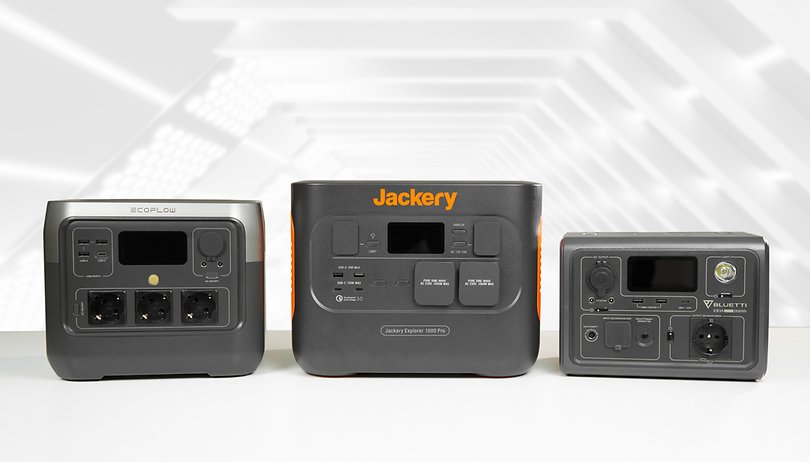 Are you on the lookout for the best power station that can be powered via solar? NextPit shows you the best portable power stations in this article. Whether it is for camping, music festivals, or simply for the home, a power station allows you to be prepared for all eventualities including power outages. If you buy a power station with a solar panel, you can generate your own electricity anywhere and at any time, provided the sun has not disappeared behind a mushroom cloud from a nuclear explosion. Read on to find out which is the best power station that matches your purpose and budget, and whether it comes with or without a solar panel.
In the following table, we have selected the best power stations for you in the four price categories of up to $500, up to $1,000, up to $1,500, and over $1,500. The first three are all very portable with a maximum weight of 15 kilograms. But even the Jackery Explorer 2000 Plus is still quite portable with 28 kilograms thanks to wheels. Basically, the heavier a power station, the more capacity and output power it offers.
We explain the most important differences between the power stations in detail in our buying guide below.
The best portable power stations by price category
Before we go into more detail about the individual solar generators from the table and their features, we would like to first explain the most important technical specifications and features that you should pay attention to when buying.
Jump to:
1. Buying advice for power stations: What is important?
1.1 Maximum output power
The most important question you should ask yourself is this: Which devices do I want to charge or power with the portable power station? Usually, you will find a sticker or an embossed label on electrical devices that feature the wattage your device consumes under continuous operation. If you add up the power of all the devices that you want to operate simultaneously with your power station, you will obtain the output power that your future power station should be able to deliver.
Some of the power stations in our comparison manage up to 1,800 watts of continuous power. That is not only enough for chargers for smartphones, notebooks, cameras, etc., or various lamps, fans, TVs, and refrigerators, but also for heavy tools in the triple-digit range.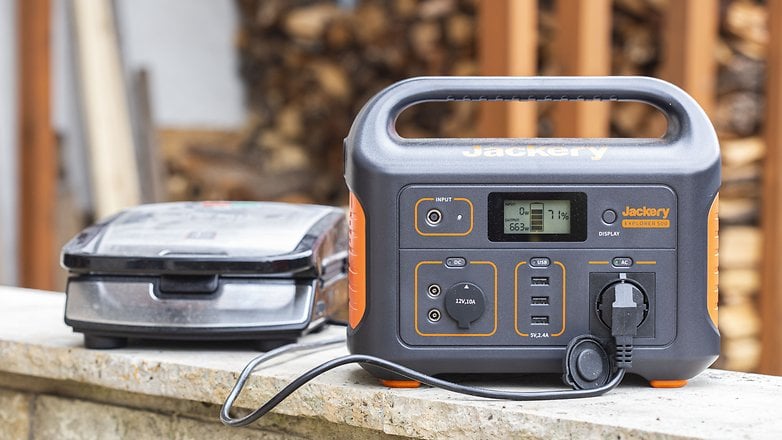 The power stations also manage to churn out more power for a short amount of time but switch off after a few seconds. The smaller Bluetti EB3A, for instance, offers 1200 watts for a limited time only, which is really remarkable for a device in its price range. Bear in mind that many consumers who use tools and devices will find that said tools consume more power when starting up than in continuous operation.
1.2 Power station capacity
The second most important question is: How long do you want to run these devices? The manufacturers always state the capacities of their power stations in watt hours (Wh). The calculation is quite simple: If your fridge needs 100 watts, you can continue to keep it running for five hours with 500-watt hours in case of a power outage. Either that, or you can get through a long workday with a power-hungry notebook anywhere.
As mentioned at the beginning, you'll also find portable power stations with significantly higher capacity and corresponding higher output power from all the manufacturers. However, more power always means additional weight and higher costs. So think carefully about where the most sensible compromise lies for you.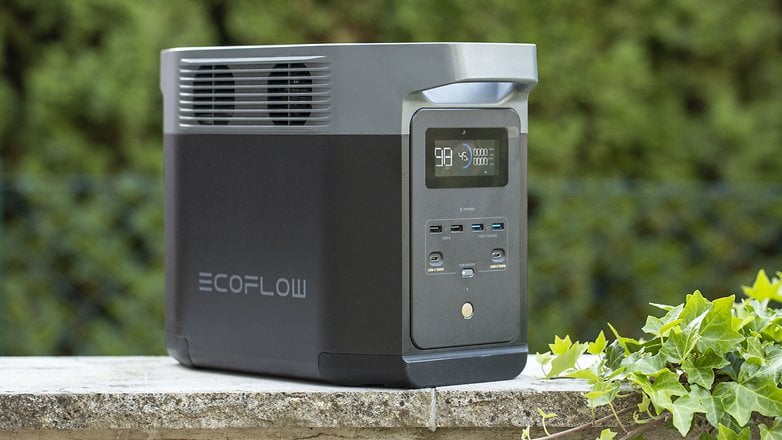 An important note about the capacity: The manufacturers always state the capacity of the battery cells, but in practice, they are never fully discharged to protect them from damage. We therefore always measure the actual capacity that a power station can deliver in our reviews.
1.3 Connections
All portable power stations in our comparison offer 220V AC sockets and can thus be used universally, although you surely cannot use them on Mars. In addition, you will also find the 12V socket that is found in virtually every single vehicle (the "cigarette lighter" port) as well as one or more DC outputs on all models.
You will also find several USB-A ports on all the power stations and a USB-C port at the bare minimum on most devices to keep up with the times. The models from Ecoflow and Bluetti even offer PD charging with up to 100 watts. You can find out which smartphones can be charged quickly with this in our guide to quick charging on smartphones.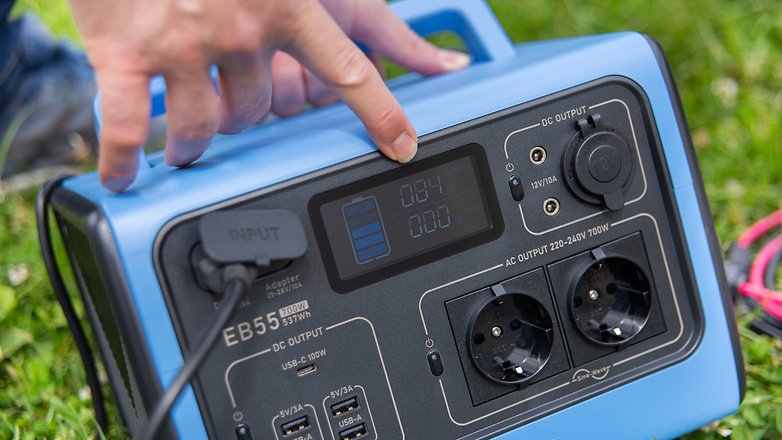 If you want to power a lot of devices via USB-A or USB-C, then you can save yourself the trouble of lugging around additional power adapters with the right model.
1.4 Charging options
Of course, all of the power stations in our comparison come with a power adapter so that you can charge them at the wall socket at home. However, the charging speeds differ from the slowest to the fastest model by a factor of five. If you always plan to charge your power station overnight, you can of course disregard this.
Besides charging via the mains adapter, there is usually also the option of charging via a car adapter, which is usually included in the box.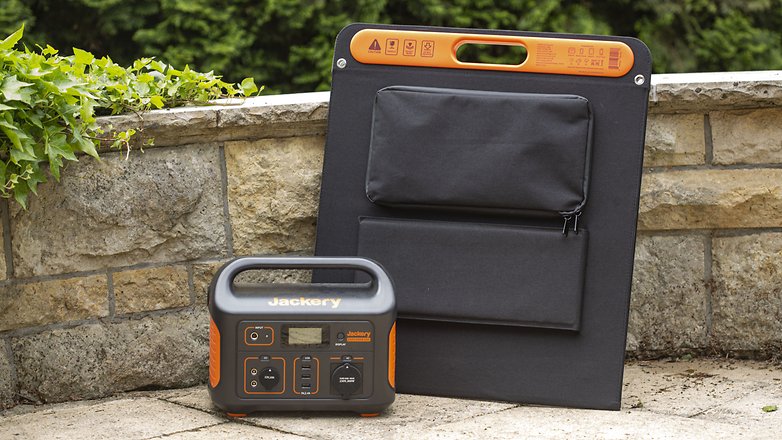 1.5 Solar option
The trendiest charging option for your power station at the end of the day would be the inclusion of solar panels. All models in this comparison allow charging via photovoltaics, where the manufacturers each have their own modules on offer. You can either buy them directly in a bundle with your PowerStation or purchase them as an add-on for a later period.
You can also find third-party solar panels as part of its accessories. However, you have to make sure that the photovoltaic modules are compatible with your power station or that you can get a corresponding adapter. To be on the safe side, we recommend that you buy the panels directly from the manufacturer of your power station.
You can calculate how long the charging process will take based on the rated power of the panels and the capacity of the battery. In our experience, you can count on about 90 percent of the rated power under the blazing midday sun. In hazy weather, cloudy skies, or in the evening, the charging power quickly drops to 60, 40, 20 percent, or less. In any case, patience is required when relying on solar energy.
Two battery technologies are commonly found in current power stations: Lithium-ion and lithium-iron phosphate (LiFePO4 or LFP). We know of the former battery technology from smartphones or electric cars. The advantage here is the good ratio of weight per capacity. Power stations with lithium-ion batteries are comparatively lighter than power stations with LiFePO4 technology.
However, iron phosphate batteries also offer two enormous advantages: First, they are significantly safer. Even if the batteries are damaged by a heavy blow, they do not run the risk of burning violently as lithium-ion cells. You can find videos on YouTube in which curious folk has even drilled holes in LFP cells, resulting in only significant smoke development.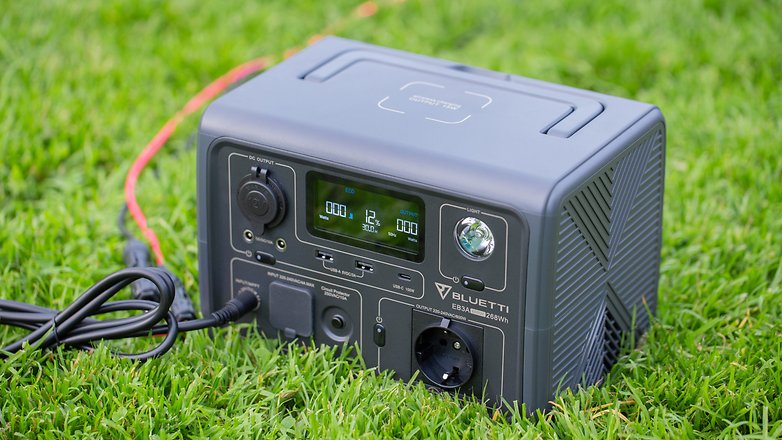 The second major advantage of iron phosphate cells is durability. While the capacity of lithium-ion batteries drops to 80 percent after about 1,000 to 1,500 charging cycles, this takes more like 2,500 to 3,500 charging cycles with iron phosphate batteries. If you use the power station twice a year at a festival, the difference does not matter. For everyday use, such as a buffer for the balcony power station, the difference can be enormous.
2. The best power stations
2.1 The best power station up to $500: Bluetti EB3A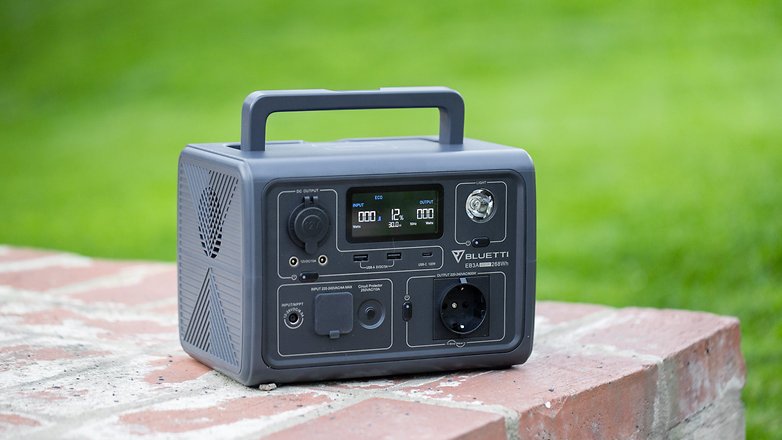 Together with the Ecoflow River 2 and the Jackery Explorer 240, the Bluetti EB3A is one of the super-compact power stations. While it is a tad more expensive than its two competitors, it offers a significantly higher output power of 1,200 watts for a short time and thus, greater flexibility when it is used. When we checked out the Bluetti EB3A, we were able to operate a microwave with the mini power station!
The Bluetti EB3A also performs pretty well when it comes to charging via solar: It is the only power station that manages 200 watts and is thus also suitable for somewhat larger solar panels. Another practical feature is that you can pair the power station with your smartphone via Bluetooth. This way, you can check how far the power station is charged or discharged from the comfort of your camping chair via the app, not to mention switching the output even. Here is a nice touch by Bluetti: There is a Qi charging pad on the top of the EB3A.
Check out NextPit's Bluetti AC500 review
In the following table, you can find a comparison between the Bluetti EB3A with other power stations that costs less than $500.
2.2 The best power station up to $1,000: Ecoflow River 2 Pro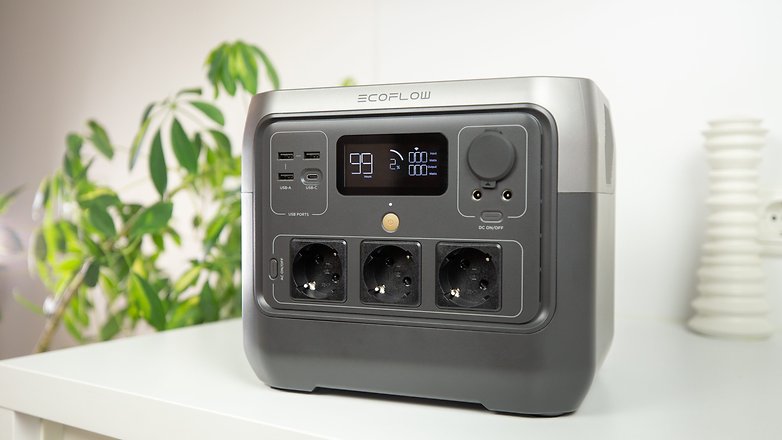 The Ecoflow River 2 Pro is great for power users. Like Bluetti's current power stations, it uses a LiFePO4 battery. This technology offers better durability than the Li-Ion NMC batteries used by Jackery. While Jackery specifies 500 charging cycles for each of its power stations until the capacity drops to 80 percent, Bluetti and Ecoflow promise a whopping 2,500 and 3,000 cycles, respectively. This is an important point for you if you use the power station for everyday work and not just for occasional camping trips.
Apart from that, the Ecoflow River 2 Pro convinces with an output power of 800 or even 1,600 watts, a strong 940-watt charging capacity, and a wide portfolio of ports. The app is also very practical, allowing you to monitor the charging status of the power station remotely and even switch the outputs on and off.
Click here for NextPit's review of the Ecoflow River 2 Pro.
In the following table, you can find other alternatives to the Ecoflow River 2 Pro from Bluetti and Jackery in the price range up to 1,000 euros. Did we forget an important model? We look forward to your comments!
2.3 The best power station up to $1,500: Ecoflow Delta 2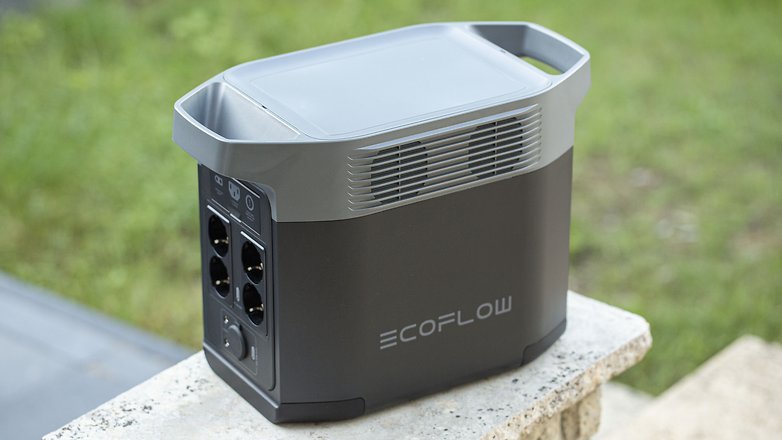 Bluetti, Ecoflow, and Ugreen are in an extremely tight race in the power station price range between 1,000 and 1,500 dollars. We have already had the opportunity to test the AC180, the Delta 2, and the Powerraum 1200. In practice, the Ecoflow Delta 2 convinced us a bit more than the two competitors. It is a tad more efficient than the power stations from Bluetti and Ugreen. On the other hand, the Bluetti AC180 offers a slightly higher output power, for example. It's really a neck-and-neck race.
The Jackery Explorer 1000 Pro, on the other hand, falls a bit short. While Bluetti, Ecoflow, and Ugreen rely on the safer and more durable LiFePO4 battery technology, the Explorer still uses a lithium-ion battery. LiFePO4 batteries offer about three times longer shelf life. Also, unlike the three competitors, Jackery does without a smartphone app, which can be really useful in practical use.
What we also liked about the Ecoflow Delta 2 are the protruding carrying handles that protect the display as well as the connection panels from damage. One disadvantage: They cannot be folded in and therefore increase the packing size of the power station. Bluetti, Jackery, and Ugreen have a slightly different principle here.
Click here for the NextPit review of the Ecoflow Delta 2
In the following table, you can see the technical data of the Bluetti AC180, Ecoflow Delta 2, Jackery Explorer 1000 Pro, and Ugreen Powerroam 1200 compared.
2.4 The best power station above 1500 euros: Jackery Explorer 2000 Plus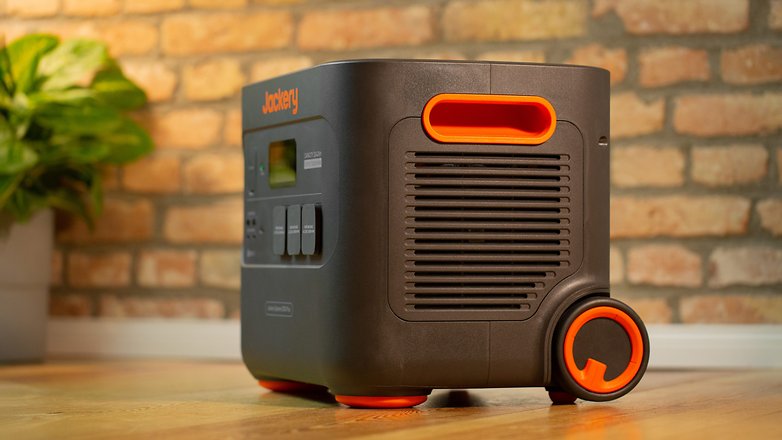 The Jackery Explorer 2000 Plus stands out from the power stations mentioned above—if only because of its significantly higher price of $1,980. But the output power of 3,000 W (or even 6,000 W for a short time!) also sets this one apart from the competition.
Jackery relies on LiFePO4 battery technology for this 28 kg behemoth that you can drag behind you on wheels like a suitcase. When charging, the Explorer 2000 Plus takes up a whole 2,213 Wh and brings it to an efficiency of 85 percent. This makes the Jackery Explorer 2000 Plus the most efficient power station that nextpit has tested so far. The thing is fully charged in about 100 minutes, and Jackery promises us 70 percent capacity after plenty of 4,000 charging cycles.
In addition, the power station can also be used as a UPS (uninterruptible power supply). It can therefore be used both at home and on the move. So you can decide whether you want to use it at the next festival or at home as an emergency generator. The only tiny catch is the high price of just under $2,000.
Do you already use a power station? If so, does it come with a solar panel? Do you also have a favorite that we haven't listed here or is there important information that you found missing? We look forward to your comments!
---
Note: We revised the article on June 2023—older comments may seem out of context.