No internet? No problem! The best Android and iPhone games to play offline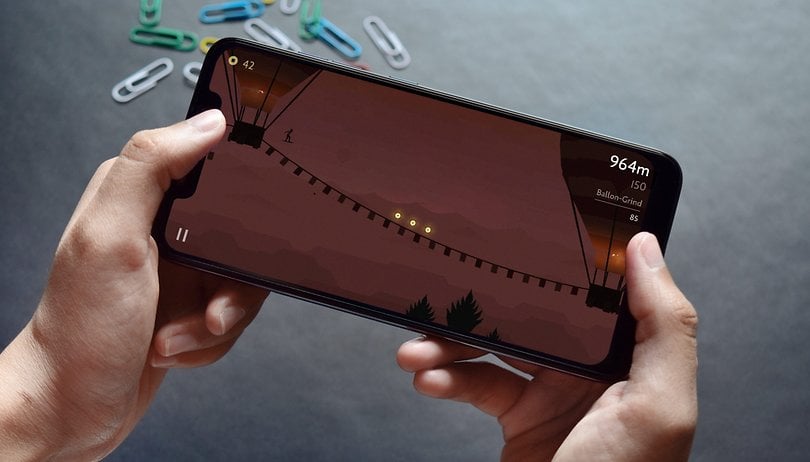 Looking for offline games for Android and iOS? Imagine this: You are on a boring train ride (or bus, or plane) and have already flipped through the onboard magazine for the umpteenth time? Then we have a solution for you: In our list you will find the best free and paid offline games for 2023.
Here is a list of offline games that we highly recommend. The list comprises a cross-section of different genres. As always, this is a subjective list and we look forward to your feedback and ideas for more offline games. We have revised this list to include the best offline titles as of March 2023. Do take note that not all of them are new titles, simply because old is gold.
#1. Dead Cells
Do you happen to like roguelike games? If the answer is in the affirmative, then Dead Cells should be one of your go-to titles. Available for both iOS and Android platforms, we can vouch for this title as one that will keep you occupied for hours on end.
You can choose from various framerates such as 30FPS, 60FPS, and unlimited FPS in the game's settings, allowing you to take maximum advantage of the latest smartphone technologies. In fact, if your smartphone is powerful enough, you will be able to enjoy the HD graphics option without dropping any frames.
This action platformer offers frantic and dynamic 2D action, where you are required to stay on your toes all the time as you learn of your enemies' patterns in order to stay alive. Progression is nonlinear to add that touch of replayability, since new levels are unlocked with each death. There will be a new free update on November 29, offering new bosses, enemies, weapons, and even a brand new ending!
In order to take full advantage of this game, we highly recommend getting a more premium handset (any flagship device will do, but if you are constrained to mid-range devices, then the ones that fall under the flagship killer category would do just fine). Here is a handy tip: those who feel like they need tactile feedback from physical buttons will do well to play this with a controller, although the touchscreen controls are adequate. Call us old school!
#2. Dadish 3
Now in its third instalment, this also happens to be Dadish's most action-packed adventure to date! It is a retro platformer that offers 50 excellent levels to jump and navigate. Basically, you are a radish that is off on an adventure to prevent his kids from being used as the primary ingredients in a hearty bowl of radish soup! Challenging environments that you will navigate include a sewer, desert, or even having mounts like a dolphin (that's simply nuts!).
The enemies are cute and creative as you deal with murderous ice creams, cupcake snakes, foul bread (not moldy, just that they are in a bad mood), and other foes with a junk food vibe. There is a total of 5 bosses to overcome, and the soundtrack ditty can end up as your ear worm if you are not careful!
#3. Plague Inc.
The fact that a game like Plague Inc. boomed at the start of the Corona pandemic is admittedly somewhat morbid. However, the game's innovative concept makes it a really good way to pass the time. In the standard version, you must terrorize the world's population like a virus while they try to find a cure.
You have mutations for your disease at your disposal, but you shouldn't advance them too fast, otherwise, it's game over. So the strategy game is all about developing the disease wisely without getting too hectic.
The game offers different difficulty levels, which you can unlock after successfully completing a level. You can also unlock gene mutations to boost your disease from the start, which is incredibly important, especially at higher levels. Meanwhile, there's also "The Cure."
Here, you take the part of researching cures and must fight an unknown disease. The gameplay doesn't change though. So if you fancy a strategy game where you don't control hordes of armies, Plague Inc. is sure to be fun!
#4. Stardew Valley
Life on your own farm can be very comforting - at least virtually. Stardew Valley was already considered one of the best indie games of all time when it was officially released on PC in 2016. While games like "Hay Day" or "Farmville" focus on an active community, you have your little farm in Stardew Valley all to yourself. Whether you take care of animals, cultivate fields, or go shopping in town is entirely up to you.
Especially lovers of games like "Harvest Moon" or "Animal Crossing" will get their money's worth with this mobile game. By the way, "Stardew Valley" is also an RPG. This means you can interact with the NPC's to build up a relationship with them. This will surely help you throughout the game. The developer also offers constant performance and content updates, allowing you to spend countless hours on your farm. I'm moving to the country now.
#5. Alto's Odyssey
We have already recommended this chilling game to you in a different article because of its beautiful graphics. It works well with the amazing sound and wonderfully relaxed gameplay where you will be able to kill time on Alto's Odyssey when offline.
It is the perfect title for moments when you will remain offline for a longer period of time, such as when you are on a flight. There is no point in getting all worked up then since this game relaxes you and keeps you captivated even during a long session, where you will feel as though time flew by (ba-dum-tsh!) quickly. Alto's Odyssey offers all of the above, which is why we highly recommend this endless running title to you.
#6. Exploding Kittens
Ever wondered how physical games get translated into the digital world? Exploding Kittens is one fun card game. In fact, it is the most-funded game in Kickstarter history, so to be able to have it in the mobile format, er, blows away our minds! The mobile version will include the Party Pack, Betrayal, Streaking Kittens, and the all-new Barking Kittens expansion.
One major advantage of this fun card game in a mobile format is how there is no need to bring around physical cards that are damaged with each single round. You can play offline with your friends face-to-face, and just in case you cannot find such like-minded friends, there is always the option to challenge the AI or cross the sacred line—indulging in an online session with strangers!
#7. Mini Metro
Are you a born city planner? In Mini Metro for both Android and iOS platforms, you are tasked with equipping the largest and most diverse cities worldwide with a functioning mass transit system. The fun factor is there from the very beginning, where you switch and move on a 2D map while checking out the underbelly of each city.
The game relies on symbols to show you which passengers need to be transported to their respective destinations. It's up to you to connect the stations. Each week (time moves differently in the game and does not correspond to real-world time), you will receive new locomotives, lines, tunnels, bridges, or wagons for you to continue developing the city's transportation system.
Here is an important tip: Always keep an eye on the most important metro stations. If a station is overcrowded, the game ends. The goal of the game is to prevent overcrowding at stations when playing, which will obviously affect your high score in return.
In normal mode, Mini Metro is always playable offline. In "Daily" mode, there's also an online variant where you can compete with players worldwide.
#8. Bricks Breaker Puzzle
Bricks Breaker Puzzle for iOS and Android is all about breaking things, albeit in a harmless manner though. You shoot a ball by tapping the screen. With it, you have to hit the bricks and break them. The item's durability is displayed as a number, if it drops to 0, it will break, with the caveat that it must not fall onto the ground. Okay, probably everybody knows the game's mechanics that stems from the classic Alleyway, right?
Bricks Breaker Puzzle also offers a multiplayer mode where you can compare your stats. This feature is only available when you are online.
#9. The Room: Two - Puzzle fans, rejoice!
The Room Two is a physical puzzler that comes in the guise of a mystery game. You dive right smack into the middle of the action within a beautifully crafted, tactile 3D environment. It is so good, it is a recipient of a BAFTA award, so you know that it has earned its chops.
BAsically, you are tasked with following a trail of cryptic letters from an enigmatic scientist who is known to you only as "AS". Be careful when playing this, as you might end up too engrossed that you begin to fail in telling the difference between reality and fantasy as the compelling world of mystery and exploration encompasses your every waking (and perhaps, sleeping) moment.
Clever puzzles will certainly keep you engaged for hours on end, and the visuals do add to the spooky atmosphere. Who says you cannot play out a spooky story? There are four titles in this series altogether.
#10. Mekorama: Monument Valley for robot friends
If you've ever played Monument Valley, you'll also find pure joy in Mekorama for both Android and iOS. In this offline game, you control a small nameless robot by navigating it through carefully crafted 3D worlds. Using the "tap-to-move" mechanism, you indicate the direction in which the little robot should wander.
The difficulty of this game lies in the towers on which the robot moves - these are 3D towers. In higher levels, you will have to turn a lot and consider both elevators and tunnels along the way to ensure your little robot arrives at its destination safely. To make matters more challenging, the robot can also fall off - in which case you'll have to start the level all over again.
The nice thing about Mekorama is that you not only have 50 levels to indulge in, but you can also create your own levels. Self-created worlds can then be shared with your friends around the world via QR code. But even the existing 50 levels are challenging enough for most. If you have VR glasses, you can even play Mekorama as a VR version, but this version will set you back by $3.99.
#11. Bloons TD6
Fancy some strategic thinking in this tower defense game? While you figure out that this genre has more or less exhausted all of its possibilities, Bloons TD6 comes and blows your mind away. It shares many similarities with its predecessors, where the task is simple: set up as many towers as you can possibly afford along a road in order to annihilate any baddies that come your way.
There are 20 maps to go through with five different upgrade levels, and to aid you in your quest, you have heroes and 19 towers that offers a trio of upgrade paths. Depending on the situation, there are also individual tower upgrades to consider. This game will not get old quickly simply because you can crank the difficulty level up (or down) a notch to suit your skill level, while various game modes increases its replayability.
#12. Crossy Road
Do you constantly fidget about simply because you feel uncomfortable sitting all by yourself while waiting for the next bus or train? Alleviate some of that discomfort with this endless crosser.
Yes, it is not an endless runner, but more of a unique gameplay that requires you to move forward constantly while avoiding different obstacles to prevent yourself from ending up as road pizza. It is guaranteed to keep you occupied during the more mundane moments of your life.
There are in-app purchases, but most of these are virtually for cosmetic value and do not change the gameplay in any way at all. In other words, this is not a pay-to-win title, and all that it requires is patience, skill, and a rub of the green to obtain a high score. Got to love the pixelated graphics that are simply too cute to be true.
#13. Badland: Offline game for action fans
This game is certainly not one of the newest games available, but it is still one of the favorite games among the NextPit editorial team. Badland on both Android and iOS is an incredibly good-looking action-adventure sidescroller that impressed us with its loving yet gloomy atmosphere.
In the game, you happen to be some species of bird and have to steer your character through a forest. Numerous dangers and traps are there to slow down your journey. Badland scrolls on and on, and when your bird reaches the left edge, you will restart from the last checkpoint.
In total there are more than 80 levels to complete, but only the first 40 are free to play. The other levels can be purchased via an in-app purchase. Conveniently, there is a multiplayer mode in which you can explore a total of 21 levels on one device with up to four other players.
#14. Limbo: Lonely through the desolation
Limbo is a platformer on both Android and iOS platforms, where you control a young boy who wanders around a lonely and monochrome world, searching for his lost sister. The game is a classic indie title that has been painstakingly ported over to the Android platform (smartphones and tablets), with its humble beginnings on iOS.
Limbo's world is sad, creepy, and incredibly intriguing, and you'll quickly get sucked into the story. Total gaming time with this can be rather short, but definitely worth the entry price to support a tiny indie studio. Here is a little tip to help get you started: beware of spiders!
#15. Riptide GP: Renegade: Offline game for (jet ski) racers
Riptide GP Renegade is a jet ski racing game for Android and iOS platforms that will keep you entertained for a long time: In a somewhat post-apocalyptic environment, you whiz through water courses that are not only peppered with many obstacles, but your opponents are also not shy to make short work of you.
To be faster, you can switch on your turbo. Since turbo will not last forever, you can recharge it by performing stunts during the race. The more complex the trick, the more turbo energy you receive. Controlling the jet ski and performing tricks are shown in a tutorial, which also serves as an introduction to the story.
In addition to the impressive graphics, the gameplay is also incredibly challenging: This is because you are not on solid ground, but are racing across water that requires plenty of intuition to keep the jet ski under control. Challenging tracks, great graphics, and is even playable offline: What more could you want?
Why do we actually need offline games?
There are situations when our smartphones are offline. For instance, we deliberately go offline because we want to escape the stress of social media, WhatsApp messages, news, or even work emails. Also, getting onto a train in the metro or subway system is one situation where it is all too common for our LTE connectivity (let alone 5G networks) to drop or when we want to avoid bill shock when we return from our holidays abroad.
If you want to be able to use your smartphone without a data connection under such circumstances, it makes perfect sense for apps that function offline. This becomes even more important the longer you have to go without an Internet connection.
This article will include recommendations of games that work perfectly fine offline. Bear in mind that it does not mean these titles will never access the internet. Some do have cloud features such as Google Play or require you to download new levels on demand.
By the way, if you use Google Play Games or Apple's Game Center and are keen on retaining your in-game achievements, you can play these titles offline without any hesitation as the next time you are connected to the Internet, these achievements will be automatically updated accordingly.
Hot tip: Launch the game once with an internet connection so that it can load all of the necessary data and information. If you're on an airplane, you'll need to remember to do this before takeoff. If you're not connected to the internet, you can also launch the game, albeit without having the latest game data available.
Remember, these recommendations are just the tip of the iceberg. With so many great offline games for iOS and Android out there, we want to hear from you! If you know of any games that you think should be on this list, or if you have a personal favorite that you'd like to share, please let us know in the comments below. Your input could help other gamers discover their next favorite title!
---
Since this post is frequently updated (last updated: March 2023), the comments below may appear out of context. Nevertheless, we'll keep them there for the sake of completeness and fairness to our commenters.