Best mid-range phones for under $400 in 2022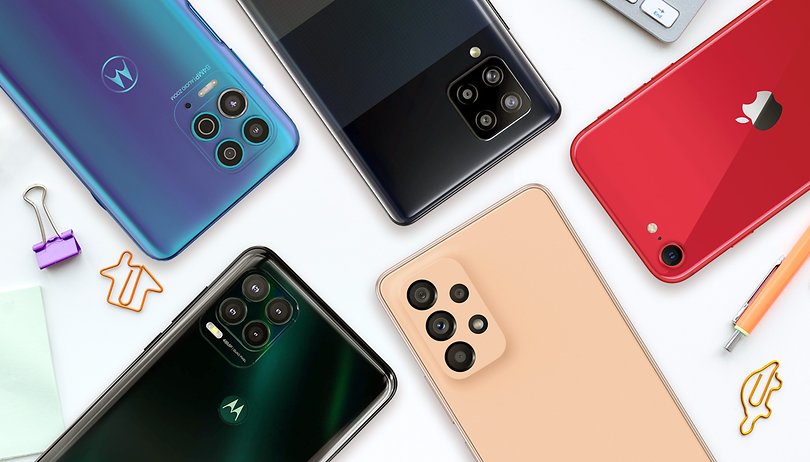 Have $400 to spend on a new smartphone but confused about what to buy? Let us help. In this article, we list the best smartphones available for you to purchase for $400 or less—from gaming-ready SoCs with 5G to 120 Hz displays and decent cameras. Without any further ado, here are our favorite smartphones under $400 for the US market! NEXTPITTV
If you happen to be in a hurry and want to know what we think is the best $400 smartphone currently available, you can quickly read the table below, but if you want more information on our best $400 smartphones, then I recommend you read their entries below or their reviews (where available) before making a purchase.
The best smartphones for under $400
Best tip
Apple tip
2 in 1 tip
RAM tip
Stylus tip
Product
Picture

Display

6.5-inch FHD+ Super AMOLED
120 Hz Infinity-O display


4.7 inch IPS LCD,
750 x 1334 (~326 PPI)


6.7-inch LCD
1080 x 2520 90 Hertz (~409 PPI)


6.6-inch Super AMOLED
720 x 1600 (~266 PPI)


6.8-inch IPS LCD,
1080 x 2400 (~387 PPI)

SoC
Exynos 1280
Apple A15 Bionic
Qualcomm Snapdragon 870
Qualcomm Snapdragon 750 5G
Qualcomm Snapdragon 480 5G
Memory
6/8 GB RAM and 128/256 GB Storage
4 GB RAM | 64 / 128 / 256 GB Storage
8 GB RAM | 128 GB Storage
4 / 6 / 8 GB RAM | 128 GB Storage
4 / 6 GB RAM | 128 / 256 GB Storage
microSD
Yes
No
Yes
Yes
Yes
Software
Android 12 mit Samsung UI 4.1
iOS 15.6
Android 12
One UI 4.0 based on Android 12
Android 12
Rear camera

Main camera: 64MP, f/1.8, OIS, AF
Ultrawide: 12MP, f/2.2
Macro: 5MP, f/2.4
Depth: 5MP, f/2.4




Main Camera: 12MP, f/1.8, PDAF, OIS
Main camera: 64MP | f/1.7 | 79°
Ultra wide-angle/macro: 16MP | f/2.2 | 117°
Depth: 2MP | f/2.4 | 83°


Main camera: 48MP, f/1.8, PDAF
Ultrawide: 8MP, f/2.2
Macro: 5MP, f/2.4
Depth: 5MP, f/2.4



Main camera: 48MP, f/1.7, PDAF
Ultrawide: 8MP, f/2.2
Macro: 5MP, f/2.2
Depth: 2MP, f/2.4





Front camera
32MP, f/2.2
7MP, f/2.2
Main: 16MP | f/2.2 | 73°
UItrawide: 8MP | f/2.4 | 118°

20MP, f/2.2
16MP, f/2.0
Battery

5,000 mAh
Quick charging at 25W


2.018 mAh
Fast charging at 20W
Qi wireless charging


5,000 mAh
Fast charging at 20W

5,000 mAh
Fast charging at 15W

5,000 mAh
Charging at 10W

Connectivity
5G, LTE, WLAN 802.11 a/b/g/n/ac, Bluetooth 5.0, USB Typ-C, NFC, GPS
5G, 4G LTE, 3G, Wi-Fi 6, Bluetooth 5.0, NFC with Apple Pay
5G, LTE, dual-band Wi-Fi 6, Bluetooth 5.1
5G, LTE, dual-band Wi-Fi, Bluetooth 5.0
5G, LTE, Wi-Fi 6, Bluetooth 5.2, NFC
IP certification
IP67
IP67
-
-
-
Colors
Awesome Black, Awesome White, Awesome Violet, Awesome Mint
(PRODUCT)RED, Black, White
Iridescent Sky, Iridescent Ocean, Slate Grey
Prism Dot White, Prism Dot Gray, Prism Dot Black
Blue Haze, Grey Sierra
Dimensions and weight
159,9 x 75,1 x 8,4 mm, 189 g
138.4 x 67.3 x 7.3 mm, 144 g
168.4 x 74 x 9.7 mm, 207 g
164.4 x 75.9 x 8.6 mm, 193 g
158.9 x 73.2 x 8.25 mm, 189 g
Prices (MSRP)
$419.99
$399.00
$390.06
$399.99
$399
Good

Good AMOLED display
Good performance
Decent battery life
The best software support in the category

Insane performance level
High-quality workmanship
Surprisingly good photo and video performance
Solid battery life that lasts up till late at night

Excellent and stable performance
Great battery life
Good screen, although LCD and "only" 90 Hz
Headphone jack and microSD card slot

AMOLED screen
Already on Android 12, with many updates ahead
Great performance

All-round features
Large battery
Gets Android 12
Stylus support

Bad

Slow charging
No headphone jack
Non-competitive price

Display is simply outdated
Too few camera functions
Low storage space in the base model without expandable memory
More expensive than predecessor at market launch

Not very versatile camera
No wireless charging
No IP certification
Below average upgrade policy

Falls behind in performance
Slow charging
Not an OLED screen1

Rating

Samsung Galaxy A53 - Go to review

The Galaxy A53 seems like a processor upgrade over the A52 and A52 5G, with better performance and similar battery life.

Rubens Eishima
Writer


Apple iPhone SE (2022) - Go to review

More than meets the eye!

Benjamin Lucks
Head of Editorial DE


Motorola Moto G100 - Go to review

The Moto G100 is a mix of strengths and weaknesses!

Rubens Eishima
Writer


Not yet rated

Not yet rated

Offers*
Jump to:
Buying guide: What you can expect from smartphones up to $400
In this section, we summarize what you can expect from smartphones up to 400 USD. Mid-range phones manage a really good balancing act between price and performance in 2022, but in the US, the price point sits awkwardly between the budget phones and the upper mid-rangers and low-end flagships.
Considerable concessions need to be made for this price point, like purchasing devices from older years or with weaker specs. Thankfully all of these devices (except the iPhone SE 2020) feature 5G, but cameras, performance, and design lack features of the slightly more expensive $500 price range, where you can find newer technology.
The best smartphone under $400: Samsung Galaxy A53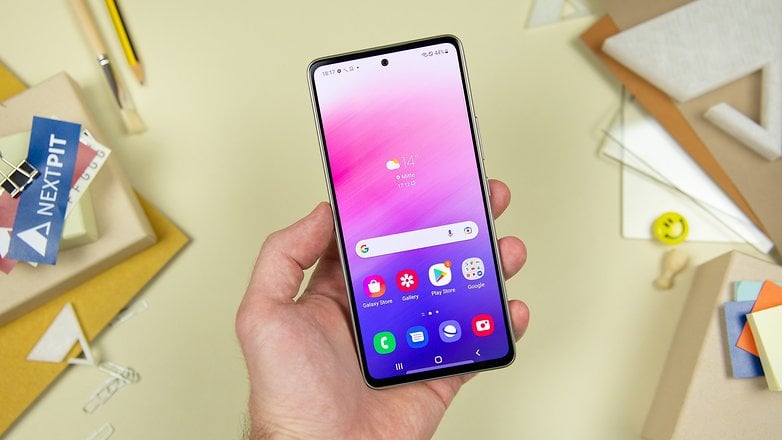 Samsung is known to make the best displays in smartphones, and for this reason, it is the Galaxy A53 that we recommend to you in this category. Samsung's latest midranger shows you content on a brilliant 6.5-inch display with FHD+ resolution and a decent puch hole. The refresh rate of 120 hertz is as high as in the 5G version of the predecessor.
Besides the very good display, Samsung also scores with the longest update warranty for Android smartphones ever. If you buy the A53 in 2022, you can probably use it until 2027 thanks to five years of support for security updates. In addition, there are four major Android updates. All advantages and disadvantages of the A53 can be found in our detailed review.
To the review of the Galaxy A53
Best iPhone under $400: Apple iPhone SE (2022)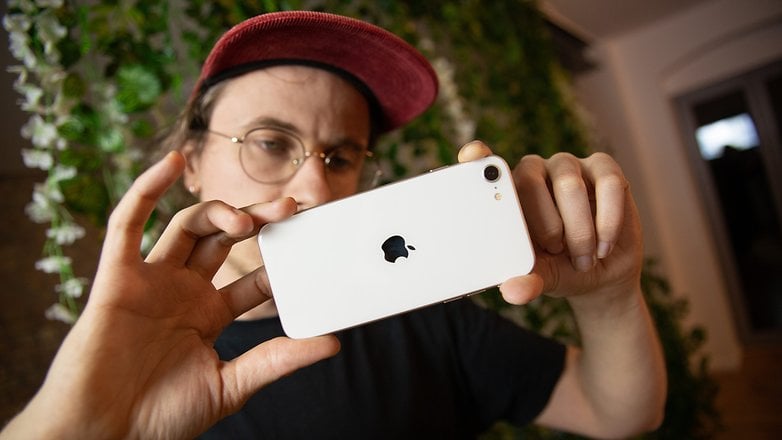 As an Apple alternative, we recommend the iPhone SE (2022) without any second thought. Coming two years after the iPhone SE (2020), the new budget iPhone sports a powerful A15-bionic but sees little improvement ocer the previous device. You get a 12MP camera inside a virtually similar casing with the iPhone SE 2022 and IP67 resistance.
The real upgrade aside from the SoC (and the extra GB of RAM at 4GB) is the 5G connectivity, which makes the device finally capable of enjoying the latest connectivity technology like the rest of the sub-$400 devices you see in this list. We already tested the iPhone SE (2022) and of course it is a great solution for anyone looking at an affordable iPhone.
To the review of the Apple iPhone SE 2022
Best smartphone 2 in 1 phone under $400: Motorola Moto G100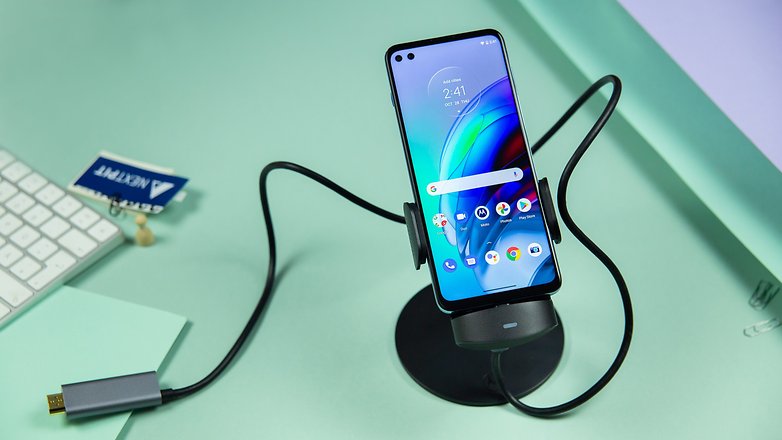 The Motorola Moto G100 was officially announced in March 2021 and has been on sale in the US since then. This mid-range smartphone is powered by the 5G-ready Qualcomm Snapdragon 870 SoC and ships with 8 GB RAM and only one storage options—128 GB. Memory expansion is supported using microSD cards.
The highligh of this device is that the Moto G100 is compatible with the Ready For feature, which turns the phone into a desktop or game console.
besides that, the G100 is a large phone with a massive 6.7-inch LCD display with FHD+ resolution. The phone gets triple cameras at the rear, with the primary camera using a 64MP sensor. The two other cameras on the phone include an 16MP ultrawide camera and a 2MP depth sensor. Here we have two front-facing cameras: a 16MP main sensor and a 8MP ultrawide camera.
The Motorola Moto G100 houses a large 5,000 mAh battery that can easily power the phone through two days of normal use. The phone ships with a 20W charger but does support fast charging.
To the review of the Motorola Moto G100
Best smartphone on RAM options under $400: Samsung Galaxy A42 5G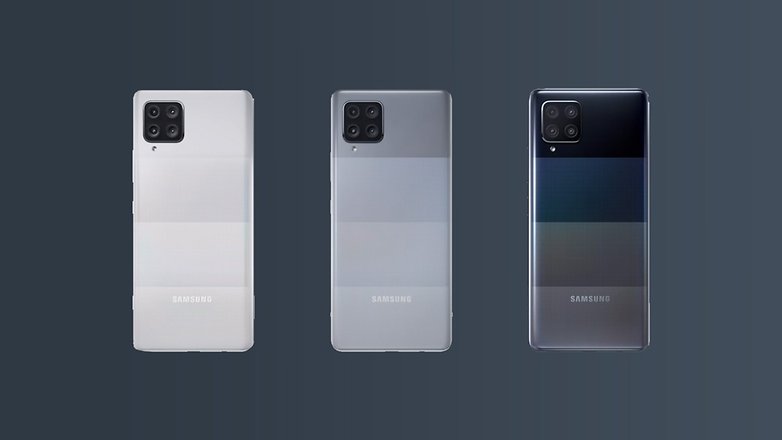 Samsung released the Galaxy A42 5G for the US market in November 2020. The phone, as evident from the name, is a 5G capable mid-range handset. The Samsung Galaxy A42 5G comes powered by the Qualcomm Snapdragon 750G chipset and is offered in a great variety of RAM options: 4, 6 and 8 GB—coupled with 128GB of storage. Users so get the option to expand the storage further using a microSD card.
The camera setup on the Galaxy A42 5G includes a 48MP primary camera, an 8MP ultrawide camera, and a 2MP depth sensor. The selfie camera is at 20MP. While the Super AMOLED display measures 6.6-inches across, it only supports HD+ resolution—something that would be unacceptable in any other smartphone market save the US. The Samsung Galaxy A42 5G gets a massive 5,000 mAh battery and it supports 15W fast charging as well.
Best smartphone with Stylus under $400: Motorola Moto G Stylus 5G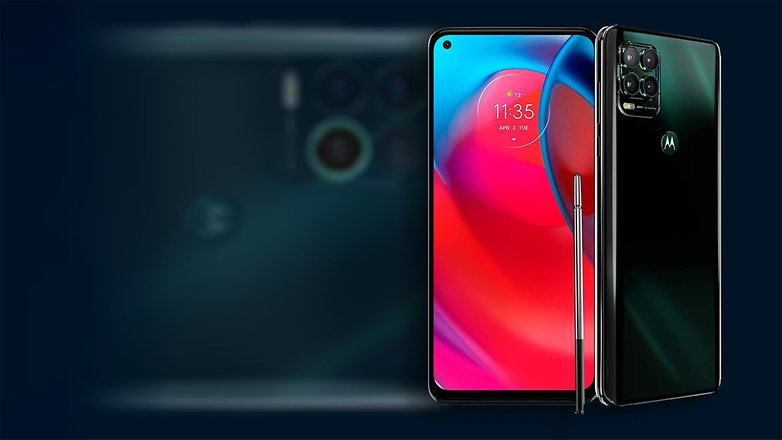 With the oddity of the sub-$400 market, nothing deserves the editor's choice position more than the Motorola Moto G Stylus 5G. The device brings features similar to what the company used to offer about a decade ago. The Snapdragon 480 may not be on par with the Samsung A42 5G but comes ahead in other aspects. Firstly, you get 6 GB of RAM and 256 GB of storage, and the stylus is only something we find at super expensive devices like the Samsung Galaxy S22 Ultra.
The 2021 version of the phone also offers support for microSD cards. Like the other Motorola handset in this list, this phone also gets a humungous 6.8-inch display with FHD+ resolution. In that way, the Moto G Stylus 5G makes for a versatile handset that supports features like sketching and doodling with equally decent cameras.
As for the cameras, we're looking at a triple camera setup is a 48MP + 8MP + 2MB configuration with a 16MP front-facing camera. The battery capacity is 5,000 mAh, and the phone ships with a standard 10W charger in the box. So to conclude, the Moto G Stylus 5G may not be the best in any category but brings a balanced set of features and a novelty that is not found in smartphones anymore.
Alternatives to purchasing a more expensive smartphone
Getting a device with a plan, discounted or for free
Getting a device with financing is the easiest way to get yourself a good new device without breaking the bank. This is because carriers will go to great lengths to claim and maintain customers. Aside from the normal financing options that break in 24 or 36 installments (alongside an eligible plan), you can get a device either for a good discount when getting a new line in one of their plans or even completely free on some occasions. Here are some examples.
Refurbished and used smartphones
If removing the protective film for the first time on your new device does not cause you to jump for joy, you can pick up more expensive smartphones from the second-hand or refurbished market. It is particularly advisable to use devices that carry a refurbished guarantee.
These are used smartphones that have been checked and refurbished by reputable companies to ensure that they are in tip-top condition. Refurbished devices are particularly exciting to check out when they come with an extended warranty. This is how you protect yourself when picking one up just in case the handset gives up the ghost just a few weeks down the road.
What do you think of this selection? Which models do you think we have forgotten and which deserve to be included? Do you find the advice sections and our testing process useful? What do you think of this new format? We look forward to your feedback!
---
This article has been updated on June 17th, 2022. Old comments have been maintained and may look out of context.