The best flagship phones you can buy today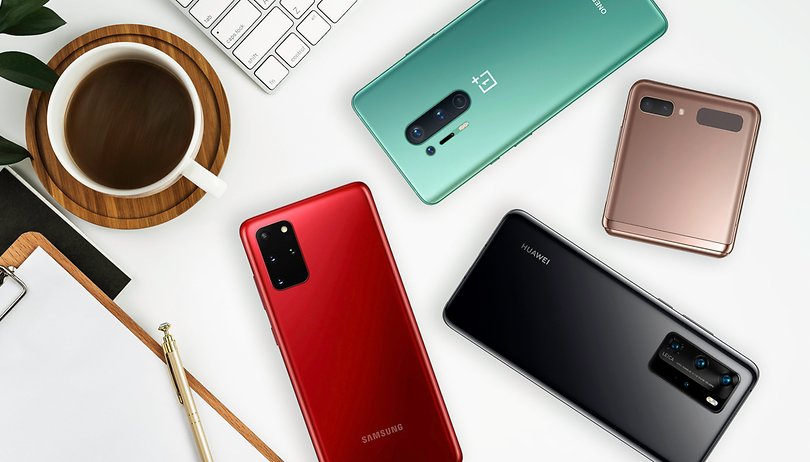 Choosing the perfect smartphone to fit your needs isn't an easy task. There are tons of devices on the market and it's tough to know which are the best ones, let alone which one is the right one for you. In this article, we've rounded up the best of the best Android and iOS smartphones in 2020.
In order to help you find the right smartphone for your needs, we've divided our top picks into categories. We're not thinking about budget here. This is a list of the best phons if money is no object. If you're on a budget or would like to see what you can get in the mid-range or entry-level markets, skip to our tailored best lists.
Summary:
Launched back in April 2020, the OnePlus 8 Pro remains my personal top pick for 2020. I have used all of the top flagships this year, and the OnePlus 8 Pro left the biggest impression on me in terms of how premium the whole experience felt.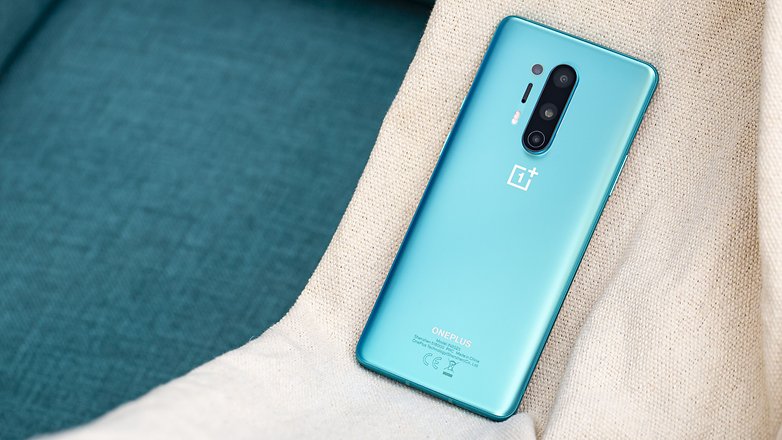 | | |
| --- | --- |
| Rating | |
Pros

Fluid 120 Hz AMOLED display is sublime
Triple camera module with a telephoto lens
Powerful Snapdragon 865 chipset
OxygenOS
Quality/price ratio

Cons

Colour Filter Camera disabled
No Warp Charge 65T
The OnePlus 8T is newer
The 6.78-inch Fluid AMOLED panel in a 19.8:9 format has a resolution of 3,168 x 1,440 pixels (QHD+), and is one of the most enjoyable things about the phone. As soon as you fire it up, its so easy on the eye. Combine this with OnePlus' Oxygen operating system and you're looking at the undisputed king or smooth, slick smartphones. The OnePlus 8 Pro's display achieves a maximum refresh rate of 120 Hz, by the way.
A Snapdragon 865 from Qualcomm makes sure everything runs quickly and you'll have no performance issues with this octa-core processor, Adreno 650 GPU, 8GB of RAM, and UFS 3.0 storage for a good few years to come. The combination of 48-megapixel wide-angle and a 48-megapixel ultra-wide-angle camera works well too. Sony's IMX689 as the main camera and the IMX586 as the ultra-wide-angle camera.
The battery is a 4,510 mAh, but its the Warp Charge 30T that makes the OnePlus flagship a breeze when you do have to plug it in, charging the phone to around 50% in less than 30 minutes. You also get the fast-charger in the box.
For a fast, snappy smartphone that can handle anything you can throw at it, looks great, feels amazing in your hands, and takes pictures that are more than good enough for most users in 2020, look no further than the OnePlus 8 Pro.
You can read the full OnePlus 8 Pro review by NextPit here
After revealing this editor's choice, which is subjective and will certainly not the pick for everyone, let's move on to the rest of our selection. Remember, these are the best phones to buy in 2020, according to our opinion. This is not a definitive list of every flagship phone on the market in 2020. Many will disagree, and that's fine. Have your say in the comments section at the bottom of the article.
The Samsung Galaxy S20+ is the best regular Samsung smartphone on the market right now in terms of user experience. Both on paper and in practice, it is excellent: the build quality and finish are impeccable, the performance and camera are flagship-worthy, and it comes with Android 11 right out of the box.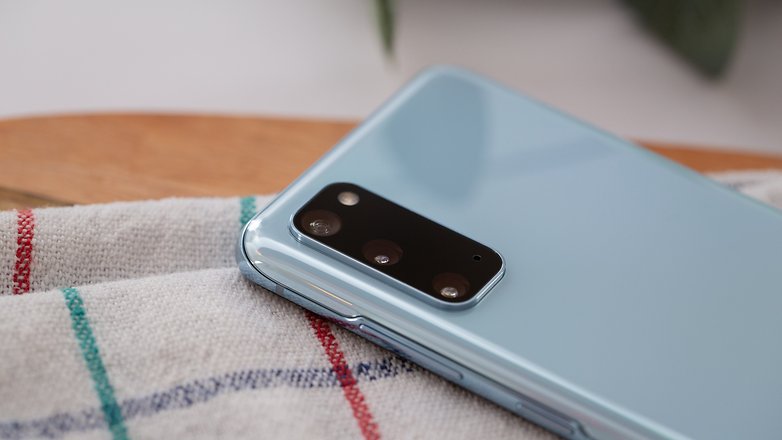 | | |
| --- | --- |
| Rating | |
Pros

Versatile and powerful cameras
Sublime display
Good performance
Slim and ergonomic design

Cons

Somewhat middling battery life
Slowdown and overheating occurs when gaming play
No major difference from the basic Galaxy S20
This is the ideal smartphone for those who want to carry an elegant, ergonomic device that is perfect down to the last detail and can play games and videos without any compromise in quality. Even the battery life is improved in this Plus model when compared to the regular S20. You also get more cameras and there, for opportunities for creativity.
If you're more productivity-focused, you also can't go wrong with the Note 10 and its S-Pen.
You can read the full Samsung Galaxy S20+ review by NextPit here
If the Android universe is rebuffing you, the iPhone 11 Pro Max is certainly the best option you can find in 2020. Running on iOS, the iPhone offers optimal performance and lacks nothing for everyday use. Apple managed to erase all the faults of the previous generation by delivering a smartphone that's more successful, including battery life that is ideal and a camera that delivers good shots in all circumstances.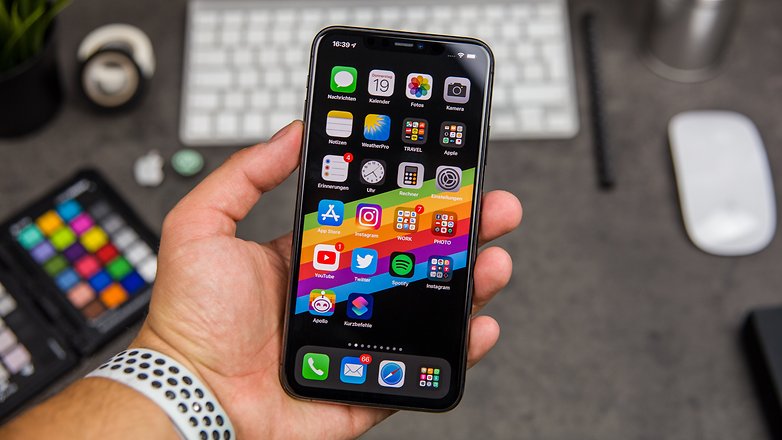 | | |
| --- | --- |
| Rating | |
Pros

Triple camera system
Equal front camera
Brightest smartphone HDR display
Precise workmanship, high-quality materials
Faster Face ID
Battery life
Bluetooth 5.0 with beamforming, two antennas for longer range

Cons

USB 2.0 Lightning port, no USB-C, no USB 3.
Display only 60 Hertz, no Pro-Motion
Entry-level model is only 64GB
The iPhone 11 Pro Max takes all the qualities of its little brother, the iPhone 11 Pro, while adding longer battery life and a larger screen. Sure, we know that the Apple iPhone 12 and 12 Pro are now out, but the iPhone 11 Pro Max is our pick because a) it has everything that an iPhone flagship needs even in 2020 and b) 5G is not really a thing in 2020 and you don't even get a charger with an iPhone 12.
You can read the full Apple iPhone 11 Pro Max review by NextPit here
We all got a bit excited when the Samsung Galaxy Fold was launched and then relaunched. There were those that were disappointed but our man Pierre like the Fold. The reaction to Samsung's second foldable smartphone, however, the Galaxy Z Flip, was much more positive all-round. The form-factor is closer to what we saw on with the Motorola Razr 2019, and we think that's a good thing. It's also the most usable foldable smartphone for everyday usage. From a technical standpoint, the Z Flip is the coolest smartphone you can buy today.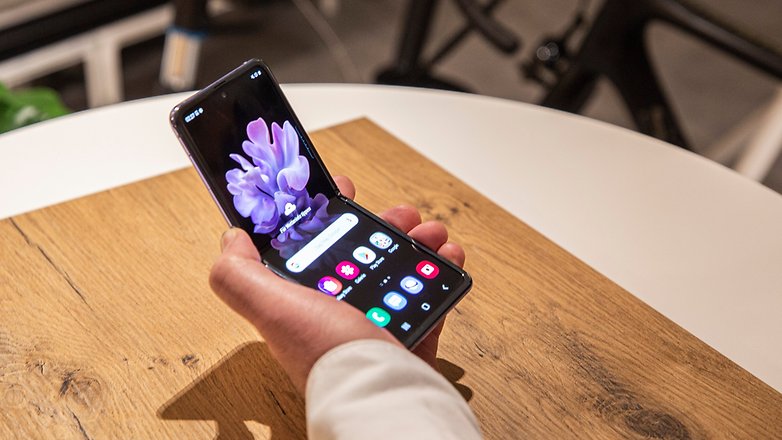 | | |
| --- | --- |
| Rating | |
Pros

Excellent hinge
Cover screen swiping
Good performance
It's the future - trust me!

Cons

Not much camera creativity
Just OK battery life
You can still see and feel the display crease
Sure, you can get better hardware, a better display, faster charging, longer battery life, a better camera, and all the rest of it, for the same money, but nothing feels as fun as the Galaxy Z Flip in 2020. The Z Flip is the kind of phone you buy if you buy phones like we used to - before spec sheets and bickering on the internet and fanboys - when you'd just pick whichever design looked the coolest, the most fun, the most you!
You can read the full Samsung Galaxy Z Flip review by NextPit here
A mad alternative: the Huawei Mate Xs
For those who like the idea of having a tablet-sized device that folds into something that can fit into your pocket - instead of a regular smartphone-sized device that folds down even smaller - then the Huawei Mate Xs is the smartphone for you. Huawei got off to a bit of a false start with the original Mate X, which never really rolled out in Europe or the USA due to the problems the Chinese firm is having with The White House. However, Huawei is back with an improved version and it ticks all the boxes in terms of what we wanted to see from the interesting-looking device.
With its new generation of the P series, Huawei has pushed the limits in photography. The P40 Pro is no different, and the latest entry in the series offers superb smartphone photography and elegant design. Huawei pushed the camera setup of the P40 Pro even further than it did with the P30 Pro, and calling this one its UltraVision Quad Camera. This consists of a main camera with a 50-megapixel image sensor, f/1.9, optical image stabilizer, an ultra-wide-angle camera with a 40-megapixel sensor, f/1.8, optical image stabilizer, a periscope telephoto camera with a 12-megapixel image sensor, 5x optical zoom, f/3.4, optical image stabilizer, and a ToF camera for 3D depth information.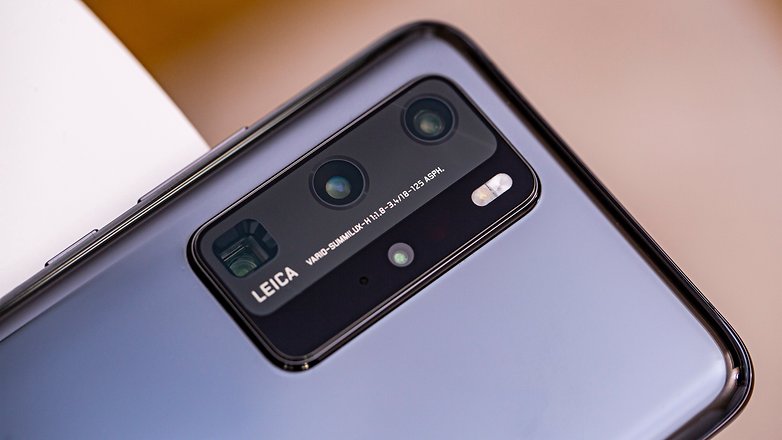 | | |
| --- | --- |
| Rating | |
Pros

Beautiful design
Great 90 Hz display
Current Android
Very good camera
Long battery life

Cons

Huawei Mobile Services is not yet a full replacement for Google Mobile Services
App library still limited and confusing
Huawei was not stingy and has put everything that the company had on its shelves or could develop from scratch into this device in terms of hardware. The software was also going to be the sticking point, but things are improving with Huawei Mobile services and especially with EMUI 11. For photo purists who know their way around smartphones and can manage the sometimes baffling software, the Huawei P40 Pro is a great choice.
You can read the full Huawei P40 Pro review by NextPit here
The alternative for photos: the Google Pixel 5
If the interface of Huawei is not the one you like the most, the Google Pixel 5 deserve its place in the category of the best cameraphones. Google managed to make a very good camera with a single sensor thanks to a perfect optimization between the software and the hardware in the past, and the new Pixels do not really surprise us with their design, but the camera is once again one of the best on the market.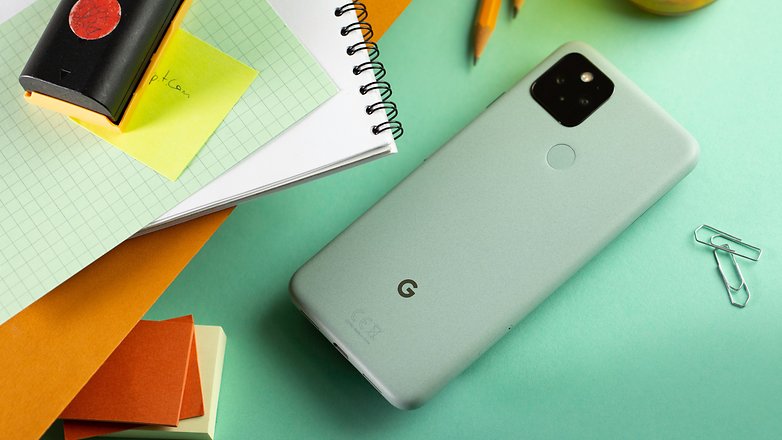 Google Pixel 5 review: more steps forward than steps back
With the Sony Xperia 1, the Japanese manufacturer brought a new 21:9 cinema format to the smartphone landscape. The notch-free 4K-HDR OLED display was ideal for viewing content, and the trend is now in its second generation. IN addition to that incredible display, you also get a 3.5 mm audio jack, meaning that for settling down and watching a movie on your phone, there really is nothing better in terms of the visual and audio experience.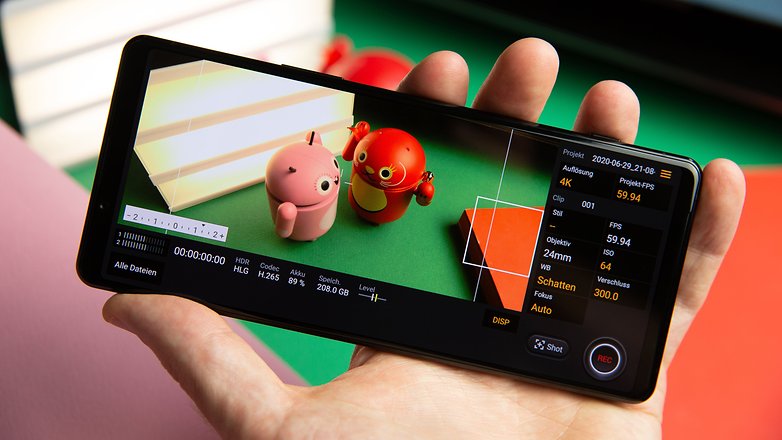 | | |
| --- | --- |
| Rating | |
Pros

Classic and minimalist design
Powerful hardware
3.5mm headphone jack
Nearly stock Android
Good camera with a strong suit of apps
Good battery life
Stereo loudspeakers

Cons

Weak front-facing camera
Display not bright enough
Only 18W quick charging
Expensive
The Sony Xperia 1 II is a smartphone that goes against the grain in terms of important smartphone trends such as high refresh rates, extreme fast charging, insane zoom levels, but that's why we like it. It really feels like Sony is not making any effort at all to compete against the top smartphones from other competing brands, and that's a win for us. Be different, be interesting.
You can read the full Sony Xperia 1 II review by NextPit here
Galaxy Note 10+
With a hole-punched display, a large bezel-less screen, a triple camera, the 2019 flagship from the South Korean manufacturer clearly showed the ambitions of the brand. The Galaxy Note 10+ is still an elegant smartphone, technically fantastic and offers especially remarkable battery life with two days of juice even in conditions of intensive use. Powerful and original in its design, Samsung's 2019 device delivers perfectly in all areas where it was expected to do well. Its screen and camera will delight most users who are also looking for a versatile smartphone. And as a bonus, you are a fan of the S-Pen.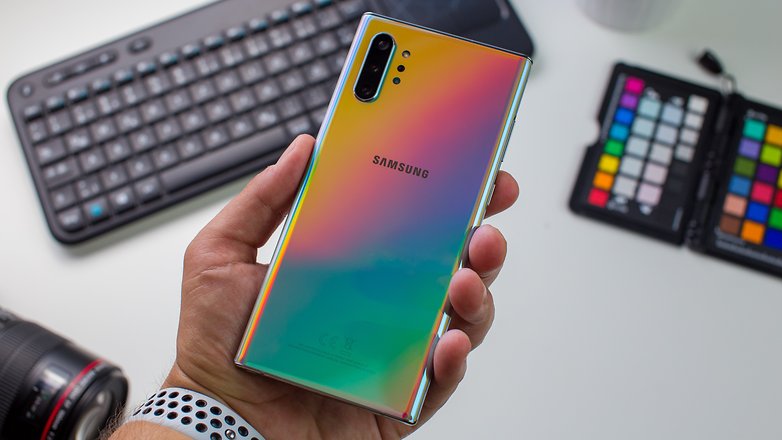 Huawei Mate 20 Pro
The Huawei phablet brings battery life and cool features that should inspire all smartphones on the market. The Mate 20 Pro reaches a full 48 hours of battery life. Even better, Huawei has a system to detect power hogging apps to improve the management of resources. The 4,000 mAh battery can be charged very quickly thanks to Huawei's ultra-fast charge technology.
This is the top price range. Sure, there are special edition phones like the OnePlus McLaren Edition or the collaborations between Huawei and Porsche we have seen in the past, but for the purposes of this article, we're talking here about phones that typically go for more than £600 right up to the £1,500 mark.
You can therefore expect to find the best tech such as AOLED screens with high refresh rates up to 120 Hz or 144 Hz. High-range processors like the Snapdragon 865 are commonplace and in my opinion, a minimum requirement for a 2020 at this price. Some flagships from the likes Xiaomi, Poco, or Realme, offer completely premium specs at the level of 2020 standards, but most can be found for less than £500 and are therefore on our corresponding lists rather than this one.
Triple and quad-camera modules with a main sensor that sports 48, 64, and even 108 MP are standard in this price range. We are also more likely to have dedicated telephoto lenses plus ultra-wide-angle and 3D and macro sensors. You can expect to find two selfie cameras on most flagship models these days, usually a regular and an ultra-wide-angle.
In this price range, compromises tend to vary from one manufacturer to another. Battery life is still the one areas where you could argue where flagships differ wildly. It's also worth pointing out that brand loyalty is strongest in this price segment. The kind of consumer who picks up the latest iPhone every year is unlikely to move to Samsung and vice versa, whereas further down the food chain where budget plays a bigger factor, branding becomes less of an issue for those looking for a good price-to-performance ratio. Here is what you should look out for in the flagship segment.
Key criteria:
AMOLED screen at 90/120/144 Hz refresh rate
Snapdragon 865 or 865+ chipset
Solid batteries at over 4,000 mAh capacity
64 or 108 MP main camera sensors, with at least two cameras on the front and back
Compromises:
Storage is not always expandable
Wireless charging and IP certifications vary
Often experimental designs in the foldable space
As explained in the introduction, this list is arbitrary since it is based on the preferences of the author (in this case, me) and the rest of the editorial staff (the list was discussed among all the reviewers).
We decided not to make a catch-all list and to select only the best smartphones according to several categories: the best all-in-one, the best value for money, the best in photography, with possibly the best alternatives.
But the goal here is not to rank the list in order of greatest to the least. Purchasing a smartphone is the product of several selection criteria. One rarely chooses his smartphone for a single criterion such as battery life or screen, the idea here is to offer you an entire device and its experience delivered.
Read more smartphone buying guides on NextPit