iPhone 15 Review: Advancements Shadowed by Notable Shortcomings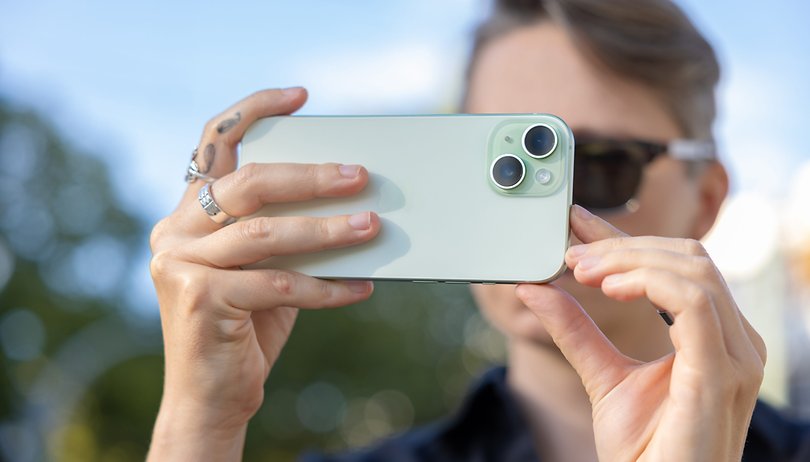 The iPhone 15 represents the highly anticipated upgrade we've all been longing for since the debut of the iPhone 12. Nevertheless, it seems Apple has made some cheap decisions that continue to hold back the full potential of this iconic series. Here is our comprehensive review of the iPhone 15.
Good
Dynamic Island and mute toggle switch onboard

Versatile camera system with true-to-life photo quality

Constructed with 75% recycled aluminum

IP68 certification for water and dust resistance

Equipped with a USB-C port

Provides all-day battery life
Bad
Display limited to a 60 Hz refresh rate

Lacks Always-On Display (AoD) feature

Restricted to USB-C 2.0 speeds due to SoC design
Apple iPhone 15: All deals
In a nutshell
People used to say TVs were our window to the world. Now, our smartphone screens are that window, right? If we believe this, then we should aim for the best 'window' to enhance our view.
The iPhone 15 stands out as a powerhouse of technological advancement, flashing a diverse range of applications and features. It sports the most advanced camera module across the entire range. Additionally, after a long eight years, it has embraced the universally acknowledged USB-C port.
Given these advancements, why restrain the device's potential with a display limited to a 60 Hz refresh rate? And why narrow a fundamental feature such as the Always-On Display (AoD)?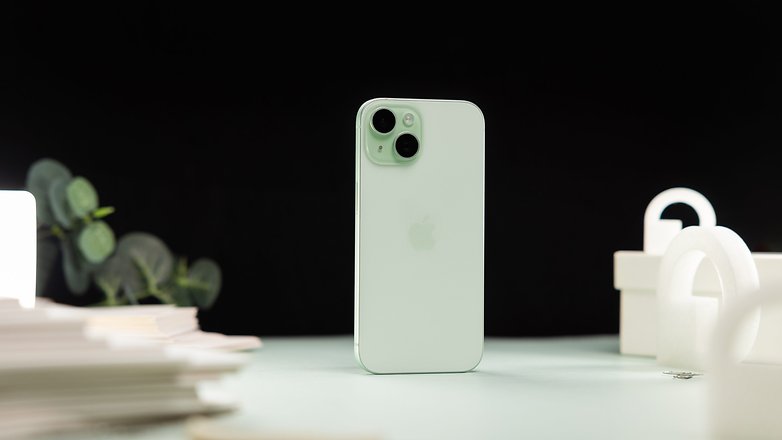 Furthermore, it might seem counterintuitive to limit the USB-C port transfer speeds to 2.0. However, this is a result of a hardware limitation stemming from a sales decision made last year when Apple chose to downgrade the basic series to the chipset of the previous Pro models.
These compromises in 2023 will probably not reduce the overall appeal of the iPhone 15. However, in this review, they justify a deduction of a whole star from the rating.
Apple iPhone 15 design and build quality
The iPhone 15 feels impressively light in the hands—171 grams in total weight. Our review unit came in a pleasant green color option. The glass on the back and the aluminum edge are well integrated, offering a secure grip, and the 6.12-inch display diagonal is a great size for my hands. I can easily reach the physical buttons with one hand and interact with content on the screen without any issues .
---
Pros:
Lightweight and feels incredibly secure in the hands.
Features the Mute Toggle Switch.
Constructed with 75% recycled aluminum.
Boasts IP68 certification and Ceramic Shield cover glass.
Cons:
---
In terms of durability, the iPhone 15 features a Ceramic Shield on the front cover and is water and dust-resistant with a rating of IP68, allowing for submersion at a maximum depth of 6 meters for up to 30 minutes.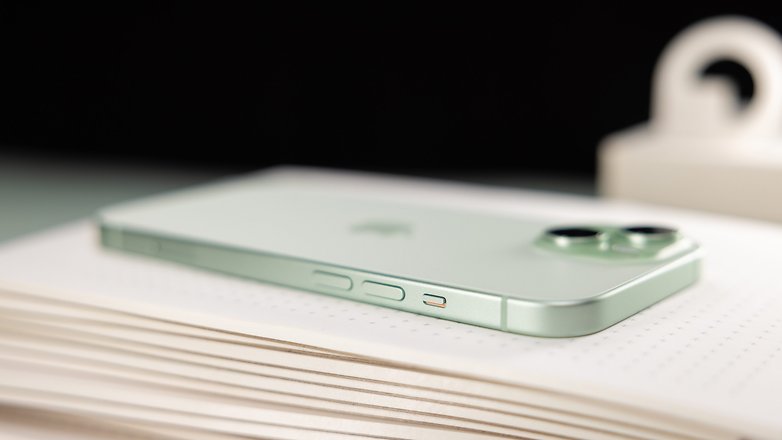 I am a great fan of the physical mute key, and I'm thrilled that the non-Pro models have kept it as simple and straightforward as it always was. However, I understand that for some people, this could represent a drawback, as it doesn't allow for remapping like on the iPhone 15 Pro Series.
Regarding build quality, I would like to mention the praiseworthy initiatives that Apple is taking with recycled materials—75% recycled aluminum in the enclosure, 100% recycled gold in the USB-C connector, and over 99% of the packaging is fiber-based. I believe this is the start of a conversation on incorporating more recycled materials in smartphones, and as a trendsetter, Apple will probably prompt other brands to follow suit.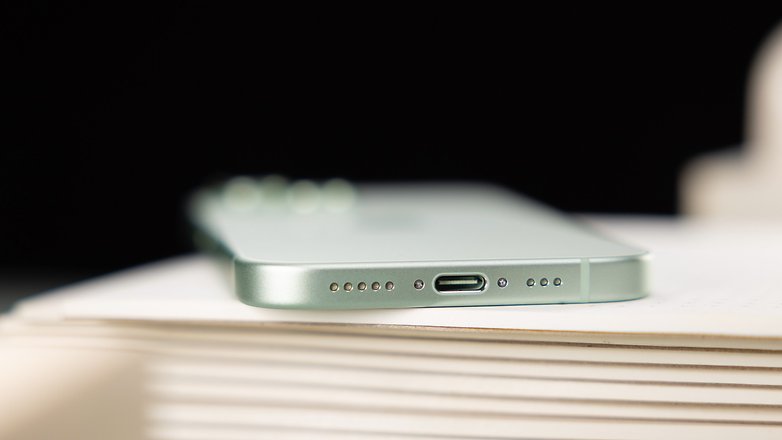 Apple iPhone 15 display
That said, when it comes to the display, the iPhone 15 series is the first to also take advantage of the Dynamic Island, released with the Pro variants last year, allowing interaction with applications and alerts in a more user-friendly manner . While the display experience is good, the decision to retain the 60 Hz refresh rate in such an exceptional phone is nothing but frustrating.
---
Pros:
1,600 nits peak HDR brightness.
2,000 nits under sunlight.
Cons:
Display limited to a 60 Hz refresh rate.
Lacks Always-On Display (AoD).
---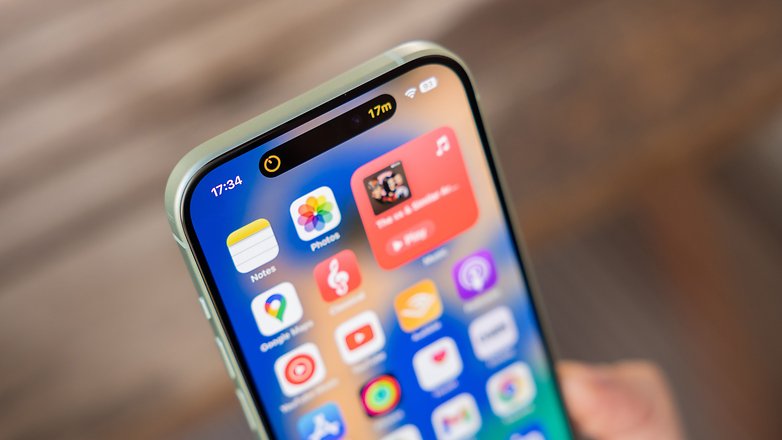 Although the display quality is adequate, featuring Super Retina XDR Display technology, a Full-HD resolution, and an outdoor peak brightness of 2,000 nits, I'm reluctant about the choice of a 60 Hz refresh rate once again. For those familiar with 120 Hz displays, the difference in the iPhone 15 screen experience will be quite noticeable, from navigating through your favorite content in the browser of your choice to opening and closing apps.
Moreover, if you are accustomed to 'at a glance' information provided by AoD, the iPhone 15 options can be quite unsatisfactory. There seems to be no reason aside from market positioning not to incorporate these two basic options: 120 Hz and AoD, into the base lineup.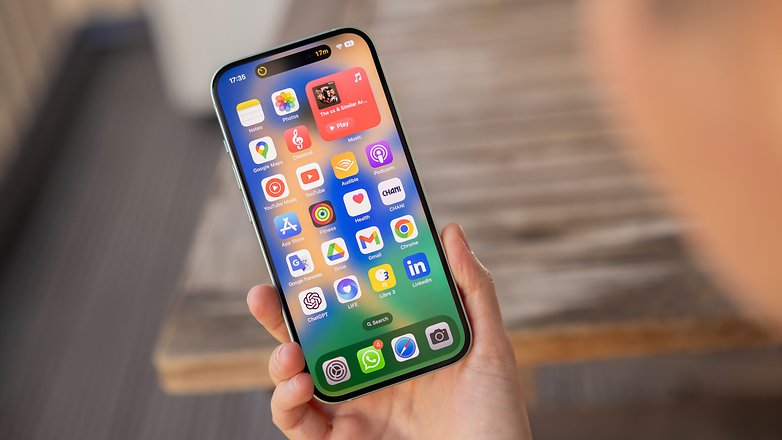 Some might argue that screens with higher refresh rates are more costly to produce, potentially driving up the prices of the iPhone 15 lineup. However, this is only a sales strategy. When we asked Apple about the absence of a higher refresh rate and AoD in the iPhone 15 Series, their response indicated that the Pro models come with the advanced pro display and Always-On feature. So, there's no ambiguity here.
As a fan of more affordable smartphone versions, I'm disheartened to see basic features like AoD being touted as selling points by major tech companies like Apple. This is definitely a cheap move.
Apple iPhone 15 software
I'm a big fan of iOS, especially after the enhancements to home screen customizations and internal wallpapers. Furthermore, Apple offers a wealth of privacy and security features such as App Tracking Transparency, Private Browsing Mode, iCloud's Hide My Mail, and the Face ID biometric system. The iPhone 15 operates on the iOS 17 version and promises up to five years of software updates .
---
Pros:
Includes onboard Dynamic Island feature.
Extensive private and security features.
Five years of software updates.
Cons:
---
Every feature from the Apple ecosystem can be accessed through the iPhone operating system. This includes new features like NameDrop, Standby, and Live Voicemail with real-time transcription, as well as favorite apps like FaceTime and iMessage, and even more beneficial accessibility features.
When it comes to customization, you can create various home screens and switch between them as desired throughout the day. The Control Center is also easily personalized, offering a plethora of shortcuts and quick actions without needing to unlock the phone.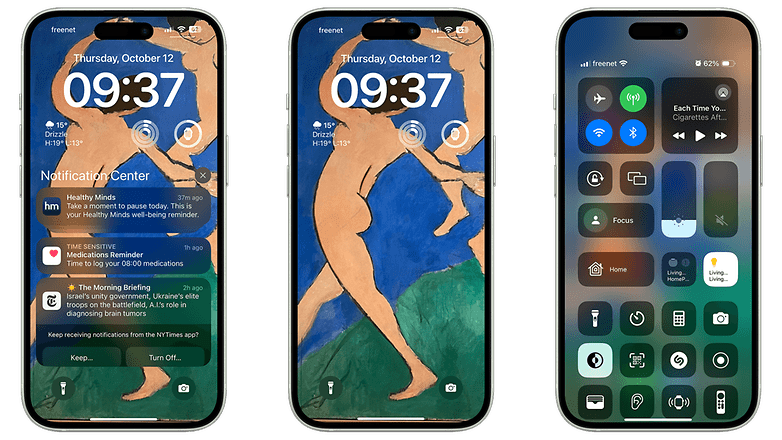 Apple also provides various widgets that include action buttons directly within the interface. This allows you to control timers and smart home gadgets without opening any app. You can also play or pause music directly from the Apple Music Widget, or quickly launch audiobooks on third-party apps like Audible.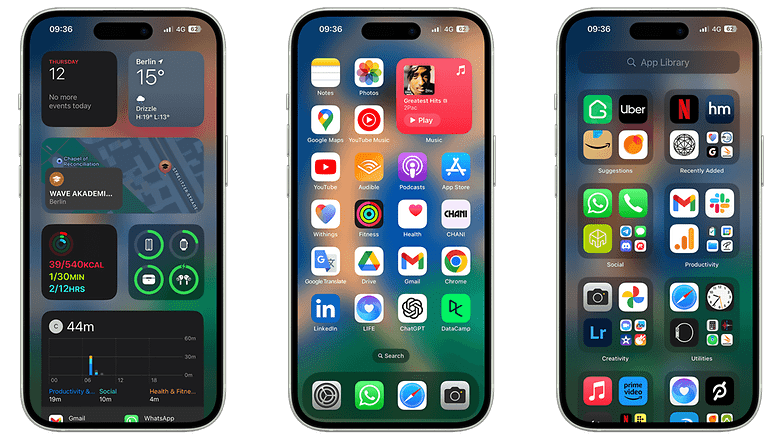 Apple has a suite of exclusive services that range from health to accessibility. The Health app provides a comprehensive overview of wellness and integrates seamlessly with various health devices. The Emergency SOS feature bolsters user safety, enabling rapid access to emergency contacts in the event of accidents.
Additionally, Apple places high emphasis on user privacy and security, as previously noted, and offers a rich set of accessibility options, ensuring inclusivity for users with different abilities.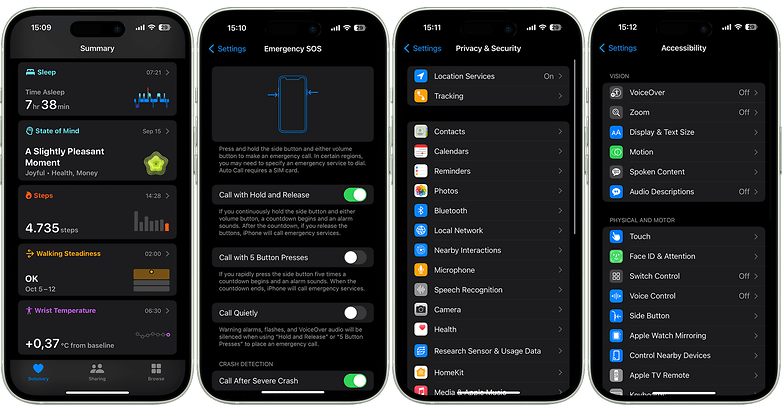 To keep this section short, I suggest you refer to our iOS 17 features guide to understand the new options integrated into the system and how to leverage them best.
Apple iPhone 15 performance
The iPhone 15 is equipped with the SoC from last year's Pro model, making it a definitive upgrade compared to the previous generation. The A16 Bionic features a 6-core CPU with two high-performance cores and four high-efficiency cores .
---
Pros:
Performs like a Pro.
Efficient control of temperatures.
Cons:
Restricted to USB-C 2.0 speeds due to SoC design.
---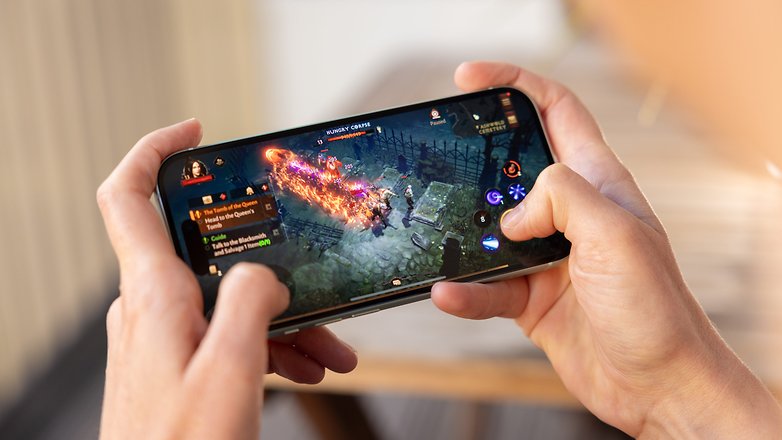 In terms of graphics, the 5-core GPU offers 50% more memory bandwidth. As a result, you can anticipate a smooth experience while streaming videos and playing games.
The A16 Bionic, paired with 6 GB of LPDDR5 RAM, ensures consistent performance. Apple offers three different internal storage capacities: 128 GB, 256 GB, and 512 GB.
In the benchmarks we subjected the iPhone 15 to, the device posted scores closely aligned with last year's Pro variants—a predictable outcome. In other words, based on these benchmark tests, one might expect a substantial performance difference between the generations.
As a former iPhone 14 Pro Max user, I believe the performance disparity stems from hardware differences alone, such as the triple camera module, a smoother screen, and a larger battery. Beyond these points, the overall experience with the iPhone 15 closely mirrors the advanced 2022 models.
Apple iPhone 15
(A16 Bionic)
Apple iPhone 15 Plus
(A16 Bionic)
Apple iPhone 14
(A15 Bionic)
Apple iPhone 14 Pro Max
(A16 Bionic)
3D Mark Wild Life Extreme
3,036
-
2,431
3,362
3D Mark Wild Life Stress Test
Best Loop: 9,909
Worst Loop: 7,481
-
Best Loop: 9,761
Worst Loop: 8,321
Best Loop: 9,599
Worst Loop: 8,121
3DMark Wild Life Extreme Stress Test
Best Loop: 3,171
Worst Loop: 2,378
Best Loop: 3,253
Worst Loop: 2,271
-
-
Geekbench
Single: 2,651
Multiple: 6,698
(v6)
Single: 2,623
Multiple: 6,605
(v6)
Single: 1699
Multiple: 4817
(v5)
Single: 1,885
Multiple: 5,406
(v5)
Moreover, Apple has added a new 16-core Neural Engine to the iPhone 15 lineup, capable of performing up to 17 trillion operations per second. Think of 17 trillion operations per second as having 17 trillion diligent worker bees, each completing a task every single second. Imagine all the honey they could make in just one second! It's a swarm of productivity and speed.
According to Apple, the new Neural Engine facilitates faster machine learning computations, such as those required for real-time Live Voicemail transcriptions. Unfortunately, I haven't had the opportunity to test this feature yet. Additionally, users can expect a more private and secure system overall.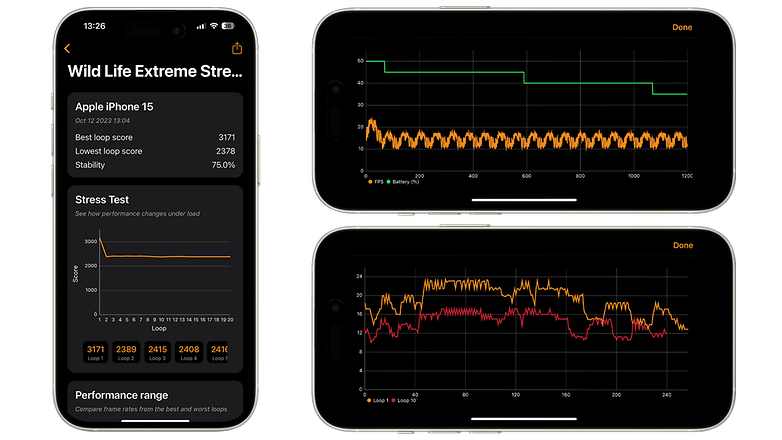 Finally, the introduction of a new USB port standard would have been even more exciting news if not for the fact that the port only supports USB 2.0 speeds, capping the transfer rate at 480 megabits per second (Mbps). This is the same transfer speed as the Lightning port. It's important to highlight that USB 3.0 speeds are exclusive to the 2023 Pro variants, as they are unlocked at the SoC level.
So, when Apple opted last year to downgrade the basic lineup to the chipset of the previous Pro version, the company was already aware that the new USB standard port on the iPhone 15 would not achieve higher data transfer speeds. However, I'm holding out hope for a change next year, given that a new chipset is anticipated for the iPhone 16 series. Fingers crossed.
Apple says that with a special adapter called a USB-C Digital AV Multiport Adapter, iPhone 15 users can show 4K videos, with HDR, at 60 frames per second on a TV or display using an HDMI cable. Plus, at the same time, you can also connect a regular USB device and a charging cable to the adapter.
Apple iPhone 15 camera
I believe the camera is one of the most significant advancements in the iPhone 15 lineup for 2023. The device boasts a 48 MP main camera featuring Super-High-Resolution and a 2x in-sensor optical zoom. Additionally, it is equipped with a second 12 MP sensor for the ultra-wide angle camera .
---
Pros:
Versatile dual-camera system.
True-to-life photo quality.
Enhanced and editable Portrait Mode.
Cinematic mode in 4k at 30fps.
Cons:
No 4K ProRes video format.
---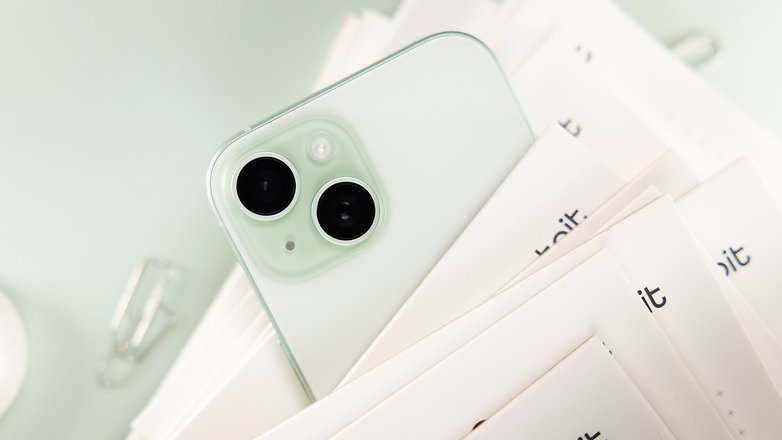 With the iPhone 15 and iPhone 15 Plus, Apple is leveraging its camera's high resolution for an in-sensor zoom feature, similar to what's seen in recent Google Pixel models. For this reason, Apple markets the new vanilla series as having three optical-quality zoom levels, suggesting that "it's like having a third camera" in a dual-camera system.
With this in-sensor zoom technique, for regular photos, the iPhone 15 produces a 24 MP image by merging pixels and using advanced camera tech from the A16 chip.
Want to zoom in? At 2x zoom, the phone focuses on the middle section of the captured image, giving you a 12 MP photo. This method ensures clarity without the graininess of digital zoom. In simple words, the 2x zoom photos look great—sharp and vibrant, whether taken day or night.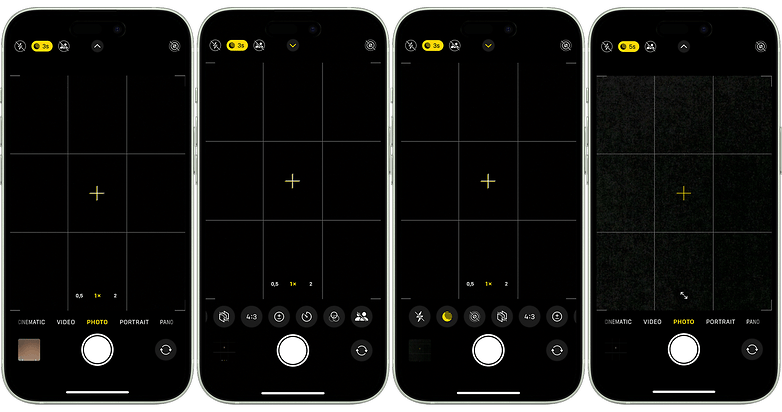 Main camera
The rear camera features a "4-in-1 pixel binning" or quad-pixel sensor. Essentially, each pixel is divided into four, collectively improving light capture and detail. This results in a 12 MP photo that's sharp and bright from a 48 MP quad-pixel sensor. Apple's tech can also upscale this to a super-clear 24 MP image.
Simply put, the quad-pixel sensor delivers superior photos—they're vivid, detailed, and balanced in all lighting conditions. Below, see some iPhone 15 photos I took under different situations:
I personally love having a more efficient 2x telephoto option; it's one of my favorite levels of optical-quality zoom, even surpassing the ultrawide angle camera. After an initial test, I must say that the 0.5x, 1x, and 2x zoom levels on the iPhone 15 are quite logical, delivering a truly versatile camera experience.
Notably, the iPhone 15 camera maintains authentic photo quality. Compare sets 3-5 and 6-8 in the gallery I shared; both were taken at the same location under different lighting. The first on a gloomy rainy day, the second on a sunny day. Impressively, its post-processing doesn't artificially enhance the photos, ensuring even night shots remain true-to-life.
TrueDepth front camera
The selfie camera excels in different lighting, especially with the improved Portrait Mode on the iPhone 15. Photos are sharper and more vibrant, with standout low-light results.
Third-party apps like WhatsApp also benefit, especially in videos. On a recent video call, the front camera brilliantly managed light and showcased authentic skin tones.
Apple iPhone 15 battery
I'm satisfied with the iPhone 15's battery life, even though it's fair to say it can handle only an average day's energy consumption. Under heavy usage, you'll need to recharge it by up to 40% for extra power. Thankfully, with the now-supported industry-standard USB-C, it takes approximately 20 minutes to achieve that .
---
Pros:
Equipped with a USB-C port.
Provides all-day battery life.
Cons:
It charges with a maximum of 20 Watts.
---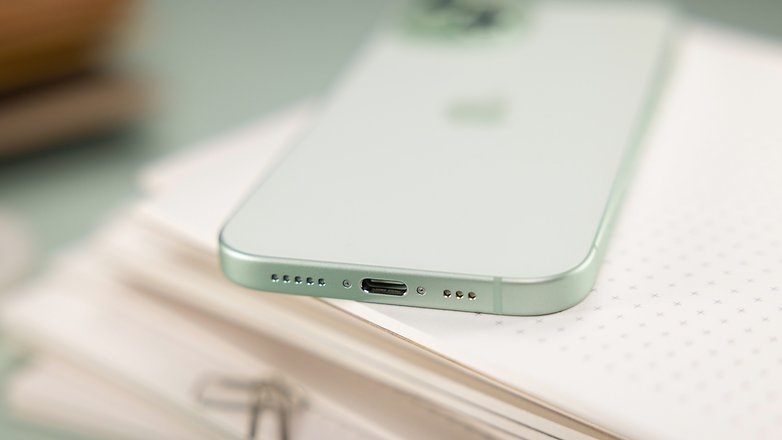 With 3,349 mAh, the battery life of the iPhone 15 generation hasn't shown significant improvement over last year's models, delivering essentially the same usage time. This equates to 20 hours of video playback, 16 hours of streamed video, and 80 hours of audio playback.
As previously mentioned, this phone provides an all-day battery experience under average use. Having had the opportunity to use the iPhone 15 for three consecutive weeks before penning this review, I encountered various scenarios.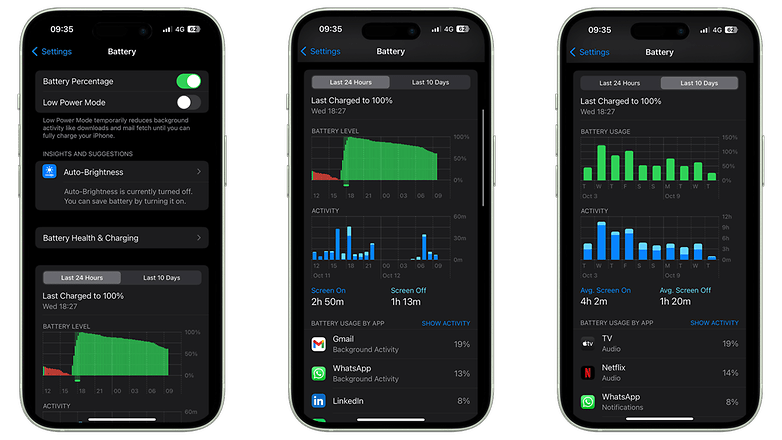 In a regular routine that includes going to work, studying, exercising, socializing with friends, and consuming streaming content, you can be confident that starting the day with at least 80% battery will suffice.
However, during trips where there's frequent use of GPS services, primarily 5G connections, and the camera app, you will find the need to charge the phone at least once more during the day. Thankfully, even though charging speeds max out at 20W, achieving a decent battery level won't take more than 20 minutes, as demonstrated in the subsequent table:
iPhone 15
(3,349 mAh | 20 W)
Pixel 8
(4,485 mAh | 27 W)
5 minutes
10 minutes
20 minutes
30 minutes
1 hour
Full charge
Additionally, the iPhone 15 features wireless charging—also known as MagSafe—with a capacity of up to 15 W and Qi up to 7.5 W. Reverse wireless charging is also included.
Apple iPhone 15 technical specifications
Base model 2023
Product
MSRP
from $799
Image
Colors
Pink, Yellow, Green, Blue, Black
Display
Super Retina XDR Display
6.1" All-Screen OLED
2556 x 1179 pixels at 460 PPI
60 Hz refresh rate
Dynamic Island
SoC
Apple A16 Bionic (4 nm)
Memory
6 GB of LPDDR5 | 128 GB, 256 GB, and 512 GB
microSD
❌
Main camera
48 MP | F1.6 aperture | 2.0 µm pixels | sensor-shift OIS
Ultra-wide angle
12 MP | F2.4 aperture | 13 mm focal length
Telephoto lens
❌
Selfie
12 MP | F1.9 aperture | autofocus
Battery life
3,349 mAh
Video playback: 20 hours Video
(streaming): 16 hours
Audio playback: 80 hours
Fast charging
20 W (cable)
15 W (MagSafe)
7.5 W (Qi)
Robustness
IP68, Ceramic Shield, aluminum frame
Connectivity
eSIM, 5G, Wi-Fi 6, NFC, Bluetooth 5.3, UWB, Satellite
Dimensions and weight
147.6 x 71.6 x 7.80 mm | 171 g
Final verdict
The iPhone 15 lineup represents progress in various areas. The A16 Bionic remains among the best processors in flagship smartphones. Its 48-megapixel camera is a significant improvement over earlier models. Most impressively, Apple is pioneering the inclusion of more recycled materials in their products—applause-worthy!
The device has its flaws. While the iPhone 15 uses the EU-mandated USB-C port for charging and data transfer, it still runs at USB 2.0 speeds. Essentially, this just means you don't need an extra Lightning cable.
Additionally, the new Dynamic Island feature offers handy shortcuts due to an updated camera and Face ID housing. But while the display is brighter in direct sunlight, its resolution hasn't improved, and it's still limited to a 60 Hz refresh rate.
Apple has made progress, but in some areas, they've either stalled or taken steps back, which overshadows their notable successes.
In summary, Apple suggests that for a better display and the Always-on feature, you'll need to pay $200 more for the Pro version. It seems unfair that these two basic features are only for the more expensive models when they could be available to all iPhone 15 users, right?
Apple iPhone 15 - where to buy?
The new generation maintains the pricing of last year but features significant improvements in performance and photo quality. You can find the iPhone 15 and iPhone 15 Plus for $799 and $899, respectively. The devices are available for purchase from today onward through the Apple Store and e-commerce partners.