Apple iPhone 15 Pro Max Review: The Temptation Fruit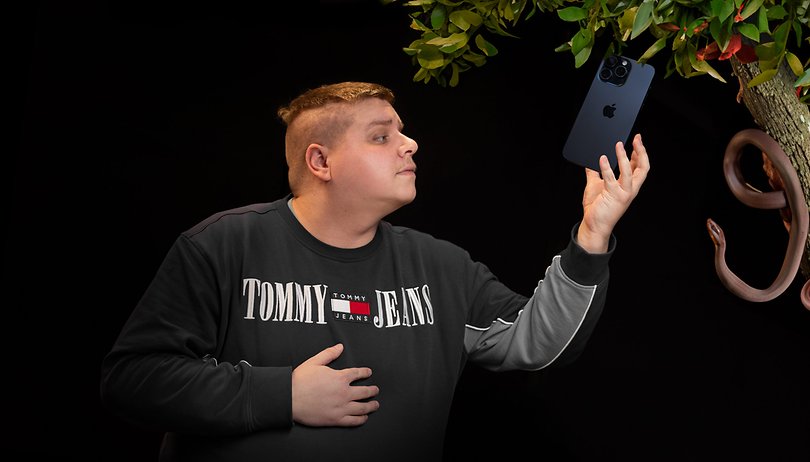 The iPhone 15 Pro Max is not only the most expensive smartphone on the market but also the most accomplished. This Apple flagship has almost reconciled me with the Apple brand. In this full review, I tell you why the Apple iPhone 15 Pro Max is the only smartphone I'm considering buying this year.
Good
Unchanged look, but beautiful titanium blue color

Perfect finish

Versatile camera module with good zoom

Well-calibrated 120 Hz screen

Top performance

Very decent battery life

Excellent update policy
Bad
Night-time photo quality not always consistent

Recharging far too slow for the price

Massive form factor despite "lighter" titanium

Petty USB 2 cable

Exorbitant price
Apple iPhone 15 Pro Max: All deals
The iPhone 15 Pro Max in a nutshell
The iPhone 15 Pro Max has been available in the US since September 22, 2023. The smallest configuration stands at 256 GB instead of 128 GB, and is priced at $1,199 a pop. This is similarly priced for the equivalent memory capacity as last year's iPhone 14 Pro Max (review).
The iPhone 15 Pro Max introduces four main new features. The triple camera module features a new 12 MP periscopic telephoto lens that is capable of 5x optical zoom. The Lightning port is replaced by a USB-C port with the USB 3.2 standard.
The action button on the left side replaces the mute button and offers several system shortcuts. Last but not least, Apple's new A17 Pro chip will eventually enable you to play console games on your iPhone locally, among other things
All in all, Apple's performance is almost flawless, if we disregard the exorbitant price of its flagship. The iPhone 15 Pro Max makes almost no compromises, which is very rare for Apple. In short, as an Android user, I thoroughly enjoyed my time with the iPhone 15 Pro Max.
Design
Titanium, titanium, it is so cool! The iPhone 15 Pro Max has very similar visual cues to its previous generation. However, this year sees a new material used that is exclusive to the Pro range—titanium, and this has totally rocked the techosphere.
---
Pros:
Sumptuous titanium blue color.
IP68 certified.
Almost flawless finish.
Titanium color has stood the test of time (for now).
Cons:
Still massive despite shedding 19g of weight.
Doubts about the durability of the titanium frame paintwork.
---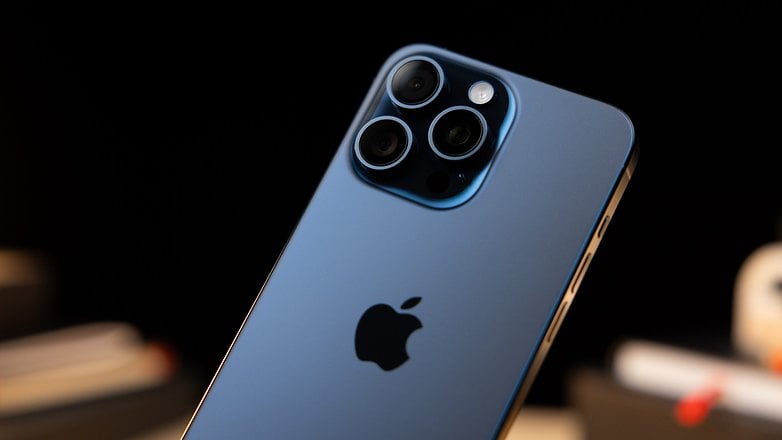 Yes, the titanium used for its frame (instead of steel) makes the iPhone 15 Pro Max lighter than the iPhone 14 Pro Max. The weight loss is staggering, mind you: we are looking at 19 grams of weight.
I was so fed up with such hysteria that I decided to check it out for myself. I asked my colleague Ezequiel, an absolute pro-Apple fanboy, to place the iPhone 14 Pro Max and the iPhone 15 Pro Max in each of my hands while I closed my eyes.
And I did indeed correctly "guess" the phone that felt lightest to me, which was the iPhone 15 Pro Max. It was a true "Apple moment", an epiphany of sorts. Anyway, I'll stop trolling. Still, the iPhone 15 Pro Max weighs in at a hefty 221 grams, and its dimensions aren't exactly compact at 159.9 x 76.7 x 8.3 mm.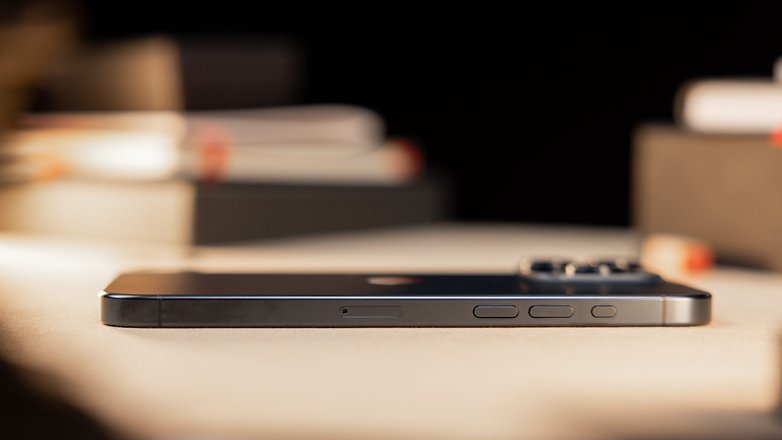 However, there's no denying that the iPhone 15 Pro Max has an almost flawless finish. The industrial, almost minimalist design gives the impression that the phone is carved from a single piece of titanium. The titanium blue color I was treated to is truly sumptuous to look at. The grip is not unpleasant, despite its rather massive form factor. Without Android's backspace gesture, I found one-handed navigation in the interface to be a bit boring.
As for the rest, the camera module looks exactly the same. The glass back looks exactly the same as before, as are the straight edges with rounded corners. As for the flat-edged 6.7" OLED screen with Dynamic Island, you would be hard pressed to tell the difference from its predecessor. The smartphone is also still IP68 certified, which is a good thing.
I had my doubts about the durability of the titanium frame color. But after several weeks' use with and without a protective shell, I haven't noticed any discoloration or signs of wear.
A quick word on the action button, which I'll mention in more detail in the Interface/OS section of this review. I found it surprisingly more practical than I would have imagined at first glance. But its placement at the top of the left-hand edge of the smartphone is rather unergonomic.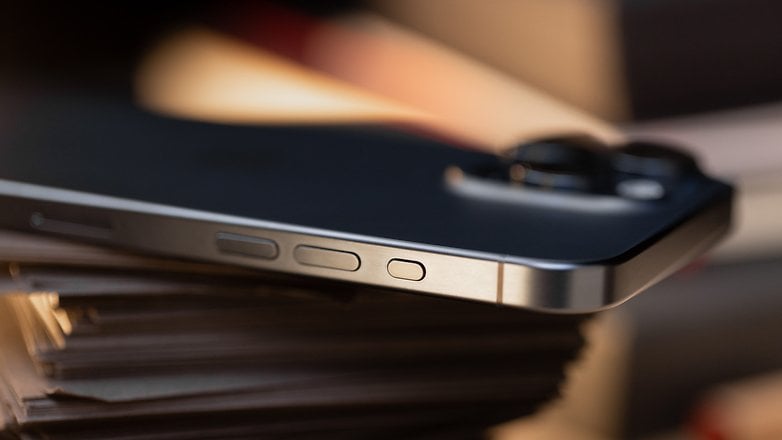 Screen
The iPhone 15 Pro Max features a 6.7-inch OLED display with a 120Hz refresh rate, 2796 x 1290 pixel resolution, and a maximum brightness of 2,000 nits. The Dynamic Island is always present at the top of the screen.
---
Pros:
Natural colorimetry.
120 Hz refresh rate.
Dynamic Island is still relevant.
Adequate brightness level.
No curved edges.
Cons:
Cannot manually the adjust refresh rate.
Dynamic Island spoils gaming immersion and is impossible to hide.
---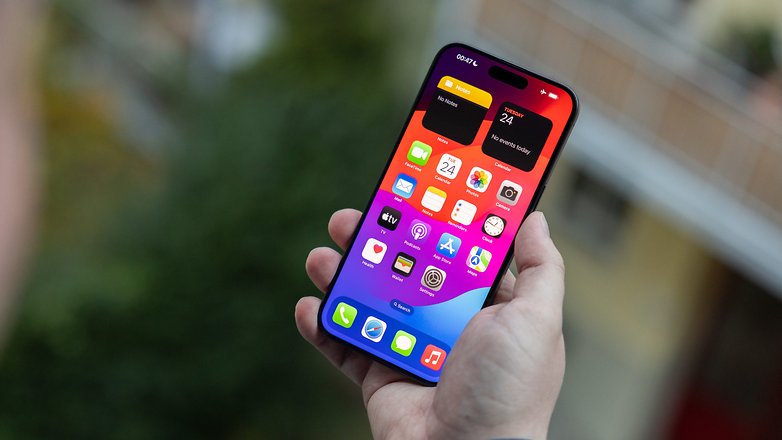 Colors are natural, and the 120 Hz variable refresh rate is fluid, even if I'd have liked to be able to customize it. The maximum brightness of 2,000 nits is only achieved in HBM (high brightness mode). Normally, it would hover at around 1,000 nits. But that's more than enough for good legibility in all circumstances.
I've used the iPhone 15 Pro Max a lot for gaming, from cloud gaming via Xbox Game Pass Ultimate at 1080p at 60 FPS to mobile games and even Resident Evil: Village at 120 FPS. I'd like to dedicate an article to the latter, if you're interested. But in each of these scenarios, the visual experience was top-notch.
The only flaw is that the dynamic island ruins immersion a little and takes up too much screen real estate. It's a pity that Apple doesn't offer an option to hide it or simply reduce the "frame" in games so as not to have this black pill on the screen.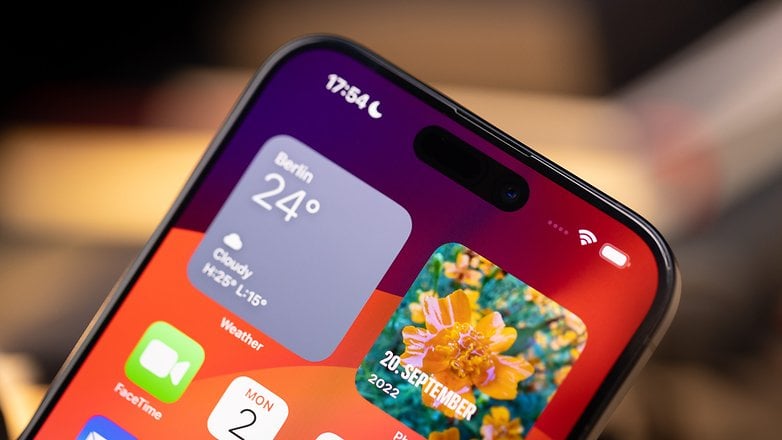 Apart from these immersion concerns, I'm still seduced by the concept of the Dynamic Island, the interactive pill that replaces the notch at the top of the screen.
The Always on display is also still there. And while I appreciate the customization options, I still find it too busy and, above all, too bright. Admittedly, this can be remedied by deciding not to display the wallpaper, as I explain in this tutorial below. But in that case, what's the point of offering this customization option?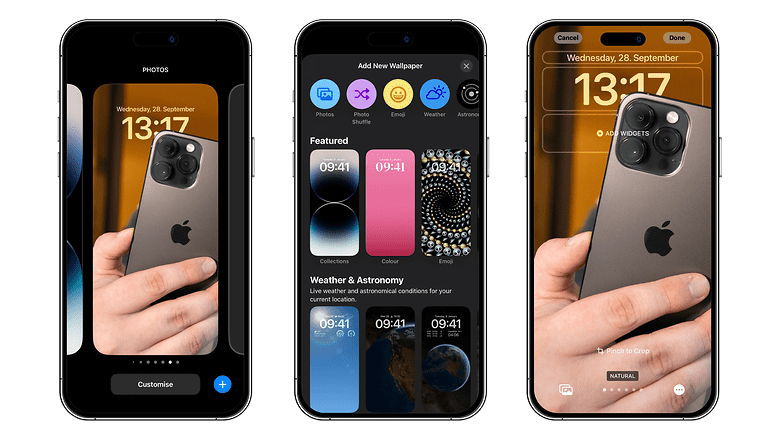 Interface/OS
The iPhone 15 Pro Max runs on iOS 17, and we've listed all its new features, the eligible iPhones that will receive the update, and how to install it in this ultimate iOS 17 guide.
---
Pros:
A top-notch update policy.
A feeling of security and control over your data emanates from iOS.
Practical Action Button.
Cons:
Action Button not sufficiently customizable.
The return gesture is as unintuitive as ever.
Impossible to transfer photos to Windows PC (unless you install... iTunes).
---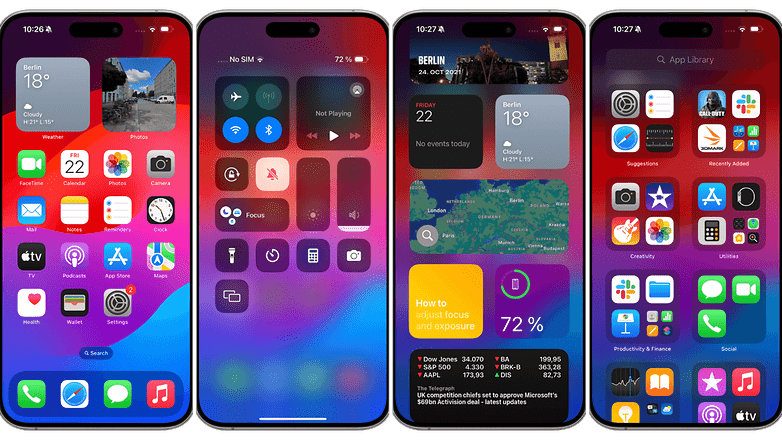 I'm not going to dwell on Apple's interface in this review. You can find our impressions of Apple's software proposition in our full iOS 17 review.
Nevertheless, iPhones remain exemplary in terms of software durability. And this is an increasingly essential purchasing criterion for me, both as a tester and as a consumer. By combining this extensive upgrade policy with value retention on resale, iPhones are de facto the most durable smartphones on the market. I know I'll be able to keep the iPhone 15 Pro Max for at least three years without too much trouble, while being able to resell it for enough to finance the purchase of a new model.
In terms of functionality, I really like the operation of the new action button, positioned at the top of the left-hand edge of the smartphone. It replaces the mute button found on previous models.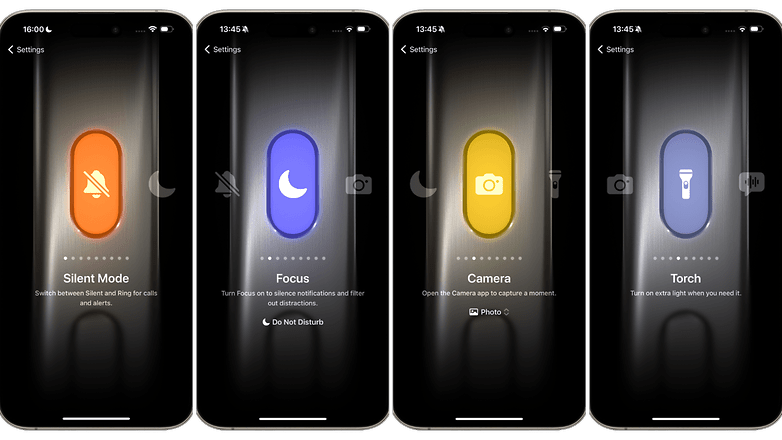 It's a multi-function button to which you can assign several actions and/or shortcuts: turn on the flashlight, switch to silent mode, focus mode, launch the camera, and the list goes on. It also serves as a shutter release for the camera, where a single press will capture photos while a long press will shoot video.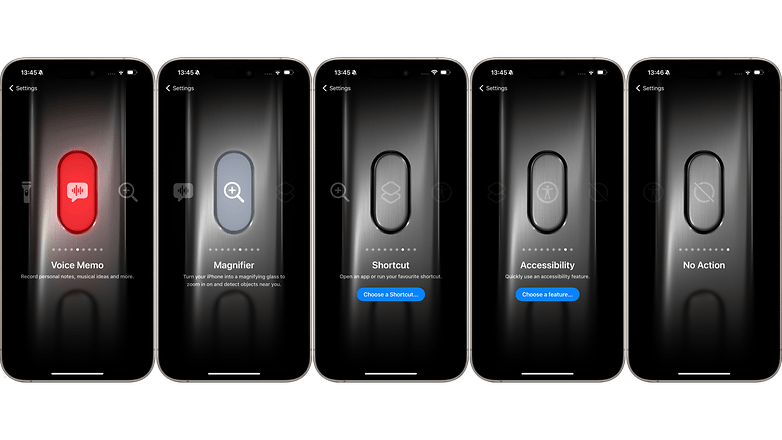 I'd also like to devote an entire article to the (admittedly, this is relative) feeling of control that iOS provides. It's totally counter-intuitive when you know that Apple hates giving its users too much freedom.
However, I felt more in control of my smartphone thanks to the various data protection features. The ability to restrict access to the photos of my choice and not my entire gallery when sharing them via an app, a tracking blocker for apps when installing them, and so on. The choices are more precise and the access blocks are more restrictive than on Android.
I'm just a dumb journalist, not a cybersecurity expert. I don't know how much more secure iOS is in practical terms than Android. In any case, I had the sensation of being better protected. It's stupid, but it worked as a strategy.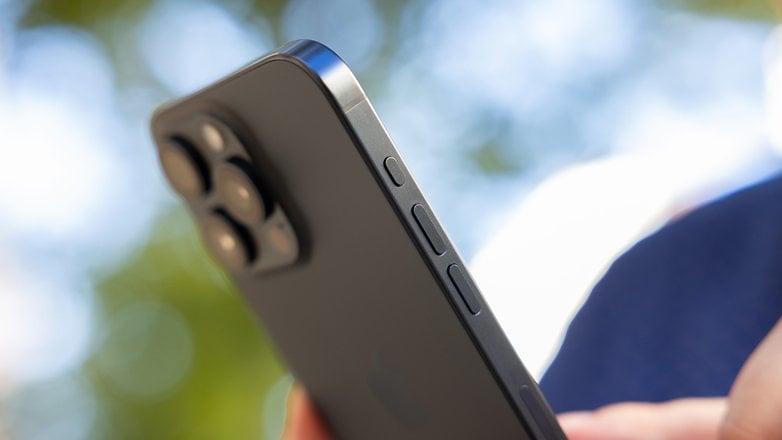 A final word about the switch to USB-C. As is often the case with Apple, every advance is accompanied by a little asterisk. Here, it refers to the 10 GB/s transfer speeds enabled by the USB 3.2 standard. That's great, except that you need a compatible cable to take advantage of it. Unsurprisingly, the USB 2.0 cable included in the iPhone 15 Pro Max box is not compatible.
There's also a whole section you can explore concerning iOS accessibility and health features. My colleague Camila produced a superb dossier on the topic of menstrual cycle tracking and compared the Apple and Samsung ecosystems,, coming to the conclusion that Apple's solution is better implemented.
A real last word for real this time: why do I need to install iTunes on my Windows PC to transfer my photos and videos properly? WHY? I've just spent 1200 euros on the iPhone 15 Pro Max. I've just bought a USB 3.2 cable for $40 on Apple's official store to transfer my files quickly. Why the hell doesn't it work like a charm?
This is just one tiny example of Apple's "yes, but" policy, whereby every step forward is accompanied by a totally meaningless compromise.
Performance & SoC
The iPhone 15 Pro Max features the new A17 Pro SoC which is a 3nm chip. Roughly speaking, it's a miniaturized version of the A16 Bionic that was found in last year's iPhone 14 Pro and Max, with which the iPhone 15 and Plus are also powered this year. The space gained has been allocated to the GPU, which is capable of ray-tracing and the Neural Engine (NPU), among other things.
---
Pros:
Top performance.
No overheating in normal use.
The fact that Resident Evil Village runs almost console-style is impressive.
Cons:
The 6 GB RAM is a bit limited for "console-level" games.
Overheating on Resident Evil Village with "maxed-out" graphics.
---
The configuration of Apple's SoC is rather unusual, with a "big-little" layout: the CPU has two performance cores and four efficiency cores, while the GPU is a 6-core unit with Ray Tracing.
iPhone 14 Pro Max
iPhone 15 Pro Max
Samsung Galaxy S23 Ultra
3D Mark Wild Life
Too powerful
Too powerful
8,611
3D Mark Wild Life Extreme
2,291
3,998
3,840
3D Mark Wild Life Stress Test
Best loop: 9,599
Worst loop: 8,121
Best loop: 9,991
Worst loop: 8,709
Best loop: 10,332
Worst loop: 5,606
Geekbench 5/6
Geekbench 5:
Single: 1,885
Multi: 5,406
Geekbench 6:
Single: 2,936
Multi: 7,453
Geekbench 5:
Single: 1,332
Multi: 3947
All 3D games run at a constant 60 FPS, and some 2D games can go up to 120 FPS. I didn't experience any slowdowns or overheating problems. I know that overheating was a big problem in the first online tests. But Apple seems to have rectified this since then. In fact, my iPhone 15 Pro Max heated up more when charging than during an hour-long gaming session.
But the Apple Arcade catalog seems to be disappointing for now, for those who were hoping to exploit the full power of the iPhone 15 Pro Max.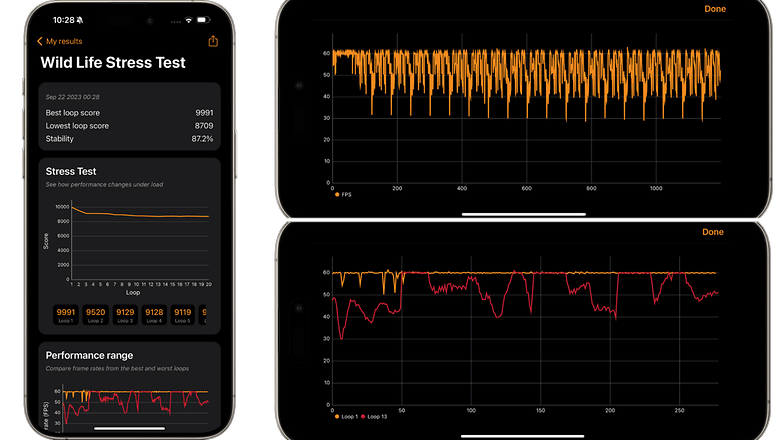 Fortunately, the first ports of console/PC games are starting to appear on the App Store. The first of these is Resident Evil: Village. It's a rather strange and daring choice by Apple to inaugurate its catalog of "real" triple-A games for iOS with a horror game.
Personally, I have a lot of trouble with this kind of game, because the jump scares and frightening atmosphere work too much on my rather timid mind, I admit. But I took the plunge anyway for this test.
The full game cost me $15.99. But you can download it for free and play for a few minutes without paying to get an idea. If you like, I can devote an entire article to my experience once I've finished the game.
But basically, when you launch the game, you can choose from several presets for the graphics. The default mode will run the game in 720p at 60 FPS, on average. I noticed drops to 30/40 FPS after a few hours of play. But all in all, given the small size of the 6.7-inch screen, the 720p isn't really a nuisance.
In my opinion, this is quite an achievement. Apart from the excellent Alien: Isolation, which I played a few years ago on Android, this is the best gaming experience on mobile today. The game runs almost as smoothly as on a home console.
Now, don't get your hopes up. If you push all the settings to the max, the game will be unplayable and run at 3 FPS. Sometimes, simply pushing a graphics setting to the max and exceeding the 6 GB of RAM available would crash the game. But no other smartphone is yet capable of offering such a console-like experience. I was simply blown away.
Gameplay extract from Resident Evil: Village with default settings
A word on gameplay, however. The developers have implemented virtual keys for touch controls. I already applaud this effort, since you can play the game without a controller, just with your fingers, even though it wasn't originally designed for this purpose.
But the touch controls, while complete and responsive, obstruct the screen far too much. And that ruins immersion. I've mostly played with my wireless controller, to be honest. And I don't really plan to do without it, except for the purposes of this test.
Gameplay extract from Resident Evil: Village with the graphics-priority preset
Another drawback is that this type of game consumes a lot of energy. On a full charge, I lasted just over 3 hours before running out of battery power at 20%. That's still better than on mini-PC laptops. And the graphics are definitely better than on a Nintendo Switch, in my opinion.
Photo & video quality
The iPhone 15 Pro Max features a triple camera module on the rear. It includes a 48 MP main lens (f/1.78, 24 mm equivalent), a 12 MP ultra-wide-angle lens (f/2.2, 13 mm equivalent), and a 12 MP periscopic telephoto lens (f/2.8, 120 mm equivalent). The latter is capable of 5x optical zoom, compared with just 3x in previous models. The selfie camera offers 12 MP resolution (f/1.9, 23 mm equivalent).
---
Pros:
Versatile photo module.
Telephoto zoom quality.
Portrait mode at its best.
4K video at 60 FPS with ALL lenses.
Cons:
Flare effects on some night shots.
---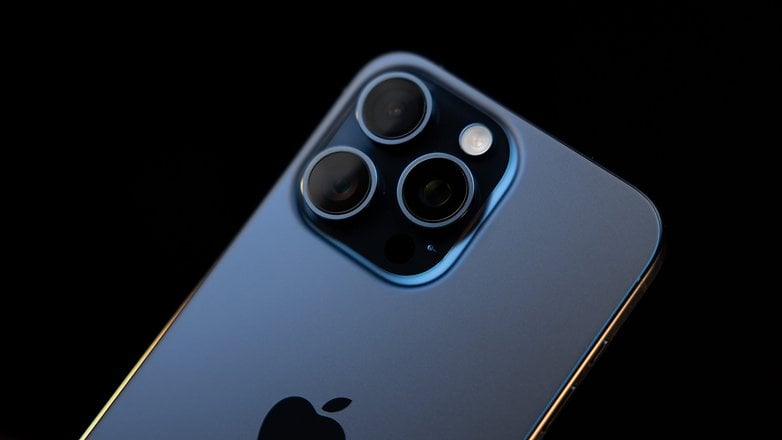 This 5x periscope telephoto lens is exclusive to the iPhone 15 Pro Max. Other models, even on the iPhone 15 Pro, is limited to a 3x optical zoom (12 MP 77 mm equivalent).
My colleague Stefan, a shutterbug through and through, has drawn up a camera comparison between the iPhone 15 Pro and iPhone 15 Pro Max. This allows me to keep this review concise, especially after I've carried out my photo tests this weekend.
I simply found the zoom to be very effective and, on the small sample of photos I've taken so far, I didn't notice any significant loss of detail even when I go all the way up to 10x magnification.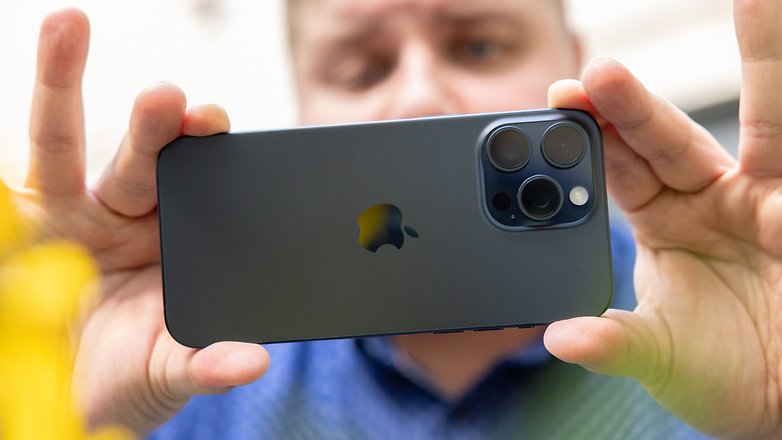 The portrait mode, which can be easily applied or removed in post-processing, is as amazing as ever. Clipping is so clean. I did have a few flare issues on some night shots with strong light sources, where light reflection artifacts would sometimes burn out parts of the image.
Truth be told, that's probably my fault. I'm not an Apple fan, I must have made a mistake or held the iPhone 15 Pro Max wrong with my filthy pro-Android hands (sponsored in turn by Samsung, Xiaomi, Oppo, OnePlus, and Asus according to some readers, but never Sony. Oh no, NEVER!!!!!).
The fact that you can shoot in 4K at 60 FPS with ALL lenses, both front and rear, is also a big plus. As for professional photographers, the physical shutter button is a huge plus. I'll ask my colleague Ben to share his impressions on ProRes and all that stuff that's totally beyond me as a layman.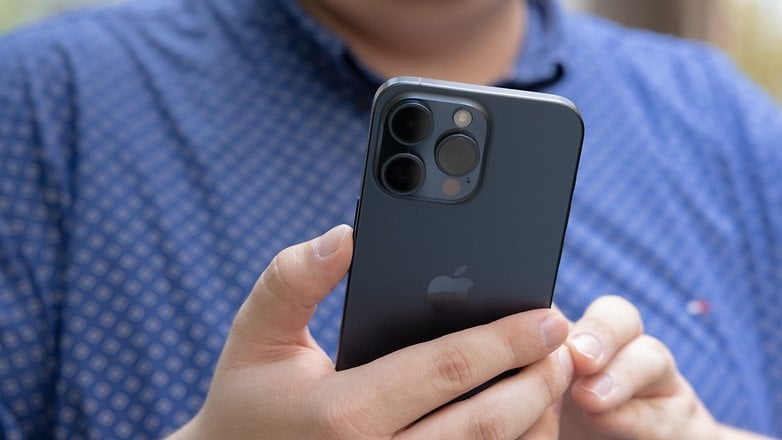 Battery life & recharging
The iPhone 15 Pro Max's battery continues to remain an unknown quantity, as usual. Apple does not communicate the capacity of its batteries with the world. Wired charging still happens at 20 watts, and there's also wireless charging at 15 watts via MagSafe and 7.5 watts via Qi. Just in case you were wondering, reverse wireless charging is also supported. It is no surprise now that there is no charger included in the box.
---
Pros:
Very decent battery life.
MagSafe in 15 W always better than Qi in 7.5 W.
Reverse wireless charging.
No need for Lightning cable.
Cons:
Very slow wired charging.
Charger block not included.
---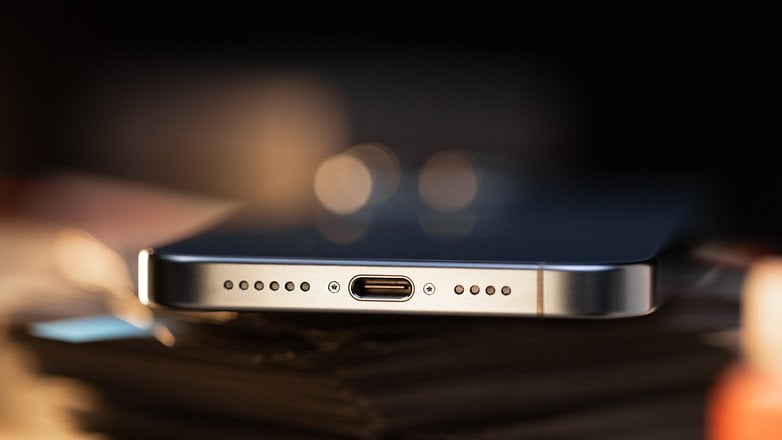 Come on, let's skip this section. Nothing has changed since last year. The battery life announced by Apple is the same as the iPhone 14 Pro Max's.
29 hours of video playback, 25 hours of video streaming, and 95 hours of audio playback. Yes, that doesn't mean a thing. Charging technologies also remain unchanged.
In actual use, I've always been able to last at least a day and a half. By starting my day at around 8 a.m. with the battery at 100%, I was able to go the whole day without having to recharge the iPhone 15 Pro Max in the evening. And when I started again the next day at the same time, I was often at just over 40% remaining battery life.
This wasn't enough to last the whole of the second day without charging. But it's a respectable score. I'd have liked to be able to run an autonomy benchmark, but it's Apple. So it doesn't work.
As for recharging, it's extremely slow. Especially as I was using the Xiaomi 13 Pro in daily mode before this. Almost two hours for a full recharge, which is intolerable considering the price of the thing. And that's when I was using my 140W Ugreen charger (the iPhone 15 Pro Max accepts a maximum of 20W). With MagSafe at 15 W or Qi at 7.5 W, you really need to be patient.
iPhone 15 Pro Max


Charging speed

5 minutes
10 minutes
15 minutes
30 minutes
1 hour
Full charge
Technical data
iPhone 15 Pro Max technical specifications
Device
Apple iPhone 15 Pro Max
Price
from $1,199
Image
Colors
Black Titanium, White Titanium, Blue Titanium, Nature Titanium
Screen
Super Retina XDR screen
6.7" all-screen OLED display
2796 x 1290 pixels at 460 dpi
120 Hz refresh rate
Dynamic Island
SoC
Apple A17 Pro (3 nm)
Memory
256 GB, 512 GB and 1 TB
microSD
❌
Main camera
48 MP | Quad-pixel sensor | Pixels 2.44 µm | Aperture f1.78 | Focal length 24 mm | OIS
Ultra-wide angle
12 MP | f/2.2 diaphragm | 1.4µm | 13 mm focal length | Macro
Telephoto lens
12 MP | f/2.8 | 120 mm focal length | 5x optical zoom | OIS sensor shift
Selfie
12 MP | f/1.9 aperture | autofocus
Audio
Stereo
Battery life
Video playback: 29 hours
Video (streaming): 25 hours
Audio playback: 95 hours
Charging
20 W (cable)
15 W (MagSafe)
7.5 W (Qi)
Ruggedness
IP68 Ceramic Shield, titanium frame
Connectivity
eSIM, 5G, Wi-Fi 6E, NFC, Bluetooth 5.3, UWB, satellite
Dimensions and weight
159.9 x 76.7 x 8.25 mm | 221 g
Conclusion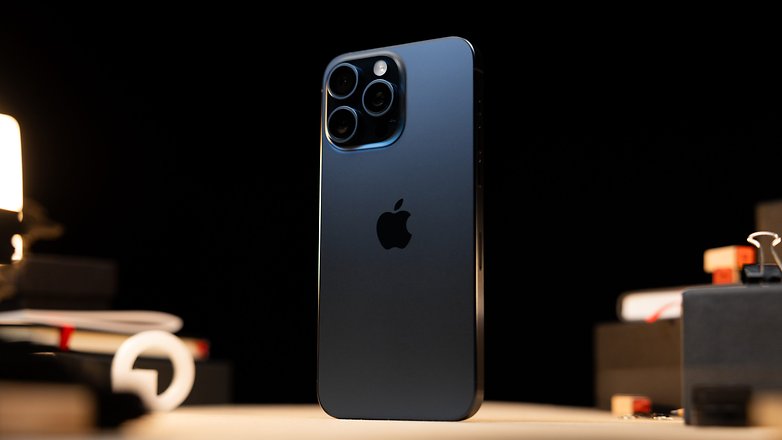 Apple has made almost zero concessions on its iPhone 15 Pro Max. A year ago, if I had to name the smartphone(s) I was considering buying with my money, I would have opted for the Samsung Galaxy Z Fold 4 or the Galaxy S22 Ultra.
But my buying criteria have evolved quite a bit. I attach much more importance to durability. From a financial point of view, don't get me wrong. I'm not trying to be a moralist. My carbon footprint could be drastically reduced. I've flown to work four times this year, and I still sometimes throw a packet of potato chips in the garbage instead of plastic. And my vials of electronic cigarette liquid are an absolute ecological disaster.
No, when I talk about a sustainable smartphone, I'm talking about a smartphone that you can keep for a long time, not only because it will remain functional and efficient, but also because it will retain its value over the long term.
Samsung and especially Google have recently made giant leaps in software durability. On paper, Google is ahead of Apple. But a Pixel 8 Pro will only be worth $300 in two or three years' time, if not less, while the iPhone 15 Pro Max will still be worth at least 600, if not 700.
Some points remain problematic in my opinion. Offering USB 3.2 without providing a compatible cable is petty. Battery life isn't exactly rocket science either.
The fact remains that the iPhone 15 Pro Max leaves me with the impression of a clear move upmarket. And the breakthrough Apple is attempting in mobile gaming is more promising and courageous than anything Android manufacturers have undertaken in the last 5 years.
If it weren't for its totally anachronistic charging, the lack of an intuitive back gesture in the interface and its stratospheric price, I'd have given the iPhone 15 Pro Max a 5/5 rating without hesitation.
What do you think of Apple's iPhone 15 Pro Max after this comprehensive review? Does it offer enough new features?