The best fitness trackers to buy in 2021
Update:

Revised with a new layout!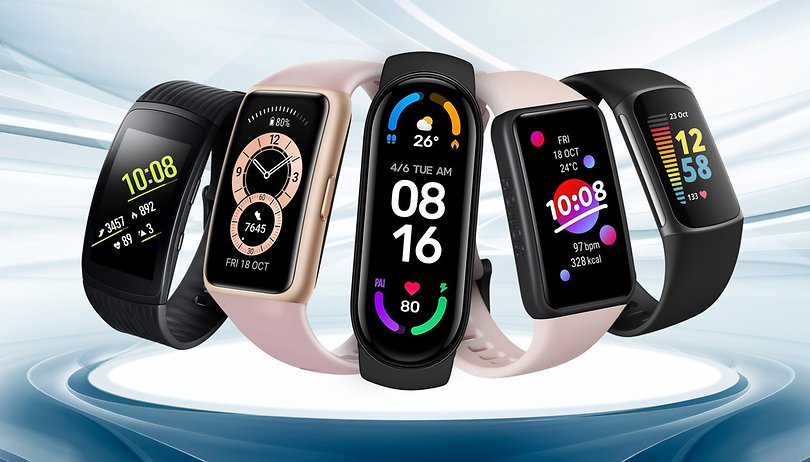 Do you want to be healthier and more active in 2022? Then you are on the right track by purchasing a brand new fitness tracker. This is because models from the likes of Samsung, Xiaomi, Fitbit, and others not only track your heart rate or blood oxygen level, they also encourage you to be more active. Read on below to find out just which are the best fitness trackers for Android and iOS!
Editor's recommendation
2nd place
3rd place
4th place
5th place
Product
Photo
Pros

Larger display
SpO2 tracking
High wearing comfort
Great price-performance ratio

Beautiful AMOLED display
Simple design
Great connectivity to the Huawei Health app
SpO2 tracking all day long
Solid battery life

Nice design
Very good AMOLED display
Suitable for swimmers

Back design has been improved
Wide range of functions including ECG, GPS, SpO2, EDA scan & more
Easy-to-use app

Beautiful new design
Super simple operation
Huawei Health as a companion app works great
Heart rate monitor includes SpO2 measurement
Solid battery life

Cons

No GPS
somewhat shorter battery life than the Mi Band 5

No GPS
Menstrual cycle tracking only available on HMS devices

Expensive
Annoying setup process
Inaccurate heart rate measurement

Many features require a paid subscription and/or are not ready yet
Feature variety with not always clear added value
Integrated GPS is disastrous
Super expensive

No GPS
Big button is often mistakenly pressed
Currently available only in English
Menstrual cycle tracking only available with HMS devices

Ratings

Read review

Read review

Read review

A good choice among fitness trackers.

Pierre Vitré
Editor


Read review

Read review
Check offer*

See price
We only included fitness trackers in our list that we reviewed or tried out for ourselves. This means that there is always a review for every device, in which you can find detailed information and impressions that we have on them. In case you are wondering why, for instance, the Apple Watch Series 7 is not on the list, we use this particular list to differentiate ourselves from smartwatches.
For us, fitness trackers are digital wristbands with the most important tracking functions that remain suitable for telephony or other smart functions. If you are looking for a watch with an extended range of functions, we highly recommend our Best Smartwatch list!
Jump To:
Before we begin counting down our list of the best fitness trackers, here is a question. What really matters when you are looking for a good, reliable companion for everyday sporting activities? So let's kick things off with a short buying tip!
What should you watch out for when buying a fitness tracker?
In the following, we will briefly discuss the functions or properties of fitness trackers that might not suit everybody. If you can cross one of the entries off the list, a cheaper model may be more suitable. So if you are not familiar with smartbands at all, the following section will help you get familiarized with the topic.
Do I need GPS or is the smartphone enough?
If you always carry your smartphone with you when you go jogging for safety reasons or use it to listen to music, then you don't need to pay attention to having a GPS receiver in the fitness tracker. This is because almost every fitness tracker offers the possibility of recording the distance covered by working alongside the smartphone.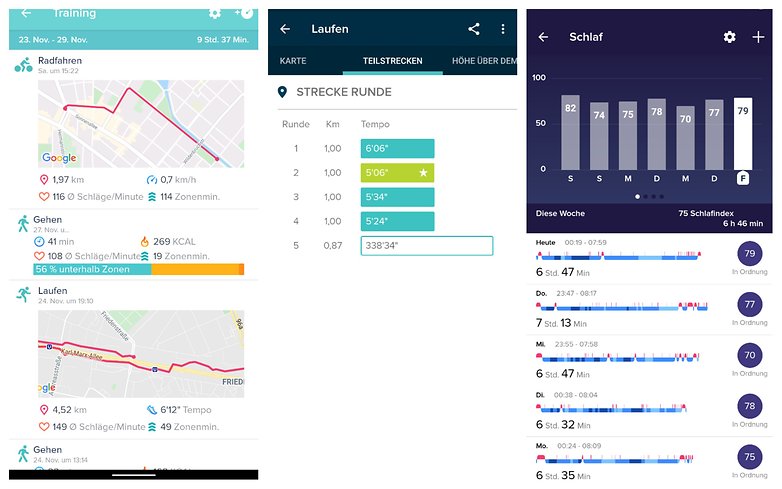 GPS receivers in modern smartphones are often more precise than the modules in fitness trackers. But if you are reluctant to take your mobile phone with you when doing sports, GPS can be essential. If a fitness stacker shines with this feature, we will inform you below.
Music control or music player?
Another pitfall in choosing the right fitness tracker is the difference between music control and music player. A built-in music player allows you to download songs to built-in memory and lets you listen to them on the go without the need for a smartphone. Bluetooth headphones or true-wireless headphones can usually be connected to the fitness tracker for this purpose.
If a manufacturer sells its fitness tracker with integrated music control, you can assume that you can also control your music via your wrist. You can control the active playback on your smartphone and leave the phone in your pocket. Also, look for Spotify-exclusive music controls on Fitbit, which is what you can find on the Fitbit Charge 4.
Is the SpO2 sensor really useful?
Keeping an eye on your oxygen saturation while on-the-go sounds like a great feature at first. However, my colleague Stefan, who once trained as a fitness trainer, explained to me once again during this comparison test that blood oxygen hardly fluctuates in healthy people. It is, therefore, advisable to check it when exercising in mountainous areas or when you are under extreme stress.
If you do not intend to do this, you should rather disregard a corresponding sensor. In any case, it is available in only a few models, so this should not be a compulsory feature in your purchase decision.
Sleep tracking and mindfulness
A healthy lifestyle isn't just about pumping iron, running, and swimming! You also need to get some rest and fortunately, fitness trackers do help you with that too. The most common and useful feature for this is sleep tracking, which monitors the duration and quality of your sleep. Human sleep consists of different phases: light sleep, deep sleep, and the so-called REM sleep phase. On the topic of mindfulness, by the way, certain fitness trackers also boast of meditation features or breathing exercises. These often rely on your pulse and sees if it changes during the planned rest period.
Compatibility with other hardware
If you want to do more than just run while wearing your fitness tracker, but also want to keep an eye on your pulse during a martial arts session or gymnastics training, you should pick a model from Huawei or Garmin. In the Huawei Health app and Garmin's Forerunner watches, you can use additional devices like chest straps with heart rate monitors. Especially during movements, for example, when you bend your wrist or the fitness tracker slips for other reasons, errors can occur in the measurement. In addition, Garmin's HRM-Run models can also record vertical movement and your ground contact time.
Special features like notifications, contactless payment or telephony
As mentioned at the beginning, it's getting harder and harder to distinguish between fitness trackers and smartwatches. That's because, with new features introduced all the time there are also new selling points, and hence features like wireless payments or microphones and speakers for making phone calls have now landed in fitness trackers as well. While these features are still rare, you can access your notifications, set an alarm, or tell the time with almost all commercially available smartbands. In fact, apart from notifications with an answer function, there are also stopwatches, alarms, timers, and possibly even mini-games or installable apps.
Materials, case and weight
The design of the fitness tracker is similarly unique and depends on your taste, although there are also practical matters to take into consideration. When it comes to leather straps, fabric straps or straps made out of plastic, each of them has its own advantage and disadvantage depending on the type of activity that you are heavily involved in. When swimming, for example, a fabric band can quickly become disgusting, and it is obviously not the most comfortable to wear when you are sleeping at night.
However, bands can usually be bought new and easily replaced, the weight and dimensions are set right from the get-go. If you have the opportunity to try out a fitness tracker at an electronics store, I would definitely recommend it!
Wearing a fitness tracker on your wrist will definitely scare the couch potato out of the house, as it informs you of the number of steps you've taken and helps you check your heart rate whenever you're exercising. But with all of the available options in the market, choosing the right fitness tracker for you definitely isn't easy. This is why we've picked out the right models to cater to every possible type of user.
The best fitness tracker: The Xiaomi Mi Band 6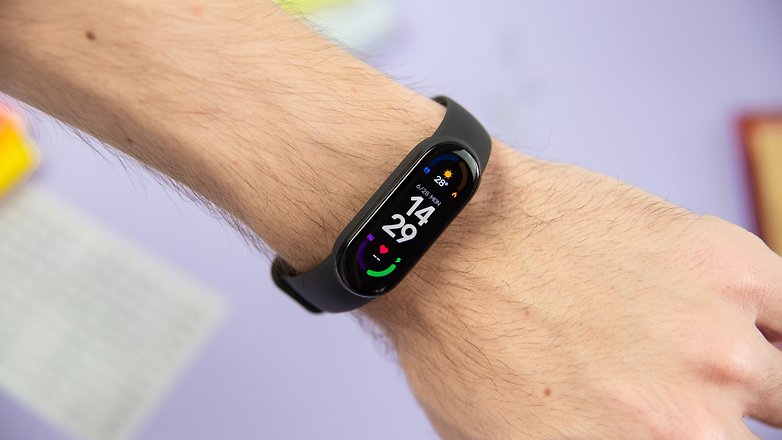 | | |
| --- | --- |
| Ratings | |
Pros

Larger display
SpO2 sensor (oximeter)
Comfortable to wear
Value-for-money

Cons

No GPS receiver
Loses out to the Mi Band 5 in battery life
Read our Xiaomi Mi Band 6 review
The Mi Band 6 is an improved version of the Mi Band 5. Despite sporting similar dimensions as its 2020 predecessor, the display here is larger at 1.56-inches. It sports a resolution of 152 x 486 pixels, which means Xiaomi has also increased the pixel density without losing any of the brightness on the display.
Concerning additional features, the Chinese consumer electronics giant has added a SpO2 monitoring sensor into the Mi Band 6 and removed the button below the display along the way. This means there are no more physical buttons to press, so you will have to get used to gesture controls. This resulted in a reduction in battery life, which now stands at 10 days. However, this is a very minor gripe because it is still long-lasting, don't you think so?
If we had one major gripe about Xiaomi's latest generation fitness tracker, it would be a missing integrated GPS feature. Therefore, in order to keep track of your running or cycling route, you will still need to carry your smartphone with you while wearing the Mi Band 6 in order to keep tabs on where you've gone.
Finally, if you are currently using Mi Band 5, you don't necessarily need to upgrade to the Mi Band 6 unless the larger screen is an important enough factor for you. For everyone else who wants to step into the world of fitness trackers while working with a limited budget, we heartily recommend the Mi Band 6 without a second thought. The 6th generation of the category leader is better than ever!
Best alternative: Huawei Band 6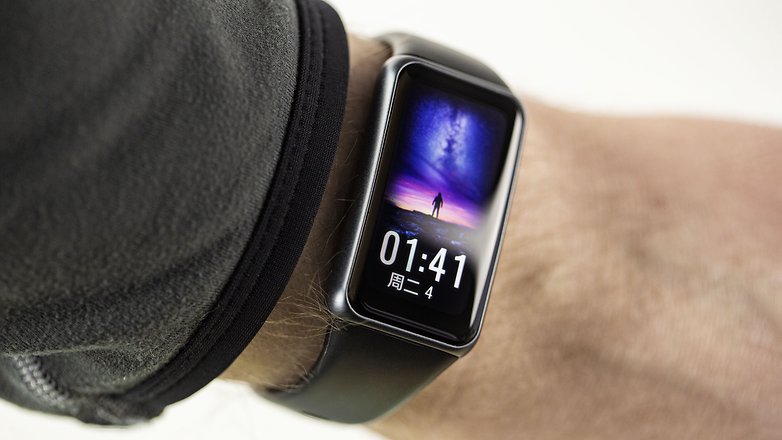 | | |
| --- | --- |
| Rating | |
Pros

AMOLED display
Simple design
Excellent Huawei Health app connection
All-day SpO2 tracking
Long battery life

Cons

No built-in GPS
Period cycle tracking available only on HMS devices
The Huawei Band 6 excels at tracking fitness activity and vital statistics. This can be attributed to its support for 96 sport modes, 24-hour SpO2 monitoring, and long battery life. In our review of the Huawei Band 6, we were able to confirm that both the operation and handling of the fitness tracker are excellent.
Like the Xiaomi Mi Band 6, however, there is one downside here: the absence of a built-in GPS chipset. Another downside would be the fact that Android smartphones that support Google services are unable to take advantage of period cycle tracking, as that is available only on HMS devices.
However, in favor of the Huawei Band 6, we have a water-resistant rating of 5 ATM, which allows you to wear the wristband in the pool without any worry. You can also adjust the screen brightness manually, where the entire experience is more fluid than the Samsung Galaxy Fit 2.
In addition to this, the Huawei Band 6 offers long battery life and fast charging capability. Both are fantastic in their own right, as this fitness tracker's display is relatively large compared to the rest of the competition. The Huawei Band 6 can be found online for $90 thereabouts.
Fitness tracker while swimming: Samsung Gear Fit 2 Pro or Fitbit Charge 5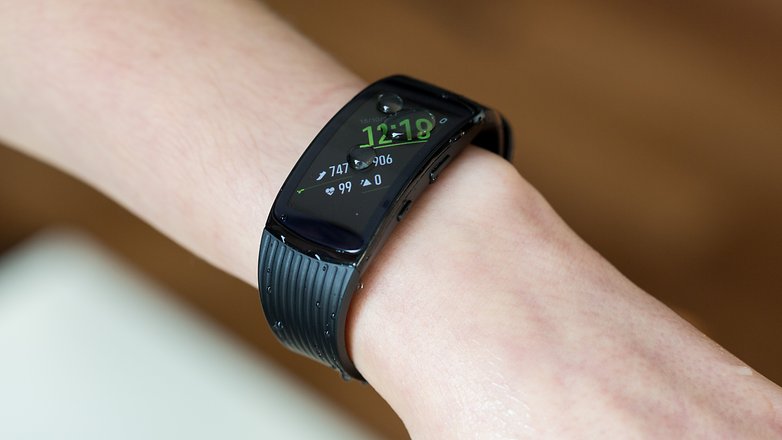 | | |
| --- | --- |
| Rating | |
Pros

Design
Very good AMOLED screen
Suitable for swimmers

Cons

Expensive
Annoying setup process
Inaccurate pulse measurement
Swimming is a whole lot easier on the joints than jogging, and if you do it regularly, it's worth buying either the Samsung Gear Fit 2 Pro or the Fitbit Charge 5. At this point, I'm listing two fitness trackers for you, as the Samsung Gear Fit 2 Pro is already a bit older and therefore cheaper. You can find the device on the net for prices starting from €110 ($133) but due to a supply shortage, you may find it for more in the US, while the Fitbit Charge 5 costs about €40 ($49) more.
Both fitness trackers offer a waterproof rating that makes them suitable for swimming, where the respective manufacturers advertise them being worthy of functioning without missing a beat up to 50 meters deep. While there are many fitness wristbands that you can leave on your wrist when jumping into the water, Fitbit and Samsung offer an important, additional feature.
Because with both fitness trackers, you can manually set the length of the lanes and have them tracked automatically. This means you don't have to count the number of laps yourself and can evaluate the times in the future. If you also jog in addition to swimming, both fitness trackers have a GPS sensor as well as a heart rate monitor.
Disclaimer: The Samsung Gear Fit 2 Pro is out of stock, some refurbished units by Samsung with a warranty are available until it gets restocked.
Best value-for-money: The Xiaomi Mi Band 5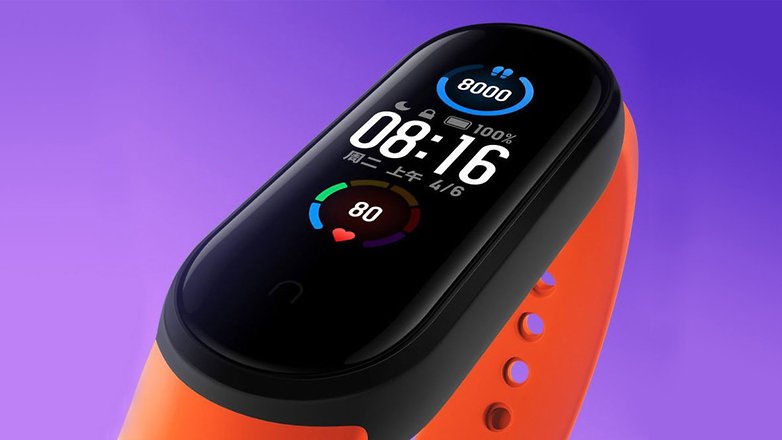 | | |
| --- | --- |
| Ratings | |
Pros

Unbeatable price-performance ratio
Long battery life
Bright AMOLED display
Automatically detects workouts
Waterproof

Cons

No built-in GPS
Very small font
If the Mi Band 6 is still too expensive for you, you can confidently pick up its predecessor without any worries. . This is because the fitness tracker comes with long battery life, measures your heart rate and steps reliably, offers all of the important primary functions as with the rest of the market, with tracked data processed by the Mi Fit app accurately, all the while being very accessible. In our opinion, all of the important data is kept tracked off very well and in a complete manner, which is further assisted by a long battery life.
This is because the amount of time that the Mi Band 5 spends at a power outlet is very low. In addition, the device is also very affordable, so you would not be too perturbed by the possibility of ruining this compared to a more expensive smartwatch alternative. At the same time, the AMOLED screen is highly legible even under direct sunlight. Since this is a fifth-generation device, you are also able to charge the Mi Band with a magnetic charging accessory. For more information, check out our review of the Xiaomi Mi Band 5.
The Mi Band 5, unfortunately, does not come with a built-in GPS tracker, and this is something you should take into consideration before purchasing one. Therefore, in order to keep track of your running or cycling route, you will need to carry your smartphone and have it connect to the Mi Band 5. Only then does the fitness tracker access your smartphone's GPS receiver via Bluetooth to track your route. Currently, Xiaomi Mi Band 5 can be found for less than $30, with a tiny variation in price should you risk picking up an imported unit.
Best smartwatch alternative: Fitbit Charge 5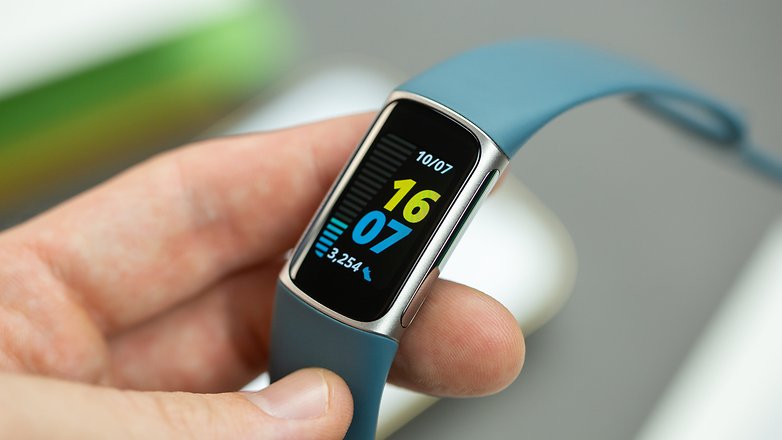 | | |
| --- | --- |
| Ratings | |
Pros

Back design no longer looks like a refrigerator
Wide range of functions including EKG, GPS, SpO2, EDA scan & more
Easy-to-use interface and app

Cons

Many features require a paid subscription and/or are incomplete
A variety of features that do not always offer added value
Integrated GPS is a disaster
Very expensive
With a wide range of functions, the Fitbit Charge 5 is our top recommendation if you are looking for a smartwatch with the look of a fitness tracker or a fitness tracker with smartwatch functions. However, the Fitbit model did not convince us too much in the review. While the look has improved compared to its predecessor and the range of functions is actually impressive, there is still plenty to gripe about.
The Fitbit Charge 5 is really expensive, and you also have to sign up for a subscription to use the full range of functions and the integrated GPS could barely keep up with Stefan's fast running pace. In this case, we would highly recommend that you look for a "real" smartwatch. As for alternatives, Fitbit itself offers models such as the Fitbit Versa 3 or the Fitbit Sense. Unfortunately, both watches come in a chunkier design with a "squarer" case.
Fitness tracker with SpO2 sensor: Xiaomi Mi Band 6 and Huawei Band 6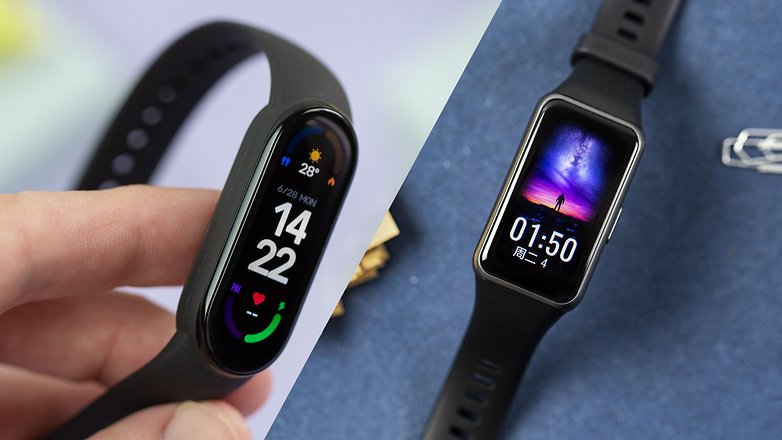 Both the Xiaomi Mi Band 6 and Huawei Band 6 have already appeared on this list. While we consider the former to be the best fitness tracker in the market for 2021, the latter is a worthy alternative to the former. It is that simple, really. Hence, nothing is more logical than to point to either one of the two for those who are on the lookout for an excellent experience with a SpO2 sensor on a fitness tracker.
Xiaomi didn't need to reinvent the wheel with the Mi Band 6, but tacked on a blood oxygen saturation monitor (SpO2 measurement), which was one of the most important functions built into the new generation. This is really relevant when considering the value of this fitness tracker. In our review of the Mi Band 6, the integration of the SpO2 sensor was considered to be a relevant feature as indicated by the fitness tracker's purchase price.
The Huawei Band 6 also comes with a heart rate monitor that can also measure your blood oxygen saturation levels. The good thing about Huawei's offering is, it performs this function 24 hours a day.
Note: SpO2 values ​​are provided only for reference, meaning they should be used as a guideline and not as a means of medical diagnosis. Always look for a medical expert before making any decisions.
Where is the best place to buy a fitness tracker?
Last but not least, I'll give you a few tips on buying a fitness tracker. As already mentioned in the section about size, the devices are often released with just one standard size. It is rather rare to come across fitness trackers with different case sizes, which is far more common on smartwatches. So if you have either particularly thick or thin wrists, the bands might end up being a poor fit.
It is therefore advisable to try out the desired device before buying it. You have the advantage that fitness trackers are not only sold by electronics retailers, but there are also devices from Fitbit, Garmin, and others in sports shops. The staff on duty there can also help you out with accessories or additional products. In addition to the store staff who are trained to attend to your questions, you can also ask your doctor for assistance or recommendations. They may not be able to give you technical advice, but you can ask them to help interpret your vital signs.
Your doctor may be able to share some of his or her own experience and tell you which manufacturer's protocols he or she has worked with.
Finally, we hope that after reading this article, you have either already found a fitness tracker or at least know how to home in on the right model for you. What are your requirements for a fitness tracker and what insider tips should we include in this list for the next update? Share your thoughts with us in the comments section.
---
This article was updated and republished on December 8, 2021. Previous comments have been retained.