The best fitness trackers to buy in 2023
Update:

As of January 2023!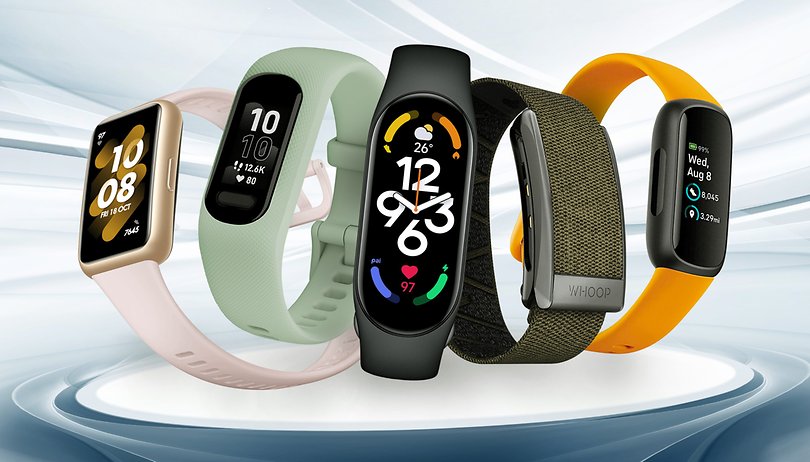 Are you looking for a fitness tracker? Then you'll find a market overview including hands-on impressions and reviews below. We have reviewed several models over the past few months and relied on our many years of experience in the wearables sector. This should be able to help you find the right model for your needs.
The best fitness trackers 2023 compared
Editorial choice
2nd place
3rd place
4th place
5th place
Product
Picture

Good

Larger and brighter display
Always-on display
Larger battery
Many new sports modes
Sufficient battery life

Large, beautiful AMOLED display
Appealing design
Integrated GPS
Good workmanship
Many sports modes supported

Can be worn in a variety of ways
Comprehensive analysis functions
No display

Great app with diverse information
Reliable pulse and SpO2 tracking
High quality processing
No subscription necessary

Nice, compact, and light
Pretty OLED display with AoD
Solid battery life
Good feature set

Bad

No NFC
No GPS
No wireless charging
Unclear app policy
Mi Fitness app still with weaknesses

Still no NFC
A bit too expensive
Chaotic app experience
Too little innovation for a "Pro"
The vibration motor is annoying
No wireless charging supported

Does not support chest straps
Long-term expensive subscription model
No display

No integrated GPS
Monochrome OLED display
Battery life with 24h SpO2 tracking is quite short
Not compatible with Garmin accessories

No GPS, no NFC, no Quick Charging, no music control
Full feature set is available only with a premium subscription
Operation via squeezing is awkward
Relatively expensive even without a subscription

Rating

Read the Xiaomi Smart Band 7 review

Read the Xiaomi Smart Band 7 Pro review

Read the Whoop 4.0 review

Read the Garmin Vivosmart 5 review

Read the Fitbit Inspire 3 review
Offers*
In our big fitness tracker test, we have only included models that we have also tested ourselves. The current generation of fitness trackers from the Xiaomi Smart Band 7 and Smart Band 7 Pro to the Garmin vívosmart 5, and the Fitbit Inspire 3 are included.
Before we look at the fitness trackers from the table in more detail, we want to take a look at what the most important selection criteria are for such a device together with you in the fitness tracker buying guide.
If you're wondering why the Apple Watch 8, for example, isn't on the list, we're using this list to differentiate ourselves from smartwatches that offer app support, telephony features, and more, for example, although the lines are becoming increasingly blurred. If you are looking for a watch with an extended range of functions, we recommend our smartwatch best list!
Before we begin counting down our list of the best fitness trackers, here is a question. What really matters when you are looking for a good, reliable companion for everyday sporting activities? So let's kick things off with a short buying tip!
What should you watch out for when buying a fitness tracker?
In the following, we will briefly discuss the functions or properties of fitness trackers that might not suit everybody. If you can cross one of the entries off the list, a cheaper model may be more suitable. So if you are not familiar with smartbands at all, the following section will help you get familiarized with the topic.
Do I need GPS or is the smartphone enough?
If you always carry your smartphone with you when you go jogging for safety reasons or use it to listen to music, then you don't need to pay attention to having a GPS receiver in the fitness tracker. This is because almost every fitness tracker offers the possibility of recording the distance covered by working alongside the smartphone.
GPS receivers in modern smartphones are often more precise than the modules in fitness trackers. But if you are reluctant to take your mobile phone with you when doing sports, GPS can be essential. If a fitness stacker shines with this feature, we will inform you below.
Music control or music player?
Another pitfall in choosing the right fitness tracker is the difference between music control and music player. A built-in music player allows you to download songs to built-in memory and lets you listen to them on the go without the need for a smartphone. Bluetooth headphones or true-wireless headphones can usually be connected to the fitness tracker for this purpose.
If a manufacturer sells its fitness tracker with integrated music control, you can assume that you can also control your music via your wrist. You can control the active playback on your smartphone and leave the phone in your pocket. Also, look for Spotify-exclusive music controls on Fitbit, which is what you can find on the Fitbit Inspire 3.
Is the SpO2 sensor really useful?
Keeping an eye on your oxygen saturation while on-the-go sounds like a great feature at first. However, my colleague Stefan, who once trained as a fitness trainer, explained to me once again during this comparison test that blood oxygen hardly fluctuates in healthy people. It is, therefore, advisable to check it when exercising in mountainous areas or when you are under extreme stress.
If you do not intend to do this, you should rather disregard a corresponding sensor. In any case, it is available in only a few models, so this should not be a compulsory feature in your purchase decision.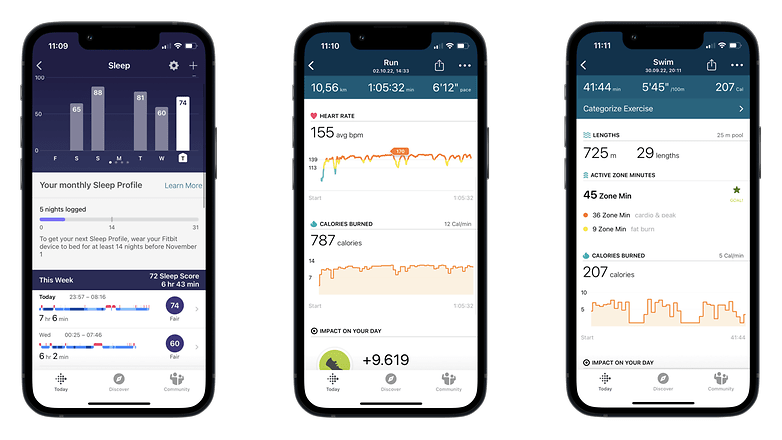 Sleep tracking and mindfulness
A healthy lifestyle isn't just about pumping iron, running, and swimming! You also need to get some rest and fortunately, fitness trackers do help you with that too. The most common and useful feature for this is sleep tracking, which monitors the duration and quality of your sleep. Human sleep consists of different phases: light sleep, deep sleep, and the so-called REM sleep phase. On the topic of mindfulness, by the way, certain fitness trackers also boast of meditation features or breathing exercises. These often rely on your pulse and sees if it changes during the planned rest period.
Compatibility with other hardware
If you want to do more than just run while wearing your fitness tracker, but also want to keep an eye on your pulse during a martial arts session or gymnastics training, you should pick a model from Huawei or Garmin. In the Huawei Health app and Garmin's Forerunner watches, you can use additional devices like chest straps with heart rate monitors. Especially during movements, for example, when you bend your wrist or the fitness tracker slips for other reasons, errors can occur in the measurement. In addition, Garmin's HRM-Run models can also record vertical movement and your ground contact time.
Special features like notifications, contactless payment or calls
As mentioned at the beginning, it's getting harder and harder to distinguish between fitness trackers and smartwatches. That's because, with new features introduced all the time there are also new selling points, and hence features like wireless payments or microphones and speakers for making phone calls have now landed in fitness trackers as well. While these features are still rare, you can access your notifications, set an alarm, or tell the time with almost all commercially available smartbands. In fact, apart from notifications with an answer function, there are also stopwatches, alarms, timers, and possibly even mini-games or installable apps.
Materials, case, and weight
The design of the fitness tracker is similarly unique and depends on your taste, although there are also practical matters to take into consideration. When it comes to leather straps, fabric straps or straps made out of plastic, each of them has its own advantage and disadvantage depending on the type of activity that you are heavily involved in. When swimming, for example, a fabric band can quickly become disgusting, and it is obviously not the most comfortable to wear when you are sleeping at night.
However, bands can usually be bought new and easily replaced, the weight and dimensions are set right from the get-go. If you have the opportunity to try out a fitness tracker at an electronics store, I would definitely recommend it!
Wearing a fitness tracker on your wrist will definitely scare the couch potato out of the house, as it informs you of the number of steps you've taken and helps you check your heart rate whenever you're exercising. But with all of the available options in the market, choosing the right fitness tracker for you definitely isn't easy. This is why we've picked out the right models to cater to every possible type of user.
The best fitness trackers of 2023 in detail
Below, you can read more about the individual models that made it into our best fitness trackers list.
The best all-rounder: The Xiaomi Smart Band 7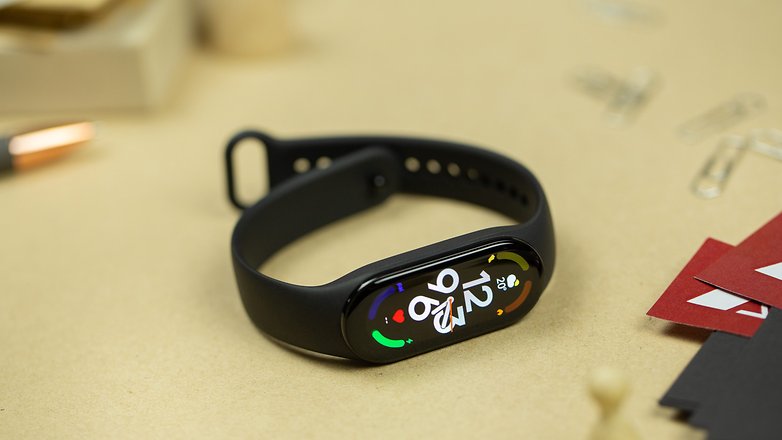 Read our Xiaomi Smart Band 7 review
The biggest change to Xiaomi's super-popular fitness tracker? The name! The Mi Band 6 was followed by the Xiaomi Smart Band 7, and with it came a larger display. It was easier to read in Casi's review of the Smart Band 7, and the rest of the wearable device also proved to be very convincing. Tracking still works reliably, but many sports modes that were unavailable before have been introduced. The larger battery capacity now makes the manufacturer's battery life claims (14 days) a bit more realistic.
However, there is still a lack of GPS to complain about, which becomes really painful in view of the recommended retail price of $59.99 in 2023. Furthermore, there is no NFC support available for mobile payments, without any option for wireless charging, and a confusing app policy. However, all this does not change the fact that Xiaomi's Smart Band 7 is the best fitness trackers to recommend in 2023.
Xiaomi Smart Band 7 Pro: In October, Xiaomi announced the Pro version of its most famous fitness tracker on the market. Among the differences to the standard version, we have a screen with 8:5 display more in smartwatch format, and it comes with GPS and SpO2—but without NFC. Go figure! The Smart Band 7 Pro is now available for purchase, with a starting price of $119.99. While my colleague Carsten Drees tests this Xiaomi novelty, check out the Smart Band 7 Pro launch article to find out what the hardware and software configurations of this fitness wristband are.
Best display: Xiaomi Smart Band 7 Pro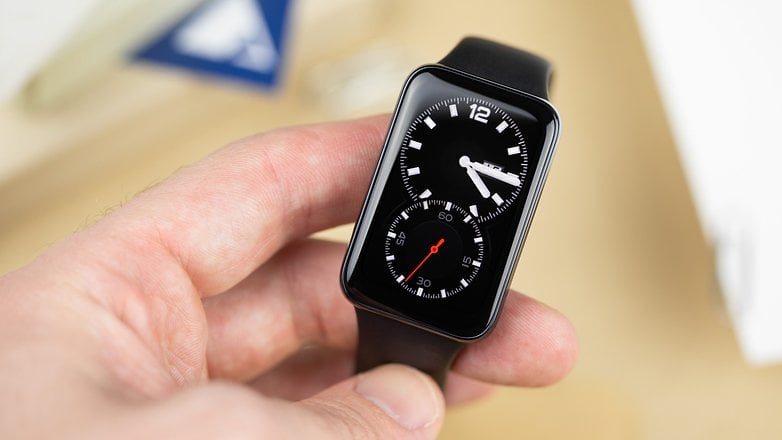 Xiaomi Smart Band 7 Pro in the test at NextPit
In October 2022, the Xiaomi Smart Band 7 was joined by a fancy Pro model: the Xiaomi Smart Band 7 Pro. The most obvious difference is the larger AMOLED display in 8:5 format, which Casi wowed in his review. But a lot has changed under the hood as well: A SpO2 sensor and a GPS module are now on board. Thanks to the latter, you can leave the smartphone at home when you go jogging - or use one of the countless other outdoor sports options.
However, there are also a few negative points to report. A few features that we would like to see in a fitness tracker in 2023 are missing, especially NFC. Wireless charging would also have been in line with the times. As with the Smart Band 7, the app store for the Pro model is also a bit confusing. The bottom line is that the Smart Band 7 Pro is still one of the best fitness trackers, even though the model is not exactly a bargain at around 120 dollars.
Fitness tracker for minimalists: Whoop 4.0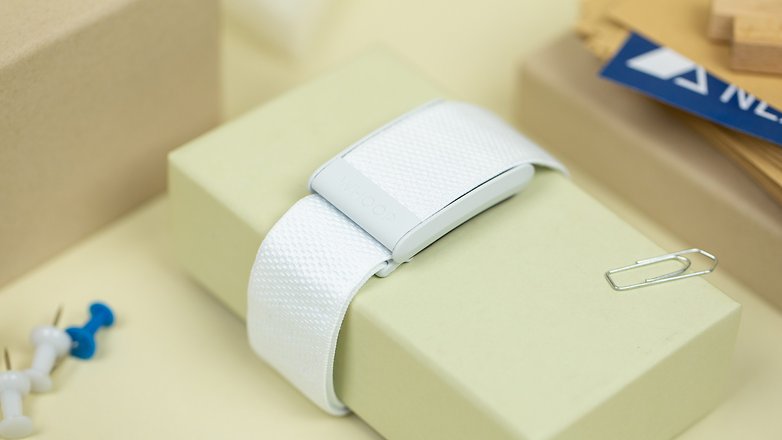 To the detailed review of the Whoop 4.0 at NextPit
The Whoop 4.0 is a "fitness tracker" in the very original sense. There are no smartwatch functions here, no display, not even a time display. The best features are a vibrating alarm clock and a battery level indicator via LED.
In return, the fitness tracker is very light and compact, comfortable to wear and almost indestructible. You can also use the Whoop 4.0 while swimming or even in the sauna. The electronics are well protected in the smart wristband. And if you want to have your arms completely free, you can also find various other holders at Whoop, up to special boxer shorts or sports bras.
The Whoop 4.0 really wants to track your activities 24/7—which is also reflected in the clever charging system. Instead of putting the fitness tracker down for charging, you simply dock a powerbank while wearing it, which recharges the internal battery.
However, there is still one drawback: You cannot buy the Whoop 4.0, but only subscribe to it. Depending on the contract period, this will cost you between 20 and 30 Euros per month, which will naturally add up quite a bit over the years. At least, if your contract runs for at least another six months, you'll get new models for free. In any case, I find it exciting that Whoop is a different approach on the market.
Best compact option: Fitbit Inspire 3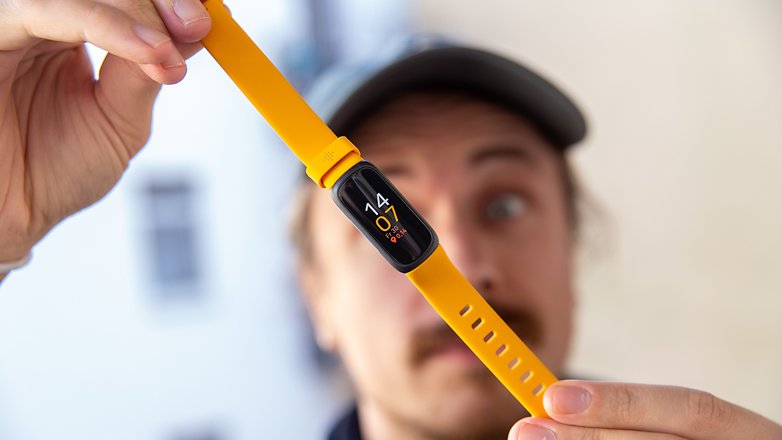 To the detailed review of the Fitbit Inspire 3 at NextPit
Even with a technical data sheet to make the competition jealous, the Fitbit Inspire 3 made it onto this list much more for the lack of competition than for merit. As usual, Fitbit devices offer a premium subscription attached, which is the case with this model. However, in our review, we understand that the fact that the battery life is relatively short compared to the competition, the premium subscription ends up making this device more expensive. Especially because of the absence of features such as GPS, NFC and music player control.
But why did we decide to add the Inspire 3 to this list? Simple: if you are looking for a well-designed, compact, and light device, this model from Fitbit is perfect for you. In addition, the OLED screen with AoD is of excellent quality and we have a lot of great feature sets. More than that, we also have a pulse oximeter here.
Best smartwatch alternative: Garmin vivosmart 5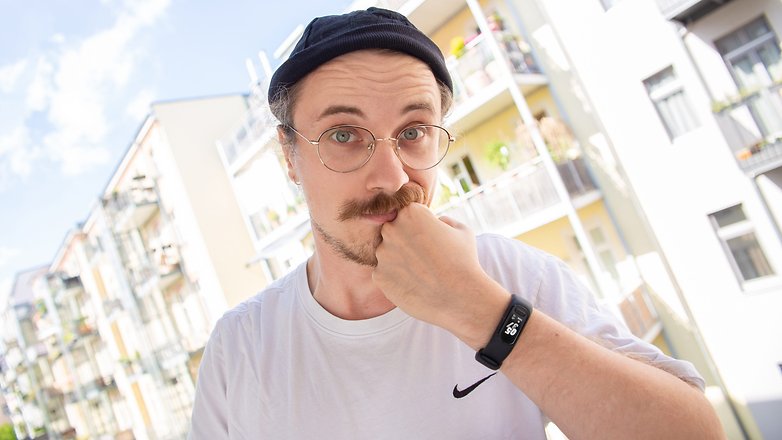 Go to the Garmin vívosmart 5 review
We were very surprised (negatively!) by the performance of the Garmin vívosmart 5 in our first test. The fitness tracker from the best manufacturer for fitness sports watches costs just under $150 does not really offer more than the models from Xiaomi and Huawei. At the same time, the design of the vívosmart 5 is not quite up to date for the year 2023. The main reason is the monochrome pixelated display.
As for its advantages, we could note the reliable tracking for its heart rate and blood oxygen saturation. However, the biggest advantage is the Garmin app, which works utterly great with in-depth processing of your data and easy usage. The fact that Garmin does not let its fitness tracker work with its extensive catalog of accessories is also very unfortunate. However, if you like the design, you can achieve reliable and seamless tracking here as well.
Where is the best place to buy a fitness tracker?
Last but not least, I'll give you a few tips on buying a fitness tracker. As already mentioned in the section about size, the devices are often released with just one standard size. It is rather rare to come across fitness trackers with different case sizes, which is far more common on smartwatches. So if you have either particularly thick or thin wrists, the bands might end up being a poor fit.
It is therefore advisable to try out the desired device before buying it. You have the advantage that fitness trackers are not only sold by electronics retailers, but there are also devices from Fitbit, Garmin, and others in sports shops. The staff on duty there can also help you out with accessories or additional products. In addition to the store staff who are trained to attend to your questions, you can also ask your doctor for assistance or recommendations. They may not be able to give you technical advice, but you can ask them to help interpret your vital signs.
Your doctor may be able to share some of his or her own experience and tell you which manufacturer's protocols he or she has worked with.
Finally, we hope that after reading this article, you have either already found a fitness tracker or at least know how to home in on the right model for you. What are your requirements for a fitness tracker and what insider tips should we include in this list for the next update? Share your thoughts with us in the comments section.
---
This article was updated and republished on January, 2023. Previous comments have been retained.