Sony WH-1000XM5 review: Is the best ANC on the market worth $340?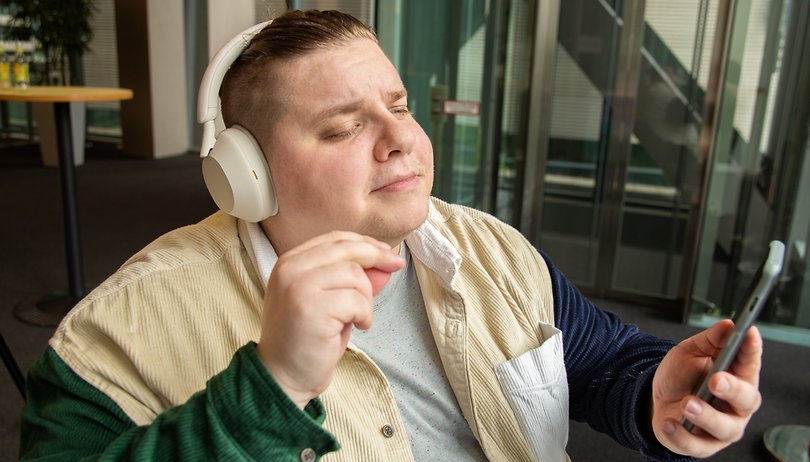 I finally got to review the Sony WH-1000XM5 for NextPit. This Bluetooth headset is supposed to have the best active noise cancellation (ANC) on the market, but the more pertinent question is: Is it worth every penny? Check out my full review.
Good
Excellent active noise cancellation

Fantastic V-shaped audio signature

Excellent companion application

Can be paired to 2 devices simultaneously

Bluetooth 5.3/LDAC codec supported

Solid 30 hour battery life with ANC enabled

Port sensor, touch controls
Bad
No water resistance certification

ANC is not customizable enough

Unbearable Speak-to-Chat function

No aptX/HD codec supported

Impossible to fold the headset

Comfort is not optimal on long sessions
Sony WH-1000XM5: All deals
The Sony WH-1000XM5 in a nutshell
The Sony WH-1000XM5 is available since May 20, 2022 for $349.99 a pop. The Sony headset comes in two colors: black and ecru, a kind of beige. Currently, it can be found for around $300 on Amazon and other online retailers.
The Sony WH-1000XM5 is the flagship model of Sony's consumer audio headphones. Its predecessor, the Sony WH-1000XM4 and its predecessor, the WH-1000XM3 were considered the best references on the market.
The Bluetooth headset relies heavily on sound quality thanks to Sony's LDAC codec, but also on the effectiveness of its active noise-cancelling (ANC). The Sony WH-1000XM5 also marked a breakthrough in terms of design, with a more refined and streamlined look.
Design: A sleeker look reminiscent of Bose
The Sony WH-1000XM5 differs from its predecessors mainly by its design. The look is sleeker, less massive and more elegant thanks to the work on the hinges. It also looks very comfortable.
---
What I liked:
The matte coating and the beautiful and sober beige color.
The thinner and more subtle hinges.
The thinner and better-padded headband.
The very soft earpieces.
What I disliked:
The headset can no longer be folded.
The coating catches fingerprints a lot (especially the black color).
The earpads are not breathable.
Unpleasant amount of pressure on the cartilage after a long listening session.
No water resistance certification.
---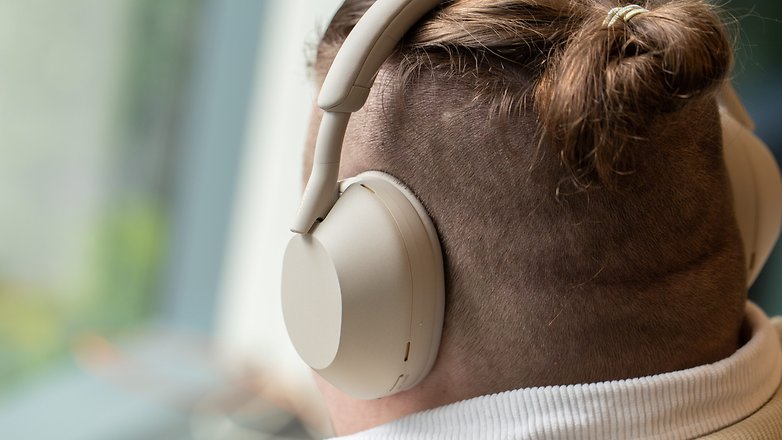 I really like the new look of the Sony WH-1000XM5. The ear cups are bigger, the headband is much thinner and the hinges are more discreet. Visually, it is close to the Bose NHC 700. The features of the headset seem more refined and it gives it a more premium look than the previous model.
I found the Sony WH-1000XM5 to be very comfortable at first glance, and especially light when worn on my head. The headband ensured a good degree of support. We are looking at a circum-aural format that encompasses both ears and the pads are very soft.
But the leatherette material they are covered in is not breathable at all and, for someone who sweats like a bovine such as I, sweat can accumulate pretty fast and get in the way. I also found the earcups to be a little lacking in depth. My ears were too close to the speaker grills for my preference.
I experienced an unpleasant degree of pressure on the cartilage after a while. Hence, it's not the most comfortable headset I've reviewed, as soft as the ear cushions may seem.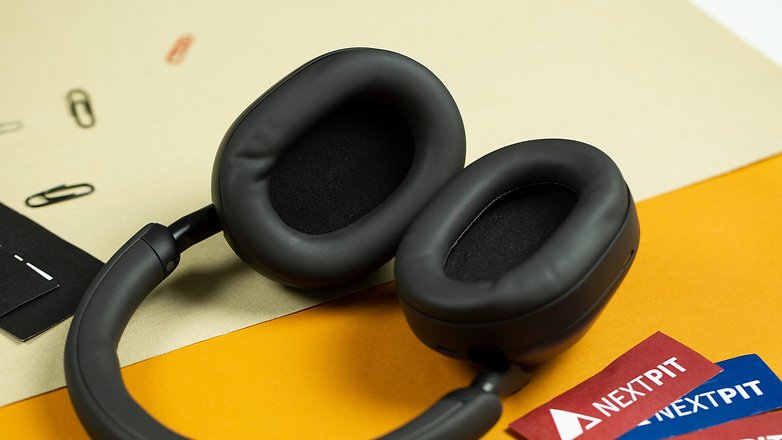 The headset comes in two colors: black and ecru, which is a kind of beige that is very successful and reminds a bit of the sober and minimalist color code "à la Scandinave" that almost all manufacturers of wearables and other connected devices have adopted for some years now. But the matte coating, although very pleasant to the touch, is really a fingerprint magnet.
When it comes to the black version of the headset, this bothered me a lot, especially since the right earpiece hosts all the touch controls and you're bound to leave traces there.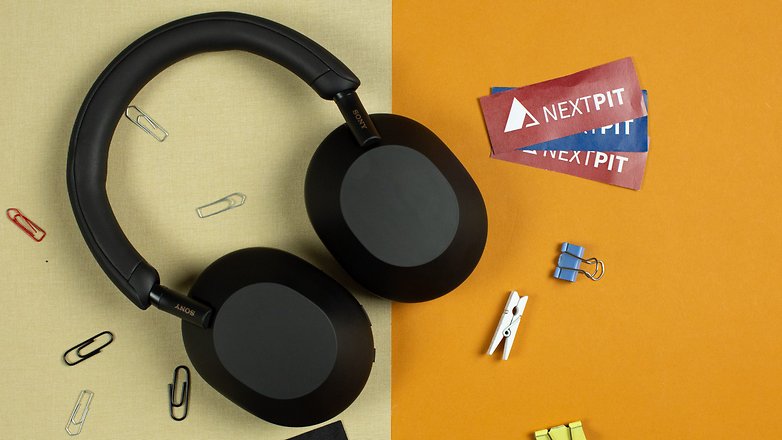 I also think it's a shame that the Sony WH-1000XM5 can't be folded up to carry it more easily. Here too, Sony is imitating Bose, but I would have preferred it if it had not. Too bad. Sony also made a lot of noise about its eco-friendly packaging that does not use any plastic. Bravo to them!
A big flaw of this headset, however, is the fact that it is not water-resistant at all. It's a shame not to be able to go out in the rain without wearing a hood or carrying an umbrella. Well, it didn't stop me from taking a little bath with it (while keeping my head above water), but I wasn't 100% serene. The same applies if you plan to use this headset for sports.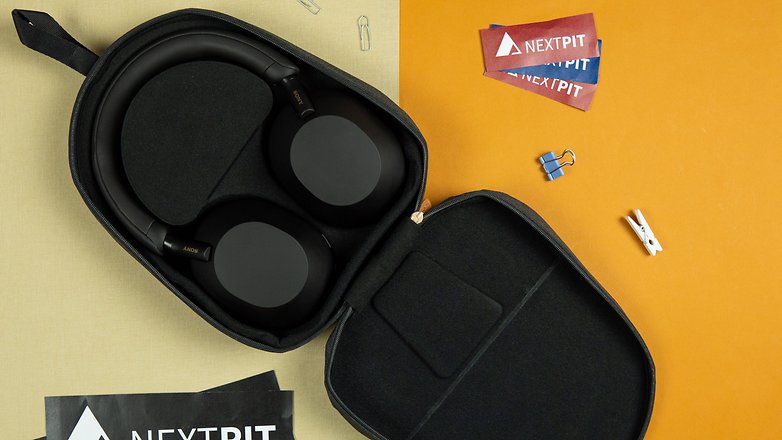 Audio quality and microphones
As for the sound quality, the Sony WH-1000XM5 remains in linewith its range, sporting a V-shaped audio signature that I appreciate a lot. We find the famous LDAC codec and the DSSE Extreme mode to "upscale" your MP3 tracks.
---
What I liked:
Audio quality flatters the bass and the treble without neglecting the mediums too much.
The highs are a bit behind the bass, but precise.
The LDAC codec and the DSEE Extreme mode.
Good clarity of the microphones.
What I disliked:
aptX and aptX HD codecs are not supported.
---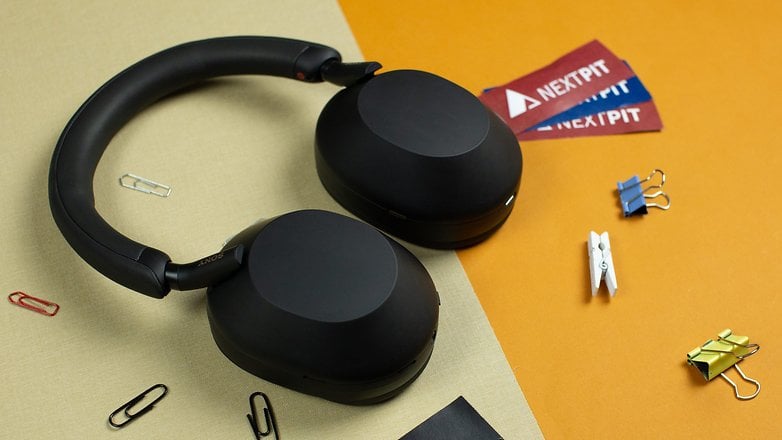 On the technical side, we find 30 mm speakers. That's smaller than the 40 mm ones of the previous model. But Sony explains that they are more rigid with reinforcements in places, supposed to make the sound more precise.
Personally, I am a fan of Sony's audio signature. We are on a V signature (the shape of the frequency response curve) here, so the headset emphasizes mostly the bass and low-midrange, but also the treble, although a little less for the latter. Basically, if you listen mostly to "hip-hop" (a hell of a word, I know), you'll find yourself happy with Sony.
The bass is generous yet the voices remain clear and detailed. The entire thing is really dynamic, you can feel that the headphones have some punch and I never found it too soft on the tracks that bomb. Well, at the same time I mainly listen to Ziak and Drill at the moment. I am not sure if my feeling is very relevant for Jazz, Classical or Opera lovers (although I am not so sure about Opera).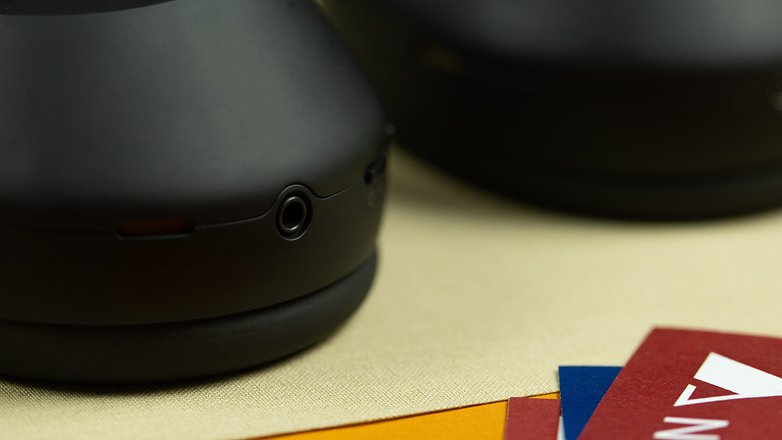 The headphones can also cover a fairly wide frequency range, from 20 to 40,000 Hz via the LDAC codec and up to 4 to 40,000 Hz in wired (20 to 20,000 Hz in SBC/AAC, classic). Let's talk about codecs. The WH-1000XM5 is obviously compatible with the Sony LDAC and the basic SBC and AAC. But Qualcomm's aptX and aptX HD are not supported.
This was already the case on the previous model and it's still a shame since many devices use these codecs from Qualcomm more than the Sony one. It's silly to limit the options for listening to HD music (CD or Flac quality). But for MP3, it doesn't matter much. This is especially since the WH-1000XM5 has Sony's DSEE Extreme technology on board, to "upscale" the tracks and improve the sound quality.
The microphone quality of the Sony WH-1000XM5
As for the microphone quality for both calls and video, I have mixed feelings about the matter. As with all the other true wireless headsets and earphones I've reviewed, I found the quality to be worse than a smartphone speaker. It's audible, but it's not pleasant to listen to.
However, I found the Sony WH-1000XM5 to be very effective in attenuating ambient noise. Even in the middle of a harvest (yes, the weather is really nasty in Berlin) with wind on the office balcony, my speech remain intelligible and clear. I'll let you make up your own mind via the short audio clips below.

Microphone quality of the Sony WH-1000XM5 when indoors

Microphone quality of the Sony WH-1000XM5 when outdoors

Microphone quality of the Sony WH-1000XM5 when indoors with ambient noise
Active Noise Cancellation (ANC)
In the wireless headphone market, Sony and Bose have been competing for the podium of the best active noise reduction for a few years now. One step Bose, one step Sony, etc. But this year, the WH-1000XM5 is supposed to make a real leap forward, according to Sony.
---
What I liked:
Very effective for human voices.
Solid state noise is still well attenuated.
What I disliked:
---
The Sony WH-1000XM5 incorporated eight microphones, which is twice as many as in the XM4. Of these eight microphones, four are responsible for managing ambient noise. The headset also embedded two processors dedicated to noise reduction. The QN1 that we already know and that Sony integrates in all its recent audio products with ANC.
But also the V1 which allows to better manage the ambient noises by analyzing the incoming and outgoing return while limiting the distortion of the audio signal.
Personally, just relying on passive isolation alone means having the headphones on with ANC disabled. It is then that I discovered how most of the loud ambient noises are quite attenuated.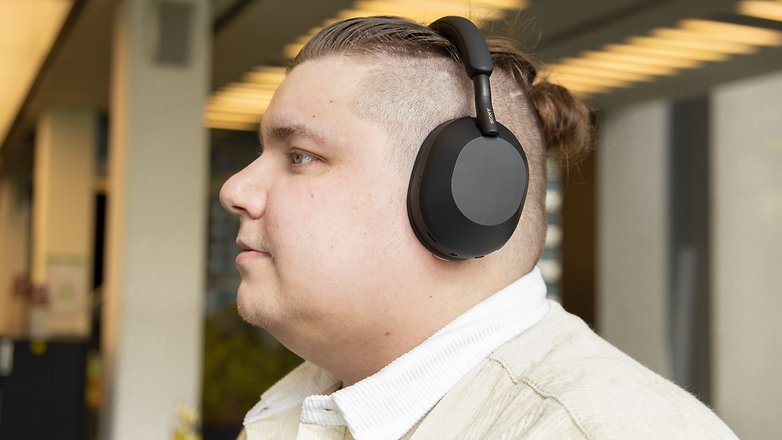 But for the bats among you who hear EVERYTHING, I have to say that the active noise cancellation is really top-notch. Well, I also use a Soundcore Space Q45 as my daily driver, so I do have a benchmark to refer to. I naturally expected the ANC of the Sony, which is twice as expensive as my current headphones, to be better.
I didn't notice much improvement in the solid-borne noise that resulted from contact between two surfaces, such as the sound of shutters, the clatter of subway wheels on rails, etc. I found that this year, the difference between the Sony and the Soundcore Space Q45 is much more noticeable.
I discovered that this year, the difference lies in mostly human voices. Whether it was in the open space of the office, or in my kitchen with my roommates (yes, I'm an anti-social troglodyte), the Sony WH-1000XM5 managed to "mute" people very well. This is where most ANC headphones are least effective. Sony scored big in this department for me.
Features and application
The Sony WH-1000XM5 was designed to be used with the official Sony Headphones Connect companion application. This application is still as complete as ever and got rid of a very, very annoying feature.
---
What I liked:
App is available on Android and iOS.
Ability to create multiple CNA and transparency profiles, depending on your environment.
Rather complete equalizer.
Spotify Tap and simple but effective touch controls.
What I disliked:
You have to create a Sony account to access the Activities menu.
Not very user-friendly interface.
The Speak-to-Chat function should not exist.
---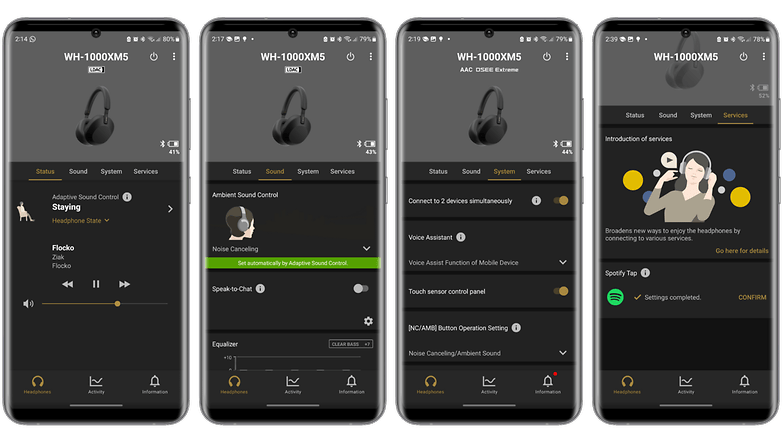 The Sony Headphones Connect application is available for free on Android and iOS and I always found it to be very complete even if the layout of the different settings and sub-menus lacked finesse in my opinion.
The most important element in this application is the "Adaptive Sound Control" menu. This is where you can customize the active noise cancellation levels. Basically, you can choose different settings for four types of sound environments. At rest (at home), walking and running (outdoors), and subway/transportation.
For each of these modes, you can choose to either enable ANC or enable the transparency mode that amplifies ambient sounds. You can also choose to apply no effect at all. I just think it's a shame that you can't choose from several levels of ANC intensity. If you were to create a Sony account and enable geolocation, the app can learn from your different environments and automatically switch between modes more "intelligently."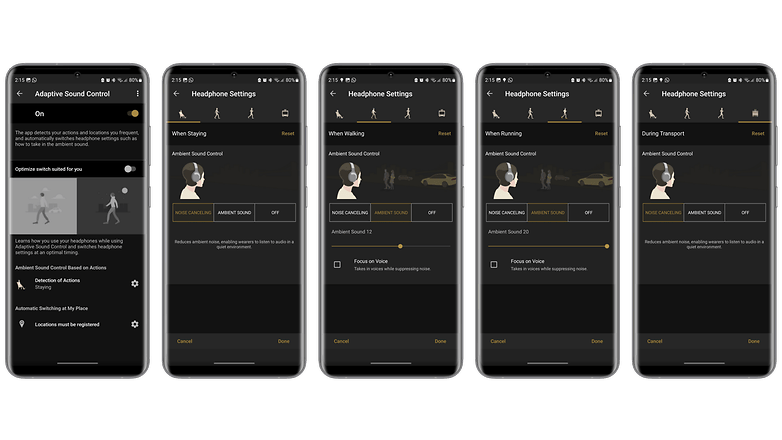 Speaking of flaws, I was exasperated by Sony's Speak-to-Chat feature. When the headset detected you talking, it pauses everything so you can follow a conversation. But it becomes hellish when you're on a video call or humming the song you're listening to. Fortunately, it can be turned off (or sensitivity level dialed down) and I recommend you do so.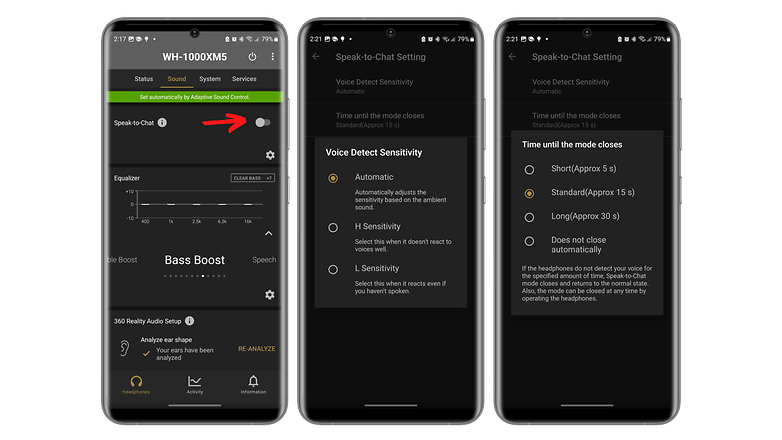 The Headphones Connect application also offers a five-band equalizer. Sony offers quite a few presets to boost the part of the frequency range of your choice, depending on the type of music you listen to or your rendering preferences.
I found the interface to be a bit too minimalist, but it's a functional equalizer.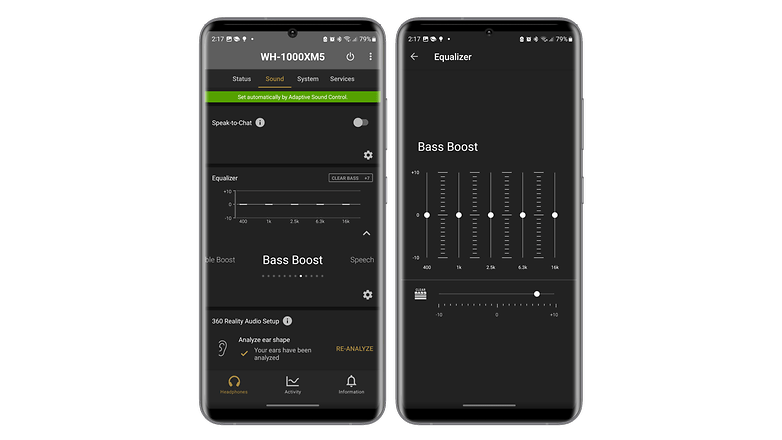 You can also customize the touch controls of the Sony WH-1000XM5 in the application. The possibilities are rather limited though. You can also analyze your ears by taking a picture of them to, according to Sony, improve the rendering of 360° audio and calculate the famous HRTF (head related transfer function).
If you are not too lazy to create a Sony account, you can also access a menu called Activities. This gives you statistics on your usage, the duration of your listening sessions, if you have exceed the maximum recommended volume, etc.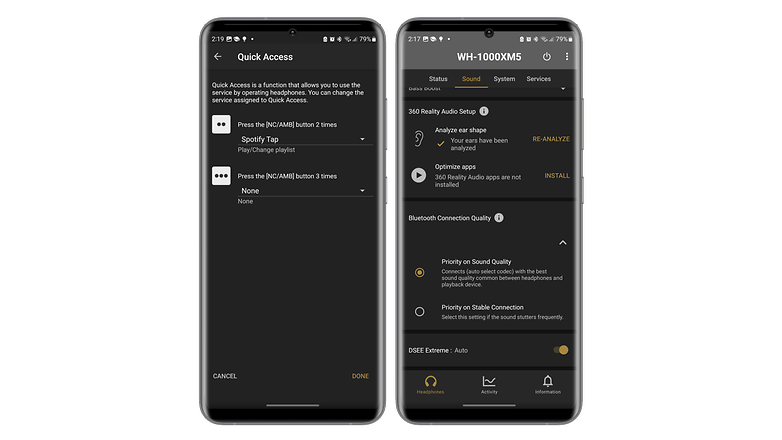 Battery life
The Sony WH-1000XM5 can achieve 30 hours of battery life with ANC enabled, according to the manufacturer. Without ANC, the battery life is increased to 40 hours. The headset charges via USB-C with an included cable in the box.
---
What I liked:
Solid battery life with and without ANC.
USB-C cable included.
What I disliked:
Slow charging (3h30m).
Headset not usable while charging.
---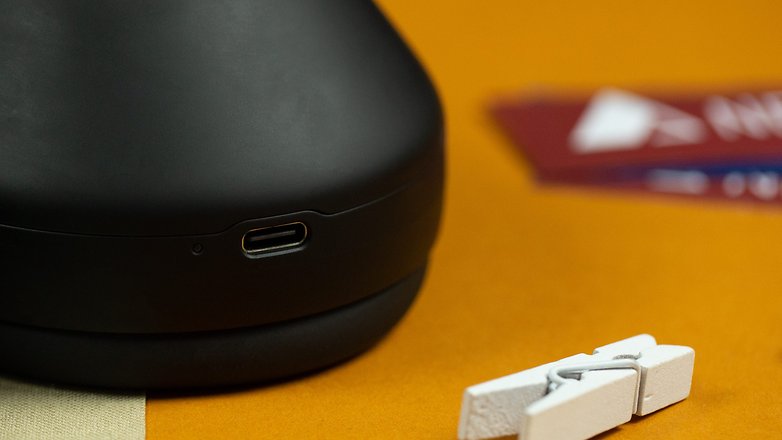 In actual use, I was always able to last a little over 30 hours with ANC enabled. This is a very respectable result, especially since I was using the LDAC codec all the time at an average volume level of 80%.
My measurements are more limited without ANC, since the headphones are not really designed to be used without it. But here again, I feel that Sony kept to their promise. I was able to go through the entire weekend (spent at home because I had a cold) without any problems and sans ANC.
Charging still remains very slow as on all other headsets and earphones nowadays. It takes about 3h30m to go from 0 to 100% battery life. The Sony WH-1000XM5, unfortunately, cannot be used while it is charging. That's just too bad.
According to Sony, we can gain up to 3 hours of listening in 3 minutes of charging via a USB PD charger (not included).
Sony WH-1000XM5 technical specifications
Editor's choice
Product
Image

Design

Circum-aural | weight 250g | port detection | touch controls

Audio

30 mm speakers | DSEE Extreme for upscaling tracks

Frequency response

Bluetooth SBC/AAC: 20-20.000 Hz
Bluetooth LDAC: 20-40.000 Hz
Wired: 4-40.000 Hz

ANC

Yes, auto or manual
8 microphones, including 4 for ambient noise
3 dedicated processors: QN1 and V1
Transparency mode | Speak to Chat

Bluetooth

5.2 | codecs LDAC, SBC, AAC | Multipoint

Baterry

30h with ANC | 40h without ANC
Quick charge 3 min = 3 hours of battery life | 10 min = 10 hours of autonomy
0 to 100% in 3.5 hours
Conclusion: My first impressions
The Sony WH-1000XM5 is surely the consumer wireless headset with the best active noise reduction available on the market today. I say "probably" because I haven't reviewed many headphones lately. As for the ones I have reviewed, Sony does seem to come out on top.
But I find that Sony doesn't offer much in the way of innovation compared to the Sony WH-1000XM4. Of course, the new design is a clear break from the previous model and I think it's a great success for Sony.
But functionally, I didn't notice any major changes, and my best pick for this year still remains the Soundcore Space Q45 in terms of quality/price ratio.
Where Sony really stands out, in my opinion, is the quality of its microphones for calls and some "comfort" features like wear detection and touch controls that the Soundcore lacks. It's up to you to see if this justifies the price difference between the WH-1000XM5 at $350 and the Soundcore Space Q45 at $150.