The best Android apps of 2019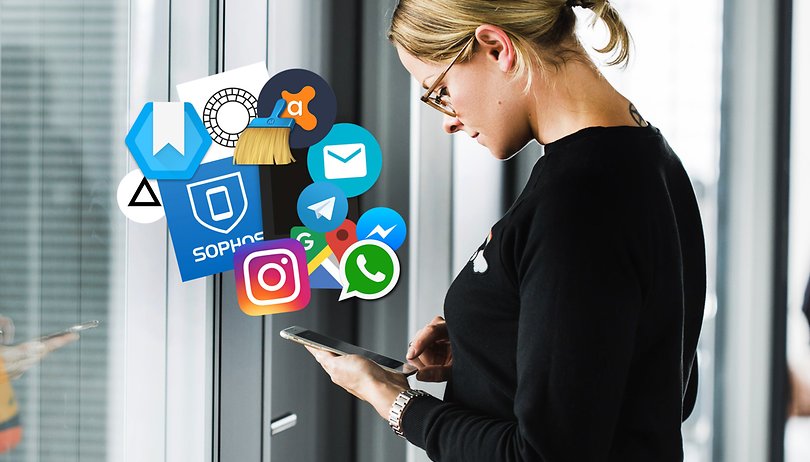 With millions of apps on the Play Store, searching for the best among them is daunting. Whether you need a great weather app or a new tool to speed up your productivity, there are always dozens available. We've spent hours curating the top Android apps for every purpose and compiled only the best of them into one list.
Jump to section:
Over the years, some titles have been dropped from this list, as they are overshadowed by new contenders or fall behind in updates or features. Newer, better apps have taken their place. Yet, some apps still hang on to the top spot tenaciously. To create a little more space for new blood, we asked our editorial staff which new apps changed their lives in 2019. Here's what stood out:
Google Trips
Recommended by David McCourt
The Trips app has been around for a while but has Google rolled out a huge update that dramatically improved this app for me. It pulls information from Maps, Flights, Hotels and Gmail - there are times when the all-seeing, all-knowing Google data gathering machine is useful - to give you tailored holiday plans.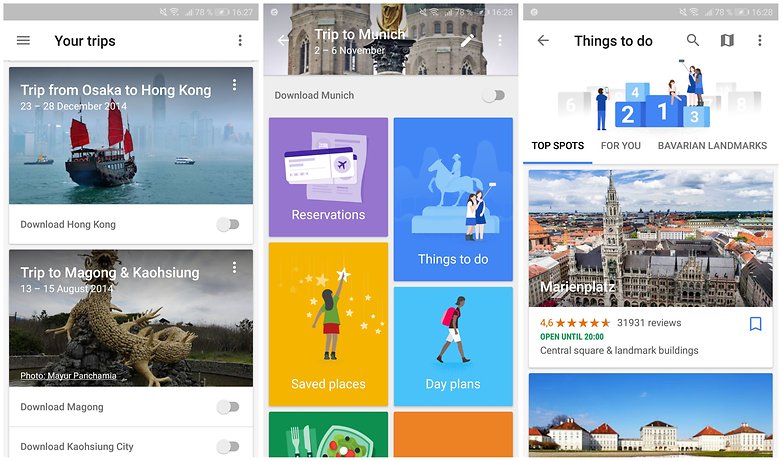 What I love about the app is how well curated all of the information is. You really can manage your whole trip from one place - getting an overview of your reservations, providing lists of things to do, as well as information about getting around your destination. You can also download your destinations so that you can access all features offline.
Period Tracker Flo, Pregnancy & Ovulation Calendar
Recommended by Silvia Santos
This period tracking app is really easy to use. Simple and clear. It only offers the essential information and it doesn't bother you with notifications. You enter your period dates and if you want - and for a better analysis of your symptoms - share information about how you feel (mood, sexual activity, exercise, sleep...) with the app.
It offers you related articles with useful facts you need to know more about, in order to improve living with your period. They also dispel some menstruation myths.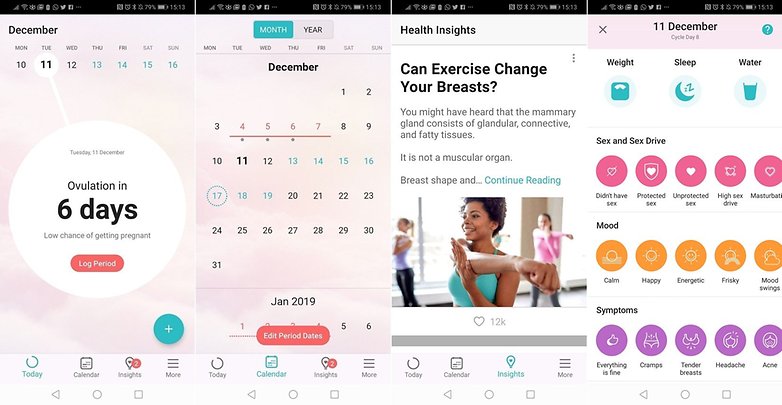 When you open the app, you receive information on which phase you are in (ovulation and so on) and it also offers you info about how likely you are to get pregnant. So aside from your period, it is also a good app if you are trying for a baby, informing you about your most fertile days.
Getting around urban environments is increasingly becoming a struggle with growing populations and crowded public transport networks. Fortunately, there are a couple of brilliant apps that make getting from A to B an absolute breeze.
Uber
Who still takes regular taxis? Ride-hauling apps such as Uber and Lyft have revolutionized the way in which we move around our cities. Hailing a cab has never been quicker, easier or cheaper. Sure, Uber has had its problems with local governments and regulators, but you can't knock it as a service.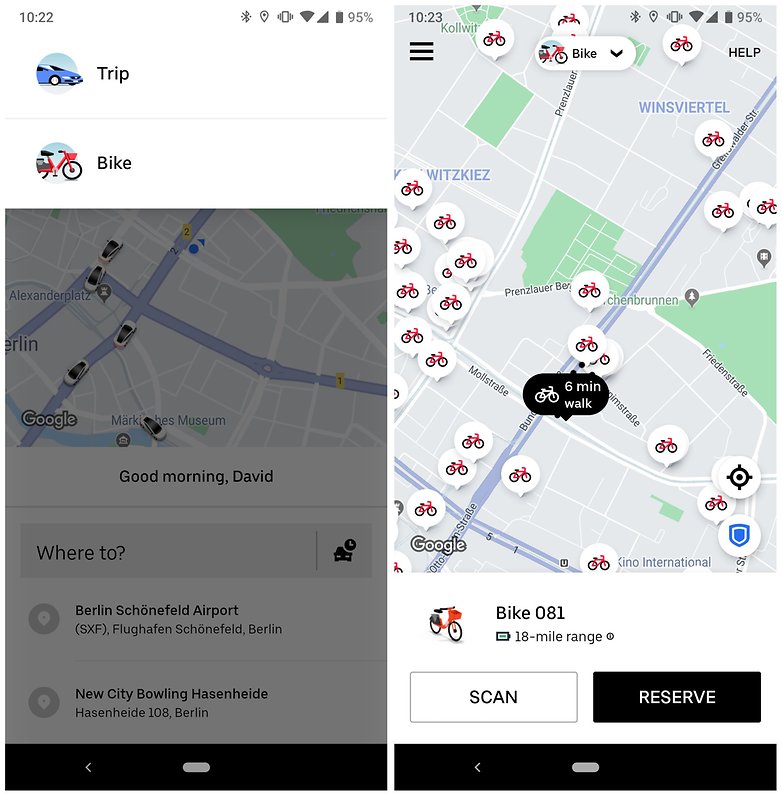 What's also cool for 2019 is Uber's electric bicycle sharing system, JUMP. The JUMP bikes can be rented directly from the existing Uber app. There's no need to sign up for a new account, and your existing Uber payment method can be used. If the weather is nice, why not ride the route yourself! JUMP is only available in select regions at the moment but will be rolling out to more cities in 2019 and 2020.
Smartphones are used for messaging even more than for calls, so there are a lot of messaging apps to meet this demand. Here are two of our favorites.
WhatsApp
WhatsApp, the ubiquitous chat app, has been installed on over one billion smartphones. It's always improving user experience, adding new features and becoming more secure. What makes it number one? Everyone uses it, simple as that. If you already use WhatsApp, then you should check out our favorite WhatsApp tips and tricks.
Telegram
No messaging app comes close to the number of users WhatsApp has, but there are some great alternatives out there. Telegram is one of them. The free app has end-to-end encryption, offers group chats and is a pioneer of chatbots. Unlike some other messengers, you can also use it on multiple devices. Read our full review of Telegram here.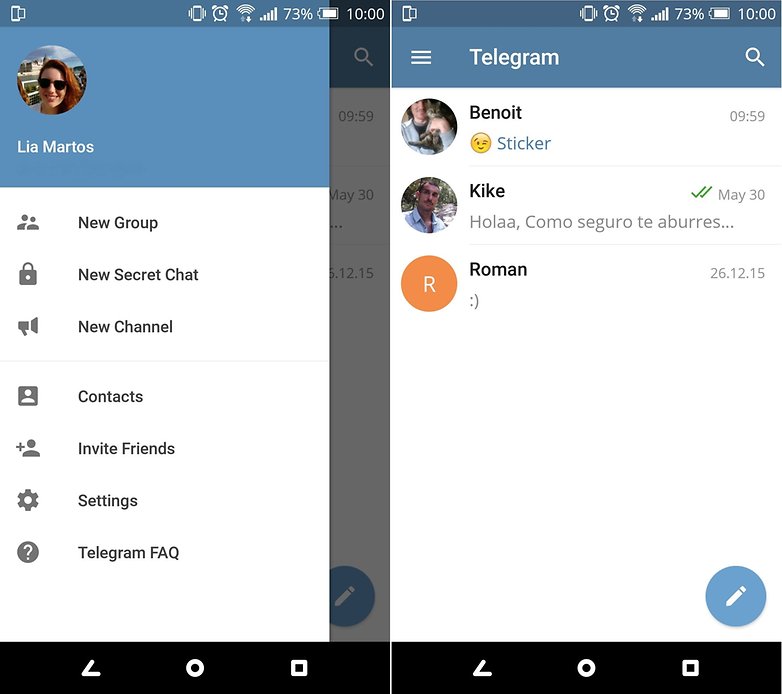 Typing on mobile can be frustrating or awkward for many of us, and that's a shame because most users don't think about ditching their default keyboard. Installing a new keyboard can really change your life when it comes to how comfortable you are using your phone.
Fleksy
This keyboard is one of the best for fast, accurate typing. Once you use it for a couple of hours, you realize how useful some of the smaller details are.
Be sure check out some of the extensions like invisible keyboard too — it works surprisingly well. Download it from the Play Store for free now.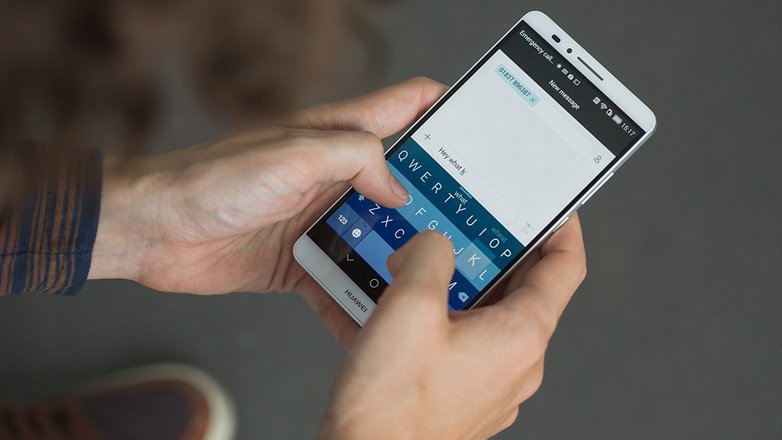 SwiftKey
If you are looking for a very special virtual keyboard for Android, you will find one here. SwiftKey works wonderfully with tablets, and if you simply want a good Android keyboard, it offers intuitive operation, very good spell checking and word recognition.
There are plenty of great weather apps available. Some are more accurate and better looking than the ones that come pre-installed on your Android device, so they are worth checking out.
Today Weather
One of the simplest weather apps and one of the cleanest in terms of user interface - Today Weather. It's a new offering that really impressed us this year. The app pulls weather data from a source of your choice. Options include popular services such as Weather Underground, AccuWeather and Dark Sky.
You can also set alerts to let you know when it is going to rain or if you'd just like a daily update in the morning.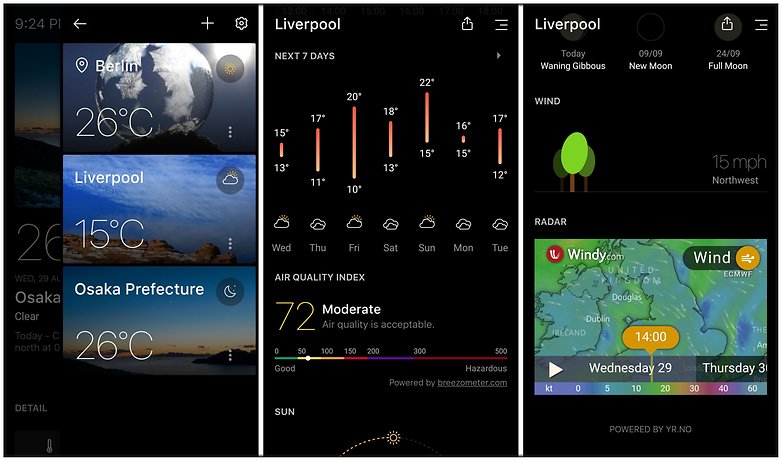 Weather Underground
Weather Underground is an app specialized in tracking hyper-local weather and temperatures in your area. It uses its own network of around 180,000 private weather stations to achieve this. Predictions have a good record of accuracy and warn you of rain in the surrounding area.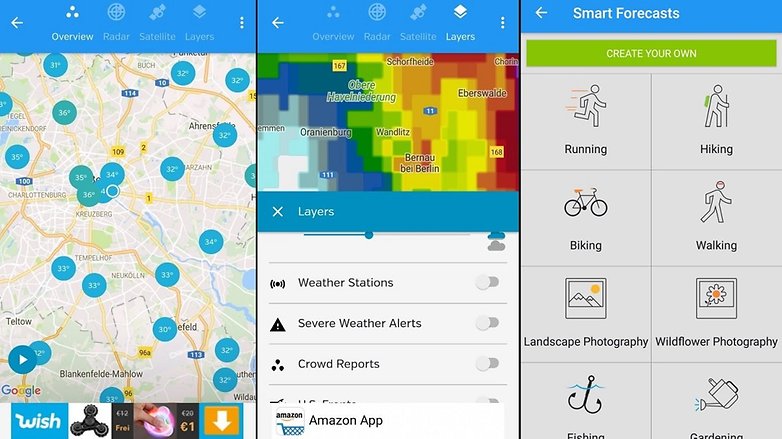 Weather Underground is free of charge, but displays ads. This can be deactivated for one year through a $1.99 in-app purchase.
PhotoDirector
PhotoDirector is the whole package. It has everything you could possibly need to edit your photos. The tools range from simple text bubbles and filters, to more complex things, such as HSL and curves. They're all heavily adjustable, helping you get the best out of your photos.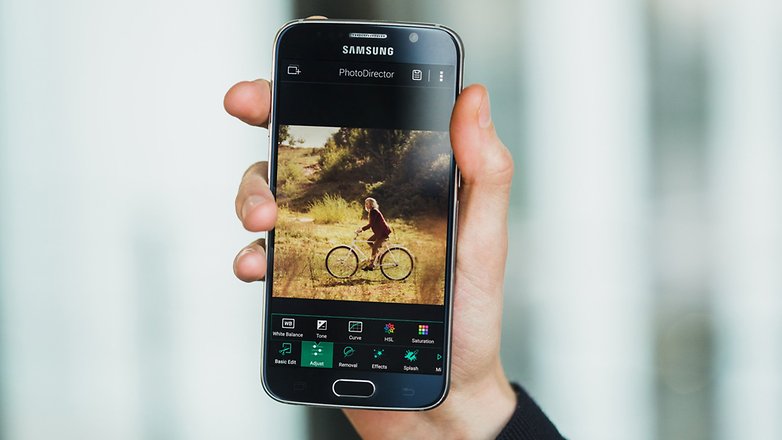 Snapseed
Snapseed is Google's own photo editing app and basically comes with everything, for free. It offers all sorts of filters and optimization tools. Whether trimming, applying filters or correcting colors, Snapseed offers a powerful picture editor for your needs.
Snapseed also saves your pictures in a separate folder - that way you don't need to modify the original image. Apps like Dropbox or Google Photos can also be synchronized with Snapseed.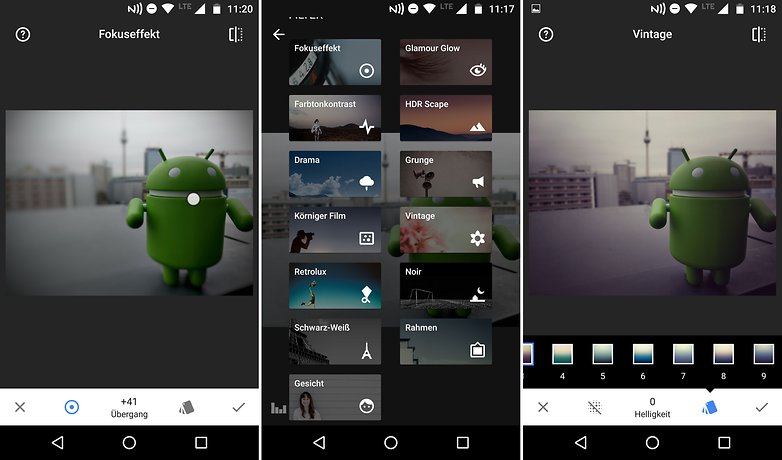 Downloading free music
Google Play Music is our favorite app for downloading free music right now. It provides a totally legit, ever-changing list of free tracks from major artists to download.
Spotify has an excellent paid subscription service, and SoundCloud has a multitude of tracks readily available to stream. However, for actually downloading tracks to your phone, Google Play Music is as good as you can get.
Best music player
While the default music apps on your Android device probably do a fine job, if you want to crank up the bass or other aspects of your music, you'll need something more.
We recommend Poweramp. It's a great way to enjoy your favorite music, with a ton of options and support for almost any type of file. You can't go wrong with it.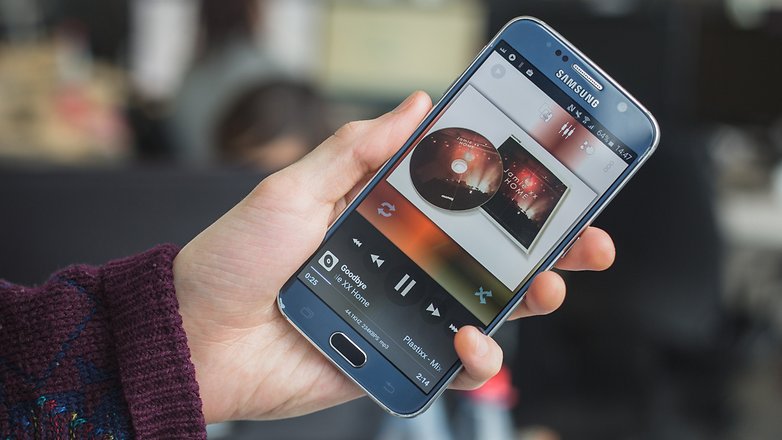 Netflix
You cannot compile a list of the best apps for movies and TV without mentioning Netflix. The service is a social and cultural phenomenon, and the Netflix app is really rather decent. The selection is enormous and the streaming quality is excellent. The biggest advantage of it has over its rivals, however, is the ever-increasing selection of exclusive content and Netflix Originals movies and TV shows. You'll need a paid account to watch though, of course.
Hulu
Hulu is an excellent app for watching movies and TV shows for free on Android. It's a free service that relies on ads, but there are some great shows available. You need to pay a subscription fee to access all of the content, but there is a range of excellent shows available without a subscription, including classic comedies such as Family Guy, Seinfeld and South Park.
Crackle
Crackle is a hugely popular free app, which is updated monthly with new TV shows and movies. Created by Grouper but later bought by Sony, the app features ads which run at regular intervals throughout the content. The trade-off is that you get an excellent selection of media and a well-maintained app.
Crackle, like Netflix or Amazon, has picked up some original content that's getting more popular.
Sophos Free Antivirus and Security
Sophos consistently ranks high on watchdogs such as AV-Test. In addition to perfect protection, it offers a varied feature set. The highlight: the app is totally free, even from ads (Sophos makes its money from business customers). Malware protection is based on an online database that also checks the reputation of individual apps and recommends alternatives.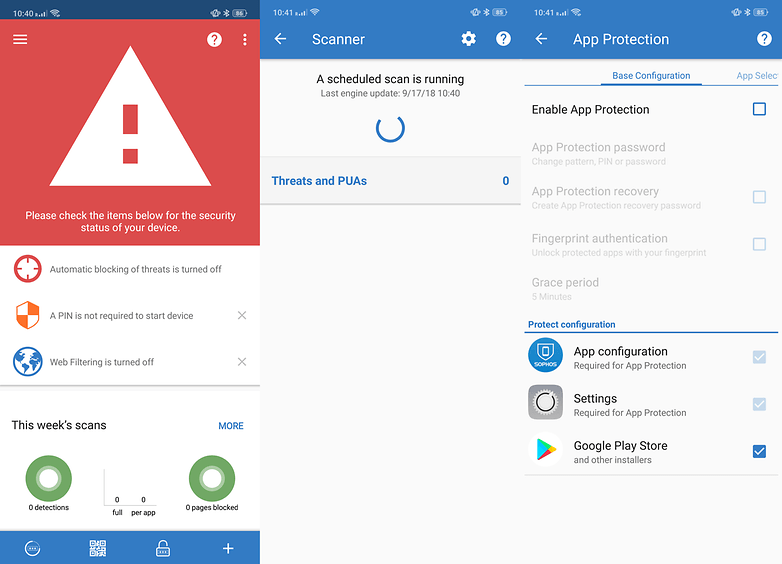 The app also includes theft protection. It allows you to remotely control your smartphone by SMS from other phone numbers you specify. Child protection filters, call blockers and device encryption complete the package. Of all the antivirus apps out there, Sophos stands out as the best deal for most users.
Malwarebytes Anti-Malware
Malwarebytes is a free app that does one job really well - protecting your phone from malware - and it does so with a bloat-free, minimalist interface and well-chosen options.
As well as offering malware detection, there's also a handy privacy audit feature that scans apps installed on your phone and breaks them down into different categories. This allows you to get a simple and quick overview of all the apps on your phone.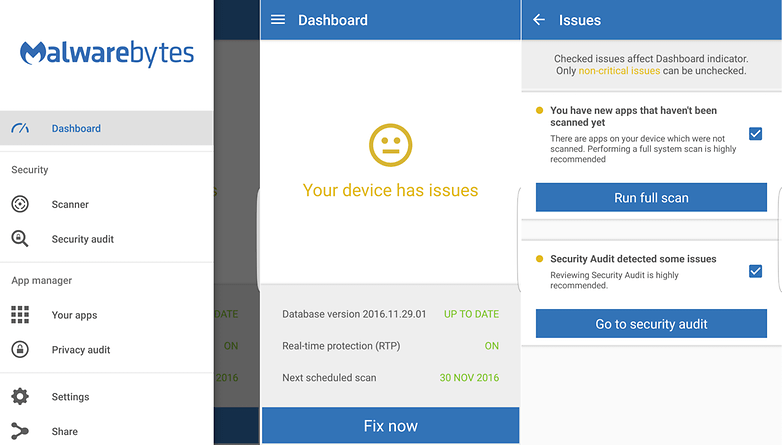 Action Launcher
Launchers offer a simple way to customize the look and feel of your Android phone. They often combine new icons, a new app drawer layout, a fresh homescreen and a change of wallpaper to make your device fit a certain style or theme.
You have to try them out to appreciate how fun they can be. The one we recommend right now is Action Launcher. This is a free and excellent introduction to launchers because it provides clear and intuitive interface changes without adding so many options that it becomes off-putting. The latest edition brings many of the best features of the Google Pixel launcher and Android Pie to any compatible (Android 5+) smartphone.
Nova Launcher
Nova is a great alternative launcher that lets you customize the entire look and feel of your operating system - from changes to font size, to the number of apps that can appear on the lock screen, to the way in which your app drawer scrolls.
If you wish you could make a few simple changes to your current interface, then give the free version of Nova a try. Nova even lets you adopt the look of any other phone - Galaxy, Xperia, HTC, LG, even iOS if that's your thing.
Online dating has come a long way from the easy punchline it used to be. Nowadays it's pretty common to meet that special someone on a dating app. However long your connection might last, you need a good app to get started in the dating game. Here our favorites.
Tinder for the sheer number of potential matches
For those who wish to jump straight into the larger dating pool, Tinder is a massive app with tons of potential matches available. It's claimed that 26 million matches happen on Tinder every day.
Tinder is mostly free, but if you want to get some premium features you will need to pay. However, it is entirely possible to use Tinder without these and have a great dating experience for free.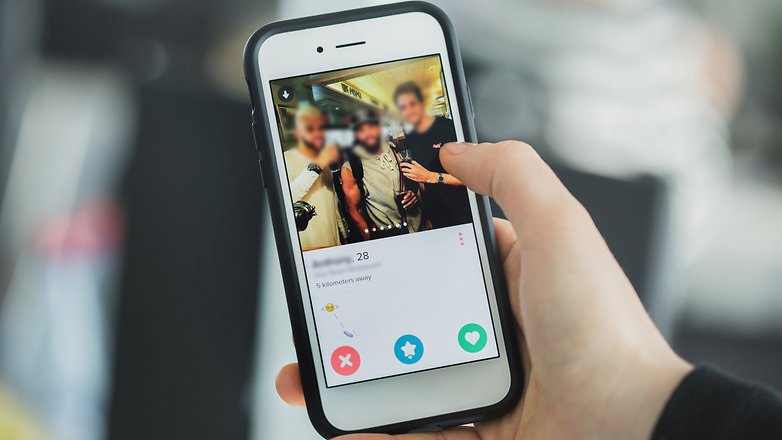 Bumble: from female-friendly dating to all-round networking
Bumble burst onto the scene with an interesting take on the dating app format. Women make the first move. The app has since expanded to become a hub for professional networking and platonic friendship, so if you want to meet new people in all aspects of your life, it's a nice one-stop shop. But the main use is still its dating format.
For women who are frustrated with tons of messages by men who barely look at their profiles, or men who get stuck on trying to craft that perfect opening line, this can be a great way to make dating less stressful (of course, for women seeking women, it's basically online dating as usual, and men seeking men are still best served with Grindr).
Of course, you might want to tone up a little for all that dating you're going to do with the above apps. Or maybe you just need a little help with motivation or organization when it comes to keeping in shape. Fitness apps are great because you can keep your device close to you while you're on the move. Let's take a look at the best.
RunKeeper for a comprehensive experience
RunKeeper has a good reputation, not just for the number of features in its own app, but also the number of third-party services it plugs into (it works with both Google Fit and Apple Health). If you're a keen runner, there aren't many better options than this one.
You can plan your runs on a map via GPS tracking, monitor distance covered and calories burned, set personal goals, integrate your indoor activities and more. Despite the name, this app can handle bike rides and gym workouts as well as running, so it's a comprehensive monitoring app.
Don't underestimate the power of community. There are social aspects to the app as well. You can share achievements with your friends, join and create running groups and use the chat feature to keep each other motivated. The app is free, but also has ads and optional in-app purchases.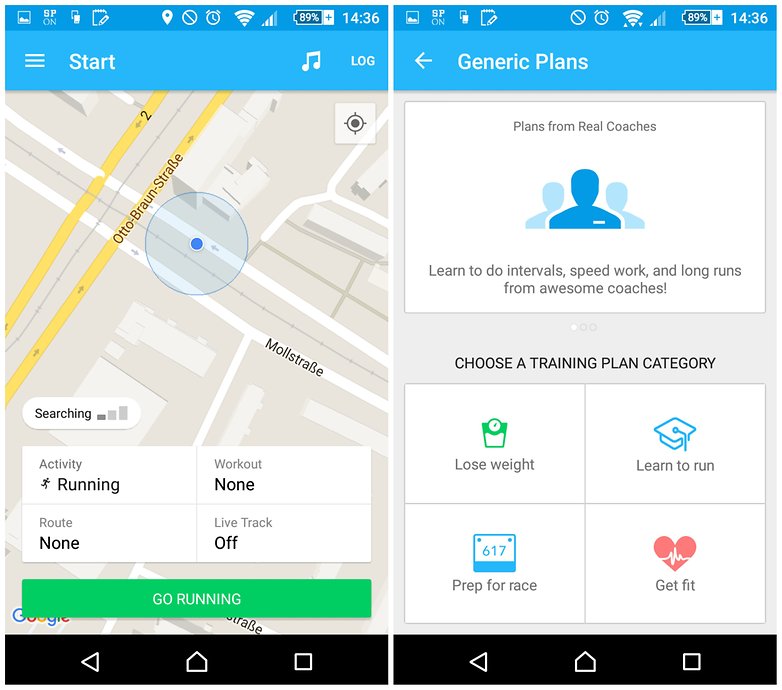 Google Fit for simplicity
Google's own health and fitness app is tightly integrated with Android and Android Wear. It's also full of features. Weight, heart rate, steps and activity time can all be logged automatically and you can set simple daily goals, as well as get an alert when you've reached them.
In addition to real-time stats, Google Fit will also give you personalized recommendations and coaching to help you reach your goals.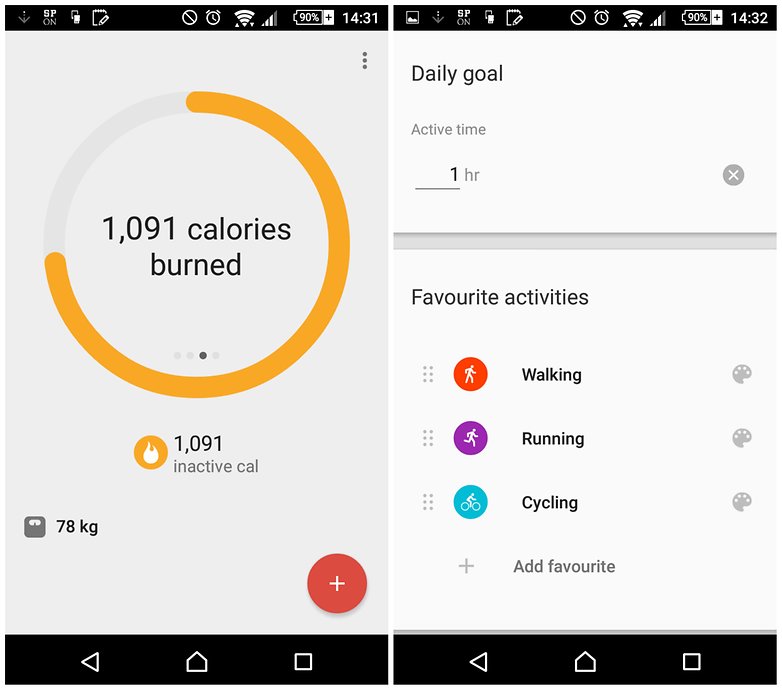 Taking notes with your smartphone is one of the most simple functions, but it is also one of the most useful. Whether you need to make a quick shopping list, have just been told about a movie and don't want to forget its name, or if you've seen a product that you want to look up later, a good note-taker is an essential app for every Android user.
Evernote for the ultimate cross-platform note-taking
Evernote is a legendary note-taking app. It's easy to use and comes with some really cool features including voice commands. You can also take a note and view it on your lock screen or smartwatch. Evernotes are also available across multiple devices, including on desktop. You can also find notes based on your location if you are near to where you took the note in the first place. There is a Plus version available for $2.99 a month and a Premium version for $5.99, but the free version is great as well.
Google Keep for simplicity that works
Keep is Google's pre-installed note-taking app, and it's one of our favorites. You can take notes in a variety of ways, by either typing on your keyboard, writing with your finger, taking a quick photo or by recording a voice message. All of your notes are then synced with your Gmail account, so you can access them across several Google services. The search function is especially cool, as it can find words that you have written freehand as well as typed.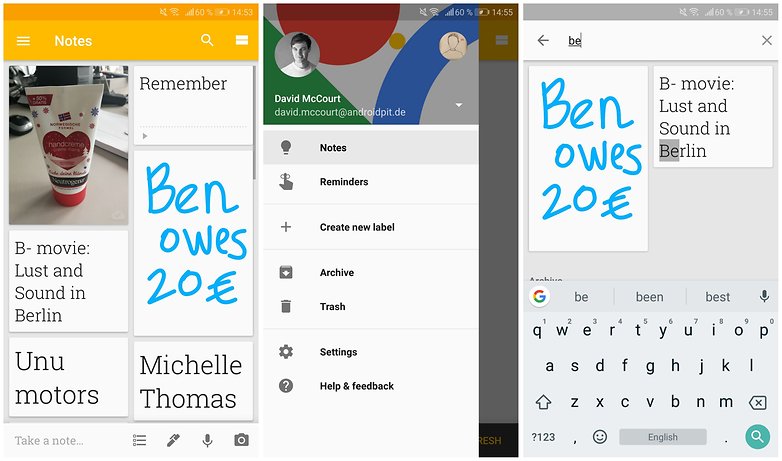 Enhance your life with even more great apps
This has been our pick of the cream of the crop when it comes to the best Android apps of 2018! However, if you didn't quite find what you were looking for, or if you're still hungry for more, check out the links below:
The latest and greatest
Updated every month with new recommendations, these are the apps and games that have impressed us lately. Get ahead of the curve!
Alternatives to the mainstream
You don't wanna be a sheep, maaaan. Check out these alternatives to the normie tech giants.
Let's play!
The clue's in the name: Google's Play Store is full of games, but only some of them are really great. We've heroically played through a huge amount of mobile games so we can recommend only the finest:
What are your favorite Android apps? Any that you think are better than the ones in our selection? Let us know in the comments!