In-ears with ANC: The best noise-cancelling headphones in 2022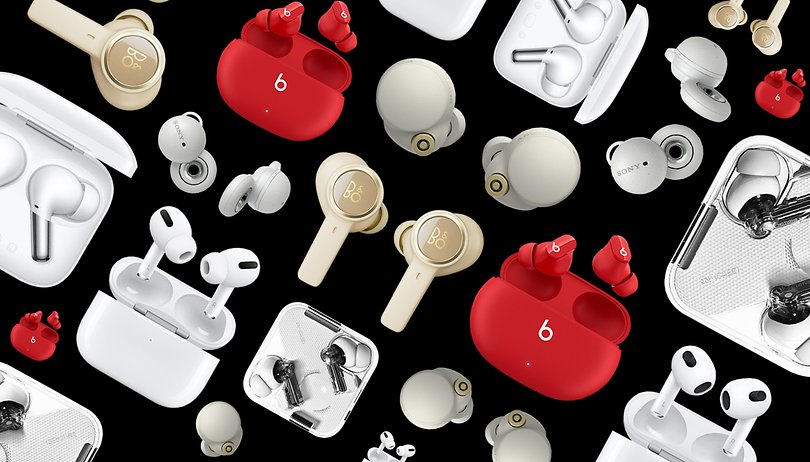 What are the best in-ear headphones with Bluetooth in 2022? Since the answer to this question is quite individual, we have divided them into different price categories. This gives you the opportunity to find the right model depending on your budget. In addition, we explain whether you need headphones with ANC, which Earbuds are best for your iPhone, and much more.
The best in-ear headphones 2022 in comparison
Under $400
Under $300
Under $200
Under $150
Under $100
Best transparent headphones
Apple Recommendation 1
Apple Recommendation 2
Product
Sony LinkBuds
Image
Advantages

Premium sound with fun EQ
High quality ANC
Firm, comfortable fit
High-quality workmanship
Multi-point pairing

High-quality sound
Enchanting ANC
LDAC and DSEE Extreme
Countless convenience features
Battery life of up to 12 hours

Good sound optimization via Audio ID
Smart, effective ANC
Controls
Quick charging
Compact charging case

Powerful sound
Solid ANC
Sits well in ear
Very compact (Earbuds)
Also "easy-to-use" under Android

Good and neutral sound
Compact size and clean design
Wireless charging
Fairly efficient ANC

Innovative driver design
Hardly noticeable in the ear
Very compact charging case
Exciting operation via face tipper

Very good fit
Good sound
Very good active noise cancellation
Very good integration with iOS
Compact charging case

Cons

Strong wind noise in transparency mode
No control of voice assistants
Occasional connectivity issues
No tracking feature

Hold in ear takes a little getting used to
No AptX (HD)
Sony needs a new app
360-degree sound cool, but it is rarely usable

Battery life of the could be better
LHDC codec is not widely used, no AptX
Susceptible to feedback loops
No multi-pairing
No equalizer in the app

Sound too bass-heavy
No equalizer in the Beats app
Overall, quite few features

Limited app and touch controls
No HD codecs
Somewhat forced "coolness factor"
Average battery life

Less flexible than ANC earbuds with transparency mode
Little performance in the bass range
Battery life rather mediocre
High audio bleeding

Only basic features outside of the Apple Ecosystem
Lack of volume control
Average battery life

Rating

To the review

To the Review

To the Review

To the Review

To the Review

To the Review

To the Review

Not yet rated

Check prices*
With the exception of the brand new Apple AirPods 3, we've worn all of the suggested models in our ears for several days. To help you make your choice, we've divided our selection into different price ranges. We begin with the premium models for under $300, then $200, $150 dollars, and last but not least under $100. Since Apple prefers to keep to itself in its ecosystem, we have also included two tips for Apple users.
But what is actually the advantage with in-ear headphones and what is an "ANC"?
Jump to:
Buying guide: What you need to know about in-ear headphones with ANC
Sound quality
If you spend more money on a pair of headphones, you'll usually get better sound. Of course, there are exceptions like the legendary Koss Porta Pro on-ear headphones, but you can use this rule of thumb as a guide. As for technical data regarding the evaluation of sound quality you will find the following information online and on the packaging:
Technical data and what it means
| Feature | Impact |
| --- | --- |
| Size of the drivers | The small speakers that sit in headphones are also called drivers. Their size is often cited as a relevant criterion, but the evaluation also depends on the materials used and the quality of the drivers. So don't be put off by small drivers. |
| Frequency response | The frequency response describes which pitches and depths the headphones cover. The wider the frequency range, the better the sound quality in theory. |
| Watt | The power of loudspeakers is measured in watts. The more watts, the higher the output. |
| Decibel | Manufacturers usually specify the maximum volume in decibels. Since the sound level becomes critical from 85 decibels, the volume of most headphones is perfectly adequate. |
| Bluetooth codec | The Bluetooth codec is particularly important for wireless in-ear headphones. It determines in which limitations the technical components can work. Read more on our overview page about Bluetooth codecs! |
However, it is not advisable to judge the sound quality of a pair of headphones solely on the basis of these technical characteristics. After all, preferences in sound quality are as varied as your taste in music. It is therefore very practical if you can adjust the sound to your listening habits via equalizers and sound profiles.
ANC
The term "ANC" stands for Active Noise Cancellation and describes a technique for reducing background noise. Unlike the classic, passive noise-canceling headphones used in the industry, ANC is active noise cancellation.
However, since ANC is a very popular feature, manufacturers try to integrate the function into their headphones by hook or by crook. The result is grotty ANC features in cheap headphones. So be sure to check out our reviews, because of course we test the effectiveness of noise cancellation in every new pair of headphones.
Battery life
The battery life of in-ear headphones comes down to two components. One is the runtime of the headphones themselves and then there is the capacity of the charging cases that come with them. Make sure that not only the total runtime is long, but also that of the individual earbuds.
Generally, though, it's a plus that you can still get 1-2 full charges via the charging case when you're on the go. Features like Quick-Charging or Wireless-Charging, which works with some smartphones even by putting it on the phone, are practical functions.
Design
When we talk about in-ear headphones with ANC, we usually mean models that sit directly in the ear canal. If you don't like this design, there are models like the OnePlus Buds or the Apple AirPods. These sit in front of the ear canal and are not inserted directly into your earholes.
NextPit recommends: The best in-ear headphones with ANC
Under $400: Bang & Olufsen Beoplay EX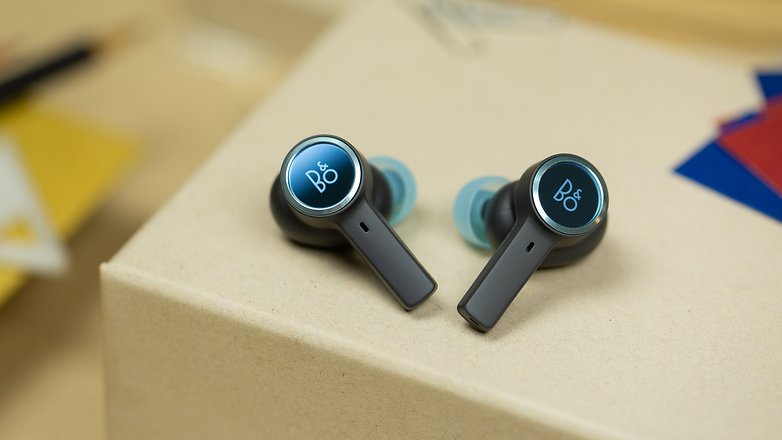 Bang & Olufsen Beoplay EX review
Are you looking for absolute premium headphones in the field of in-ear headphones? Then the Bang & Olufsen Beoplay EX Earbuds with an RRP of $399, first-class sound and particularly high-quality workmanship await you. At the same time, they offer modern features like multipoint pairing and high-quality ANC that safely blocks out ambient noise.
In our test of the B&O Beoplay EX, however, there were some drawbacks despite the high cost. For example, we would have liked to see a tracking feature in case the Earbuds did fall out of the ears despite a good grip. Furthermore, there are occasional connection problems in combination with an iPhone SE 2022 and the strong wind noise in transparency mode is also annoying.
Under $300: Sony WF-1000XM4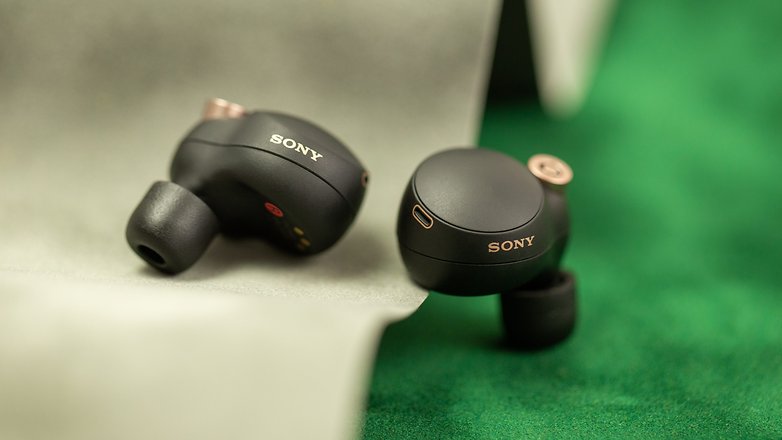 The Sony WF-1000XM4 is the technological spearhead of in-ear headphones with ANC in 2022. The sound is fantastic, the ANC is frighteningly effective and the range of functions is something other manufacturers can learn from. I also found the design particularly appealing during my testing of the headphones. The fit, however, takes a little getting used to with foam tips.
Sony also uses its own audio codec and does not offer the more common "AptX HD" standard. In addition, Sony's app does not really convince me, as it is too cumbersome for a premium product. However, the feature set is also beyond doubt here. If you want to spend almost $300 on in-ear headphones, you should invest in the WF-1000XM4. They will thank you with 10 hours of battery life.
Under $200: OnePlus Buds Pro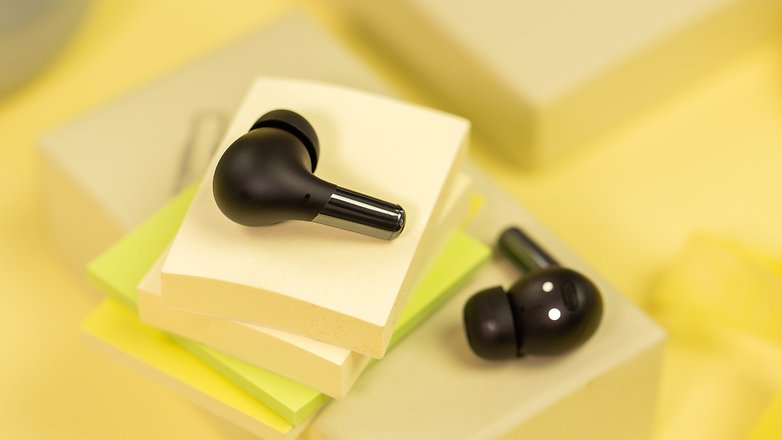 As I write this comparison, I have the OnePlus Buds Pro in my ear! They are in my eyes the underdog or the insider's tip of the ANC headphone selection in 2022, as they offer really good sound with clever sound optimization, super-effective ANC and can be recharged in no time. Combined with just under 5 hours of runtime when used with ANC, it adds up to a good battery life.
To my ears, the wearing comfort is among the best I've experienced with in-ear headphones. They sit firmly in the ear, but are hardly noticeable there. The same goes for the tiny charging case, which is always happy to fit in your pocket. For a street price of just under $130, the deficiencies on the cons side above are tolerable. If only they had multi-pairing support...
Under $150: Beats Studio Buds
Beats Studio Buds in a detailed test on NextPit
I was also surprised by the most affordable in-ear headphones from Beats aka Apple! These stand out from other models not only in design, as the Earbuds are really tiny. Above all, they are totally easy and reliable to connect on both iOS and Android. Google's FastPair recognizes the headphones directly even on new devices and Apple devices suggest the connection directly with fancy pictures.
The sound is Beats-typically bass-heavy, but solid. The ANC provides a nice underwater effect when turned on, and they take up very little space in your pocket with their little plastic case. I also found the "real" button on each Earbud cool, which reliably prevents the problem of incorrect inputs when sprinkled with water. However, important features like wear detection and an equalizer are missing in the app.
Under $100: The Nothing Ear(1)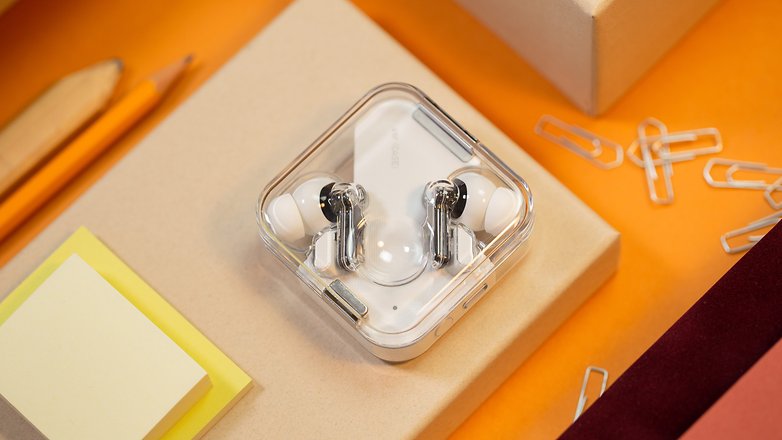 Nothing Ear(1) in the detailed test on NextPit
I didn't get to try the next in-ear headphones – the Nothing Ear (1)! Antoine gave the headphones a relatively poor grade in his review, as they didn't quite live up to the manufacturer's promises. With a few weeks of healing from Antoine's burn, I think the headphones are a really good buy for under $100. That's because for the price, they have several advantages.
They come with a really unique design, impressed Antoine in the review with their sound and ANC, and have some convenient features that are rarely available under $100. This refers to wireless charging and integrated wear detection. Furthermore, the headphones merge the stereo channels if you only use one earbud. Unfortunately, HD codecs are missing, and controlling the headphones via the app is not only complicated but also not comprehensive enough.
Best Transparency Headphones: Sony LinkBuds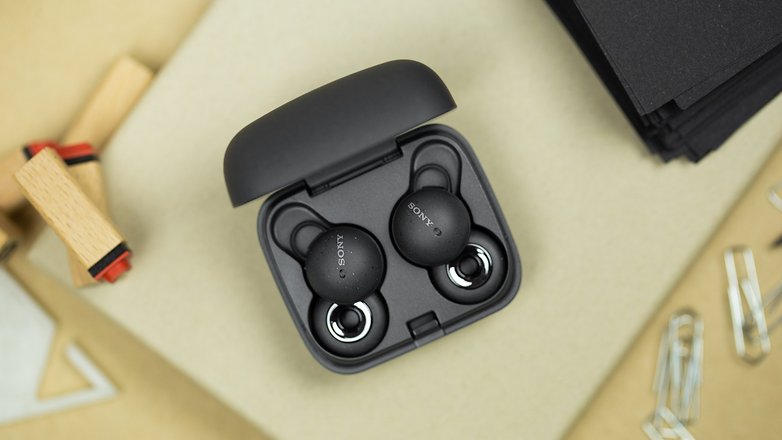 With the LinkBuds - also called WF-809 - Sony launched novel in-ear headphones in the spring of 2022. These are characterized by offering an open headphone design. Sony realizes this by working holes into the drivers, through which external noise is carried to the ear without digital aids. In testing, the Sony LinkBuds sounded really good, though the sound is hard to compare to other in-ear headphones.
Compared to most of the models in this review, which also offer a transparency mode in addition to ANC, the headphones are less flexible. Sound-wise, the bass is particularly lacking and the high audio bleeding might be a problem for train drivers. Overall, however, you buy exciting and high-quality manufactured headphones for just under 180 Euros, which are a real eye-catcher on the road.
For Apple: AirPods Pro or AirPods 3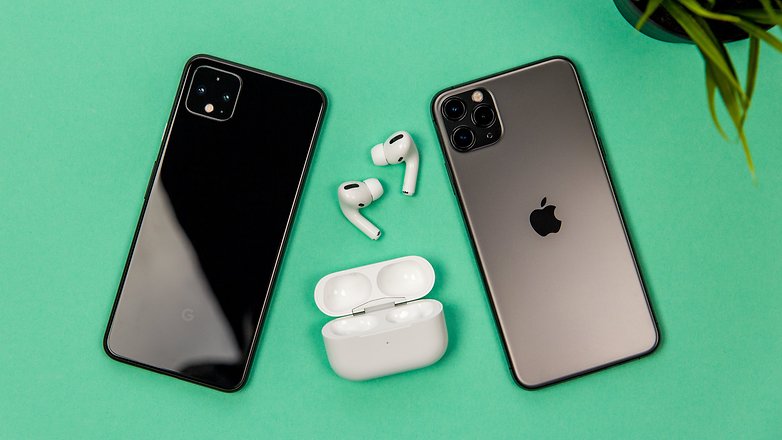 If you are reading this article on an iPhone, an iPad or a MacBook, buying an Apple product is a natural choice. The Apple AirPods Pro are currently the most powerful in-ear headphones from Apple and have very good ANC. As an alternative, the manufacturer from Cupertino has still brought the AirPods 3 on the market, which we unfortunately, could not yet test.
Shu rated the headphones shortly after the release with a full 4.5 stars and especially emphasized on the good sound, the very good noise cancellation and of course, the integration into the iOS ecosystem. Thanks to the integrated H1 chip, the headphones connect to your iOS devices as if by magic.
While you usually have to deal with bulky companion apps on Android, everything is integrated into the system on iOS. Your sound profiles are also automatically transferred to other Apple devices, and switching between them also happens on its own.
How did NextPit test the best in-ear headphones?
This best list represents the market overview from February 2022. We've been trying to get our ears on new models or untested earbuds all year. In this list, with the exception of the AirPods 3, we've been able to try out all the models ourselves. Thus, a recommendation comes from our own impressions and not a stringing together of numbers.
However, there are recommendable alternatives, which we do not want to withhold from you. For the sake of completeness, here are a few:
Alternatives in the field of in-ear headphones with ANC
What are your tips for recommended in-ear headphones with ANC? Which models are missing from this list and which should we urgently throw out based on your experience? Let us know in the comments!