OnePlus Buds Pro 2 review: Faded behind the "Walled Garden"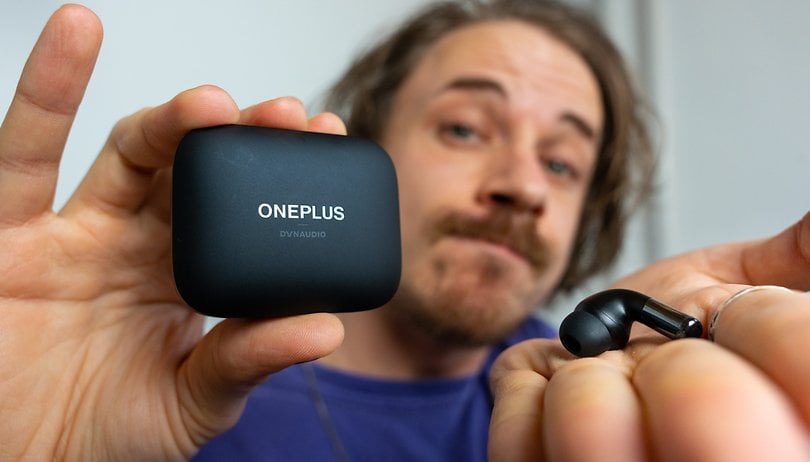 With the OnePlus Buds Pro 2, the former Oppo subsidiary has launched a brand new pair of in-ear Bluetooth headphones. This is exciting news for fans since the company's smartphones are still not allowed to be sold in certain regions worldwide. However, as you can read in my review, the Nokia embargo also poses problems for the manufacturer's audio division.
Good
Great form factor

Solid sound quality with the new codecs

Effective ANC with almost no wind noise

High wearing comfort
Bad
Sound quality drops sharply without LHDC

No volume control on the earbuds

Too many features that are exclusive to OnePlus

Frequent dropouts when cycling
OnePlus Buds Pro 2: All deals
OnePlus Buds Pro in a nutshell
The second iteration of the OnePlus Buds Pro brings with it similar advantages found in its predecessors. They not only fit securely but are also comfortable to wear in the ear, are compact and inconspicuous in your pocket, and the squeeze control is ingenious for selected situations.
OnePlus was able to improve the sound quality, but the rather rare LHDC codec severely limits the sound quality on many devices. The adaptive ANC, Multipoint support, and support for Google Fast Pair are welcome innovations.
If you use a OnePlus smartphone, the Buds Pro 2 are especially worth picking up due to its extended features and LHDC codec. The asking price of $179.99 enshrines it somewhere in the upper mid-range segment of in-ear Bluetooth headphones.
Design & Operation
The first iteration of the OnePlus Buds Pro have almost always been in my pocket since its launch. This is because the headphones are particularly comfortable to wear, they are not averse to water or squeezing thanks to the squeeze controls, and are especially comfortable when placed in my ears. The second version retained many of these features but also caused problems more often than not in everyday use.
---
What I liked:
Valuable look-and-feel thanks to the new exterior look
High wearing comfort
Squeeze control still works like magic
What I disliked:
No direct volume control from your ear
Wearing recognition is no longer error-free
---
The new headphones from OnePlus are hard to beat in terms of simplicity. The black version of the review unit that we received looked elegant and is one thing above all: extremely practical. The charging case measures only 6 × 5 × 2.8 cm and fits comfortably in the trousers pocket. At the same time, opening the case as well as removing the magnetically held earbuds is easy.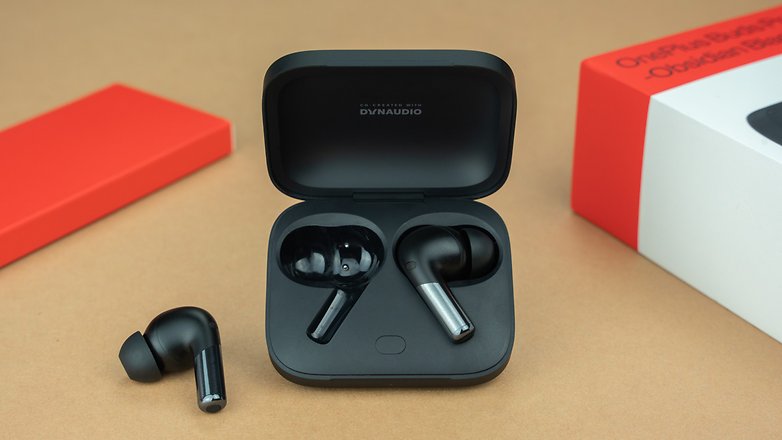 As with its predecessor, I find the wearing comfort to be above average. This is due to the design of the ear tips, which sit securely in the ear but do not create any negative pressure while doing so. Of course, this is a bit subjective, but OnePlus supplies its headphones with a total of four different sizes of eartips. The controls are again particularly suitable for users when it rains, or athletes when they sweat buckets.
OnePlus again relies on squeeze gestures for control instead of touch-sensitive surfaces. Like Apple's AirPods (review), you squeeze the stem of the headphones, hear a slight "tock" in the ear and the corresponding function is executed. The earbuds do not react to rain or when sweaty hair brushes over it. Unlike many competitors, pushing the earbuds back into the ear does not affect the music playback, either.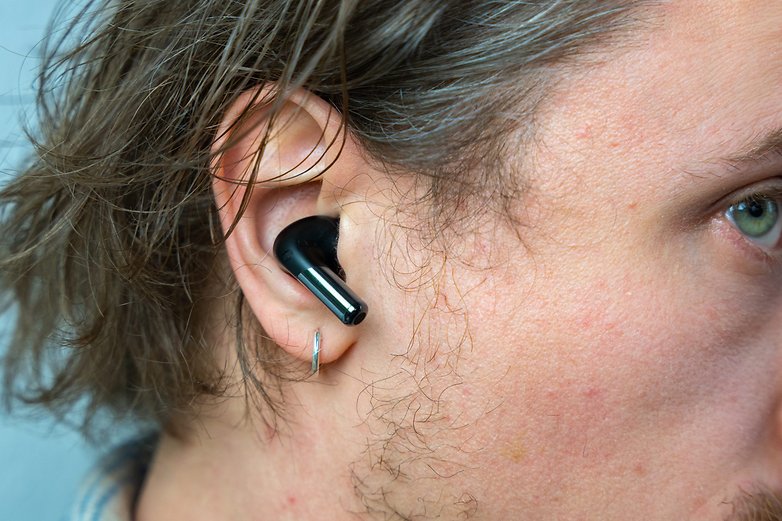 As practical as this form of control is, it is limited in terms of possibilities. The earbuds lack volume control directly when worn, which will annoy many users. Only "Start / Stop", "Continue forward song" and "Activate ANC" are available functions right out of the box. In the companion app known as "HeyTap Melody", you can configure longer presses for white noise playback.
Compared to its predecessor, I also noticed that wear detection is more prone to errors in everyday use. You will notice that the ANC is deactivated at first followed by music playback being interrupted. Adjusting the earbuds help here, but they are much more present in the ear when worn for a longer period of time. The problems primarily occur when one is cycling and goes against a medium to strong headwind.
Comfort functions & app
A major innovation of the OnePlus Buds Pro 2 is the expansion of its feature set. OnePlus now lists features like neck health detection, a listening test to create an individual sound profile, and Google Fast Pair in the specifications. The fact that some of them will roll out later via an update or are exclusively usable with OnePlus phones is an unfortunate situation.
---
What I liked:
Adequate feature set for 2023
Finally comes with real multi-pairing connectivity
Complex tuning for your ears
What I disliked:
Spatial Audio works only with the OnePlus 11 (not officially available in selected regions)
Neck Health feature will roll out later (the banana principle!)
---
The manufacturer was able to rectify a major criticism point of the Buds Pro in this model. Thanks to multipoint Bluetooth connectivity, you can now connect to two devices to the earbuds simultaneously. This works surprisingly seamlessly, and it only took a maximum of five seconds until the changed device is recognized as the audio source.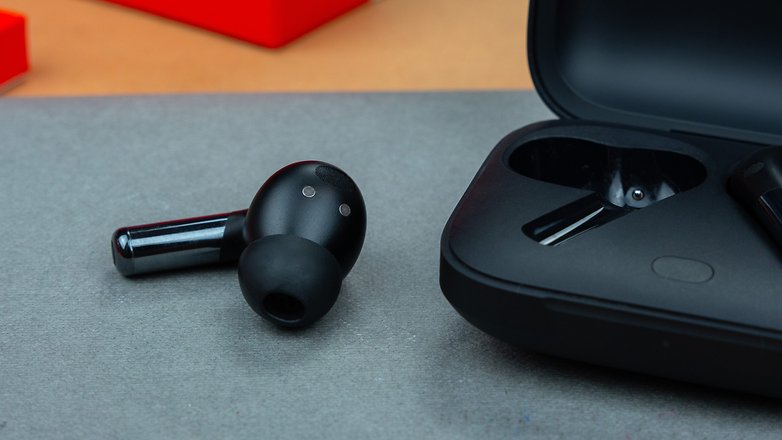 If you use an Android smartphone, you will also enjoy the advantages of the extremely convenient Google Fast Pair. The technology links earbuds to your Google account, which means that they can be used directly on another device with the same account. Since the feature is directly integrated into the operating system in the latest Android versions, this happens seamlessly.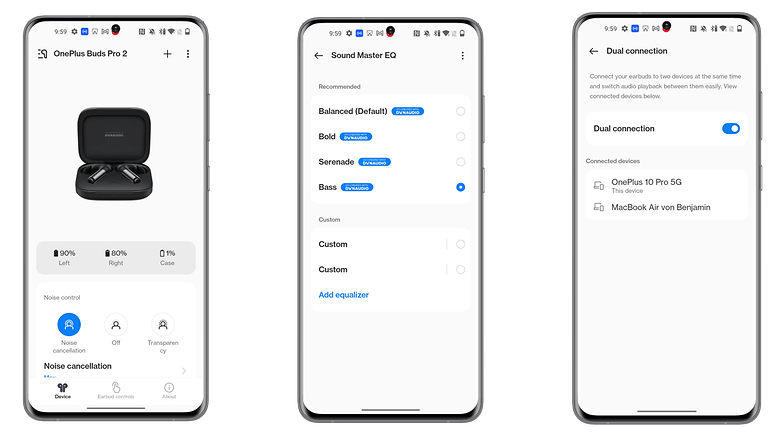 In addition to multiple devices, the OnePlus Buds Pro 2 can also detect whenever you remove them from your ears. Music playback is paused accordingly and resume when you insert them. The earbuds can also measure the characteristics of your ears to create an individual sound profile. Part of this is a hearing test works much the same way as when you meet up with an otorhinolaryngologist. You will hear a sound at different frequencies and have to indicate when you can no longer hear it. It is a bit of a shame that the earbuds do not inform you about the health of your ears afterward.
Unfortunately, OnePlus will not provide the "Spatial Audio" feature and "neck health" monitoring at its launch in February. According to press information, the earbuds will send you reminders via built-in motion sensors if you have not moved your neck and back area after a while. The function is to be introduced later this year.
Sound & ANC
Thanks to the integration of two-way audio into the earbuds which are quite light at 4.9 grams, OnePlus can extend the frequency response of the Buds Pro 2 from 10 hertz to 40 kilohertz. While Bluetooth codecs have remained the same with LHDC, AAC, SBC, and LC3, Bluetooth 5.3 brings a higher connection quality. The adaptive ANC feature is also particularly handy for outdoor use.
---
What I liked:
Powerful and flexible sound image
Adaptive ANC works well with a great transparency mode
Bluetooth 5.3 delivers a major advantage in terms of range
What I disliked:
No AptX support
Tendency to sink in the bass
Latency reduction happens only with OnePlus
---
Sound-wise, the first variant of the OnePlus Buds Pro ranked somewhere in the middle when it comesm to in-ear Bluetooth headphones with ANC. Although the sound of its successor has improved, these advantages are rather reserved for OnePlus' very own smartphones. Technically, OnePlus relies on two-way drivers and thus primarily achieves punchier basses.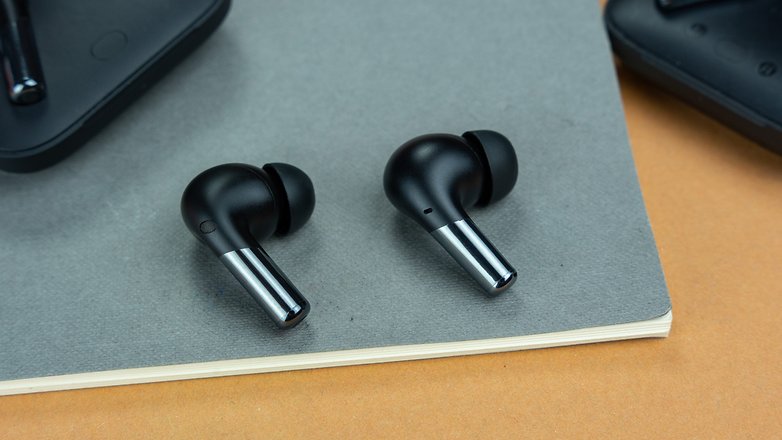 If you were to use the OnePlus Buds Pro 2 without the higher-resolution LHDC codec, the bass sounds too spongy. In MF Doom's "Accordion", for example, the instruments and the vocal track were drowned by the bass track and the kick drum. When I switched from the iPhone 13 mini (review) to the OnePlus 10 Pro, the earbuds sounded much better and manage to delineate the different frequencies better.
The equalizers, which OnePlus' audio partner Dynaudio equipped the Buds Pro 2, also seem more mature in this edition. In addition, you can define your own settings and change the efficiency of the frequencies on six bands. It is a real shame that OnePlus decided to make do without AptX support in this model as well.
I could hardly find any flaws in the adaptive ANC, which can now react dynamically to your surroundings. When you walk through a big city like Berlin in the "Smart" setting, ambient noise is intelligently filtered. When cranked to its maximum level, noise suppression is subjectively on par with top models like the Sony WF-1000XM4. However, OnePlus managed to hardly let any wind noise through even when cycling in transparency mode. This is a real unique selling point.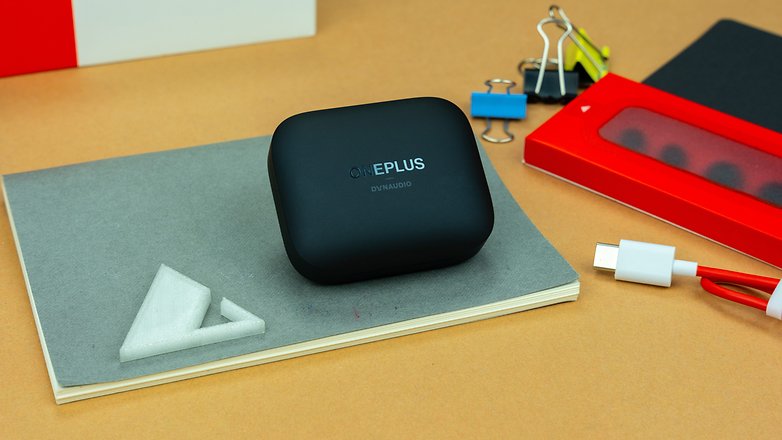 Bluetooth 5.3 connectivity also provided a particularly high range which OnePlus specified as ten meters in the specifications. Although I do not have an equal counterpart on my iPhone 13 mini as well as on the MacBook Air from 2021, the range in my apartment also exceeded all backward-compatible earbuds I know.
Finally, a "Game Mode" is available on OnePlus smartphones, which reduces latency. Thanks to Bluetooth 5.3 LE, latency is supposed to be only 54 milliseconds. That is solid, but it could be reduced to 40 milliseconds by using AptX Low Latency which could then be used in more smartphones.
Battery and Quick Charging
I will keep this segment short: OnePlus extended the battery life of the Buds Pro 2 by two hours each. The quick-charging function is also on board again, as well as the wireless charging.
---
What I liked:
Long battery life with ANC at last
Practical quick charging function
What I disliked:
Notice: The battery life of its predecessor decreased considerably during longer use
---
The OnePlus Buds Pro 2 left little to be desired in terms of battery life. Six hours of music playback are said to be possible with activated ANC, and the usage time increased to an impressive nine hours without noise cancellation. If you recharged the headphones via the charging cradle in between, the runtime increases to 25 hours (with ANC) or 39 hours (without ANC).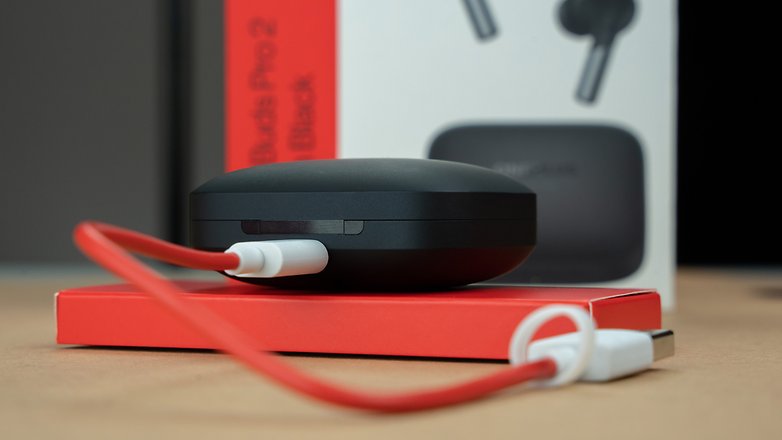 These values are already really good, but they can be extended for a short time thanks to Quick-Charging. OnePlus stated that ten minutes of charging is enough for three hours of music playback. Combined with the charging case, ten minutes should be enough for ten hours of independence from a nearby power plug. In other words, you can charge the earbuds at home for ten minutes, then throw them in your backpack and listen to music for a full nine hours without ANC.
After a few days of use, I can confirm that these values are true. This makes the OnePlus Buds Pro 2 an excellent companion for everyday use. When fully charged, the headphones last for a whole workday. If they are empty and you want to use them for jogging, a short charge is enough to run a marathon. Top drawer performance here!
The earbuds support wireless charging, so you don't need to remember to bring a USB-C cable. Furthermore, I can already see signs of wear and tear in the predecessor after one year of use. Since the integrated batteries in the earphones are also tiny, rated at only 60 milliampere hours in the Buds Pro 2, I predict a similarly fast rate of performance loss here.
Final verdict
Subjectively, I also like the second iteration of OnePlus' most expensive wireless earbuds very much. The Buds Pro 2 are slim, comfortable, and pleasant-sounding in-ear earbuds. The control via squeezes convinced me more than the touch-sensitive solutions from other manufacturers. At the same time, OnePlus has expanded the range of functions with multi-pairing, which really added value for everyday use.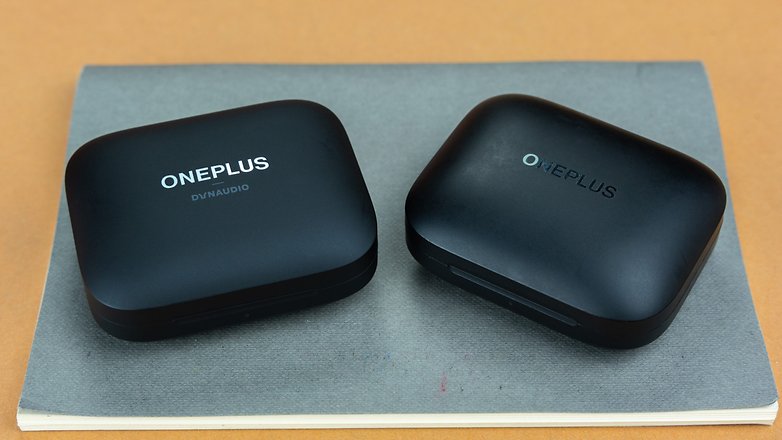 However, OnePlus made the mistake of developing the earbuds mainly for its own ecosystem. If you were to use smartphones from other manufacturers, then you would have to 'suffer' at the expense of sound quality as LDAC codec support can be quite rare. Apart from the sound quality, you are currently also left in the cold when it comes to features like Spatial Audio and the new health features.
Since OnePlus is still not allowed to officially offer and advertise its smartphones in selected countries, this is a particularly annoying situation. So you purchase earbuds that have exciting features and cannot buy the required counterpart. OnePlus is also not Samsung, Apple, or Google—the confidence in offering a closed ecosystem as a smaller manufacturer seems to be misplaced.
Thus, the OnePlus Buds Pro 2 shed away some potential and thus become merely convenient earbuds whose performance you cannot use with most devices.
---
Update: The initial review suggested the OnePlus Buds Pro 2 didn't have wireless charging, the feature is indeed supported and the review has been corrected, together with the support for the LHDC Bluetooth codec.