The best Samsung smartphones to buy in 2023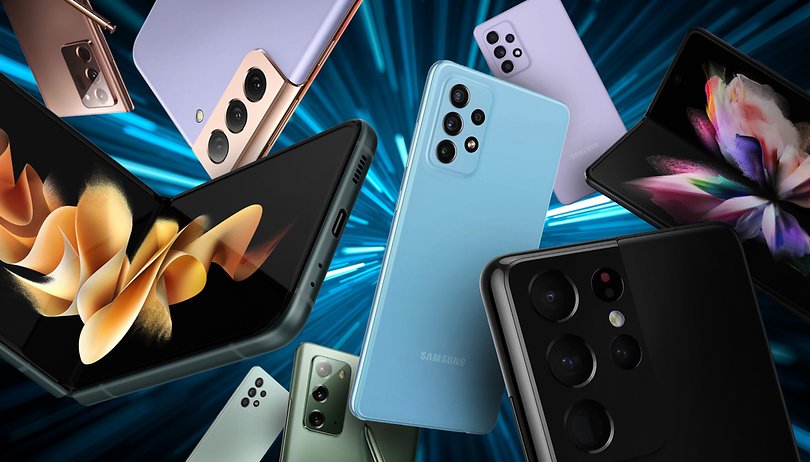 Which is the best Samsung smartphone for me? This is definitely not an easy question because Samsung offers a wide range of smartphones that covers quite a wide price range. We will therefore first introduce you to our personal favorites before moving on to all of its other devices according to their respective model series, from the Galaxy Z to the Galaxy S and A, and all the way to the Galaxy XCover. Of course, we will also briefly introduce our personal favorites here.
Samsung has introduced its flagships early in 2022 with the Galaxy S22 series. In August, the Koreans followed up with the new foldables, the Galaxy Z Fold 4 and the Galaxy Z Flip 4. The new Galaxy S23 series is expected to launch on February 1, 2023. So much for the introduction–let's get started!
The best Samsung smartphones compared:
As of January 2023, you will be able to find Samsung smartphones from five different product families on the market. Each of these normally occupies its very own price niche. We have divided this article into the various product families accordingly, revealing our favorites for each product family to you and, of course, presenting the alternatives. The shortcuts in the table of contents will take you directly to the respective Galaxy series.
Jump to:
Galaxy Z: Foldable smartphones from $999 to $1,799
August 2021 marked a paradigm shift for Samsung's smartphones. Instead of a new Note generation, the South Koreans introduced two foldables from the Galaxy Z series: the Galaxy Z Fold 3 and the Galaxy Z Flip 3.
However, those who want the best foldable from Samsung will now be served with the Galaxy Z Fold 4 and the Galaxy Z Flip 4. The Fold is the most impressive from a technical point of view. Samsung has packed everything into it that is possible—including S-Pen support and a camera hidden in the display. Nevertheless, the wow factor is even bigger in the Galaxy Z Flip 4, which is really super-compact when folded—and hardly makes any concessions in terms of hardware.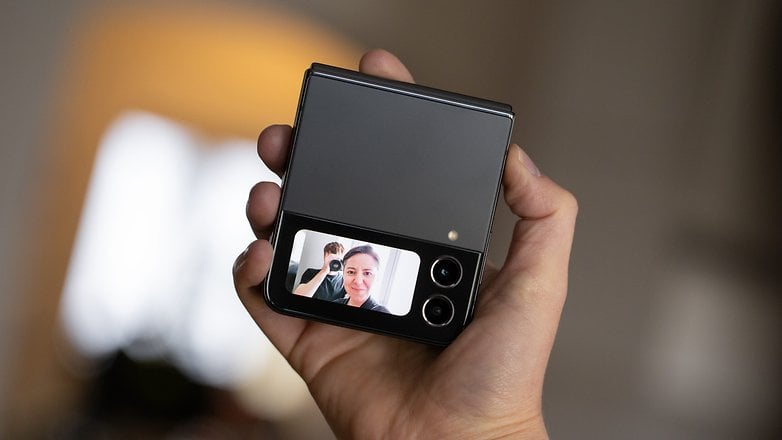 For fans of the Z-fold form factor, the Galaxy Z Fold 2 could be an exciting option because it is a bit cheaper. You can still get the Foldable from 2020 for less than $1,000. If you do not explicitly want the foldable form factor, you can also buy last year's Z Flip 3, which is now available for less than $700.
The following two links tell you about the basic differences between Samsung's 2021 and 2022 foldable generations. As mentioned at the beginning, we will update this post as soon as we have tested the Z Fold 4 and Z Flip 4 in detail!
You can check the current prices of Samsung's foldable lineup in the following price comparison: The best foldable smartphones.
Samsung Galaxy S: Flagships from $699 to $1,199
In the first quarter of each year, Samsung introduces new Galaxy S models. Last year, we saw the Galaxy S21 Plus and the Galaxy S21 Ultra revealed in addition to the basic Galaxy S21 model. Last year, in February 2022, these three devices got their successors: Galaxy S22, Galaxy S22+, and Galaxy S22 Ultra.
There was also a so-called "Fan Edition" for the very first time in 2020 when Samsung introduced the Galaxy S20 FE in October. Its successor, the Galaxy S21 FE, was announced in January 2022 but was not as convincing as its predecessor.
In our review, the Galaxy S22 Ultra received "only" four out of five stars and thus, less than the 4.5 stars of its predecessor, but it is still undisputedly the best model of the S22 series. The smartphone can also be seen as a kind of further refinement over the Galaxy S21 Ultra. It is especially noticeable that the S Pen has finally been integrated in a reasonable manner into the device compared with the 2021 model.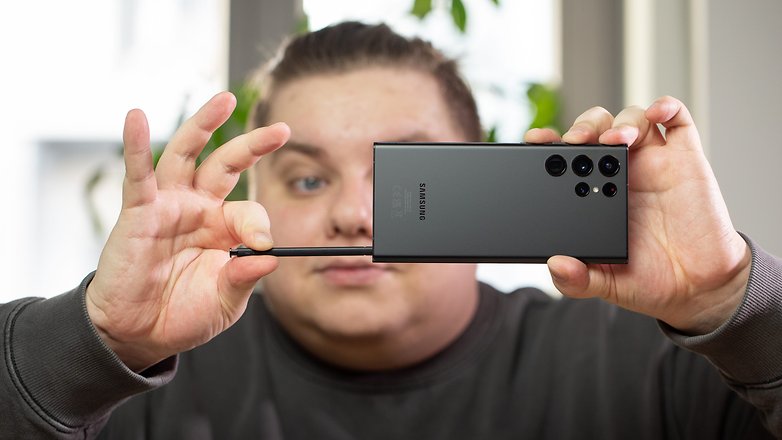 Apart from the S Pen integration, there are also many other reasons to opt for Samsung's elegant 2022 flagship. The camera is very versatile and technically beyond reproach. The display is simply outstanding and you still benefit from Samsung's fantastic update policy. If that is too expensive, you can take a look at the other two models of the Galaxy S22 series, which are of course not technically on par with the Ultra.
If that is still too expensive, there are of course all 2021 models in the S series that are still available, as well as the Fan Edition devices.
If you can live with a few compromises, the Galaxy S20 FE is still a very interesting choice. After all, this flagship costs less than half of the Galaxy S21 Ultra. Please note that the Galaxy S20 FE is available in three different versions: Powered by Exynos and Snapdragon SoCs depending on the geographical location, as well as with LTE or 5G connectivity. You can read our detailed comparison between the Galaxy S20 FE and the S20 FE 5G.
If you are still looking for alternatives apart from Samsung devices, then do check out our comparison article of the best smartphones that is featured in the link below. For those who love capturing photos with their handset, we have also compiled our own list of the best camera smartphones.
Samsung Galaxy A: Mid-range smartphones from $160 to $550
The Galaxy A series begins from $160 onwards and goes all the way to just under $600 featuring 256 GB of storage space. This means that mid-range handsets are more broadly positioned than many other smartphone manufacturers with their entire portfolio. The handsets of the Galaxy A series from 2022 are—as far as we have reviewed them—a rock-solid choice in any case.
Curiously, for 2022, Samsung opted to highlight its best-selling "A5" models and opted to sell the A73 only in selected markets. In case you find the phone for a good price—and it is compatible with your carrier—it is worth considering the upper mid-ranger.
You can read more about the differences between the Galaxy A and Galaxy S series in the following article:
Samsung is of course, not alone in the market with its Galaxy A series devices. If you are looking for alternatives outside the Samsung bubble, we would recommend this article of the best mid-range smartphones to choose from.
Samsung Galaxy M: Entry-level handsets from $100 to $250
Samsung has placed its entry-level phones under the Galaxy M series. The smartphones cover a price range between $100 and $250. Unfortunately, we have not had the chance to review any of the Galaxy M series to date and therefore, we are unable to provide you with any recommendations.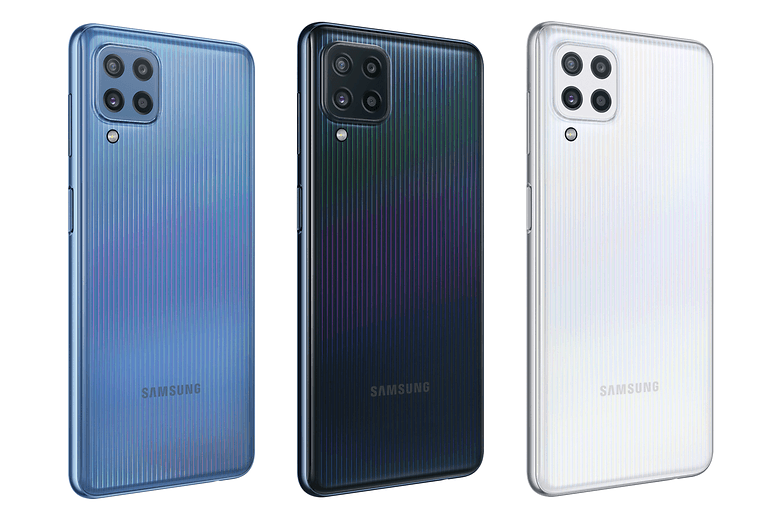 We are still working on obtaining review units of the Galaxy M models in the future. Until then, you will find our favorites in the following linked article of the best sub-$200 smartphones.
Samsung Galaxy Note: Replaced by the S series in 2023
S Series with integrated S Pen
Editor's choice
Best value-for-money
Device name
MSRP
$1,199
$1,199
$999
Image
Technical specifications
6.8-inch Dynamic AMOLED 2x
3088 x1440 pixels
Qualcomm Snapdragon 8 gen 1
128/256/512/1024 GB ROM
8/12 GB RAM
Triple camera
Main camera: 108 MP
Ultra wide-angle: 12 MP
Telephoto 3x: 10 MP
Telephoto 10x: 10 MP
5,000 mAh
February 2022
6.9-inch Super AMOLED Plus
3088x1440 pixels
Qualcomm Snapdragon 865
128/256/512 GB ROM
8/12 GB RAM
Triple camera
Main camera: 108 MP
Ultra wide-angle: 12 MP
Telecamera: 12 MP
4,500 mAh
August 2020
6.7-inch Super AMOLED Plus
2400x1080 pixels
Qualcomm Snapdragon 865
256 GB ROM
8 GB RAM
Triple camera
Main camera: 12 MP
Ultra wide-angle: 12 MP
Telecamera: 64 MP
4,300 mAh
August 2020
Pros

Excellent 120Hz QHD+ display
Very elegant sleek and square design
More consistent S Pen integration
Still the champion when it comes to versatile photos
Unrivalled Android update policy

Good camera setup
Unbeatable S-Pen operation
great high-end equipment
Chic design (new colors!)

Great AMOLED screen
Versatile photo module
Good everyday performance

Cons

Uninspiring design
Very little real innovation

Incredibly expensive
Over-the-top marketing
Exynos SoC in EU/Asia models

Poor battery life
Exynos 990 (Europe/Asia) has overheating issues
Plastic chassis

Rating

Read the Galaxy S22 Ultra review

Read the Galaxy Note 20 Ultra review

Read the Galaxy Note 20 review
Offer*

Check price

Check offer

Check offer
With the release of the Galaxy S22 series in 2022, it's official: The Galaxy S22 Ultra is the new Note – Samsung has integrated the S Pen directly into the case and flattened the top and bottom of the smartphone. Thus, the S22 Ultra not only works as a former Galaxy Note it also looks strongly like it.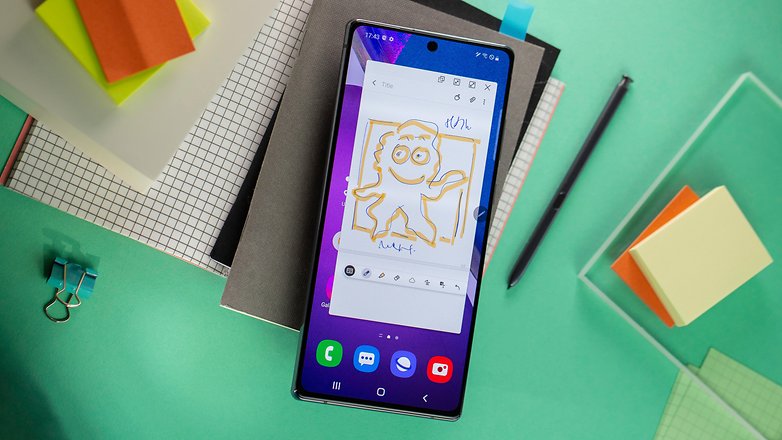 However, this does not mean that you necessarily have to buy the S22 Ultra. Samsung's Note series is still commercially available and has now fallen sharply in price. Meanwhile, for example, the Galaxy Note 20 Ultra is available for well under $1000. And if you can live with the "normal" Note 20, then you will already find it for even less. For the money, there's great workmanship, great cameras, and Samsung's successful One UI interface.
Samsung Galaxy Xcover: Rugged smartphones
Editorial tip
Price tip
3rd place
Product
Picture

Technical specifications
6.6-inch LCD
2408x1080 pixels
Snapdragon 778G
128 GB ROM
6 GB RAM
Dual camera
Main camera: 50 MP
Ultra wide-angle: 8 MP
4,050 mAh
June 2022
6.3-inch LCD
2340x1080 pixels
Exynos 9611
64 GB ROM
4 GB RAM
Dual camera
Main camera: 25 MP
Ultra wide-angle: 8 MP
4,050 mAh
January 2020
5.3-inch LCD
1480x720 pixels
Exynos 850
64 GB ROM
4 GB RAM
Single camera
Main camera: 16 MP
3,000 mAh
March 2021
Offers*
When you first take a look at the technical specifications, the Galaxy XCover series is not very sexy at all. But you will definitely receive maximum protection with the IP68 rating. This means these smartphones should definitely be able to survive everyday sports or even get abused at a construction site. After all, the most modern hardware is of little use to you if the smartphone screen cracks on its very first drop.
Do take note that there is also an Enterprise Edition of these handsets. These models offer an extended warranty as well as options for remote maintenance and management by administrators.
How to buy smartphones at great prices
Depending on when you read this article, the wait for discount campaigns or sales can be even more worthwhile. These are campaigns such as Black Friday, where you can pick up smartphones for a wee bit cheaper than usual. I have collated the information for you in the following table.
Upcoming sales events
You might want to wait for the following dates before making your purchase

| Event | Dates |
| --- | --- |
| Singles Day | 11 November 2023 |
| Black Week | 20 to 24 November 2023 |
| Black Friday | 24 November 2023 |
| Cyber Monday | 27 November 2023 |
While we are on the subject of compiling everything: How do you rate our list of the recommended Samsung devices? Let us know in the comments and win... okay there is nothing to win but I'm still interested in your feedback!
NextPit's best phones lists
---
Last updated at the end of January 2023. Older comments were kept and may refer to outdated versions of this guide.