How to buy the perfect gaming smartphone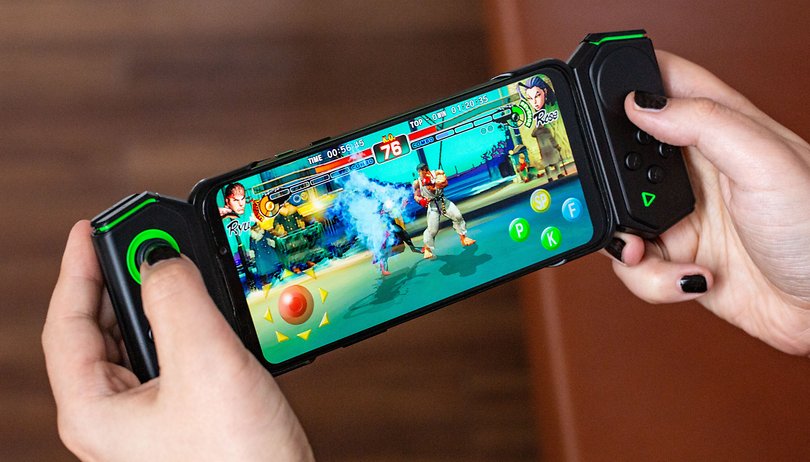 If you want to enjoy games in all their splendor on the go, you need a fast smartphone. But what makes a good gaming smartphone? In this article, we'll show you special models and advise you about buying. This chipset, memory, accessories, etc. make some smartphones more ideal for gaming.
Shortcuts:
What makes a good gaming smartphone?
First of all, the games from the Google Play Store or Apple App Store are optimized so that they work on almost all smartphones. Unlike computer games on weak PCs, smartphone games don't start jerking on weak devices. The games recognize the available hardware and reduce graphic details such as shadows, texture quality, or resolution accordingly. If you have a weaker phone, the game just gets uglier.
A passionate player is reluctant to compromise and wants to enjoy their favorite titles in full splendor at a constant 60 frames per second (or sometimes more). Certain hardware components are required for a smartphone to be able to perform this task despite its limited options. So we created a checklist of what a gaming smartphone has to deliver. You can find the recommended requirements below:
Gaming smartphone checklist:
Chipset

Qualcomm Snapdragon 820 or higher
Samsung Exynos 88** or 98**
HiSilicon Kirin 970 or higher

GPU

Adreno 530, 540, 630 or 640
Mali-G72 MP12, Mali-G76 MP10 or higher

RAM
4 GB LPDDR4 or more
Internal storage
UFS 2.0 or higher, 64 GB or more
Display
Full HD, for VR 2560 x 1440 or more
Battery
4,000 mAh, fast charging technology
Software
Android 8 or newer
The chipsets mentioned are part of the high-end smartphones that have been available since 2016. So if you want to save money in your search for the perfect gaming smartphone, you could search on eBay for a used Galaxy S7 or Google Pixel (first generation).
The GPU names are somewhat encrypted. The rule of thumb for the Qualcomm GPU is: If its name ends in * 30 or * 40, it is fast. For the Mali GPUs (in Samsung or Huawei phones), the number behind the "MP" should be in double digits, because it determines the number of shader clusters. The more shader clusters a GPU has, the more computing steps it can process in parallel.
The available RAM is critical in that it is also fully used by the GPU in smartphones. The more RAM you have, the more graphical details (higher resolution textures, shader processing steps, etc.) the GPU can store. The RAM should logically scale with the display resolution: the bigger the better. Also, pay attention to the RAM generation: DDR4 is often twice as fast as DDR3.
With internal storage, speed is more important than size. Devices with universal flash storage (UFS) have the highest read rate. Some newer devices already have Embedded UFS 3.0 for read speeds of around 2 GB/s. In games, the loading times are significantly reduced compared to conventional eMMC. Its size should be 64 GB or more; not because you need the space, but because the number of write cycles per memory cell remains low for longer and the performance remains high.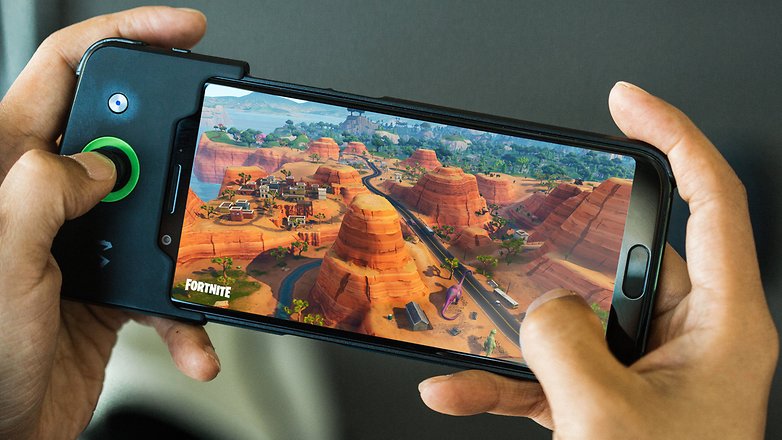 You don't have to pay much attention to the display on a gaming smartphone. If it has a resolution in FullHD, you will be happy. If many controls block the viewing area in your favorite game, a larger display with a size of 5.5 inches or higher is of course worthwhile. Alternatively, you connect a gamepad to your gaming smartphone.
The refresh rate is less critical and more of a question of taste. Manufacturers like to refer to devices with 90 or 120 Hertz displays as particularly gaming-compatible smartphones (OnePlus 7T or 7T Pro, Google Pixel 4, others, see below). Converted this means that frames are drawn up to 8 milliseconds earlier. I doubt whether this minimal head start will increase your success in Fortnite.
The battery should also scale with the size of the display. However, it should not be allowed to store significantly less than 4,000 mAh. For a device with a 6-inch display, it should hold around 4,500 mAh. A power bank with fast charging technology is advisable. The manufacturers often offer suitable accessories themselves.
There is little to consider in terms of software since most games can also cope with older versions of Android. The current number one hit Call of Duty requires Android 4.3 from 2012. If you use an iPhone, the question about the software is no longer applicable, since the current iOS version has been running on all mobile devices over the past five years. Android 8.0 is still advisable because such devices often still receive security updates. This is useful in all digital situations when you are not playing.
Shortcuts:
Asus ROG Phone: one with everything
The recently released gaming smartphone from Asus sub-brand Republic of Gamers seems to have it all and then some. Special 2.9GHz Snapdragon 845 SoC, 8GB RAM, 128GB or 512GB storage, and a 6-inch AMOLED display with a 90Hz refresh rate. In our review of the ROG Phone, we found it to be the best all-round gaming smartphone.
Like its rival from Razer, below, the ROG Phone has a light-up logo on the back, great front-firing speakers, an advanced cooling system and specialized software for managing your games and allocating system resources, with additional options for live streaming and using special pressure-sensitive shoulder buttons called 'AirTriggers'. As well as extra inputs in games, these can be squeezed to trigger the 'X-mode' for maximum performance.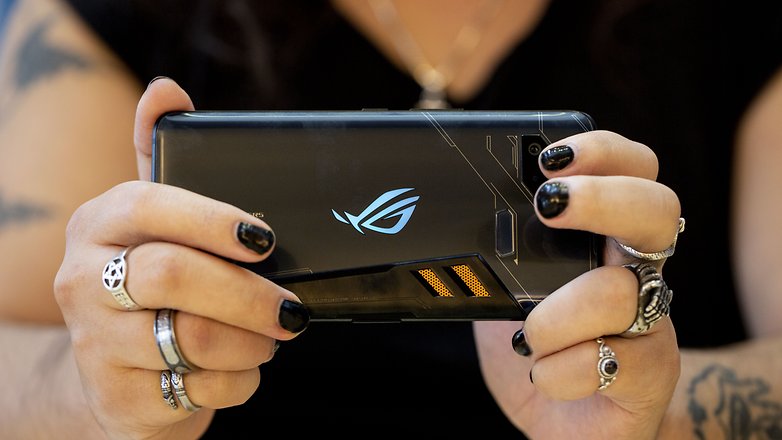 Throw in all that plus a clip-on cooler that allows for an extra connection for charger an headphone jack, and you've got a device that can easily handle the most advanced mobile games for hours, with additional accessories such as Joycon-style controllers and a dual screen mod to be sold separately in the future. The downside? At $900, it's beaten only by the highest-end Galaxy smartphones as the most expensive on this list.
Razer Phone 2: big, loud, and super-smooth
The company that made its name manufacturing powerful gaming accessories and the acclaimed Razer Blade laptop range has upped its game with the Razer Phone 2, addressing several issues with the first generation and including the company's signature Chroma lighting on the back.
The Razer Phone 2 packs in 8 GB of RAM alongside 64 GB storage and the Snapdragon 845 chipset. All this with seriously powerful speakers in the side bezels for an immersive sound. But the real star of the show is the 5.7-inch display with a 120Hz refresh rate. The GPU can be synced to this refresh rate for lag-free, silky smooth frame rates on even the most demanding games, and is especially helpful on action titles where a split-second reaction can make the difference between victory and defeat.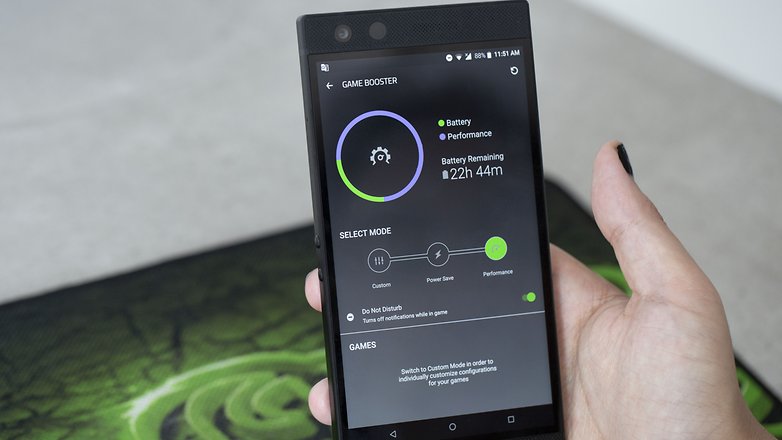 Another benefit is Razer's Cortex app where you can manage your games, buy games, and control various settings related to gaming, like adjusting the resolution, frame rate and processing power. If you're someone with a ton of games on your phone, some requiring more power than others, this is great for making sure your phone handles them efficiently. You can even toggle anti-aliasing and disable notifications while a game is running so that you're not disturbed.
iPhone XS: when you want to be first in the game
In contrast to the previous entry, iPhones don't exactly scream 'gamer' in appearance or marketing, but there's a definite advantage to them for gamers. With iOS, Apple keeps a well-trimmed walled garden across the iPhone range which makes it easier for app developers to develop a game for iOS than for Android, which suffers from fragmented distribution and a staggering variety of hardware configurations.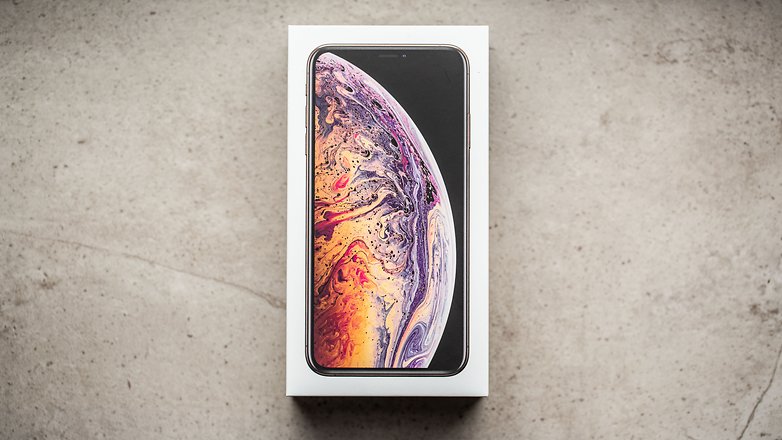 The result? High-end games often debut on the App Store much sooner than on Google's Play Store. iPhone owners had been playing Fortnite, for example, on their phones for months while Android gamers are still waiting. While I still prefer the greater choice and control of Android, I've cast an envious eye over to iPhone owners more than once for this reason. Apple's careful curation of the App Store also guarantees good optimization and performance for your hardware.
Naturally, the obvious choice is the iPhone XS or XS Max, Apple's top model of the moment, but the iPhone 8 Plus is also a good choice for iOS gamers who prefer a more classic look.
Black Shark 2: gamer gimmicks on a budget
The Black Shark 2 is a gaming-focused smartphone and not shy about it, with an aggressive angular look and emerald green highlights. But it's not all show. Inside the Black Shark 2, we find an array of hardware powerful enough to handle any modern game with ease: Snapdragon 855 chipset, 8 GB+ RAM, and 128 GB+ storage. Naturally, there's also a specialized cooling system. Although limited to 60Hz refresh, the Black Shark 2's OLED screen is pressure-sensitive, so different game actions can be assigned to say, a hard press or a light tap.
Another striking feature is the dedicated Shark button. When you press it, your phone switches to maximum performance and opens a gaming environment in landscape mode. From here you can manage your games and configure the snap-on gamepad. Although sold separately, the gamepad comes highly recommended.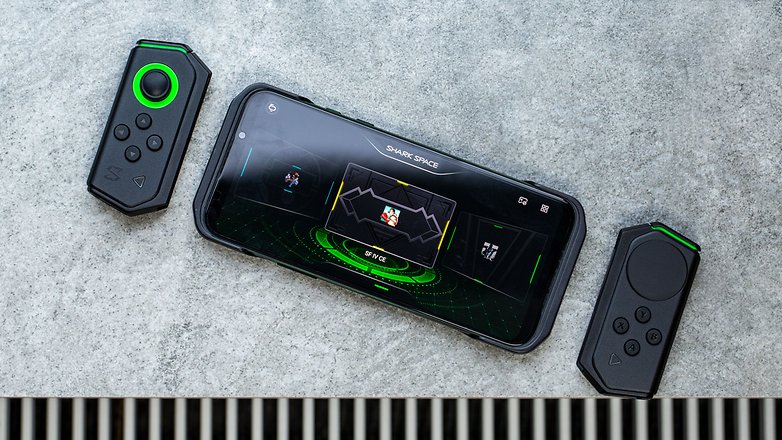 For £479, the Black Shark 2 is one of the most affordable options that still has plenty of extras to offer gamers.
Samsung Galaxy S10/S10+/Note9: Game Mode on
The top range Galaxy smartphones from Samsung don't disappoint when it comes to gaming either. Galaxy S10 and its more powerful sibling, the S10+ pack enough power with a Snapdragon 855 and 8GB+ RAM, and the Note9 makes up for last year's high-end internals with a depreciated price.
Samsung's dedicated Game Mode, which is comprised of Game Launcher and Game Tools, shows the special care Samsung has taken to accommodate mobile gamers. The Game Launcher is home to all your games, while Game Tools changes the screen mode to accommodate games that don't support the unique 18.5:9 aspect ratio, among other things. All of this ensures that your experience is immersive, by disabling notifications and the invisible home button to allow for uninterrupted gameplay, for example.
The impressive hardware also allows for a smooth, engaging experience. AMOLED Infinity Displays offer a great visual experience and the phones have easy-to-handle, curvy ergonomic bodies.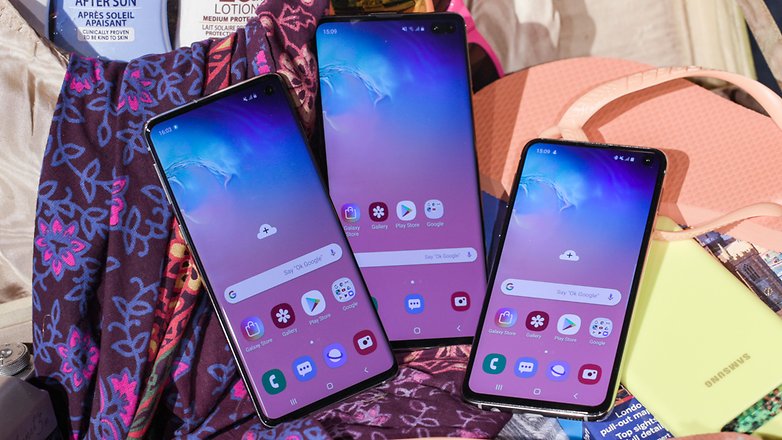 OnePlus 7 Pro: the flagship killer with more than enough RAM
The OnePlus 7 Pro is no slouch when it comes to gaming, thanks to its top specs including 8 to 12 GB of RAM. This gives it incredible gaming performance which is complemented by the Gaming Mode, which suppresses accidental presses of the keys and notifications, can route incoming calls to the speaker, save battery and other useful tweaks to ensure you are not disturbed while playing. This mode was extended with the 'fnatic' mode, created together with the long-time eSport company, that dedicates all system resources to high-performance gaming. The 6.67-inch AMOLED display refreshes at 90Hz.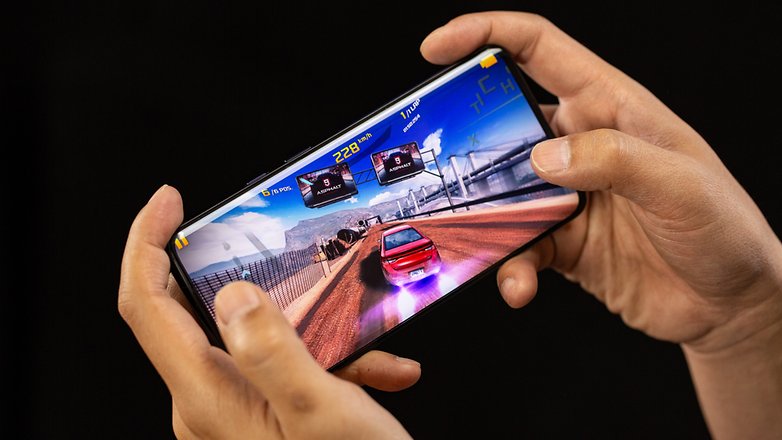 There are plenty of other great phones (and accessories) for gaming on the go, of course. Special mention must go to some cheaper devices like the Honor Play and Nubia Red Magic 3 which still not as feature-heavy as the slightly more expensive Black Shark, still has some nice extras for gaming. If you're not running the most graphically demanding games, however, even mid-range devices should be able to handle most of what's new on the Play Store.
Which games do you enjoy most on mobile? Are there any phones you'd recommend for gamers? Share your thoughts with everyone in the comments.
Read more on NexiPit: