The best gaming phones to buy in 2023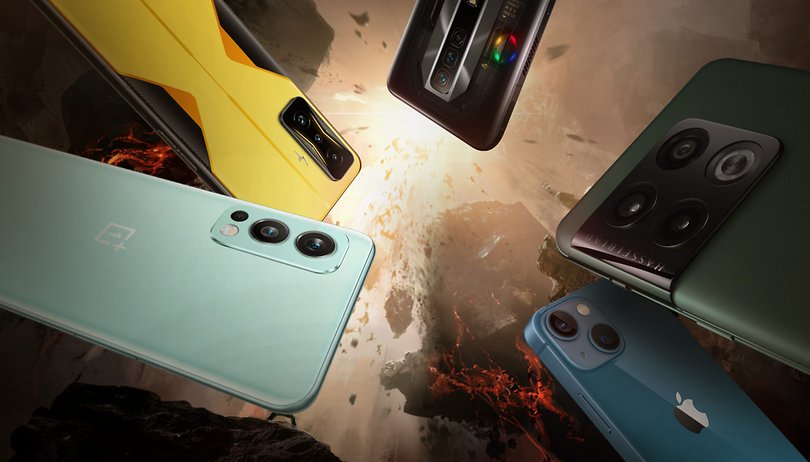 If you are a gamer at heart and can't be bothered to play a game console while taking public transport, we have the perfect solution that will satisfy your fingers and desire to play video games everywhere, all the time. At NextPit, we have selected for the best gaming smartphones for you where you can play Fortnite, Call of Duty Mobile, Gangstar Vegas, Monument Valley 2, Grid Autosport, and many others...
The best gaming phones to choose in 2023
Editor's Choice
Best value-for-money
Best gaming only choice
Best value-for-money
Best sub-$500 choice
Best alternative
Product
Image

Pros

Well-calibrated AMOLED screen with a 165 Hz refresh rate
Massive 6,000 mAh battery with excellent battery life
Cool gaming design
3.5mm jack and IPX4 rating
The second USB-C port placed along the side
Effective temperature control and X mode really boosts the performance
ROG UI gives you full control of the device

Superb 120Hz display
Excellent battery life
Excellent camera

Totally bezel-less 120Hz AMOLED screen
Cool transparent and backlit design
High quality stereo speakers
Unmatched performance without overheating issues

Smooth 90 Hz AMOLED display even without 120 Hz capability
Powerful MediaTek Dimensity 1200-AI SoC
No overheating issues
Fast Warp Charge 65T feature
Solid battery life
Primary 50 MP camera lens captures great detail
Effective night mode
Guaranteed 2 major Android versions and 3 years of security updates

Quality 120Hz OLED screen
High-flying raw performance
Good battery life
Very fast 120W charging performance
Very efficient and customizable triggers
Gaming design that is classy

Quality 120Hz LTPO 2.0 AMOLED display
Snapdragon 8 Gen 1 and HyperBoost engine makes a difference
Excellent battery life and 80W fast charging
3 major Android updates and 4 years of security updates
Classiest design on the market
Competitive price for a flagship in 2022

Cons

Camera module is neither groundbreaking nor versatile
Update policy is too limited
Expensive price

USB-C port is long overdue
"Fast" charging at only 20 W

Disappointing camera module
Battery life is a little weak when it comes to intense gaming sessions
No IP rating
Unclear update policy

No dedicated telephoto lens
No wireless charging/IP rating/microSD port/3.5 mm jack
Colorimetry of photos is not very accurate
Photo software processing is inferior to the OnePlus 9
Lack of clarity on the High Performance mode

Disappointing camera module
Limited update policy
Ads in MIUI
No IP rating

OxygenOS 12.1 lacks substance
Hasselblad camera module is not convincing enough
No IP rating/3.5mm jack/microSD slot
Irrelevant addition in Oppo's catalog

Rating

Read the Asus ROG phone 6 Pro review

Read the Apple iPhone 13 Pro review

Read the Nubioa Redmagic 7 Pro review

Read the OnePlus Nord 2 review

Read the Xiaomi Poco F4 GT review

Read the OnePlus 10 Pro review
Check offer
As with every product, buying a smartphone is the result of multiple criteria. So this selection is more a list of the best phones for gaming than the best purely gaming phones like Xiaomi's Black Shark and Asus's ROG Phone. The idea is to offer you a smartphone that can be used on a daily basis but with a few features or technical specifications that are a little more designed for video games.
Table of Contents:
What are the criteria for a gaming phone?
Any flagship released since 2018 is fully capable of running almost all the most demanding mobile games with high graphics, as are some mid-range models. Logically, raw power is a key criterion, but it's not the only one.
Refresh rate and touch sampling rate
The quality of the screen is a very important point, we are looking for OLED panels offering especially high refresh rates that exceed 120 Hz or even 144 Hz. The touch sampling rate, the number of times per second the screen registers contact with your fingers, is also a key feature and should generally be above 240 Hz for optimal fluidity.
The higher the touch rate, the more accurately the gestures you make while touching the screen will be reflected in the game. This is especially important for FPS games to ensure more responsive and accurate controls.
Think of it as the DPI (dots per inch) of a gaming PC mouse. The goal is for the mouse, aka the touch controls, to respond to the most sensitive movements possible to ensure the greatest possible responsiveness.
Cooling system and thermal throttling
You also need a good cooling system to manage overheating. "Normal" or non-gaming smartphones do not yet offer liquid cooling, but more and more advanced ventilation chambers, special graphite coatings, etc. are available.
Where so-called "normal" smartphones have a disadvantage compared to pure gaming models is in the area of thermal throttling. In concrete terms, this is a mechanism by which the smartphone throttles its performance to slow down and limit the overheating related to the SoC running under full power.
Gaming smartphones are more heat resistant and push the limit at which they throttle further. Conventional smartphones will break a bit sooner, which can affect the framerate and game fluidity during a prolonged gaming session.
The best gamer smartphones in 2023
Listed below are the best phones for gaming available in 2023 according to NextPit. These are the best models across all categories. Asus' ROG Phone 6 Pro and Apple's iPhone 13 take the top spot on the podium, followed by the Nubia RedMagic 7 Pro.
Editor's Choice: The Asus ROG Phone 6 Pro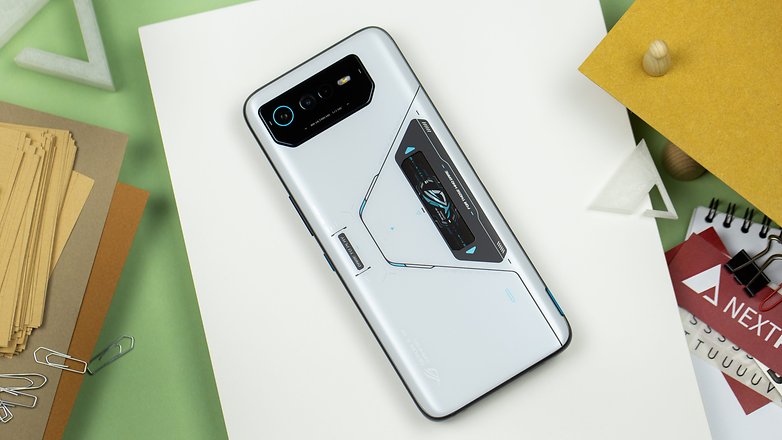 Available for pre-order from August 1st, the Rog Phone 6 from Asus comes in a single 18 GB RAM/512 GB storage version selling for €1,299. So far, there is no confirmation on whether it will be released in the US, although it is listed on the US page. It's an exorbitant price, but this gamer smartphone is still cheaper than the Samsung Galaxy S22 Ultra or the iPhone 13 Pro Max which offers a similar storage capacity.
The Asus ROG Phone 6 Pro features a 6.78-inch AMOLED display with a Full HD+ resolution of 2400 x 1080p and a variable refresh rate of up to 165 Hz, a 720 Hz touch sampling rate, and a maximum brightness of 1,200 nits. This is what makes it one of the most efficient in terms of gaming. However, no mobile game to date requires a refresh rate of 165 Hz but we will not be surprised to see one emerge in due time.
The Asus ROG Phone 6 Pro runs on the ROG UI skin which is a lightweight gaming version of ZenUI, and Asus has integrated the dynamic themes of Android 12 and the Privacy Dashboard. Equipped with Qualcomm's Snapdragon 8+ Gen 1 SoC and Adreno 730 GPU, coupled with 512GB of UFS 3.1 storage and 18GB of LPDDR5 RAM, the Asus Rog Phone 6 (and its GameCool cooling system) is a true gamer smartphone.
The best gamer smartphone for Apple: iPhone 13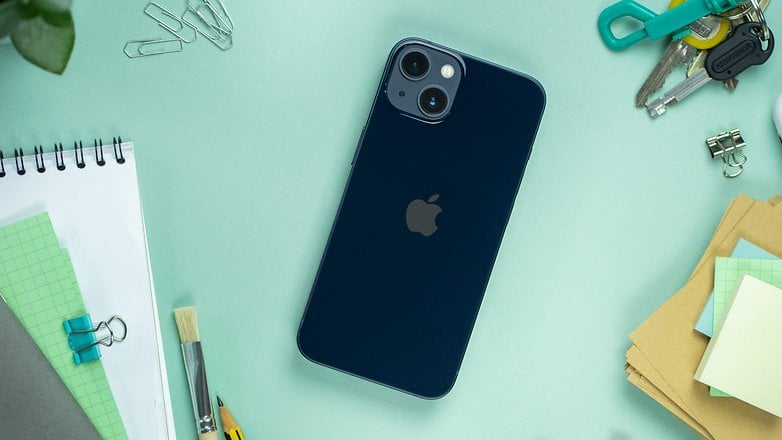 Check out NextPit's iPhone 13 review
There's no denying it, Apple dominates the power and graphics performance debate. Its Bionic A15 SoC is simply more powerful than any overclocked Snapdragon SoC. I was really surprised when I put it through several rounds of 3DMark benchmarks simulating intensive and prolonged gaming usage over a 20-minute session. The iPhone 13 showed impressive scores but more importantly, it wasn't even hot.
Add to this a very well-calibrated OLED screen, solid battery life, and an angular design that allows a good grip, and you have a very good device for mobile gaming. On the other hand, the 20W charging is far too slow to keep up with your intense gaming sessions without interrupting the experience, and the smartphone lacks a dedicated gaming mode.
Thankfully, you can create your own gaming mode via the iOS 15 settings (to block notifications, etc). Personally, I'd stick with the basic iPhone 13 and I'd only consider the iPhone 13 Pro to benefit from the 120 Hz ProMotion mode.
The best strictly-for-gaming smartphone: Nubia Redmagic 7 Pro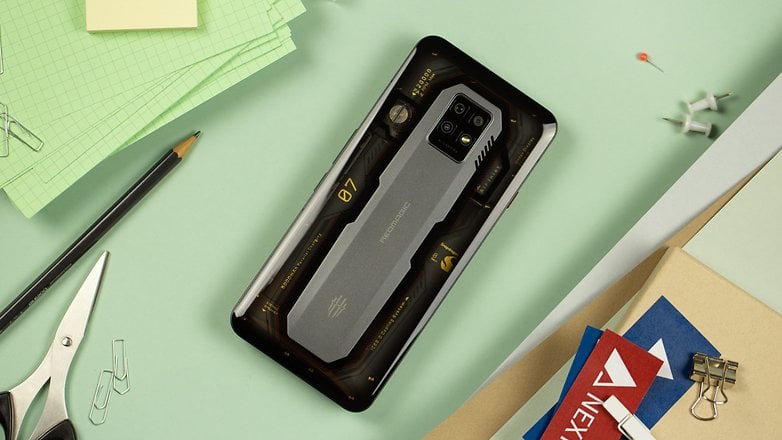 Redmagic 7 Pro review: 60 FPS gaming with zero overheating
If you are looking for a pure gaming smartphone, then the Redmagic 7 Pro will be the best choice for you. It boasts an unmatched price/performance ratio. Not only does Nubia's smartphone feature the Snapdragon 8 Gen 1, but it also tames the chip's overheating tendencies with a large vapor chamber plate paired with an internal fan that ensured stable (and high) framerates throughout our review.
The 120Hz refresh rate of the 6.8-inch AMOLED display may not be the best on the market, but the Redmagic 7 Pro makes up for that with a touch sampling rate of up to 2,000 Hz.The Redmagic 7 Pro also compensates any potential weakness with a touch sampling rate of up to 960 Hz for fast response times to commands, and a selfie camera that is integrated under the screen for maximum immersion without thick bezels or notches to distract you.
As usual with gaming smartphones, there are some compromises, such as a bang average camera module and no commitment from the manufacturer regarding major Android and security updates. The RedMagic 7 Pro also lacks the useful dual USB-C ports that are found in the ROG Phone series, which allows you to charge the smartphone in landscape mode while gaming without being forced to hold the device awkwardly.
Best value for money: OnePlus Nord 2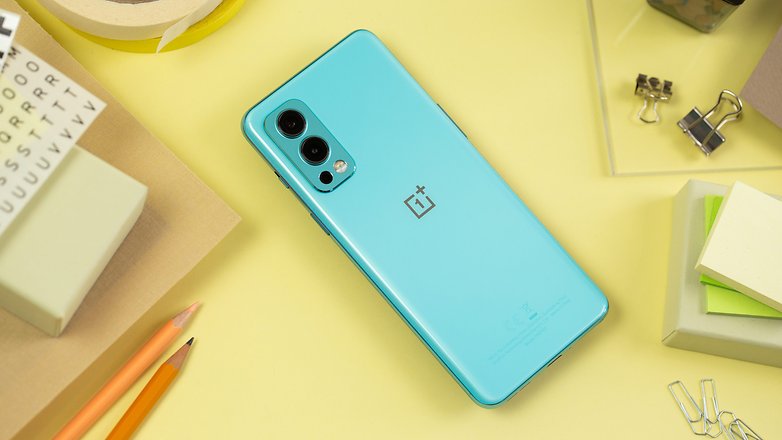 Check out NextPit's full OnePlus Nord 2 review
The OnePlus Nord 2 is one of my favorite smartphones of the year. OnePlus has managed to offer the best mid-range smartphone for under $400 in my opinion. I'm using it as my daily driver since its release and I have no problem playing my games at maximum graphics settings while enjoying a stable framerate. The MediaTek Dimensity 1200 AI SoC managed to hold its own very well.
The 90 Hz AMOLED display is still very good although I deplore its touch sampling rate of only 180 Hz. The high-performance mode is one of the few gaming modes to bring a real performance gain at the expense of temperature control.
You get the same 65W fast charging as the OnePlus 9 Pro (and the same 50 MP main camera lens) for a frankly full-featured mid-range that can run CoD Mobile in ultra at a constant 60 FPS and will clearly make you envious of the flagships.
Best sub-$500 choice: Poco F4 GT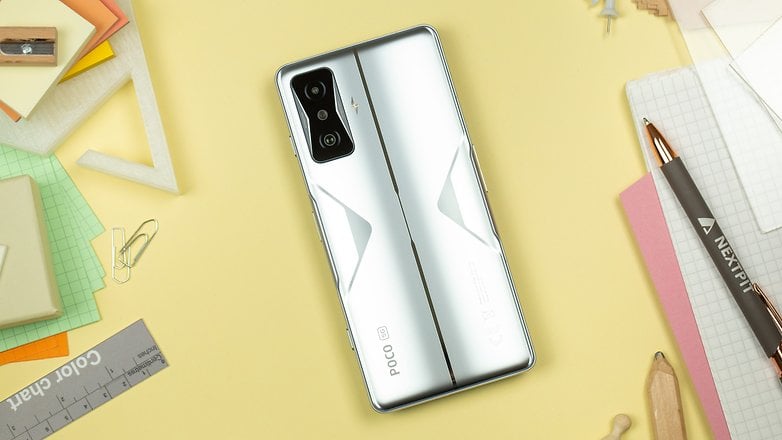 Poco F4 GT review: Very gimmicky, very cool, very powerful
Gamers looking for a smartphone that can be easily used as a daily driver without looking too geeky and having to sacrifice performance as well as handy features like retractable triggers should consider the Poco F4 GT.
While the Poco F3 used the still powerful but aging Snapdragon 870, the F4 GT comes equipped with the latest Snapdragon 8 Gen 1, which is the same SoC found in the almost $1,000 OnePlus 10 Pro and the $800 RedMagic 7 Pro, for approximately $600 and an aggressive price of $499 for early birds.
Apart from that, the 6.67-inch AMOLED display performs well, with a 120Hz refresh rate and a 480Hz touch sampling rate for a smooth experience, although it's still far from the market leader. The retractable triggers offer improved feedback, but can also be assigned to regular apps. And Xiaomi fixed one of the Poco F3's weak points by endowing the F4 GT with its 120W HyperCharge charger (but without a secondary USB-C port for landscape gaming, unfortunately).
As for the downside, the Poco F4 GT lacks a versatile camera module, consisting of a wide-angle camera, an ultra-wide angle lens, and a 2 MP macro sensor. Also, Xiaomi's software update policy continues to lag behind its competitors. We are currently reviewing the Poco F4 GT, so we'll tell you more in our full review.
The best alternative: OnePlus 10 Pro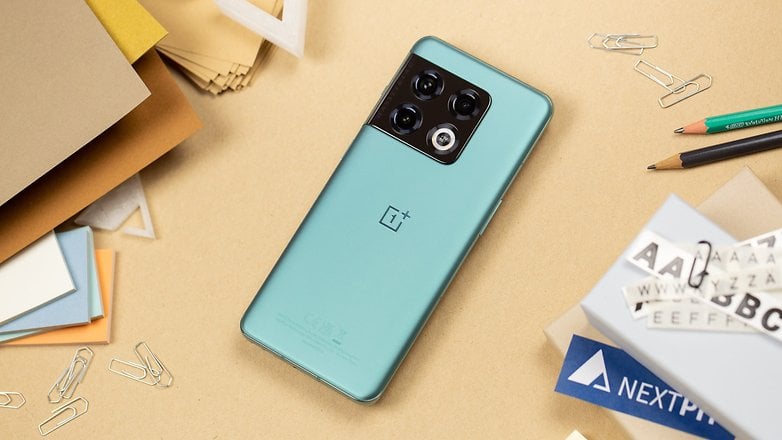 Check out NextPit's full review of the OnePlus 10 Pro
Just like in the previous version of this list, the OnePlus 10 Pro isn't the best Android smartphone overall, but it is the best option if you are looking to buy a "regular" smartphone with gaming features. The 10 Pro doesn't bring its promised photographic revolution (yet?), but packs an impressive specs sheet for media consumption, including games.
Starting with the bright 6.7-inch AMOLED display with an adaptive refresh rate between 1 and 120 Hz. Touch controls on the screen can be sampled up to 1.000 times per second for the fastest inputs available in any flagship phone, which is almost 3x faster than the OnePlus 9 Pro.
Of course, the OnePlus 10 Pro brings the best smartphone SoC available in the Android ecosystem, the Snapdragon 8 Gen 1, including a generous heat dissipation system, and a complete gaming overlay (Gaming Tools) to balance performance and battery life. Speaking of battery, the 10 Pro was upgraded to a 5.000 mAh, which can be charged at up to 80-watt (65 W in the US) using the SuperVOOC charger, or up to 50 W wirelessly.
Gaming smartphone or smartphone for gamers: How did NextPit make our selection?
As explained above, the idea of this selection is not to focus only on smartphones labeled for gaming. Apart from the Asus ROG Phone 6 and Nubia Redmagic 7 Pro, most of these smartphones are not extreme or niche enough. Their interface often lacks polish, their update policy is very limited and their camera modules are mostly mediocre.
For a selection or a buying guide, it is, therefore, more relevant to advise you on more balanced smartphones, quite capable of running games, but which are also more suitable for everyday use. After all, you don't usually buy a smartphone to turn it into a PSP or Nintendo Switch.
What do you think of this selection of the best gamer smartphones? Which models did we leave out that you think deserve to be included? Do you find the tips and methodology sections useful? Give us your feedback in the comments!
NextPit's best phones lists
---
This guide was updated in January 2023 including new releases and adding alternative models for the Android and iOS ecosystems, older comments were preserved and may look out of context.