Samsung Galaxy S23 FE: First Impressions and the Elephant in the Room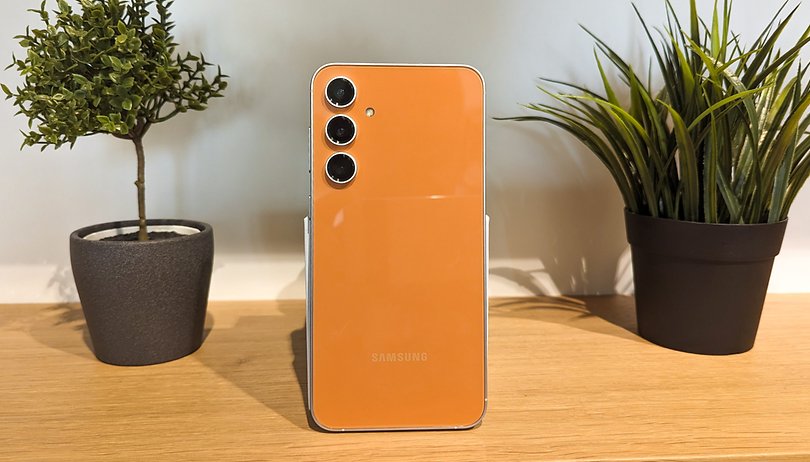 Samsung unveiled its latest "Fan Edition" series hardware in early October, which includes the Samsung Galaxy S23 FE. This 6.4-inch smartphone, powered by the Exynos 2200, is positioned by the company as a bridge between its A- and S-Class offerings. It aims to provide users with a premium smartphone experience at an affordable price. We've had the chance to test the Galaxy S23 FE and here's our initial impression—and the elephant in the room.
In a nutshell
Samsung actually does a lot right: A form factor that is between the 6.1-inch Galaxy S23 (review) and the 6.6-inch Galaxy S23+ (review ) with 6.4 inches. An Exynos 2200, which we confirmed in the long-term review of the Galaxy S22 (review) that its performance is easily sufficient for 2023. There is also a triple camera including a real telephoto sensor, a 4,500 mAh battery, and Android 13 with the popular One Ui interface.
Samsung packs all that into a smartphone that clearly feels more like premium than mid-range. And yet, I am ambivalent. Because I don't understand who the device was made for. After all, we are talking about a phone that will be available in the US for $599 in a few days.
Until the device is available, you can consider why you should buy this smartphone—and not a Galaxy S22 with an identical processor, or even a Galaxy S23 with Snapdragon 8 Gen 2.
Design and display
The Samsung Galaxy S23 FE offers us a 6.4-inch, convincing AMOLED screen in a very high-quality casing, which, however, turns out a bit too bulky considering the display size.
---
Pros:
Flagship design.
Great workmanship.
IP68 certification.
Usual strong AMOLED display.
Cons:
A bit too clunky.
Slightly wider display bezels than the rest of the S23 series.
---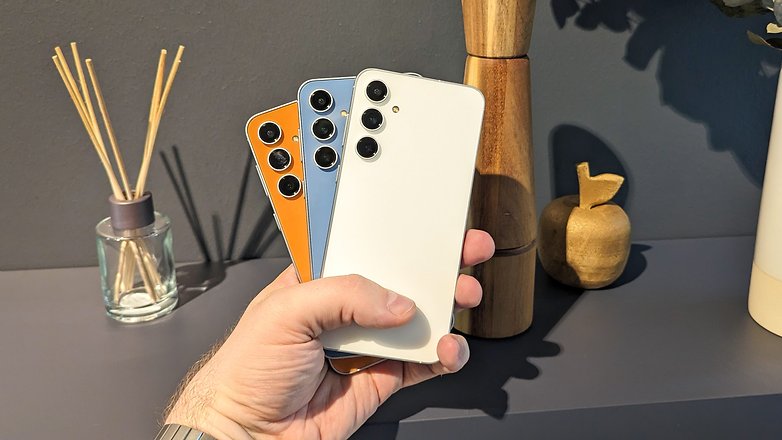 At 76.5 x 158.0 x 8.2 mm and 209 grams in weight, the Galaxy S23 FE is surprisingly a bit longer, wider, taller and heavier than the 6.6-inch Galaxy S23+ despite its 6.4-inch display. However, this does not really affect the handling negatively; only the slightly wider display edges are noticeable. Nevertheless, I find that this design robs the S23 FE of some of the premium feel that it undoubtedly exudes.
As expected, Samsung does not show any weakness in terms of material and build quality and uses glass and metal instead of plastic. By the way, Samsung pointed out that the bar has been raised even higher in terms of recycled content. A look at the back compensates for the thicker display edges.
There we find the design adapted from the S-Class with the floating camera elements. Samsung has also released many colors: The four "normal" colors Mint, Graphite, Cream and Purple are joined by Tangerine and Indigo exclusively in the Samsung store.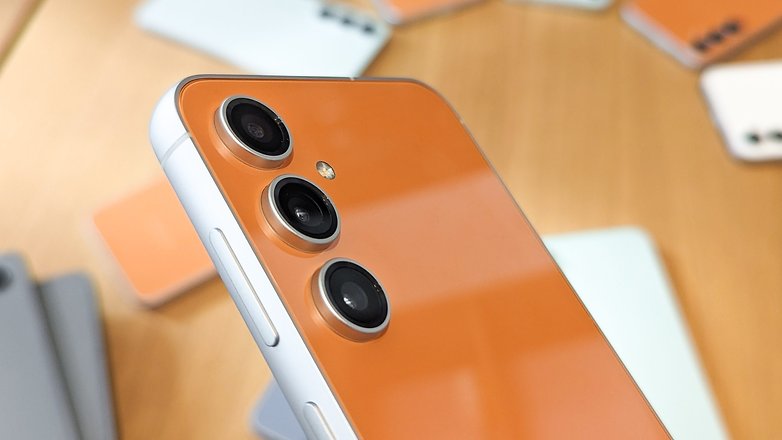 Tangerine in particular looks striking to me, though I'm not sure if I'd want to walk around with an orange smartphone. However, I noticed that the darker colors are clearly more susceptible to fingerprints than just Tangerine.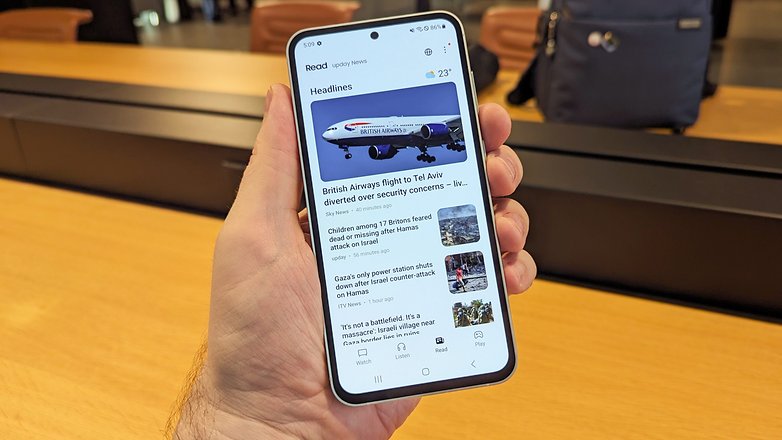 Looking at the display itself is fun, as always with Samsung: Crisp colors, high contrasts and deep blacks are delivered by the South Koreans with this FHD+ panel. The peak brightness of 1,450 nits is slightly lower than in the other S23 models, and the refresh rate varies between 60 and 120 Hz. The red pen has to be used somewhere if you want to combine premium with a lower price.
Samsung Galaxy S23 FE software
Samsung delivers the Galaxy S23 FE with Android 13 and Samsung's own One UI 5.1 interface. So far, so predictable. So you get exactly what Samsung delivers in terms of software: A great Android overlay, Samsung's exemplary update policy - and a bunch of bloatware.
Let's not waste too much time here because you know both Android 13 and One UI 5.1, and if not, the enlightening nextpit posts are linked in this section. Thus, those who already use One UI will quickly find their way around - and probably curse about the mountain of preinstalled apps just as quickly.
However, I am less concerned about the bloatware than the fact that Android 14 has been official for a few days. Of course, Samsung can't ship it this early. But I'm thinking about the release date in the spring. Will the Galaxy S23 FE possibly hit the stores with Android 13 then - at worst, only after the S24 series with Android 14? Alternatively, Samsung could add Android 14 meanwhile, which would mean that the first of four major Android updates would already be out the day you unpack the phone.
Regarding the updates, keep in mind that Google guarantees updates for the Google Pixel 8 and Pixel 8 Pro up to and including Android 21. The Fairphone 5 (review) also shines with five Android updates and eight years of security support! Samsung's software support is great, but it still has to improve a bit.
Samsung Galaxy S23 FE performance
The European model of the Galaxy S23 FE that we got our hands on is powered by last year's Exynos 2200. This is undoubtedly a solid SoC, but just as undoubtedly inferior to the Snapdragon 8 Gen 2 that powers the S23 lineup. On top of that, there is 8 GB of RAM and 128 or 256 GB of non-expandable storage, as well as Wi-Fi 6E support.
One thing up front: I think the Exynos 2200 is better than its reputation. So, if Samsung sells this component in the 2023 Fan Edition, which was still in the flagships last year, no one really has to worry about the performance. In the hands-on, I could not yet deal with the SoC performance in such detail. Therefore, please wait for the detailed review for benchmarks.
We know from the Exynos 2200 that it heats up, but the performance is reliably throttled in this case. You will also be able to play more demanding games without problems, despite the performance losses.
It is also worth mentioning that there are two storage variants with 128/256 GB in addition to 8 GB of RAM, which puts you on par with the Galaxy S23. The connectivity is also identical with Wi-Fi 6E, 5G support, Bluetooth 5.3 and NFC.
Samsung Galaxy S23 FE camera
We cannot tell you much about the camera at this point, apart from what the spec sheet reveals. There is a triple camera, which is led by a 50 MP sensor with f/1.8 aperture, plus a 12 MP ultra-wide-angle shooter and finally a telephoto camera with 8 MP and 3x optical zoom. Samsung installs a 10 MP cam in the front for selfies.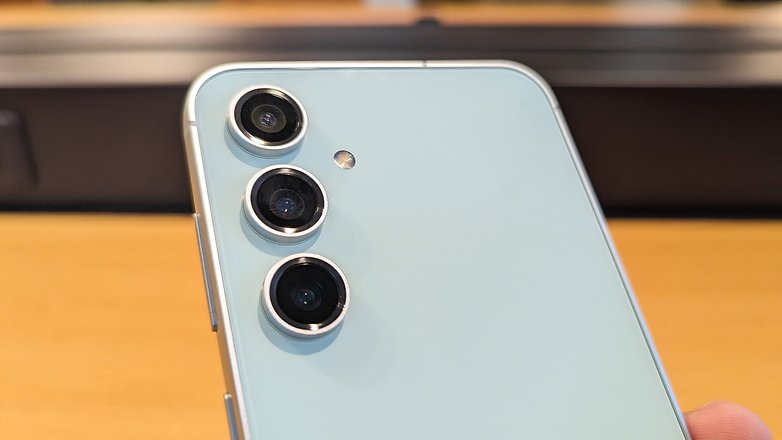 So we have optical zoom, optical and digital image editing in combination, and access to the "Nightography" features. Especially the latter should make a difference, Samsung explained to us, since some software features require a certain performance that we don't find in the A-Class.
It might be that this will be the most exciting part of the final test—we will keep you updated!
Battery and charging speed
I am still wavering between "let's wait for the detailed test" and "we already know" about the battery as well. The battery is pleasantly large with 4500 mAh, but it also has a less energy-efficient SoC than its S23 siblings. The rest is familiar: No charger in the box, quick charging with up to 25 W, and inductive charging (also reverse charging).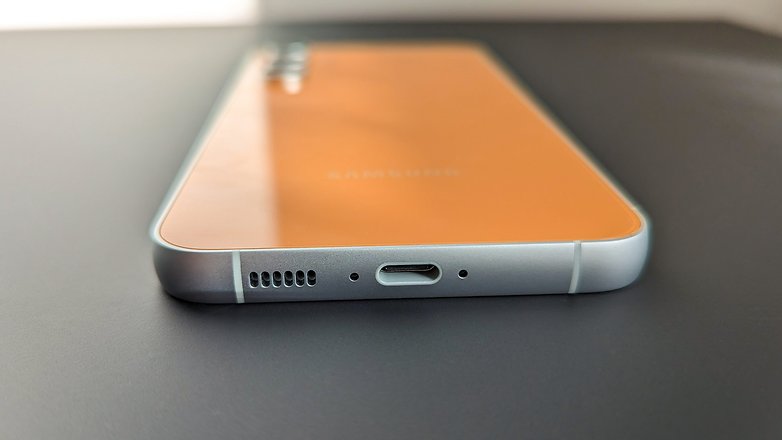 It remains to be seen how long we will be able to get by with the box, but I think it is a good move to increase the battery volume in favor of a somewhat thicker phone.
Samsung Galaxy S23 FE technical specifications
Technical data
Product
Image

Display
6.4" dynamic AMOLED display
2,340 x 1,080 pixels (FHD+, 402 ppi)
120 Hz refresh rate
SoC
Samsung Exynos 2200 (SSE9925, 4 nm)
Working memory
8 GB RAM
Memory
128 GB
256 GB
Software
One UI 5.1 based on Android 13
Expandable memory
❌
Main camera
50 MP | f/1.8 aperture | 1/1.56" | 10 x digital zoom
Ultra-wide angle camera
12 MP | f/2.2 aperture | 1/3.2"
Telephoto camera
8 MP | f/2.4 aperture | 1/4.4 inch | 3x optical zoom
Selfie
10 MP | f/2.4 aperture | 1/3.24"
Battery
4,500 mAh
Charging via cable
25 watts
Wireless charging (Qi)
✔, including wireless reverse charging
Robustness
IP68
Connectivity
5G, LTE, Wi-Fi 6E, Wi-Fi Direct, Bluetooth 5.3, NFC
Colors
Mint, Graphite, Cream, Purple and Samsung-exclusive Tangerine and Indigo
Dimensions and weight
76.5 X 158.0 X 8.2 mm, 209 grams
Early Verdict
So what is our initial assessment? Quite honestly, we are of two minds. Technically, I think Samsung has delivered a really great smartphone very confidently and routinely. But there is this elephant in the room: The competition from our own company!
We have an expectedly good performance, a great display, a balanced camera lineup and a high-quality design. However, we do not know the release date, which we only know is far in the future and probably beyond the Galaxy S24 launch. We also do not know the price, but everything stands and falls with it.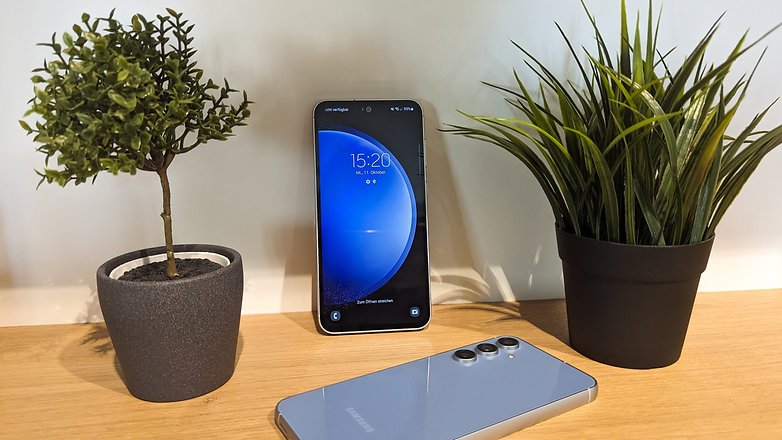 That's where it gets tricky: Why should I buy a slimmed-down flagship with Android 13 in the spring of 2024 for a price that is most likely above the price of a better-equipped Galaxy S22 or probably even above the S23?
The Galaxy S23 FE is supposed to bridge the gap between mid-range and premium S-range. The thought is good, but does Samsung hit the exact sweet spot in terms of both technology and price that will keep those interested from reaching for the A-Class and not yet the S-Class?
That's precisely the cliffhanger I'll leave you with here now. Please write me your thoughts about a really great smartphone and less than great accompanying circumstances in the comment section.