Beyond the Hinge: Everything New with the Galaxy Z Flip 5 Review!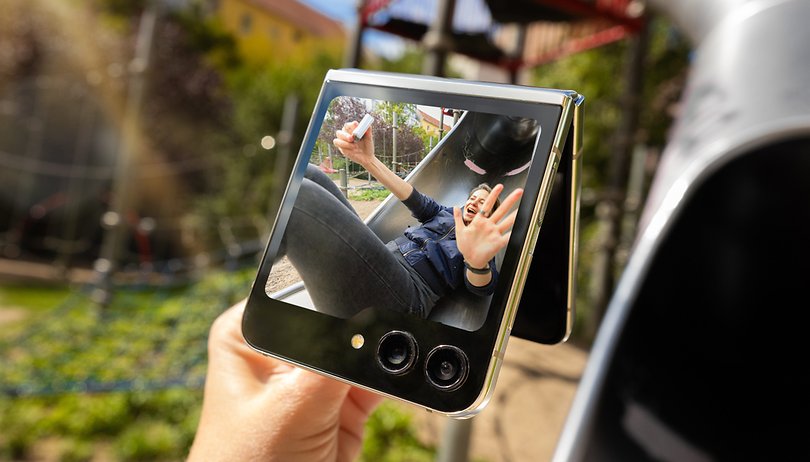 Samsung made the right move towards usability with the new Galaxy Z Flip 5. In a clamshell-type smartphone, the ability to fully capitalize on the compact form factor is definitely key to success. I tested the Z Flip 5, and here's why I believe this generation is worth the investment.
Good
Truly useful cover display

Improved hinge mechanics

Balanced display image quality

Fluid software experience

Above-average camera quality
Bad
Slightly larger crease in the display

Only average battery life

Charging time exceeds one hour

No charger included in the box
Samsung Galaxy Z Flip 5: All deals
In a nutshell
Last year's Z Flip series essentially mirrored the highly successful Galaxy Z Flip 3—a disappointment, as I highlighted in my Galaxy Z Flip 4 review. This time, however, we see expected design improvements and a larger secondary display in the lineup.
While the camera quality in the series delivers above-average photos and videos, it does fall short in versatility. Nonetheless, the Z Flip 5 boasts high-end performance and a smoother user experience. But due to its unique form factor, its battery life doesn't measure up to other devices in the same price range.
That said, the Samsung Galaxy Z Flip 5 is now available in USA stores in two storage variants. The 256 GB model costs $999, while the 512 GB variant is priced at $1,119.99.
As for color options, the device is available in Graphite, Cream, Lavender, and Mint. Additionally, Samsung offers online-exclusive (e-store) colors: Blue, Gray, Yellow, and Green.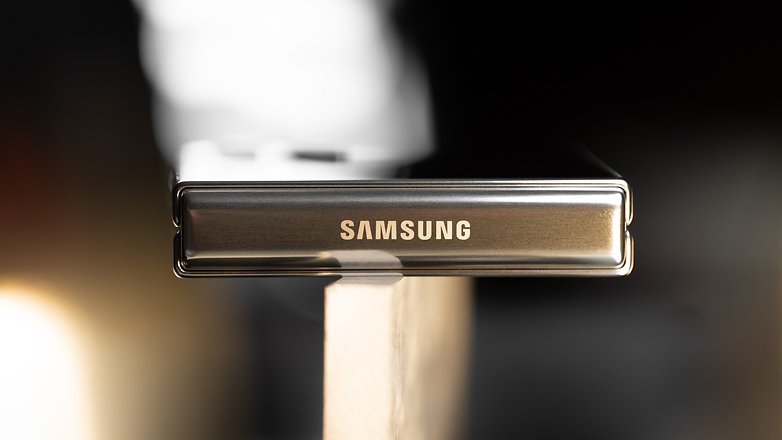 Design and Hinge
The beauty of the Galaxy Z Flip 5 lies in its dual nature—it's like having two phones in one, all thanks to its clamshell design. In its folded state, the device measures 85.1 x 71.9 x 15.1 mm; when unfolded, the dimensions are 165.1 x 71.9 x 6.9 mm. Impressively, it's fully functional in both configurations .
With a 3.4-inch front display, we can now actually interact with applications and consume content on the cover display, which offers three times the viewing area in comparison to the previous variants.
---
Pros:
Among the most compact experiences available.
Exceptionally light and elegant.
Enhanced hinge mechanics.
Cons:
Doesn't lie completely flat when unfolded.
Challenging to open with just one hand.
---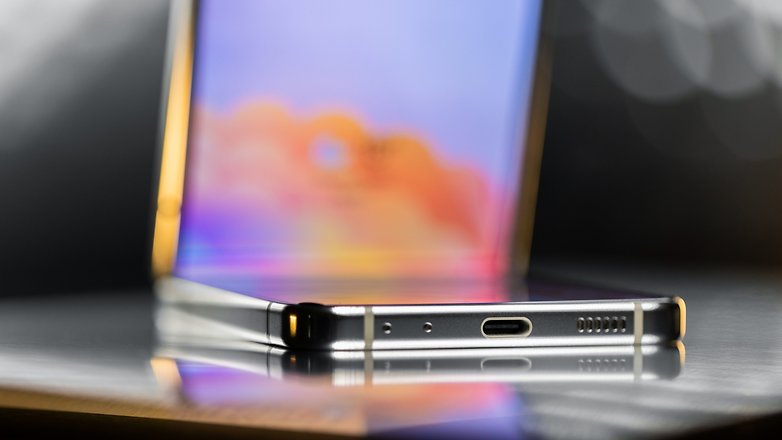 The folding mechanism has been rethought for this generation. The hinge on the Galaxy Z Flip 5 now closes completely, eliminating the gap between panels. This results in an even slimmer profile, measuring 15.1 mm when folded—essentially the thickness of my index finger.
To prevent dirt from getting between the panels and causing scratches, Samsung has added a fine lip to the screen. However, based on its IPX8 certification, the device is not dust-resistant; it only offers protection against prolonged immersion and water pressure.
The feasibility of this design is credited to the new "flex hinge" design, which now adopts a drop shape when viewed sideways. This removes the gap by increasing the crease size, which is slightly more pronounced compared to previous models. It's truly a double-edged sword.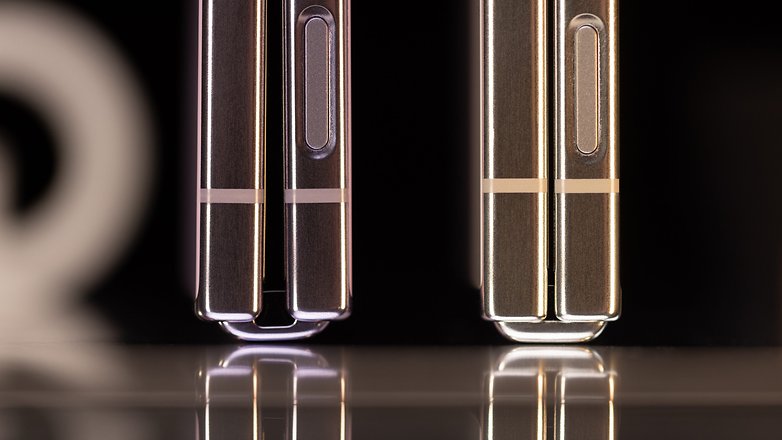 According to Samsung, the flex hinge is designed to function within a standard range of 75 to 115 degrees. Also, when fully opened, the angle ranges between approximately 178.5 to 181.5 degrees. This brings me to one of my main critiques of the design: it doesn't lie completely flat when unfolded.
It's not just a visual impression—it's physically noticeable. Although it doesn't significantly impact the user experience, it's something that might worsen over time.
Additionally, this iteration has less pronounced bezels. So, when unfolded, the Galaxy Z Flip 5 showcases smooth display edges. What remains unclear is why Samsung chose not to employ the under-display selfie camera technology we see in the Z Fold 5 variant. The only plausible reason might be that Samsung didn't want to compromise the selfie camera resolution as seen in the bigger Fold.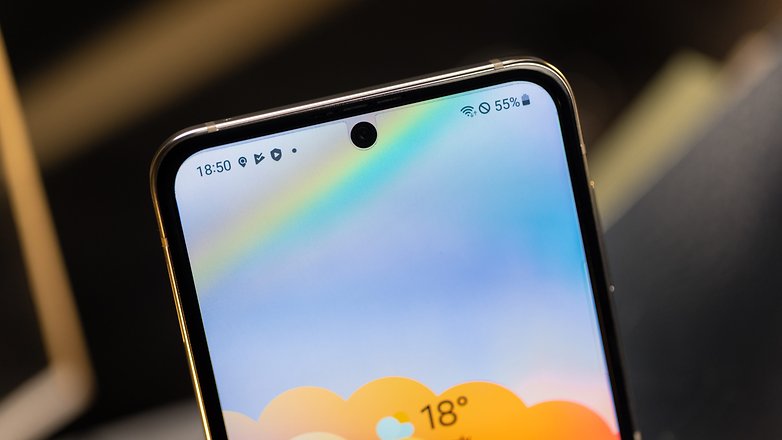 Overall, I appreciate the Z Flip 5's grip in both configurations, and Samsung truly mastered the one-handed experience with this device. The fingerprint sensor works flawlessly, and the dual functionality of the volume setup continues to impress me. However, it's still challenging to open with just one hand.
Samsung Galaxy Z Flip 5 display
Let's start with the standout feature of the Galaxy Z Flip 5: the cover display. Boasting a 3.4-inch screen, the front display is now three times larger, immediately capturing our attention. What's particularly striking is the ability to interact with virtually all apps without needing to unfold the device—a first for the Galaxy Z Flip lineup .
This includes replying to WhatsApp messages using a full-sized keyboard, now integrated into the front screen, or even playing a game on your commute home. The experience is incredibly user-friendly, and I predict that you'll soon find yourself using the phone in its folded state more often than not. More about it in the software section of the review.
---
Pros:
Truly useful cover display.
Balanced display image quality.
Cons:
Slightly larger crease in the display.
---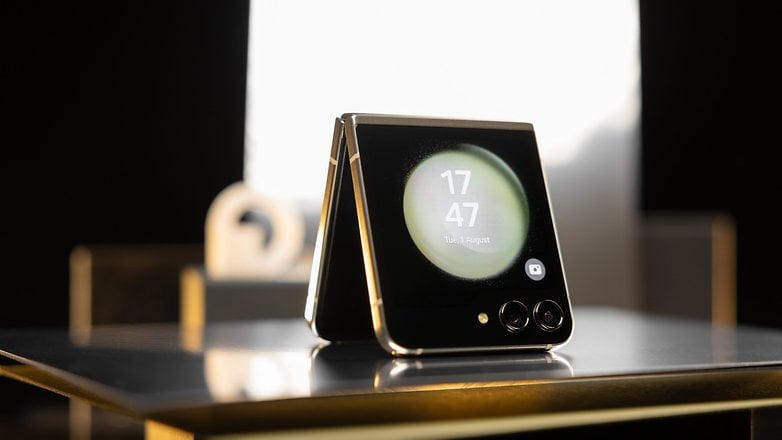 The cover screen features a Super AMOLED display with a resolution of 720 x 748 pixels and a refresh rate of up to 60 Hz. It boasts a pixel density of 306 pixels per inch and is protected by Corning Gorilla Glass Victus 2. The panel is framed by Armor Aluminum. What stands out, however, is the impressive peak brightness of 1,600 nits.
As highlighted in our Razr+ review, Motorola chose to extend the cover screen over the camera module, thereby increasing the display area. Personally, I prefer Samsung's approach as it doesn't give the illusion of having a larger content area when in reality, you don't.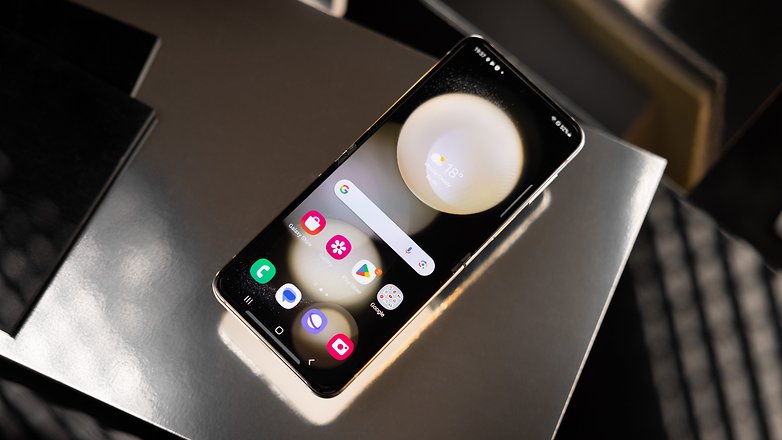 Now, let's discuss the main display. When unfolded, the Galaxy Z Flip 5 reveals a stunning Dynamic AMOLED FHD+ 6.7-inch display with an adaptive 120 Hz refresh rate. Samsung terms this the "Infinity Flex Display", which has a 22:9 aspect ratio, a resolution of 2,640 x 1,080 pixels, and a density of 425 pixels per inch. The peak brightness reaches up to 1,750 nits.
The screen quality is exemplary for a foldable device. However, as mentioned earlier, the crease is slightly more prominent compared to previous generations. It's both visible and tangible. The question is: does it impact the user experience? It certainly does, just as it would on any other clamshell device.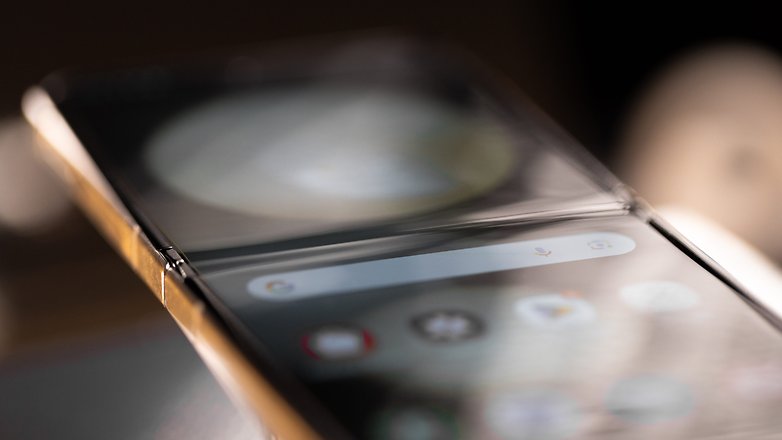 Regarding the display's colorimetry, I've been using the vivid setting, which provides a vibrant and warm visual experience. Personally, I find it hard to imagine Samsung making any missteps with their AMOLED displays.
Operating System and Interface
First things first: the Galaxy Z Flip 5 runs on the latest version of One UI 5 that is based on Android 13. Samsung also provides one of the most reliable software update policies in the Android smartphone market. As such, you can expect at least four system upgrades (up to Android 17) and a minimum of five years of security patches .
---
Pros:
Fluid software experience.
Among the best Android update policies currently available.
Samsung's feature additions are a smart move.
Cons:
Overlapping services can be stressful.
---
That said, as a foldable smartphone, the Z Flip 5 offers unique features that take advantage of this design. The so-called Samsung Flex features, such as Flex Mode and Flex Camera, are included. This means you can use your device in a folded position, which is particularly advantageous for recording videos with the main lenses and achieving higher quality in selfie photos.

Beyond its flex features, the Galaxy Z Flip 5 offers the ability to use Active Widgets on the cover screen. By default, it also allows apps like Google Maps, Messages, WhatsApp, and YouTube to run on the cover screen. This means you can maximize the use of these apps without having to unfold the smartphone. But that's not all.
Samsung also provides the Good Lock toolkit, a suite of utilities developed by several Galaxy community developers. It offers custom modes and features beyond the One UI, which is clever since it doesn't rely on OS updates for improvements. However, the primary limitation of Good Lock is its availability; according to Samsung, it's only accessible in a few countries—with the USA being one of them.
We've previously detailed how to use Good Lock to maximize app functionalities on the Galaxy Z Flip 5's cover screen. Additionally, I penned an article highlighting the primary advantages of using it with the new generation of the Z Flip lineup. What I'd like to emphasize is that, by employing Good Lock, you can operate most of your favorite apps on the cover screen.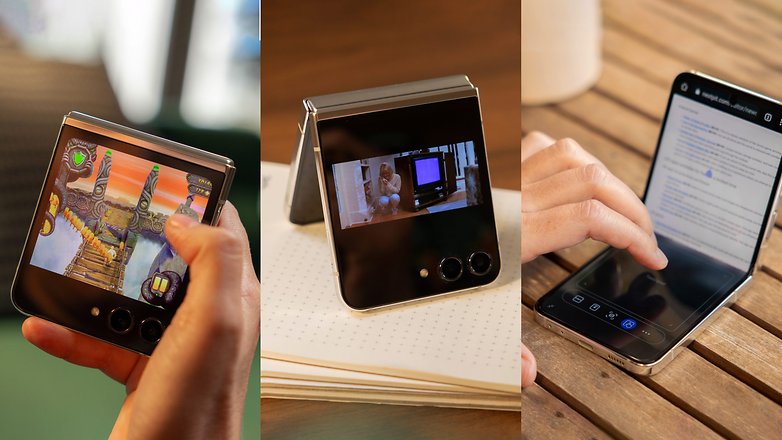 This feature is incredibly user-friendly and paves the way for a unique user experience. Whether it's for playing Temple Run 2 with only one hand when commuting home or simply watching a Netflix or Amazon Prime video, everything is particularly convenient when the device is folded. It's simply intuitive!
Finally, for those wondering about the YouTube optimization for the flip screen, well... Samsung has yet to deal with this problem on the Galaxy Z Flip 5.
To gain a more in-depth understanding of what One UI 5 has to offer, I recommend reading our guide on the best features to try out on Samsung's User Interface. Also, check out my review of One UI 5 to get a balanced view of the software's strengths and weaknesses.
Samsung Galaxy Z Flip 5 performance
When it comes to performance, the Z Flip series doesn't disappoint. The Flip 5 is equipped with Qualcomm's Snapdragon 8 Gen 2, currently the most powerful SoC for Android devices in the market. Samsung paired this monster with 8 GB of LPDDR5X RAM and took a bold approach to internal storage, which starts at 256 GB of UFS 4.0 and goes all the way up to 512 GB of UFS 4.0 .
---
Pros:
A very consistent performance.
Doesn't overheat on demanding tasks.
Cons:
Thermal throttling in games.
---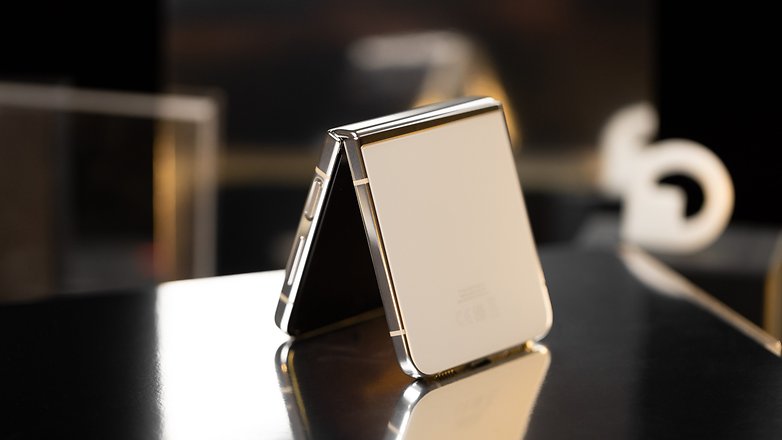 That said, we essentially see the same SoC configurations that were observed in the Galaxy S23 series, with a few tweaks that led to the processor being renamed as the 'Snapdragon 8 Gen 2 for Galaxy'. Essentially, this translates into increased clock speeds, or so Samsung says. This tweak is tipped to deliver a boost in CPU performance and an increase in GPU performance compared to last year's model.
While testing the Z Flip 5, I observed that its performance level closely mirrors that of the 2023 Galaxy S line-up. In other words, it delivers a consistent performance but with significant thermal control measures in place.
In lab tests—specifically benchmark results—the story was consistent. On 3DMark, the performance matched that of both the Galaxy S23 series and the previous generation. The stability rate was almost identical as well: 45.8% for the Z Flip 5 compared to 43.8% for the Z Flip 4.
Galaxy Z Flip 5
(Snapdragon 8 Gen 2)
Galaxy S23
(Snapdragon 8 Gen 2)
Galaxy S23+
(Snapdragon 8 Gen 2)
Galaxy S23 Ultra
(Snapdragon 8 Gen 2)
Galaxy Z Flip 4
(Snapdragon 8 Gen 1)
3D Mark Wild Life
Too powerful
3D Mark Wild Life Extreme
3.342
-
2.815
3D Mark Wild Life Stress Test
Best loop: 11,069
Worst loop: 5,068
Best loop: 11,049
Worst loop: 6,169
Best Loop: 12,958
Worst loop: 8,047
Best loop: 12,278
Worst loop: 7,386
Best loop: 10,754
Worst loop: 4,710
Geekbench
Single: 1,988
Multi: 5,086
(v6)
Single: 1,537
Multi: 4,807
(v5)
Single: 1,528
Multi: 4,823
(v5)
Single: 1,912
Multi: 4,981
(v5)
Single: 1,309
Multi: 4,213
(v6)
Although I don't consider the Z Flip 5 to be suitable for extended gaming sessions—its form factor isn't quite right for that—I did test out a few gaming sessions with it. Notably, the device exhibited significant thermal throttling, likely due to its smaller surface area, which limits heat dissipation. However, even though the heat was noticeable when playing games like Diablo Immortal, it didn't lead to any considerable drops in performance.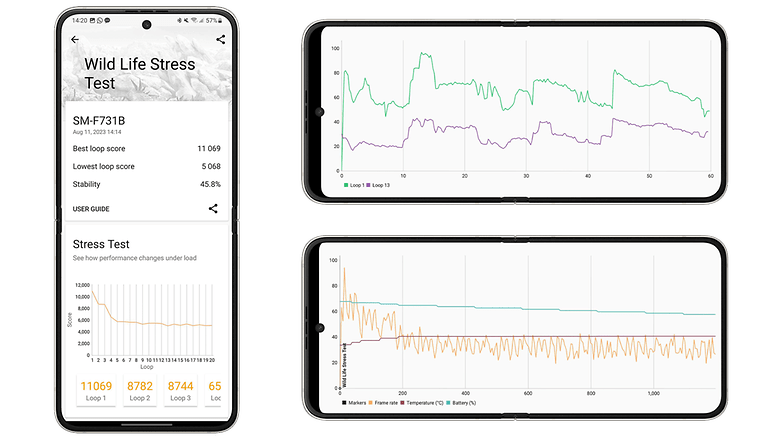 Samsung Galaxy Z Flip 5 camera
The Z Flip 5 sports a dual-camera setup maintaining the 12 MP resolution from the previous generation, while the selfie camera kept its 10 MP resolution. If the camera module lacked a telephoto lens last year, the same is true for 2023 .
---
Pros:
Above-average camera quality.
Samsung's warm and vivid photo characteristics.
Clean camera app interface with intuitive on-screen controls.
The main camera often substitutes for the selfie camera.
Cons:
The camera module lacks versatility.
---
First, Samsung is maximizing the potential of its camera module. The image quality of the Z Flip 5 module genuinely surprised me. The main lens produces warm and colorful photos in good lighting conditions. However, at this price point, one would expect greater versatility.
Compared to the Galaxy Z Flip 4, Samsung has improved post-processing and light capture. The colors are warm and vivid, and there's a noticeable enhancement in the dynamic range, leading to more aesthetically pleasing photos. However, for 2023, I had hoped for more significant advancements in camera capabilities.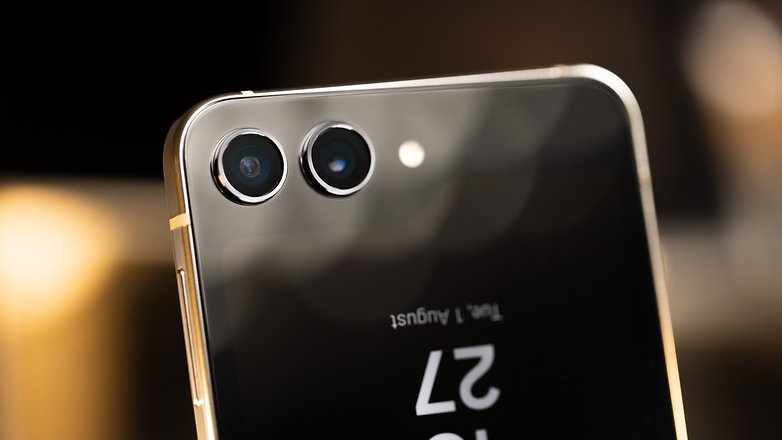 Daylight shots
In good lighting conditions, the main camera performs greatly. Even though the sensor is the same as in the previous model, its pixel size of 1.8 microns allows for capturing a significant amount of light. The ultra-wide angle camera, with a pixel size of 1.12 microns, also takes pleasing images. However, there is notable distortion around the edges of photos, likely a compromise for the broader field of view.
Additionally, Samsung's camera software is less aggressive in terms of computational photography with this model. While I find that the skin tones appear somewhat overly optimized, they suit my Caucasian skin well. This might not be the case for other skin colors, so this observation is highly subjective.
Night shots
In my night sample test, I decreased the light exposure slightly. Still, images captured using night mode are quite pleasing. That said, in my opinion, the main camera consistently outperforms the ultra-wide lens—as one would expect. I certainly tested the 2x digital zoom for night shots, but the results weren't impressive. Anything beyond that is essentially ineffective at night.
Selfie images
The selfie camera delivers consistent results, but the main camera often produces better photos, including selfies. What I especially appreciate this time is the enhanced functionality of the larger cover display in the series. As a result, you'd definitely use the main camera for selfies and videos more frequently.
Last but not least, the Galaxy Z Flip 5's form factor is ideal for women and others like me who often find the size of many devices cumbersome when recording videos. When set at a 90º angle, it feels like using a compact digital camera. It's quite stable in the hand, and capturing still images mid-recording is a breeze. The Z Flip 5 can record videos in 4K at 30/60fps and benefits from HDR10+ technology.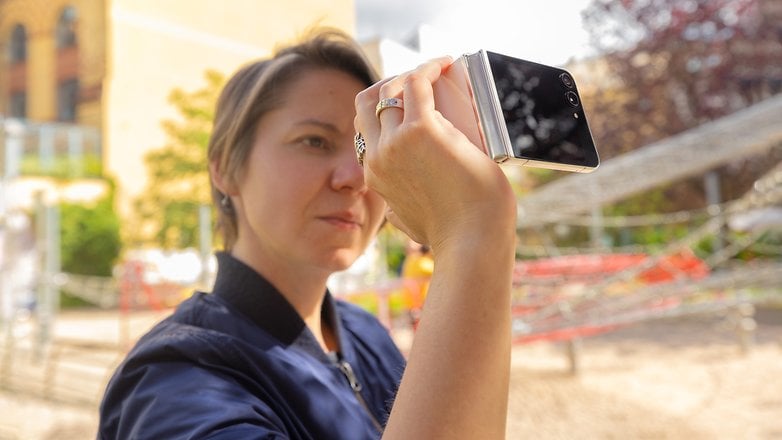 Samsung Galaxy Z Flip 5 battery
While I pointed out the "only average battery life," the Galaxy Z Flip 5's battery performance will largely depend on the user's usage habits. With a battery capacity of 3,700 mAh, you can get through the day with moderate use; otherwise, you might need a second charge .
---
Pros:
It lasts a day with average usage.
Cons:
Only average battery life.
Charging time exceeds one hour.
No power adapter included in the box.
---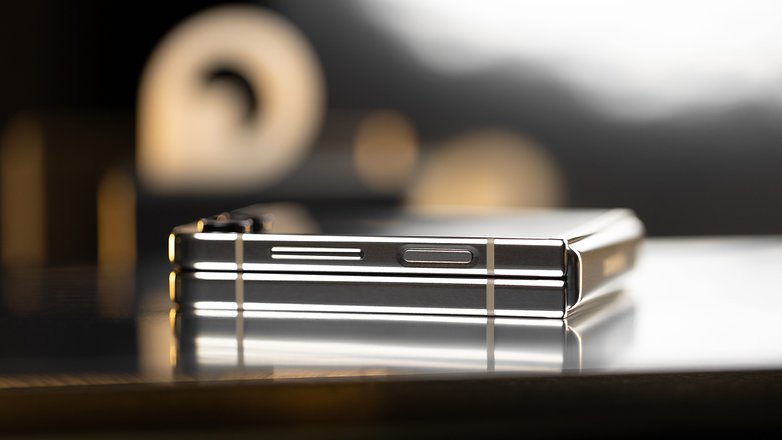 In comparison to its predecessor, both the battery capacity and the charging speed (of up to 25W) remain unchanged. As one might expect, in terms of fast charging, Samsung still trails behind the competition. Charging times often surpass one hour, ranging between 90 to 110 minutes, depending on the adapter in use.
Samsung doesn't include a 25W or 45W adapter in the box, so purchasing one is essential if you wish to benefit from the most efficient charging times.
Overall, my experience with the Galaxy Z Flip 5's battery life has been mixed. For a foldable phone, a decline in battery autonomy is somewhat expected due to its compact form factor. While Samsung has optimized the software to deliver the best experience possible, the best description for the Z Flip 5's battery life, based on the PCMark battery benchmark, would be 'average', clocking in at 10h10min.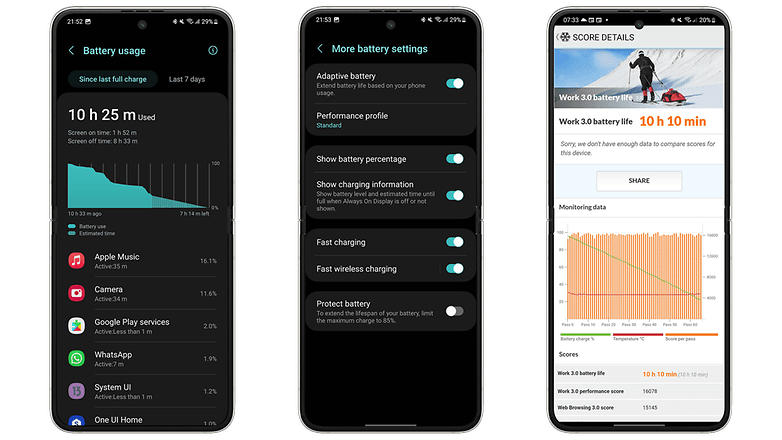 What's impressive, however, is that compared to the Galaxy Z Flip 4, the new generation reduces the battery life by three hours in the benchmark test. Since we consistently use a standard test—setting the screen brightness to around 200 nits and running the test until 80% battery consumption, as is standard for the PCMark battery benchmark—this was surprising. Yet, in daily usage, I didn't really perceive much difference in the battery lifetimes between the devices.
Galaxy Z Flip 5
(3,700 mAh | 25 W)
Galaxy Z Flip 4
(3,700 mAh | 25 W)
5 minutes
10 minutes
20 minutes
30 minutes
1 hour
Full charge
PC Mark Battery test
Samsung Galaxy Z Flip 5 technical specifications
Specifications
Device
Samsung Galaxy Z Flip 5
Image
Display
Main display: Infinity Flex Display | 6.7 inches | 22:9 | Dynamic AMOLED FHD+ (2,640 x 1,080 pixels) | 425 PPI
Front display: 3.4-inch | Super AMOLED (720 x 748 pixels) | 60 Hz | 306 PPI
Corning Gorilla Glass Victus 2 | Armor Aluminum
SoC
Qualcomm Snapdragon 8 Gen 2 for Galaxy
Memory
8 GB LPDDR5X RAM | 256 / 512 GB internal storage
Software
Android 13 with One UI 5.1.1
Four Android upgrades
Five years of software updates
Rear camera
Dual camera
Main: 12 megapixels | 1.8 µm | f/1.8 aperture | FOV: 83˚ | OIS
Ultra-wide angle: 12 megapixels | 1.12 µm | f/2.2 aperture | FOV: 123˚
Front camera
10 megapixels | f/2.2 aperture | FOV: 85˚
Battery
3,700 mAh
25 W wired charging
10 W wireless charging
Connectivity
5G, LTE, WLAN 802.11 a/b/g (2.4 GHz), Wi-Fi 6E (2.4 GHz + 5 GHz), Bluetooth 5.3, USB Type-C, GPS
IP
IPX8
Colors
Graphite, Cream, Lavender, Mint
Online exclusive (e-store): Blue, Gray, Yellow, Green
Dimensions
Closed: 71,9 x 85,1 x 15.1 mm
Open: 71,9 x 165,1 x 6.9 mm
Weight
187 g
Final verdict
In 2023, Samsung rolled out key updates to the Galaxy Z Flip 5. It now features a highly functional outer display that supports data input. The hinge design has been improved, and the gap between the displays has been eliminated. While these improvements might appear basic to some, they greatly impact daily use, especially considering the relatively slow evolution of the foldable device sector.
Additionally, Samsung not only doubled the internal storage of the series but also retained the same price points as the previous year's lineup. This might not seem as remarkable as it is, given the typically high prices of foldable phones. But believe me, it's a welcome change.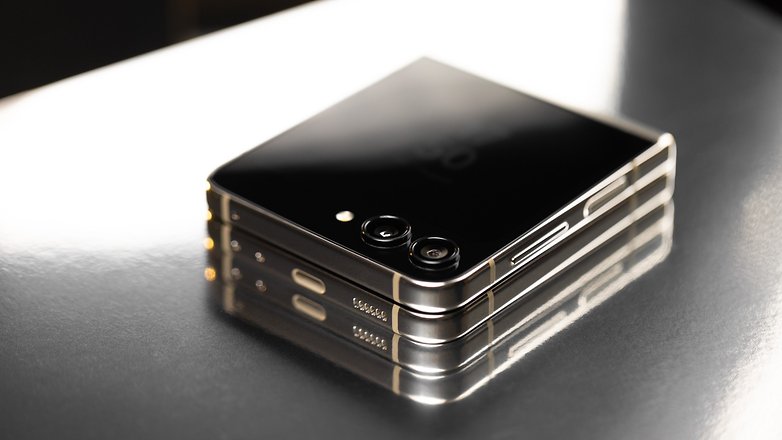 On the other hand, the Z Flip 5 perpetuates Samsung's approach of incremental upgrades, which is a tad disappointing. While the camera quality has seen enhancement, particularly in addressing the post-processing issues prevalent in the previous model, it's disheartening that Samsung hasn't taken the lead in advancing premium image sensors in the foldable phone realm.
As I wrap up the review of the Galaxy Z Flip 5, my initial impressions stand. The latest Z Flip iteration is the pinnacle of the lineup. However, it's gradually losing its allure for those already accustomed to this form factor and who may own a prior model. For first-time users, however, this device will undoubtedly be viewed as "spectacular," and rightfully so.
Now I would like to hear from you: is the Samsung Galaxy Z Flip 5 appealing to you?