Samsung Galaxy Z Fold 4 review: An excellent and expensive smartphone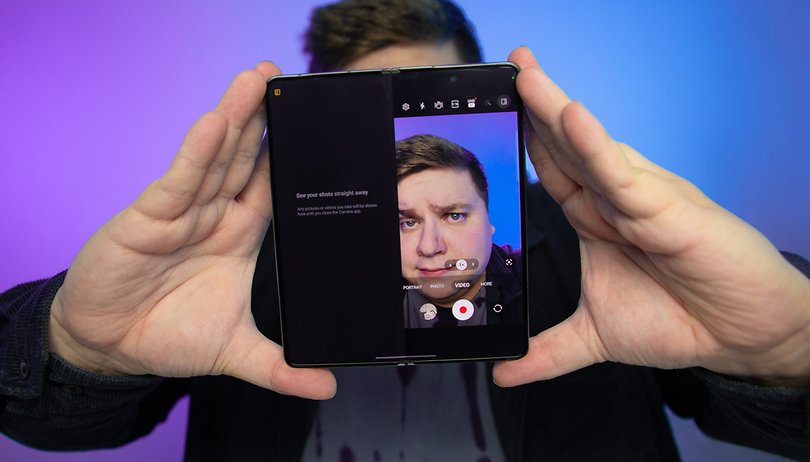 With the Galaxy Z Fold 4, Samsung is not reinventing itself in the foldable smartphone market. It is now a proven concept that continues to impress, but needs to be democratized so that it is available to the masses at a more affordable price. I reviewed the Samsung Galaxy Z Fold 4 for several weeks for NextPit and would like to share my full review.
Good
The hybrid tablet/smartphone form factor remains relevant

Neat design and excellent finish

More discreet and rigid hinges

Efficient and versatile triple 50 MP camera module with 3x optical zoom

Very solid battery life

Good performance

4 Android updates and 5 years of security updates

IPX8 rating
Bad
Under display selfie camera is disappointing

HD+ resolution of the cover screen is too low

Cover screen is still a little bit too narrow

25W wired charging is too slow

No 3.5mm audio jack
The Samsung Galaxy Z Fold 4 in a nutshell
The Samsung Galaxy Z Fold 4 is available since August 2022. The foldable smartphone from Samsung comes in three memory configurations:
12/256 GB: $1,799.99
12/512 GB: $1,919.99
12GB/1TB: $2,159.99
It's clearly still an ultra-premium flagship with prices similar to an iPhone 14 Pro Max. I say "still" because the concept of the foldable smartphone, according to Samsung, has clearly proven itself over the years. It's a product category of its own, but we're still waiting for it to be democratized and for Samsung to offer it for a far more affordable price.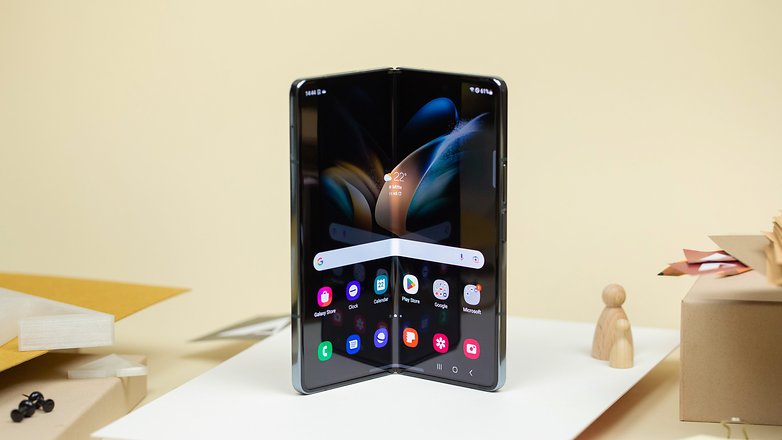 Design
The Samsung Galaxy Z Fold 4 basically does not offer any major changes in terms of design compared to its predecessor. There are minimal optimizations to the hinge and the form factor when folded.
---
What I liked:
Rigid hinge that holds everything in place.
Neat matte coating at the back.
Gorilla Glass Victus at the front and back (when folded).
IPX8 rating.
What I disliked:
No 3.5mm audio jack.
No microSD slot.
No S Pen slot.
---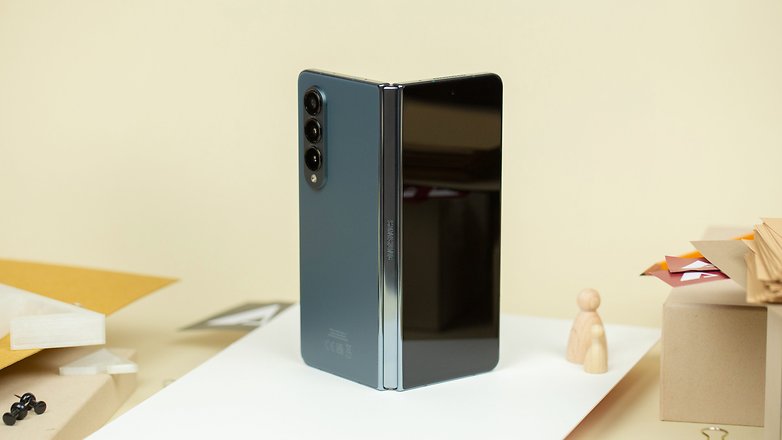 The Galaxy Z Fold 4 is a massive smartphone with dimensions measuring 155.1 x 130.1 x 6.3 mm when unfolded and 155.1 x 67.1 x 14.2-15.8 mm when folded. The foldable smartphone tips the scales at 263 grams compared to the 271 grams found on the Galaxy Z Fold 3. When folded, I could feel it weighing down in my jeans pocket.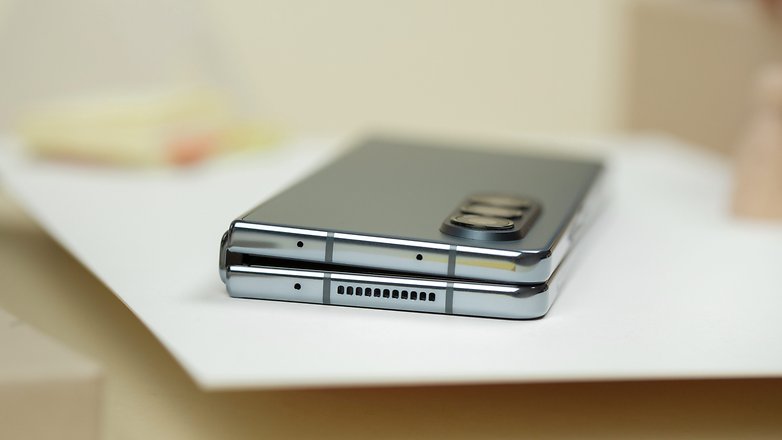 The hinge is a bit thinner and feels much more solid, or rather, rigid. It forces you to use both hands to unfold the device but it also allows you to fold it from almost any angle without having it open or close by itself. For the famous Flex mode, this is a big plus. Samsung still guarantees 200,000 openings without any issues.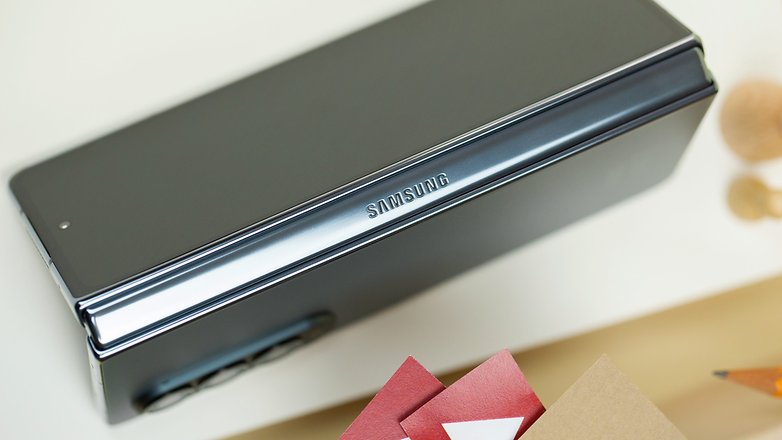 When folded, the Galaxy Z Fold 4's 6.2-inch cover screen offers a less narrow 23.1:9 ratio than on the previous generation. It's still narrower than a regular smartphone, but I had a little more room to write messages with my big thumbs. When unfolded, the 7.6-inch display size still feels great to look at.
But the crease is still very noticeable visually and you can also feel it. The selfie camera hidden under the inner screen still remains rather visible, especially against a white background. Not only that, the screen still reflects light quite a lot when viewed during the day or when you are under a direct light source. Apart from the main screen which is made of ultra-thin glass (UTG), the cover screen and the back feature Gorilla Glass Victus.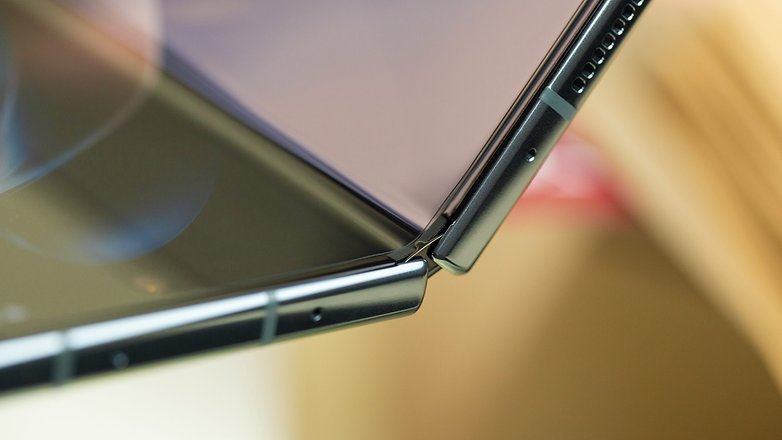 At the back, the matte finish is excellent and very pleasant to touch. The camera module stands out quite behind. The aluminum frame is also rather classy with a fingerprint reader located right at the right edge, making it very responsive and well positioned. There are also two grilles to accommodate the stereo speakers at the bottom and above. The Galaxy Z Fold 4 is also IPX8 certified (it can be immersed up to 1 meter for 30 minutes under freshwater without any adverse effects).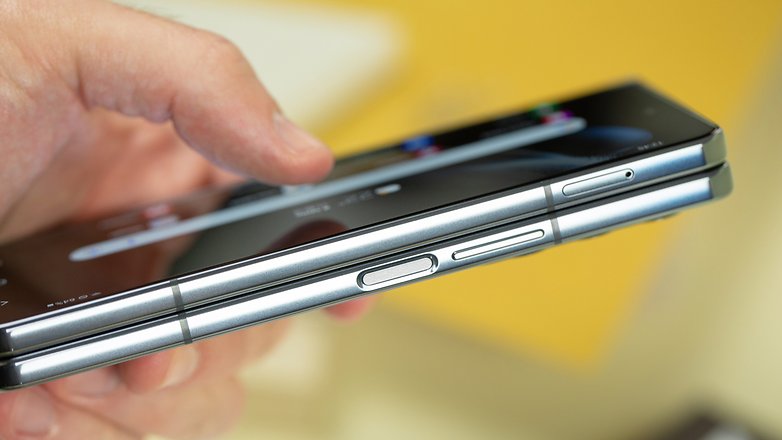 Display
The main strength of the Galaxy Z Fold 4 is obviously its hybrid smartphone/mini-tablet format that allows you to use its two AMOLED screens for different functions.
---
What I liked:
Resolution of the main screen and the 120 Hz adaptive refresh rate.
Possibilities of split screen and windowed display.
Good brightness on both screens.
What I disliked:
The cover screen's resolution (excusable).
The cover screen remains rather narrow (it is better than before but still not optimal).
The ratio is not always ideal.
---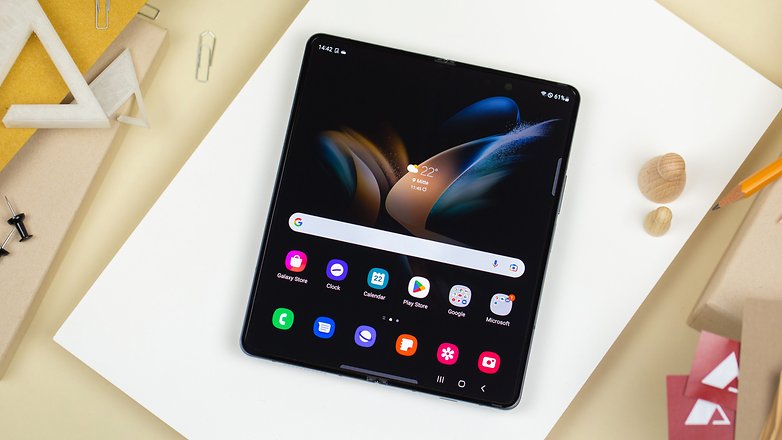 Size/Ratio
Technology
Resolution
Refresh rate
Brightness
Outdoor Display
6.2 inch | 23.1:9
AMOLED
HD+ (2316 x 904 p)
Adaptive: 48 - 120 Hz
1200 nits
Indoor screen
7.6 inch | 21.6:18
QXGA+ (2176 x 1812 p)
Adaptive: 1 - 120 Hz
Samsung really doesn't need to convince me anymore about the suitability of the foldable format for content consumption and even when it comes to gaming. I feel like Samsung has improved the touch sampling rate because the touch controls felt a lot more responsive than on the previous model.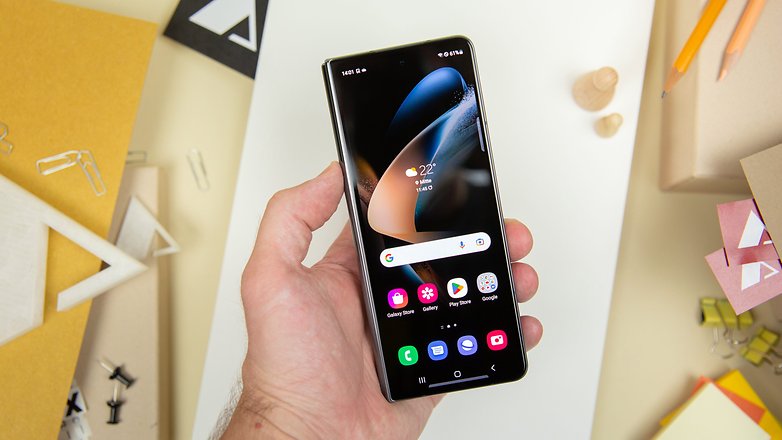 Well, the HD+ resolution of the cover screen is a bit pitiful, this much we must admit. But this is clearly not the screen you're going to primarily use to watch videos or to play games. This screen is purely utilitarian, to reply a few messages, check your emails, control your music playback, etc.
The main screen, coupled with Flex Mode and the split screen and floating window features, allows for so many combinations, and just thinking about it makes my head spin. You can display each application in split-screen format or via an adjustable floating window. You can also display each application in full-screen format, in either 16:9 or 4:3 aspect ratios.
The screen format is still not 100% suitable for all types of content. We still have black bands on Netflix or YouTube, or we have to zoom in and lose some information displayed on the screen. But when it comes to games that I tested, I didn't notice any problems with the interface although the same could not be said when it came to the last year's Galaxy Z Fold 3.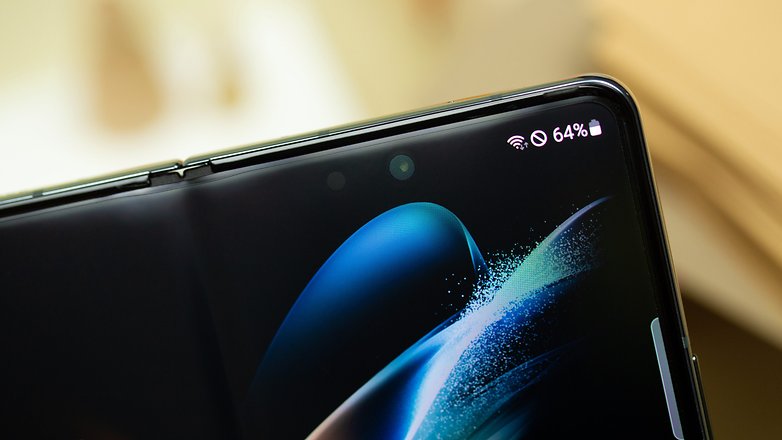 In any case, you can always fiddle almost endlessly with the multitasking functions to display multiple contents simultaneously. I even got a little too excited sometimes doing so. For example, I tried to display my Apex Legends Mobile game at the bottom half, my Discord messages on the top half, and a YouTube video with tips on how to master the game in a floating window.
And the worst part is. it worked! I'm not saying that I was using this configuration all the time. You get tired of it quickly and it's a shame not to enjoy content in full-screen mode. But for those chill evenings when I want to start a game to relax and have a video in the background, I think it's great to have this possibility.
Do take note that not all combinations worked. Some applications can be buggy, especially when you close them and restart them. And sometimes you have to force the split screen or the windowed mode which is not always optimized. But the process itself is great fun and I love discovering new combinations I hadn't thought of.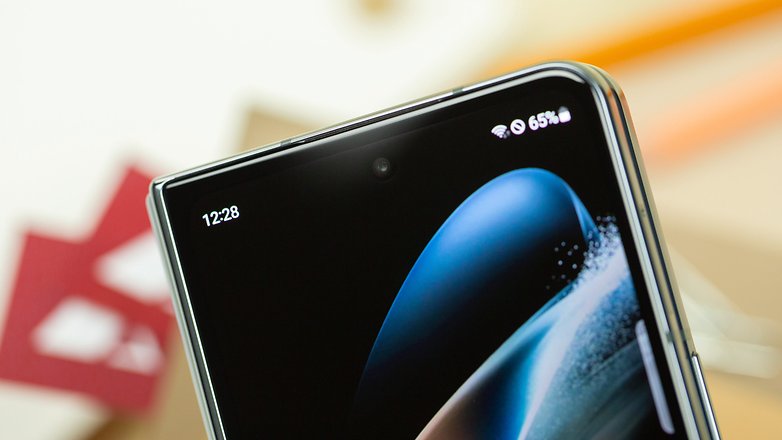 Interface/OS
The Galaxy Z Fold 4 runs on One UI 4.1.1, Samsung's skin that is based on Android 12, and we find the peculiarities related to the manufacturer's foldable smartphones with the Flex Mode.
---
What I liked:
The Flex Mode to watch YouTube in laptop mode.
Samsung's update policy (4 Android versions and 5 years of security updates).
The Taskbar is very useful for multitasking.
The switch to split screen and floating window is very intuitive.
What I disliked:
Not enough relevant apps to make Flex Mode worthwhile.
---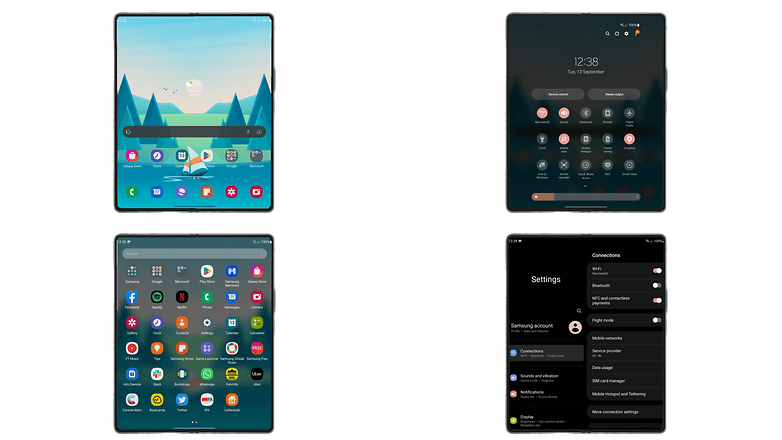 For this part of the review, I can redirect you to our full One UI 4 review, Samsung's latest skin that we've dissected from top to bottom.
I won't dwell on the famous Flex Mode either, as I've already dedicated an article to it. The only striking detail about Flex Mode is the cruel lack of natively supported applications. Too few developers are willing to step up to the plate to offer an adapted interface for their applications.
YouTube stands out with a really ergonomic UI. TikTok has made some efforts even if the interface is totally unusable when you switch to the cover screen, forcing you to restart the app (or uninstall it and delete your account, I'm just saying).
However in most cases, when you enable Flex Mode outside of Samsung's native apps, you simply end up with a default screen. It allows you to take screenshots, open the quick access menu, adjust brightness and volume, or place a trackpad to interact with the app via a slider.
Here is a final word concerning the taskbar which is extremely useful for multitasking scenarios: I have written a complete guide on the Galaxy Z Fold 4 Taskbar that I invite you to read.
Performance: Hardware and software
The Samsung Galaxy Z Flip 4 packs a Snapdragon 8+ Gen 1 SoC that was manufactured using the 4 nm process with its Adreno 730 GPU. This is mated to 256GB, 512GB, or 1TB of UFS 3.1 storage and 12GB of RAM.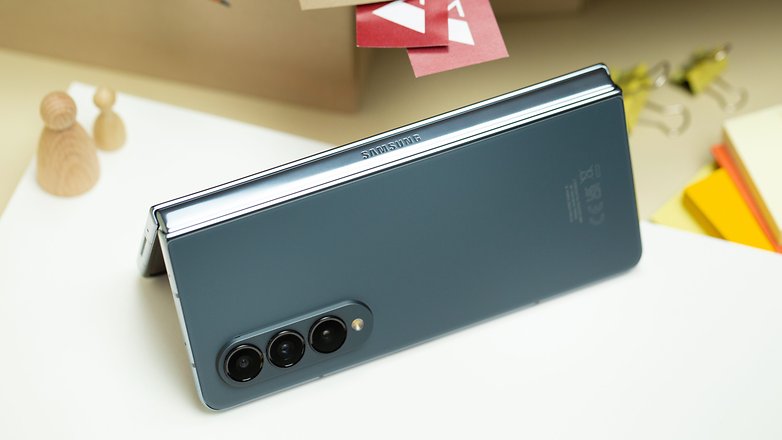 The smartphone can run any game at 60 FPS without having to make any graphical sacrifices. The chip is also more than welcoming in handling all your multitasking quirks. Transitions between multiple apps in split- and windowed-screens are smooth and seamless.
Samsung Galaxy Z Fold 4
Samsung Galaxy S22 Ultra
Samsung Galaxy Z Fold 3
Huawei Mate XS 2
3D Mark Wild Life
8611
5682
5683
5793
3D Mark Wild Life Stress Test
Best loop: 10.332
Worst loop: 5606
Best loop: 5741
Worst loop: 3351
Best loop: 5579
Worst loop: 3435
Best loop: 5782
Worst loop: 3267
Geekbench 5
Single: 1332
Multi: 3947
Single: 1155
Multi: 3356
Single: 1095
Multi: 3239
Single: 840
Multi: 2759
Qualcomm's latest SoC is also less prone to overheating issues than its predecessors. Thermal throttling is progressive and stabilizes rather quickly even if the 55% stability rate on 3D Mark (Wild Life Stress Test) is not the best when it comes to the high-end market.
The only major problem I encountered when gaming is the impossible task of blocking navigation gestures when I play in full-screen mode. As soon as I swiped up a little too fast, the recent apps menu would launch and cut off my game. All Android manufacturers offer gaming modes that block these accidental touch gestures. It's about time Samsung got up to speed.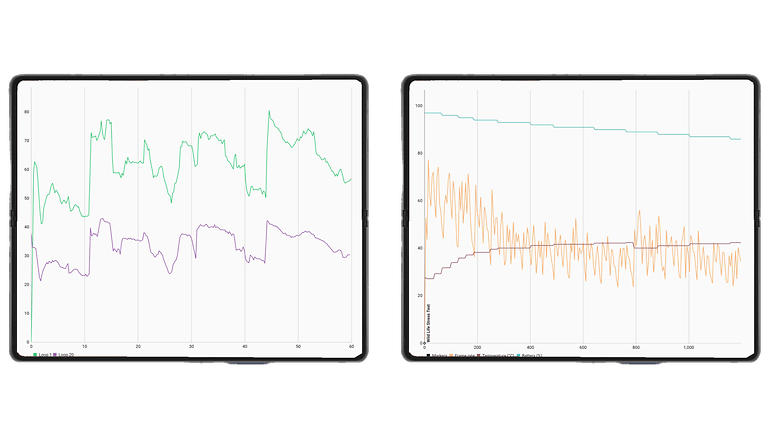 Camera performance
The Samsung Galaxy Z Fold 4 integrates a triple camera module at the back that is spearheaded by a primary 50MP wide-angle lens. There is also a 10MP x3 telephoto lens and a 12MP ultra wide-angle lens.
---
What I liked:
Vivid colors and dynamic range handled well during the day.
Night mode is effective and can be used with all lenses.
The 3x optical zoom is effective even at night.
4K video at 60 FPS with all lenses without the ultra wide-angle (locked in 4K at 30 FPS).
Cool software tricks to make shooting easier.
What I disliked:
The disappointing under-screen selfie camera.
Ultra wide-angle rendering is not always consistent with the primary lens.
---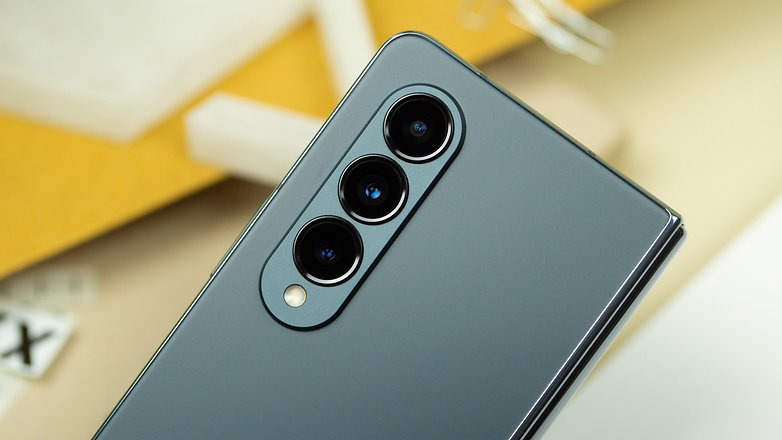 To put it simply, the photo quality is comparable to that of the Samsung Galaxy S22 Plus. Hence, this makes it slightly below the Galaxy S22 Ultra, especially in terms of zoom quality.
By day, we find the classic signature of Samsung at work here. Colors are vivid and the dynamic range is very well managed. It gives bright shots that you will not have to retouch to share them on social networks or with your friends. The rendering is not the most natural, but it is an assumed choice of Samsung that we all know, I think.
The rendering in ultra wide-angle offers photos always a little darker and noticeably accentuates the color saturation to compensate. The distortion at the edges of the image is effectively mitigated and we take advantage of the 123° FOV. The level of detail is also less than satisfactory, especially in low light conditions.
The 10 MP telephoto lens offers a very good quality 3x optical zoom. This is much better than the previous model. And the 3x magnification is excellent even at night. I was able to go up to 10x without any issues and the loss of quality was not too much of a concern. The photo application even displays a viewfinder on one half of the Galaxy Z Fold 4's unfolded screen to make focusing easier.
The night mode is also very effective. In some cases, it even darkened the scene a little more than in default mode, while mitigating the flare effect of urban lighting, to offer a more natural "night" rendering.
When it comes to selfies, the quality is acceptable with the front exterior lens. But the under-display camera is clearly below market standards. This technology is simply not perfected - yet. For video calls, why not? But not for self-portraits though. Once again, you can have video calls using the cover screen's camera, which is very convenient.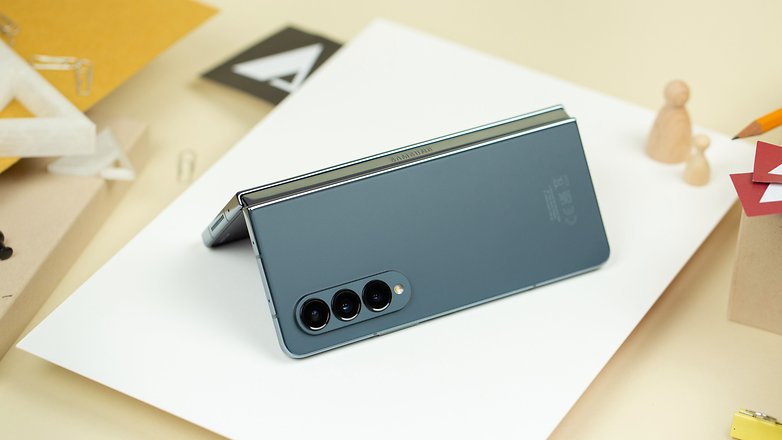 Battery life
The Samsung Galaxy Z Fold 4 packs a 4,400mAh battery that supports 25W "fast" wired charging, 15W wireless charging and 4.5W reverse wireless charging.
---
What I liked:
Very good battery life.
Wireless and reverse wireless charging.
What I disliked:
Far too slow charging.
Charger not included.
---
The 4400 mAh battery is really small for a foldable smartphone. But the Samsung Galaxy Z Fold 4 does very well when used in a hybrid manner. Basically, I was doing most of my light utility and office tasks on the cover screen with the smartphone folded. These include replying to messages, listening to my music, checking social networks, managing my emails, etc.
Occasionally during the day, and especially in the evening at home, I would switch to either Flex mode or fully unfolded mode to watch videos and play games. In this scenario, the smartphone would systematically last a full day of use before falling below the 20% mark.
Even during IFA 2022, I never had to plug the Z Fold 4 into my external battery while filming and recording interviews in addition to my normal daily tasks.
Recharging, on the other hand, is really problematic. 25W in 2022 is not possible anymore. In fact, it is anachronistic. The fact that the charger is not included with a $1,799 smartphone is also rather scandalous.
Conclusion
The Samsung Galaxy Z Fold 4 does not bring enough new features compared to the Z Fold 3. If you are hesitating between the two, take advantage of the probable price cuts of the former model as it is now "outdated".
The Samsung Galaxy Z Fold 4 is also way too expensive. It's totally overpriced and Samsung should seriously consider democratizing this product category which is finally relevant for everyday use and has every excuse to exist.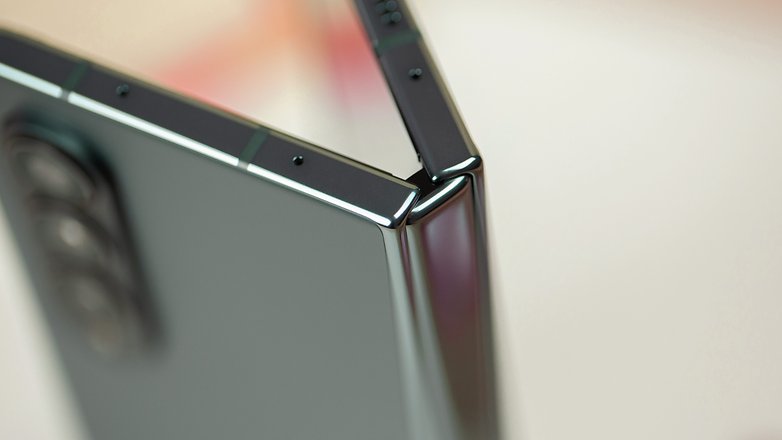 But the Samsung Galaxy Z Fold 4 is undeniably THE most interesting smartphone on the market. Or rather, among the avant-garde or innovative smartphones, it is the one with the most successful and functional concept. Buying a Galaxy Z Fold 4 is infinitely more rational than buying a Huawei Mate Xs 2 or an Oppo Find N, for example.
Even after four iterations, the cool factor still works just as well, and it remains the only smartphone I regret having to return after a review run and wish I could buy one with my own money. But it's also high time Samsung got off its ass on some key points like the still very noticeable screen bending issue and the super slow "fast" charging.