The best foldable smartphones: Which 2021 foldable comes up top?
Update:

Completely revised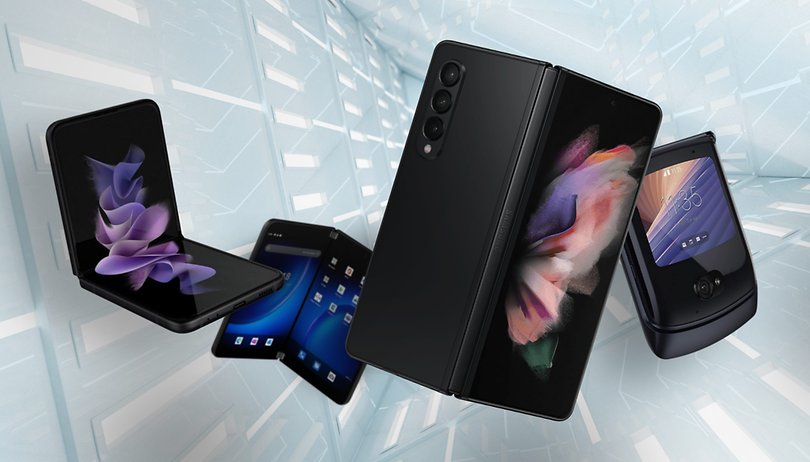 Which foldable device should you buy in 2021? In our comparison of the best foldable smartphones available, we currently recommend smartphones from Samsung, Motorola, and Microsoft. With the Galaxy Z Fold 3, the Galaxy Z Flip 3, the Motorola Razr 5G, and the Microsoft Surface Duo, these four devices make it into our Best Of list that could not be any more different.
The best Foldables 2021 in comparison:
Editor's recommendation
Best value-for-money
3rd place
4th place
Product
Image
Pros

Two well-calibrated 120 Hz AMOLED screens
Waterproof, rugged design (IPX8)
OneUI and Flex mode work perfectly
Good photos in daylight
No punch hole notch on the main display
3 Android updates, 4 years of security patches

Stunning design
Foldable display
IPX8 certified
Four years of security updates

Cool retro look
Good workmanship
Very handy, fits in any pocket

Great workmanship
Innovative concept
Compatible with Surface Pen

Cons

Poor camera performance
Disappointing under-display selfie camera performance
Battery life is not outstanding
Quick charging is too slow
A lot of 'thermal throttling
Still too expensive

Battery life
Disappointing camera at this price

Too expensive
Manageable battery life
Average camera performance

Software is unstable
Outdated hardware
No 5G support
Average camera performance
No NFC

Rating

Read our review

Read our review

Not yet reviewed

Not yet reviewed

Offers*
As you can see, we are content with only these four models in our "Best Of" list. The foldables market is still a very young one with a manageable number of devices. We have decided to only recommend those that are currently available without any inventory issues.
Models like the Xiaomi Mi Mix Fold and the Huawei Mate X are not listed for obvious reasons. Even more pronounced is how the two Samsung foldables are currently opening the door for this product class to enter the mainstream market.
Jump To:
Here's what to look out for when buying foldables
Different types exist:
Basically, we can distinguish two types when it comes to foldable devices:
Clamshell models like the Z Flip 3, which offer a normal smartphone-sized display when fully opened
Foldables in a book or booklet form factor, where the usual smartphone screen's surface area is almost enlarged to a tablet form factor
Clamshell devices are much more compact in size, folding horizontally like how the first foldable phones once did. Meanwhile, they also come with small external displays like the Galaxy Z Flip 3, on which you can control music or read notifications. Foldables like the Galaxy Z Fold 3, on the other hand, are folded vertically and offer significantly more multitasking possibilities due to the larger display area. Moreover, they are fully usable even when folded due to a generous outer display.
Who are foldables suitable for?
Foldable smartphones are unfortunately very expensive for most of the available models and offer manufacturers a lot of room for experimentation. Thus, the target group must also be equally well off and would not think twice about dropping four figures at a moment's notice. In addition, they will also have to be patient and live with the fact that the new features and hardware components are sometimes not yet completely mature.
The large booklet format is a good choice for users who also need to be productive on-the-go. You benefit from the large display which allows you to use office applications in a more productive manner with the option of stylus support for selected models. A practical feature of the clamshell models is how you can place it half open and thus, for instance, making it useful for content creators to record a video hands-free in front of the smartphone camera.
So foldables are perfect for early adopters who like to be the first to check out "state of the art" technologies and have deep pockets.
Samsung Galaxy Z Fold 3: The king of foldables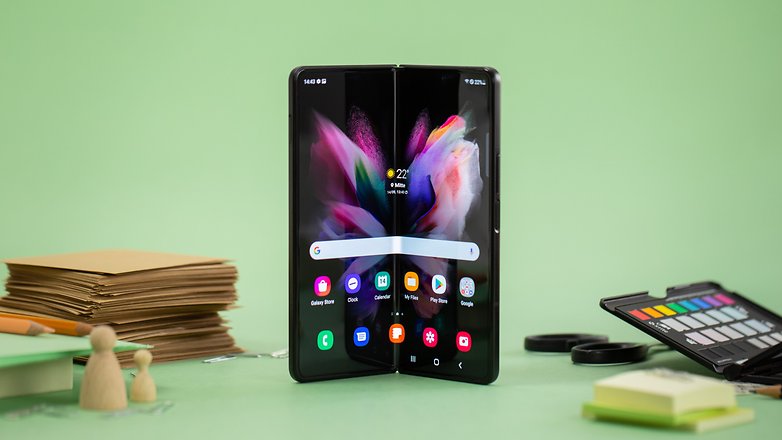 The Galaxy Z Fold 3 has inherited the title as the class leader directly from its predecessor. In the direct comparison between Z Fold 2 and Z Fold 3, you can read in detail on areas where Samsung could improve. In addition to the usual updates to the camera and processor, Samsung has above all, worked on making the Z Fold 3 even more robust and also optimized at the hinges. Samsung even managed to improve the price, which has now been lowered to $1,799.
In his review, Antoine not only anointed the Galaxy Z Fold 3 as the best foldable on the market, but also sees the launch of this model as the first real launch point for this niche product segment. Previous generations suffered from teething problems, and now, armed with IPX8 certification, a more robust build, and an improved display, it is safe to say that Samsung foldables are here to stay!
Since the asking price of $1,799 is still plenty of money, it may be advisable to purchase it on contract from a mobile service provider.
Samsung Galaxy Z Flip 3: The foldable for the masses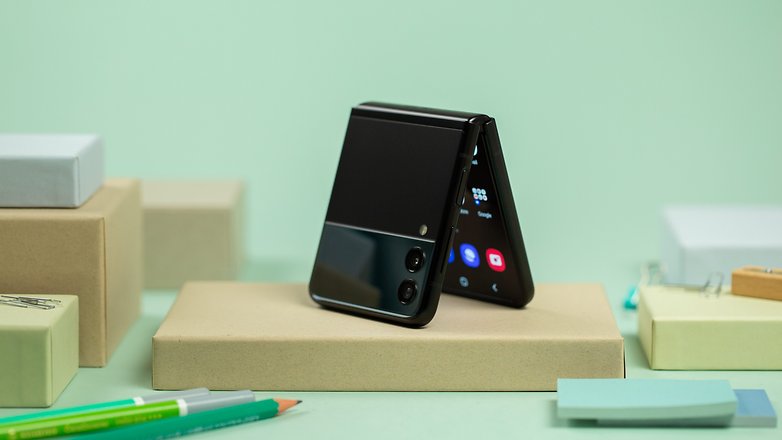 The Galaxy Z Flip 3 offers significant improvements over its predecessor. Once again, we recommend you take a look at our comparison between the Galaxy Z Flip and Galaxy Z Flip 3. It's nice that we also find a 120 Hertz display on this new flip phone and IPX8 certification for more robustness.
The main reason why the flip phone is making such a big comeback with the Galaxy Z Flip 3 is the significantly lower price: while the Galaxy Z Flip (review) was priced at just under $1,500 when it was launched, you can get the Z Flip 3 starting from $999. This places it on the same price level as the Samsung Galaxy S21+ in January.
Technically, it does not quite find a place in the flagship class despite the Snapdragon 888 chipset. This is even more pronounced with the rather average camera performance and middling battery life, showing how there is still a long way to go to the pinnacle as a flagship smartphone. Nevertheless, it is a successful and very stylish piece of technology, which, according to the initial sales figures, also has what it takes to become the first real milestone in smartphones equipped with a foldable display.
Motorola Razr 5G: Cool and well....just cool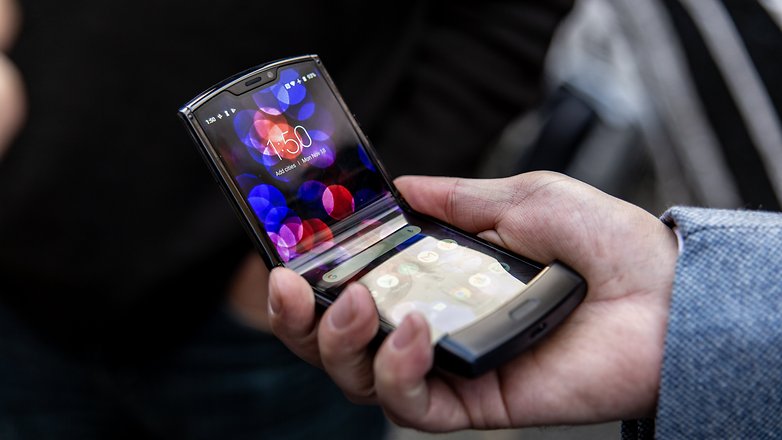 The Motorola Razr is kind of the super cool one(s) from my high school years: 15 years ago, everyone was jealous and couldn't keep their hands off it. The coolness factor remains intact even until today, but somehow the rest of the parts hasn't quite grown up. The Motorola Razr, unfortunately, has mediocre hardware working under its wickedly expensive hood.
The recommended retail price of $1,399 for the second generation Motorola Razr 5G, unfortunately, includes a mid-range Snapdragon 765G SoC, a rather mediocre solitary camera, and just a 2,800 mAh battery. Basically, You're buying a $200 smartphone at a $1,399 price point just for the foldable display.
If you don't care about the hardware and only like the (really cool!) form factor, then I would recommend the older, non-5G version. For around $600 thereabouts, the Motorola Razr is a decadent second phone to make a big impression at the wild post-pandemic parties.
Microsoft Surface Duo: More of a set of crosses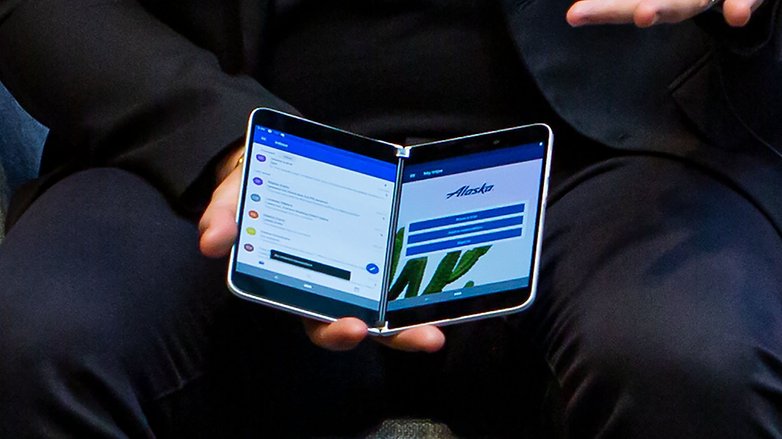 Redmond and its smartphones, it's an endless tale of woe that continues with the Microsoft Surface Duo. 505 days had passed from the announcement to the market launch in Germany, and so on February 18 this year, a brand new, already outdated smartphone hit the shelves. This is especially unfortunate because the concept, which combined an attractive device with the advantages of Microsoft, was and actually still is an absolutely successful one.
For at least $1,549 (RRP), underneath the hood lies the already outdated Snapdragon 855 chipset without 5G support, immature software, and cameras that disappointed. The flop was assured at the moment of its announcement. For road warriors who demand productivity no matter where they are, performance was lacking. For the early adopters, this smartphone with a wide gap between the two displays simply could not keep up with Samsung and others in this aspect. One good thing came out of all this misery though: The price has dropped to below $600 at the moment, making the Surface Duo the cheapest representative in the foldable device market.
Moreover, its successor, the Surface Duo 2, is already here. The model, which was revealed in September 2021, can already be pre-ordered but has become even more expensive with an RRP of $1,599, albeit having improved many of the flaws found in the first model.
---
These are the four models we could all agree on here at NextPit from a subjective point of view. Compared to the other three devices, the Microsoft representative fails noticeably in our assessment.
Nevertheless, we wanted to present it as an alternative to you here, since it is the only foldable device that relies on a creative solution of using two independent displays. Microsoft also shows rather interesting approaches on how one can profit from such a form factor as a user. Assume that there is a future revision of this article, we'll be listing the Surface Duo 2, which we're sure to have more details to work with by then.
Let us know in the comments section which model is your favorite foldable and if you agree with our viewpoints.