Samsung Galaxy XCover 6 Pro Review: Hard to beat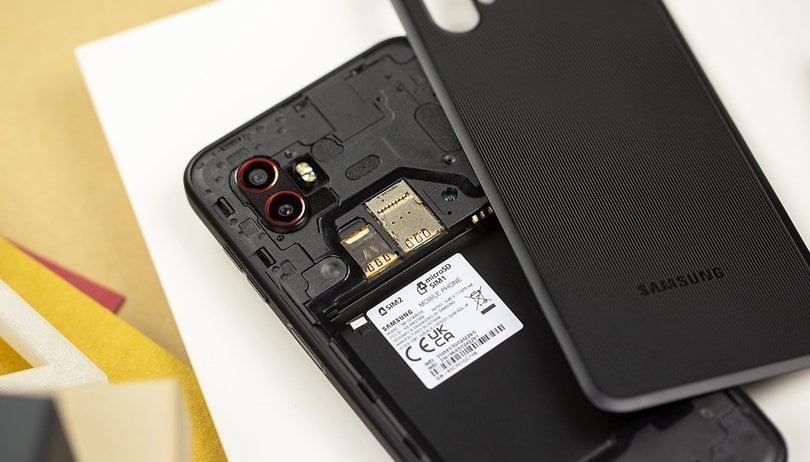 The rugged phone market is hotter than ever before, and Samsung did not stand still. With the Galaxy XCover 6 Pro, the brand is defending its niche against the new challengers, offering nice specifications at a steep price. See how the phone performs in NextPit's complete review.
Good
The best software support in the category

Good performance and battery life

Decent accessory ecosystem (for businesses)
Bad
Expensive

Camera performance is average
Samsung Galaxy XCover 6 Pro in a nutshell
Up to 2022, Samsung was basically the only big phone brand with a regular rugged phone range in the XCover line. With the looming threat of Lenovo/Motorola, and Nokia, the South Korean brand updated its "Pro" model in 2022 with an intermediate SoC, and kept most of the features found in previous XCover models, including the removable battery, micro SD card slot, and headphone jack.
The Galaxy XCover 6 Pro also offers pogo pins for accessories and battery-free use, and a pair of programmable extra buttons, positioning it for corporate clients. To distinguish it from rivals such as the Motorola Defy (review) and the newcomer ThinkPhone, Samsung promises much better software support, with five years of security updates and four Android upgrades.
That of course comes at a cost, with a suggested retail price in the US equivalent to the flagship-level Galaxy S21 FE that got 4-stars in our review. Samsung seems to believe the XCover 6 Pro features deserve its market positioning in the enterprise market similar to what the ThinkPad, Latitude, and EliteBook models occupy in the laptop market. But is it enough?
Display and build quality
Samsung has followed a simple recipe throughout the XCover range: One of the toughest glass materials available, a rubberized plastic build, and a removable battery cover. The XCover 6 Pro is no different: The phone grip is good and reduces the chance of accidents, including ridges on the sides and the back.
---
Pros:
Good build quality.
MIL-STD-810H spec for vibration, dust, humidity, etc.
Screen sensitivity for using gloves.
Two extra programmable buttons.
Headphone jack and micro SD slot.
Cons:
---
Besides the now common IP68 rating for water and dust ingress protection, the Galaxy XCover 6 Pro is built following the MIL-STD-810H standard for altitude, humidity, immersion, salt fog, dust, vibration, drop, temperature, and even fungus.
The LCD display is protected by a Gorilla Glass Victus+ layer, which at the time of launch was the highest-end offering from Corning, an important precaution, considering the big 6.6-inch screen. On the negative side, it is surrounded by considerably thick bezels, but that characteristic is also found in other rugged phones by Motorola and Bullit, the XCover's main rivals.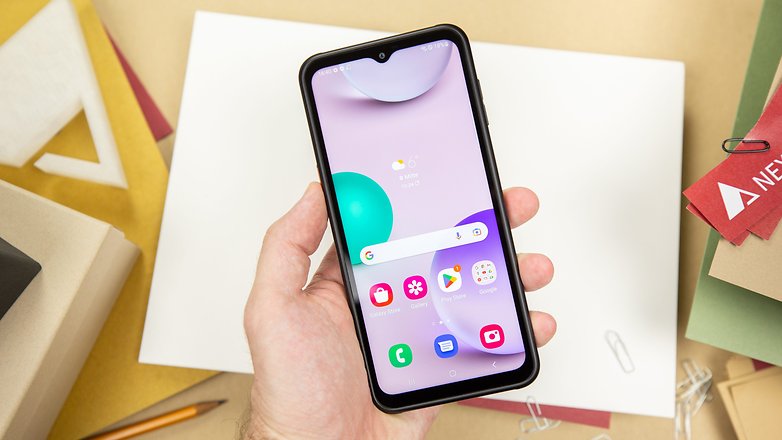 Speaking about the display, it offers decent color reproduction with good enough brightness for outdoor use. It has a 120 Hz refresh rate like most Samsung mid-rangers but doesn't offer the deep contrast found on OLED displays.
One interesting detail about the display is that it offers increased sensitivity for using the phone with gloves and even in wet environments. In testing with regular winter gloves, touch response was practically indistinguishable from using the device with bare fingers. Unfortunately, we didn't have work gloves to test in the scenarios mentioned by Samsung in the marketing materials...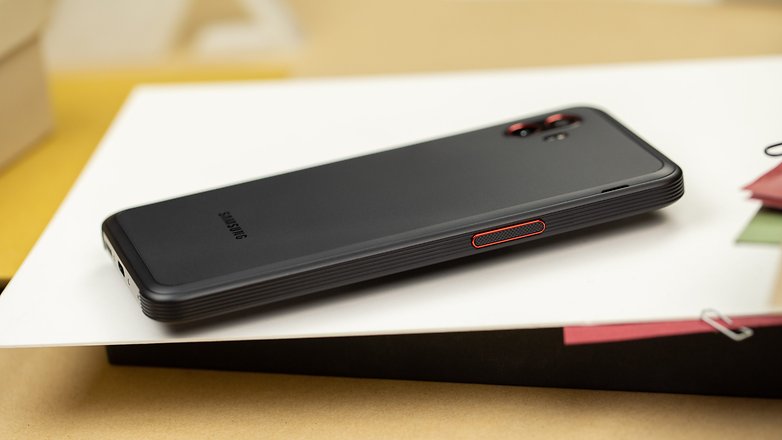 The Samsung Galaxy XCover 6 Pro includes a couple of other unusual features, including a micro SD card slot, a headphone jack, a pair of Pogo pins for charging, and a pair of extra buttons we will cover in the software and performance section.
Performance and software
The performance of the Snapdragon 778G processor is already well known, with a good balance of performance and efficiency cores that should be enough for the vast majority of users. And it is good to know that Samsung didn't ruin the SoC reputation on the XCover 6 Pro, with good thermal control that results in a performance level on par with the best intermediate phones in the market.
---
Pros:
The Snapdragon 778G offers excellent performance.
Almost no bloatware.
No signs of overheating.
Cons:
---
On paper, the XCover 6 Pro is almost like a big brother to the Galaxy A53, and could be seen as a replacement for the Galaxy A73 (useless trivia, their product codes are SM-G736 and SM-A736, respectively), and the benchmark results show:
Galaxy XCover 6 Pro
(Snapdragon 778)
Motorola Defy
(Snapdragon 662)
Samsung Galaxy A53
(Exynos 1280)
Nothing Phone (1)
(Snapdragon 778+)
3DMark Wild Life
3DMark Wild Life Stress Test

Best loop: 2434
Worst loop: 2465

Best loop: 376
Worst loop: 379

Best loop: 2298
Worst loop: 2283

Best loop: 2816
Worst loop: 2832

Geekbench

GeekBench 6
Single: 1009
Multi: 2876

GeekBench 5
Single: 314
Multi: 1354

GeekBench 5
Single: 727
Multi: 1896

GeekBench 5
Single: 796
Multi: 2889
The table also makes it clear how much faster the XCover 6 Pro is in comparison to the Motorola Defy, but keep in mind that the Bullit-built Defy dropped heavily (no pun intended) in price and costs (at the time of writing) almost a third of the Samsung MSRP, and competes with the older—and similarly priced—XCover 5.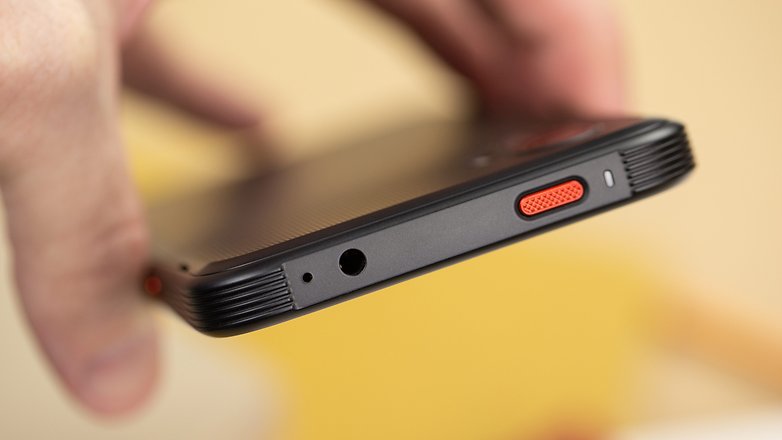 Gaming performance is also good, with games like Call of Duty: Mobile running smoothly with high settings even with the HD texture pack. Most people won't notice differences between the XCover 6 Pro or any other recent phone equipped with the Snapdragon 778, Exynos 1280, or Dimensity 1000 processor.
Best-in-class software support
The XCover 6 Pro's selling point when it comes to its corporate market is probably the software, with Samsung's five years of security updates and four One UI upgrades, almost double what Motorola offers. In fact, as we unboxed the device the first thing we did was to update it to Android 13, a version that hasn't arrived on the Lenovo phones.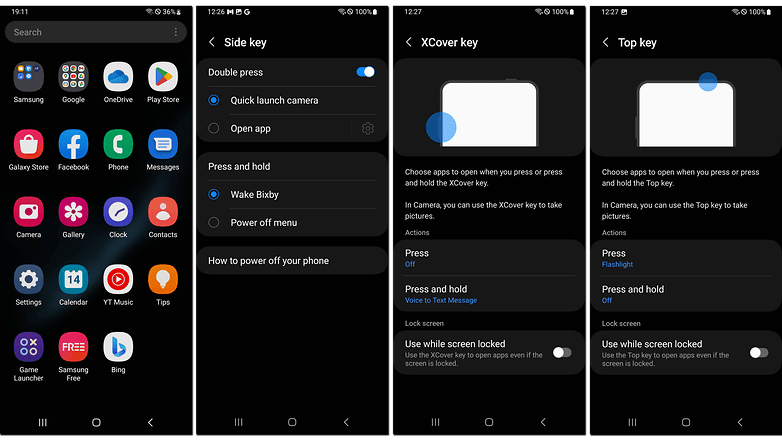 Another "corporate" trait of the XCover 6 Pro is its lack of bloatware, only YouTube Music and Facebook sneaked their way in—the Bing app was installed because we mistakenly chose Microsoft's search on the EU-mandated choice screen during setup. Not even Samsung's army of redundant apps was installed, so Health, Notes, Members, and even the browser were absent, resulting in a clean install occupying 26.67 GB.
Delving deeper into the One UI features, you will find a couple of extra options, especially to use the additional buttons found on the left and top sides of the XCover 6 Pro. The extra keys—together with the power button on the right side—can be programmed as a variety of shortcuts, including push-to-talk (PTT), flashlight, or to open specific apps.
In the biometric category, the XCover 6 Pro comes with a side-mounted fingerprint reader on the power button, and the usual face recognition alternative for those using gloves. Keep in mind that the rugged Samsung phone doesn't have depth sensors to offer Apple's FaceID or Microsoft's Hello levels of protection against similar people or pictures of your face (something that is explained in the settings).
Samsung Galaxy XCover 6 Pro camera
For regular users, the camera section is probably the weakest point of the Galaxy XCover 6 Pro. There is nothing wrong with the phone's cameras, they are simply uninspiring.
---
Pros:
The ultra-wide camera is really wide.
No useless cameras on the back.
Cons:
The ultra-wide lens is really wide.
Image quality is average at best.
---
Photos in daylight are okay and comparable to most mid-range phones, but color reproduction seems a bit muted, especially when compared to the usually saturated images produced by Samsung phones.
What surprised me most—both positively and negatively—was how wide (open) the ultra-wide-angle camera was. Many files were deleted due to a finger or piece of clothing appearing in the shot, on the other hand, the wide field of view (FoV) ensured a distinct look when compared to the main camera.
Speaking of distinct looks, colors on ultra-wide shots seem a little less saturated than those from the main camera, and there were hints of distortion but that could be simply the result of the wide FoV.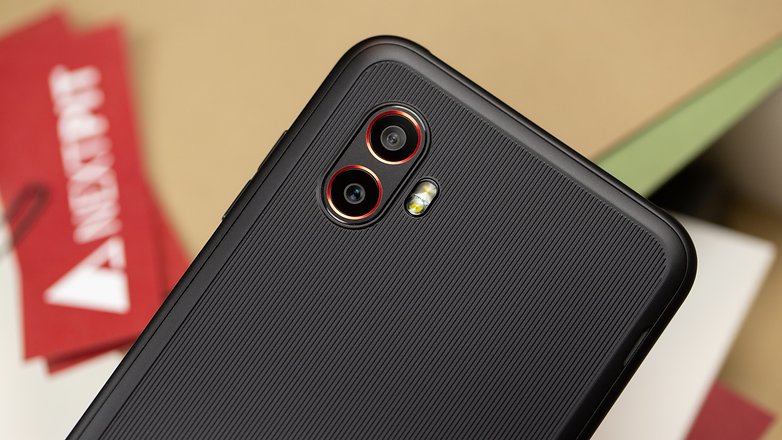 Selfies were ok, despite the less-than-ideal conditions (and subject)—those heavy light flares were completely my fault. The level of detail and colors were good, but the subject separation with the Portrait mode had a bit of difficulty with rebel hair strands.
Removable battery means serious business
The battery department holds the Galaxy XCover 6 Pro's quirkiest feature, a removable battery. Not only can the phone be back in action after a quick battery swap, but it can also be used without a battery, using an optional dock.
---
Pros:
Good (but not great) battery life.
Optional battery-free operation using Pogo pins.
Reverse wired charging.
Cons:
---
Samsung sells replacement batteries for around $50 (model number GP-PBG736ASABW) which is neither cheap nor outrageously expensive. The XCover 6 Pro ecosystem already shows some signs of the crazy serious accessories available for the old XCover Pro, including 10-unit charging cradles using the pogo pins, and barcode scanner sleds with optional pistol grip handle and card readers.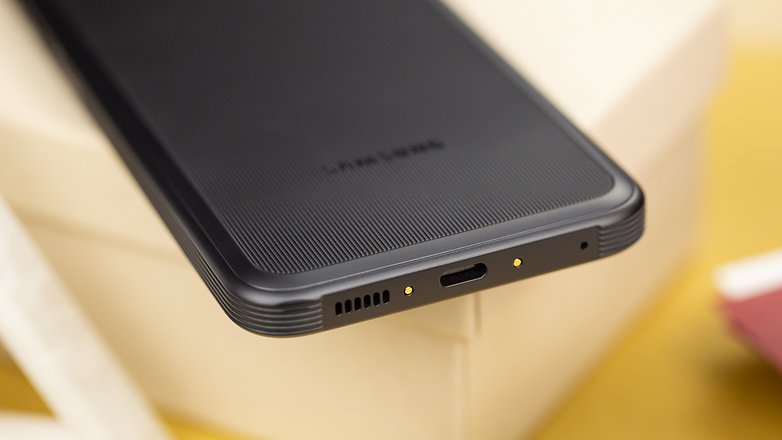 Anyway, back to the review... Battery life was good, considering the 4.050 mAh rated capacity, with more than a day of use with default settings. And for those with range anxiety, it is possible to switch to 60 fps mode with an adaptive battery feature, which resulted in about a 30% increase in the PC Mark Battery test—from 10h57 to 14h25. Testing with airplane mode reaches a theoretical 17h05 in PC Mark.
When it comes to charging, besides the Pogo pins alternative, the Galaxy XCover 6 Pro doesn't offer anything else. Wireless charging is probably a casualty of the removable battery—although models such as the Galaxy S5 had both—but something that is curiously missing from Samsung's marketing materials is the inclusion of reverse wired charging (or Power Share, as the brand calls it).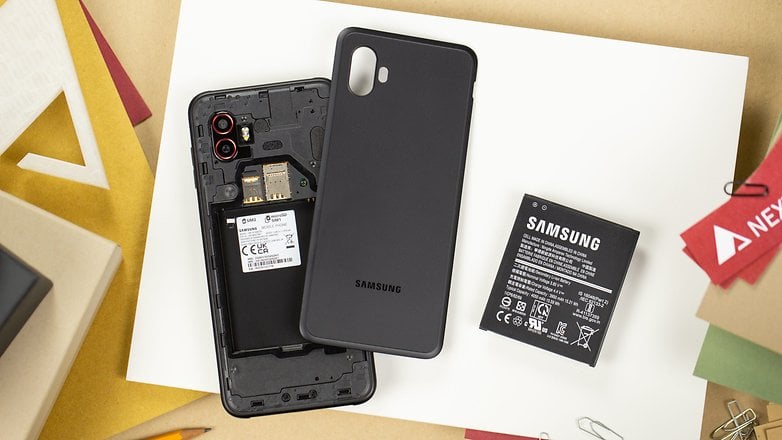 In fact, while testing the XCover 6 Pro, it was able to trickle charge a tablet, albeit slowly. It is a welcome addition to workplace environments powering other gadgets and accessories, and could even serve as a marketing bullet point to use the XCover 6 Pro as a power bank in a pinch, pairing it with a cradle in the back office recharging extra batteries.
Charging
Galaxy XCover 6 Pro
Motorola Defy
Galaxy A53
5 minutes
20 minutes
1 hour
Full charge
PC Mark Battery test

10h57 (120fps)
17h05 (60fps | adaptive battery | airplane mode)
But I digress, when it comes to wired charging, the XCover 6 pro offers only 15 W charging, which was enough to charge the phone in less than two hours, but remember we are dealing with a 4.050 mAh battery. One last thing: The XCover 6 Pro does not come with a charger in the box.
Samsung Galaxy XCover 6 Pro technical specifications
I will list below other points that may interest the NextPit community, but are not worth additional paragraphs:
The Galaxy XCover 6 Pro includes NFC support and is compatible with Google Pay for contactless payments.
The review unit packaging included a USB-C to USB-C charging cable.
The software version during the test was G736BXXU2BWA1 (January 2023 security patch).
After resetting the updated handset, the operating system indicated 26.67 GB of used space.
Specifications
Device
Image
Design

Front: Gorilla Glass Victus+
Back: Removable plastic cover
IP68 and MIL-STD-810H resistance certifications

Screen

LCD TFT 6.6 inch
FHD+ (2408 x 1080p)
120 Hz refresh rate

Memory

6 GB RAM
128 GB ROM
Up to 1 TB microSD

CPU/ GPU

Snapdragon 778G | TSMC N6 ("6 nm") | Adreno 642L GPU

Camera

Main: 50 MP | f/1.8
Ultra-wide angle: 8 MP | f/2.2 | 123° FOV
Selfie: 13 MP | f/2.2

Video
Interface/OS

One UI 5.0 based on Android 13
4 Android updates + 5 years of security updates

Battery

4050 mAh
25 W wired charging
Reverse wired charging
Compatible with charging docks with Pogo pins
Charger not included

Audio
Dimensions & Weight

6.65 x 3.15 x 0.39 in | 8.29 oz
168.8 x 79.9 x 9.9 mm | 235 g

Connectivity

5G | Wi-Fi 6E | Bluetooth 5.3 | NFC
Final verdict
It is not easy to review a niche device, especially one with a limited range of opponents. The rugged phone market is full of options from small companies, but those generally can't offer the same level of software and customer support as Samsung, with its big dedicated corporate sales teams and R&D.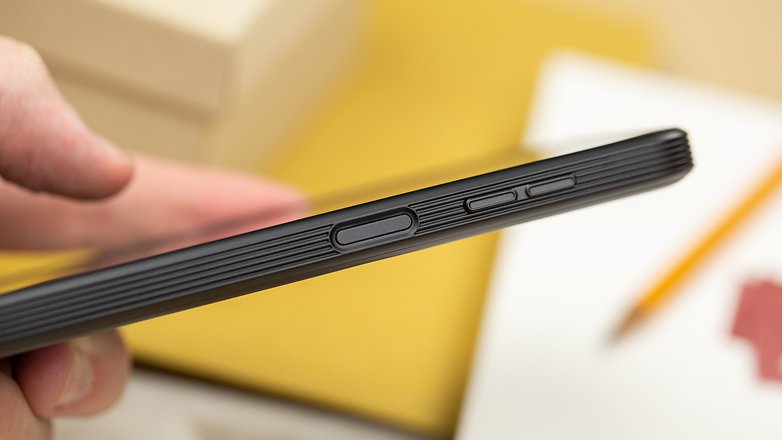 Truth be told, the XCover 6 Pro target market is not the traditional consumer. And among big brands, the only rivals for the XCover 6 Pro are the Motorola Defy and the future Think Phone, both with weaker policies when it comes to the so-important-to-corporate-customers software support.
The Samsung Galaxy XCover 6 Pro is not cheap, but neither is the Motorola Think Phone with its flagship price and weaker software security policy. And another important part of Samsung's grip on the corporate market is its established network of accessories partners, with specialized tools for niche applications most of us can't even imagine.
And a niche is something that the tough Samsung seemed to have found—the same cannot be said about one of its rivals. Even if you are not a big business, if you value features like a removable battery, headphone jack, micro SD slot, decent software support, good performance, and a rugged build, the Galaxy XCover 6 Pro is your only option in the market.