Samsung Galaxy Z Flip 4 review: In need of a plot twist!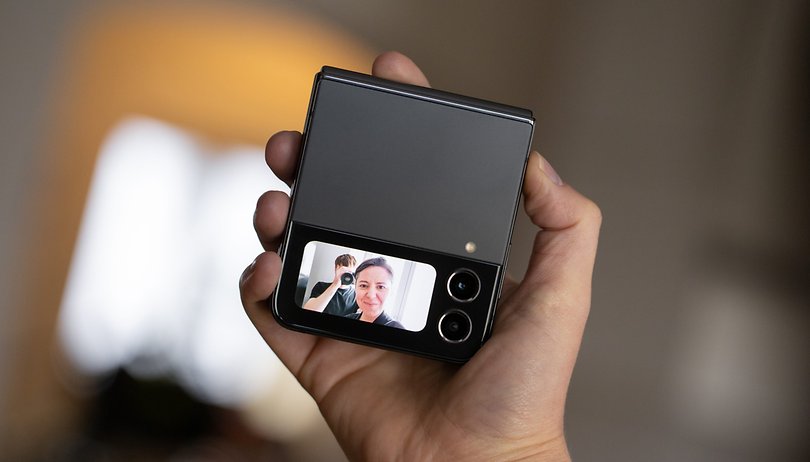 The Galaxy Z Flip 3 from Samsung was not an exceptional smartphone. However, the very fact that Samsung found the perfect form factor for the flip smartphone lineup earned the series an excellent review here at NextPit. In 2022, the Galaxy Z Flip 4 offers a very familiar experience, but it is no longer novel nor new. Keep reading this review to understand how the absence of competition can stagnate something that should be stellar.
Good
Amazing form factor

Incredibly small and handy

Improved durability and IPX8 rating

120Hz AMOLED screen is shiny

Great improvement in battery life
Bad
A dragon on a leash (limited performance)

No telephoto camera

Slow charging solutions
Price and availability
The Galaxy Z Flip 4 has been available since August 26. You can choose between 128, 256, and 512 GB configurations and have to fork out $999, $1,059.99, and $1,199, respectively. There is also a Bespoke Edition with only 256 GB of storage space, for which you will have to pay $1,199 albeit with many design options to choose from.
Of course, almost three months after the launch of the Galaxy Z Flip 4, you can already expect to see some discounts, like the one above where the 256 GB variant can already be found at 14% off.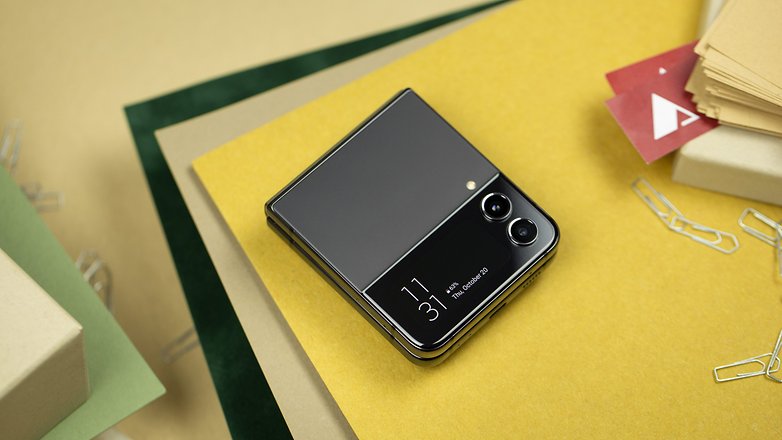 Design and Display
The Samsung Galaxy Z Flip 4 is incredibly compact. When folded, the smartphone measures 17.1 millimeters, making it thicker than a normal non-foldable device, but fits in the palm of your hand perfectly. When fully opened, the smartphone with its 6.7-inch display is as big as a regular smartphone from the year 2022. However, it is relatively thin at 6.9 millimeters.
---
What I liked:
Amazing form factor.
Incredibly small and handy.
Improved durability and IPX8 rating.
120 Hz AMOLED screen is amazing to look at.
What I disliked:
Display crease is (still) prominent.
---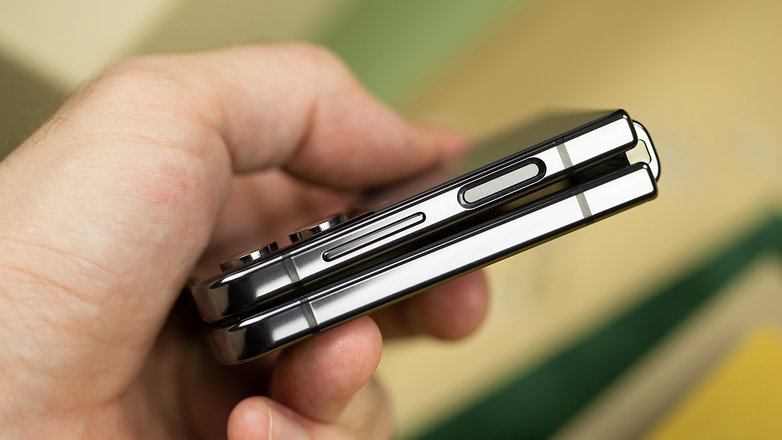 Compared to its predecessor, the Z Flip 4 has improved the display-to-case ratio somewhat. The smartphone gained 0.8 millimeters at the top and bottom, and 0.3 millimeters on both the right and left sides. The hinge has also become a bit more compact.
Gorilla Glass Victus+ is now used on the smartphone's exterior, which is touted to be 12 percent more robust than the standard issue Victus, according to Samsung. The Ultra-Thin-Glass (UTG) inside is even supposed to be 18 percent more resistant than the old model.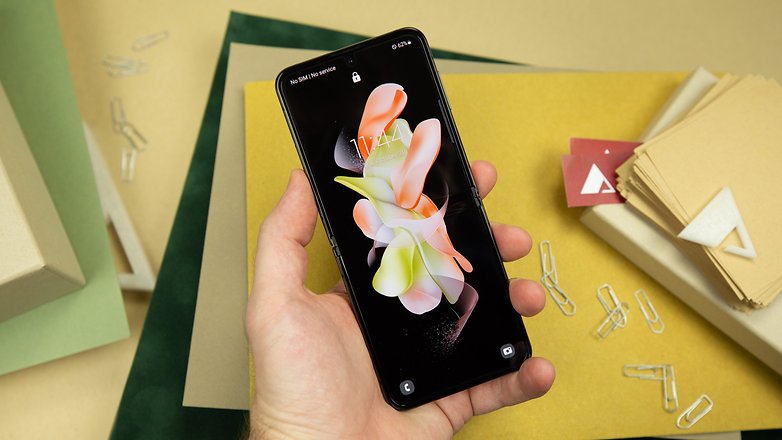 Like the predecessor, the Samsung Galaxy Z Flip 4's inner display measures 6.7-inches across diagonally and has a 1080 x 2640 pixel resolution. We are looking at an aspect ratio of 22:9. And the 120 Hz fast Dynamic AMOLED panel is bright and colorful. Thanks to the Motion smoothness feature (a fancy name for the adaptive screen refresh rate), navigation on the Z Flip 4 is quite fluid, but...
...as with the predecessor, there is a rather obvious crease in the Z Flip 4 display. And the problem is not even visual, but tactile, every time you run your finger over this crease you get a really unpleasant sensation—well, at least for the first two weeks until you get used to it. Apart from that, there are also no innovations in the outer display. As with the Z Flip 3, the outer screen once again comes in a 1.9-inch size and has a resolution of 512 x 260 pixels.
The convenience of the Z Flip 4's external display is very welcome. However, Samsung still offers limited ways of interaction, such as responding to text messages using only voice or emojis. For having a larger external screen, the Motorola Razr 2022 offers a keyboard, which ensures you do not need to open the device for easier and faster typing.
And speaking of opening the Z Flip 4, the hinge system does not allow the smartphone to be folded comfortably using just one hand. However, this is not a problem when it comes to doing so. Also, just like last year, the volume controls work perfectly in both folded and open modes, and the biometric sensor located on the power button is very accurate.
Software
At launch, the Galaxy Z Flip 4 runs on Android 12, and the manufacturer promises major software updates up to Android 16 at the bare minimum. Samsung still relies on its One UI 4.0 skin, which has been expanded by additional features for the Z series also picked up a few new tricks in the fourth-generation foldable.
---
What I liked:
Four guaranteed Android OS updates .
Five years of guaranteed security updates.
Full integration with Samsung ecosystem.
What I disliked:
Some apps have yet to be optimized for the flip screen, such as YouTube.
---
For instance, the external display now allows you to reply to messages without having to flip it open. Through this, you can take advantage of pre-configured replies or via a voice message. Samsung also offers a few new themes to style your Flip to match your Galaxy Watch 5. The camera app of the Galaxy Z Flip 4 now has a new portrait mode in which you can place the smartphone half-opened on the table and directly record portrait videos for TikTok.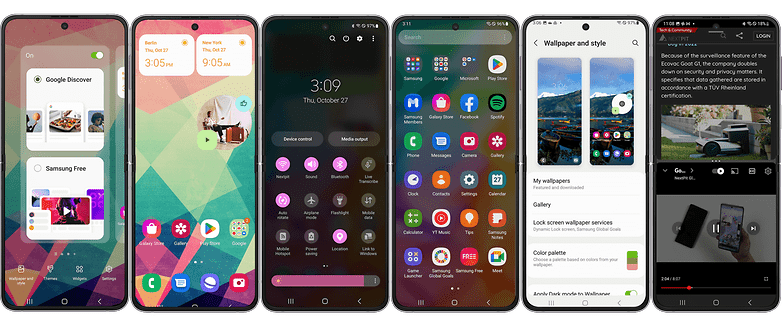 However, the manufacturer has yet to deal with problems such as adapting apps like YouTube to the Z Flip 4's screen format, even though it has a very close relationship with Google. This is, by the way, one of the major criticisms regarding the software from Samsung's Flip smartphone owners that I frequently hear about.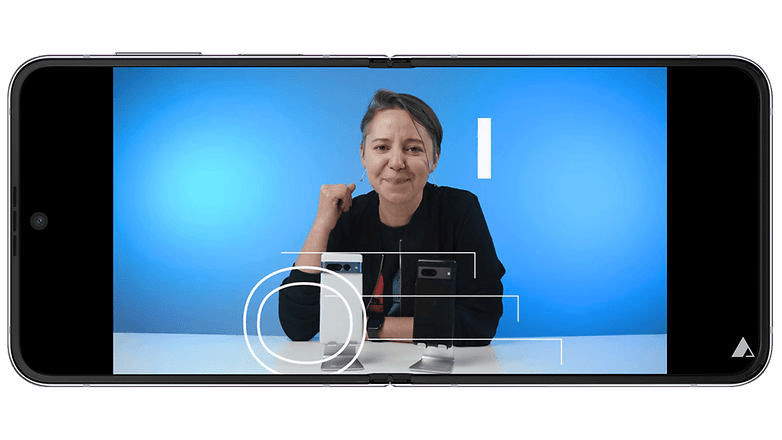 Hardware and software
The Galaxy Z Flip 4 is powered by the Snapdragon 8+ Gen 1 SoC with 1 x 3.19GHz Cortex-X2, 3 x 2.75GHz Cortex-A710, 4 x 1.80GHz Cortex-A510, and the Adreno 730 GPU. As for memory, we have 8 GB of RAM and three variants of internal storage: 128, 256, and 515 GB. And these are serious hardware configurations, but given the compact form factor, the Galaxy Z Flip 4 experiences some thermal throttling when under stress.
---
What I liked:
What I disliked:
A dragon on a leash (limited performance) .
---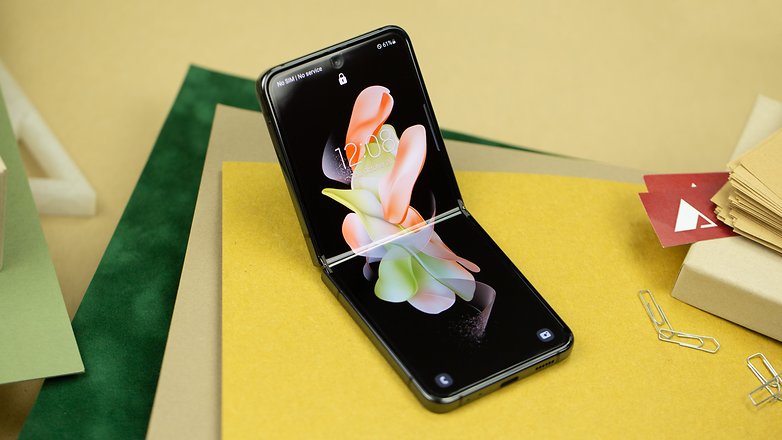 As we saw with the Galaxy Z Fold 4, the Snapdragon 8+ Gen 1 offers variable performance in order to avoid overheating issues. This becomes even clearer when we look at the 3D Mark Life Stress Test results of the Z Flip 4, since the difference between the best and worst loop is very large.
Samsung Galaxy Z Flip 4
(Snapdragon 8+ Gen 1)
Samsung Galaxy Z Fold 4
(Snapdragon 8+ Gen 1)
Google Pixel 7 Pro
(Tensor G2)
Apple iPhone 14 Pro Max
(Apple Bionic 16)
3D Mark Wild Life
Too powerful
8,611
6,527
Too powerful
3D Mark Wild Life Stress Test
Best loop: 10,356
Worst loop: 4,948
Best loop: 10,332
Worst loop: 5,606
Best loop: 6,492
Worst loop: 5,876
Best loop: 9,599
Worst loop: 8,121
Geekbench 5
Single: 938
Multi: 3,706
Single: 1,332
Multi: 3,947
Single: 1,050
Multi: 3,239
Single: 1,885
Multi: 5,406
As we can see in the image below, thermal throttling happens progressively, but it stabilizes fairly quickly. However, the device achieves a stability rate of 47.8% in the test. In this same benchmark, for example, the Pixel 7 Pro achieved a 90.5% stability rate, for example. At the risk of stating the obvious here: this is no surprise.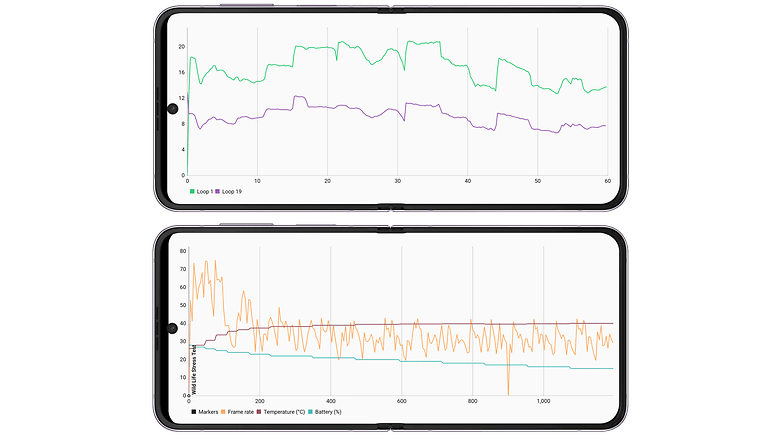 On a day-to-day basis, however, that doesn't mean you will have a bad experience! What happens is, Samsung doesn't seem to be able to get the best out of the Z Flip 4's hardware. This is the reason why I used the analogy of having a dragon on a leash when it comes to taking advantage of the Snapdragon 8+ Gen 1 SoC.
Samsung Galaxy Z Flip 4 camera
Speaking of cameras: Samsung has once again taken a step forward with the Galaxy Z Flip 4, although only in terms of quality and not quantity. We begin with the most unspectacular camera: The selfie camera above the inner screen is still located in a central notch and still has a resolution of 10 megapixels.
---
What I liked:
Takes good images under good light conditions.
Great for selfies with the main camera.
Excellent form factor for video capture.
Offers RAW image capture option.
What I disliked:
No telephoto lens.
Ultra-wide angle lens (still) delivers noticeably distorted images.
Oversaturated images.
Night mode photos undergo heavy processing.
---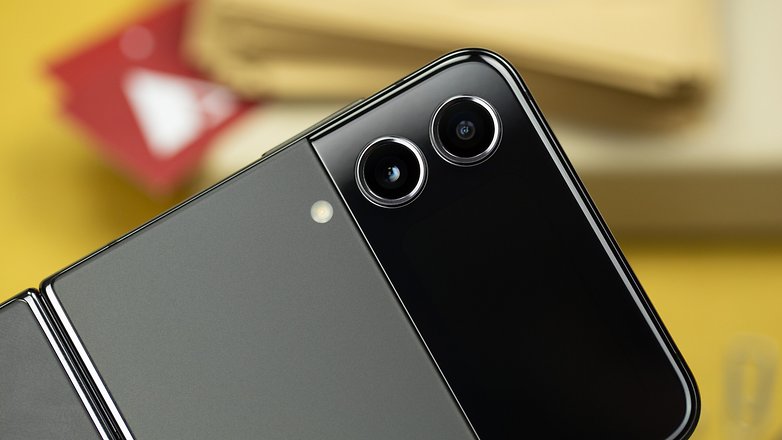 I am opinionated that it is better to use the primary cameras for photos and selfies, of which there are two once again. The primary camera has a resolution of 12 megapixels just like its predecessor. However, the sensor has grown considerably larger with the pixel size increasing from 1.4 to 1.8 microns compared to the Z Flip 3. Even though Samsung itself has not officially confirmed it, we suspect it is the 12-megapixel sensor from the Galaxy Z Fold 3 here, namely the Isocell 2LD.
The ultra-wide angle camera in the Galaxy Z Flip 4, on the other hand, offers the same specifications as in the predecessor: Like the primary camera, the 12- megapixel sensor has a pixel size of 1.12 microns. Unfortunately, there is no telephoto camera in the Galaxy Z Flip 4, either.
My big criticism of the Z Flip 3 was certainly the lack of camera versatility, which was repeated in the Z Flip 4. And even though we can use the main camera for capturing selfies and videos, we don't see an investment or strides made in terms of software or advanced computational photography in this model. Hence, the camera remains the Achilles Heel of the Flip series.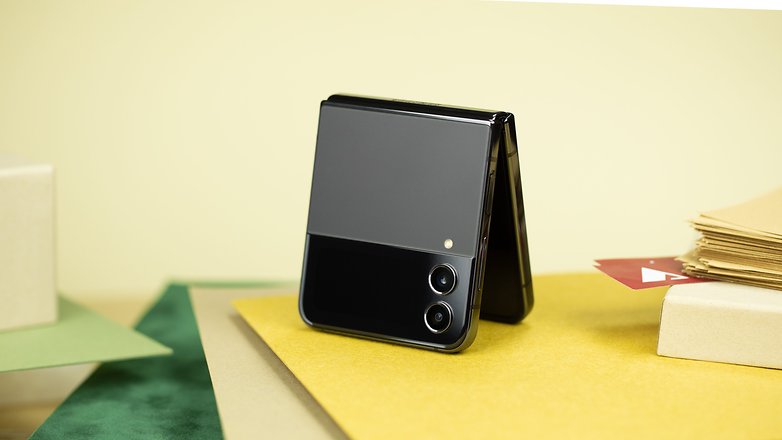 In well-lit environments or on bright sunny days, the Galaxy Z Flip 4 lets you get creative and delivers good-quality images. However, in some shots, the software processes the image so much that it becomes oversaturated, losing color and contrast. At this point, the on-screen lighting controls can help.
Images taken using night mode clearly suffered from overprocessing, and you may have to vary the angle to obtain a reasonable image.
Samsung Galaxy Z Flip 4 battery
When it comes to the battery, the Galaxy Z Flip 4 has made a huge leap forward. The power capacity now stands at 3,700 mAh. According to Samsung, the more compact hinge was an important reason why there is now more room for the increased battery capacity in the chassis. Quick Charging is now possible in the latest Flip at a maximum of 25 watts, which is good in comparison with the predecessor but still lags behind the market leaders in terms of charging speed.
---
What I liked:
Great improvement in the battery life .
Wireless charging option.
What I disliked:
No charger included.
Charging speed is still slow.
---
Unlike the previous generation, I was able to use the device for an entire day without having to worry about running out of battery at the end of the day. Even during a trip where I constantly used features such as the camera and mobile data, the smartphone held its charge. However, the screen was set to Standard mode, with a screen refresh rate of 60 Hz.
In our battery tests in the PCMark benchmark, the Galaxy Z Flip 4 reached 13h 6m, which is a really positive result for a high-end smartphone. As a comparison, the Google Pixel 7 Pro achieved 14h 35m (and has a capacity of 5,000mAh).
To fully charge the Z Flip 4, we still needed 1h 20m to go from 0 to 100 percent. That is not bad for a Galaxy smartphone, but Xiaomi, Realme, and other companies can grin widely due to far superior charging speeds.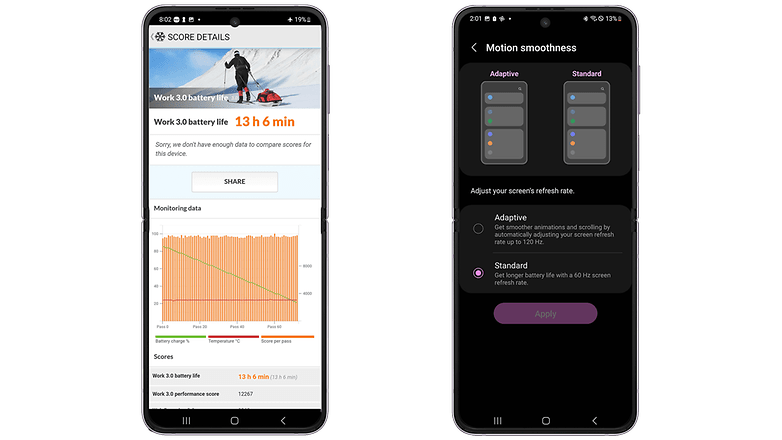 Samsung does not offer a charger in the box, but only a USB-C cable. However, we do have the option of wireless charging, which can be very useful to extend the usage of the smartphone without having to carry a charging cable with us all the time.
Final verdict
The TV show "For All Mankind" asks what would have happened if the first country to plant a flag on lunar soil had been Russia and not the United States. In that plot, we have the evolution of certain historical events taking place in a more accelerated manner, such as gender parity at NASA. The way history is reimagined in the series may not be appealing to you, but the point is that it encourages us to think about the competition between these two superpower nations from different perspectives.
Since the launch of Samsung's new foldable series in August, I've wondered what would happen if Samsung had a strong competitor when it comes to the foldable smartphone category.
The Galaxy Z Flip series has gone from "the most impressive smartphone of the year" to "a smartphone with minor improvements." This is proof that Samsung has no competition in this market, because if it did, surely this $1,000 smartphone would have a higher-quality camera. More than that, we would have a more robust performance after unleashing the full potential of one of the most powerful processors available on the market today.
Don't get me wrong, the Galaxy Z Flip 4 is still one of the most advanced flip smartphones available for purchase, but it is no longer the most impressive. Samsung has already reached the moon, so why settle for less when there is a whole universe to explore? After all, we are talking about a Galaxy device!