Samsung Galaxy Z Fold 5: Sweet Déjà Vu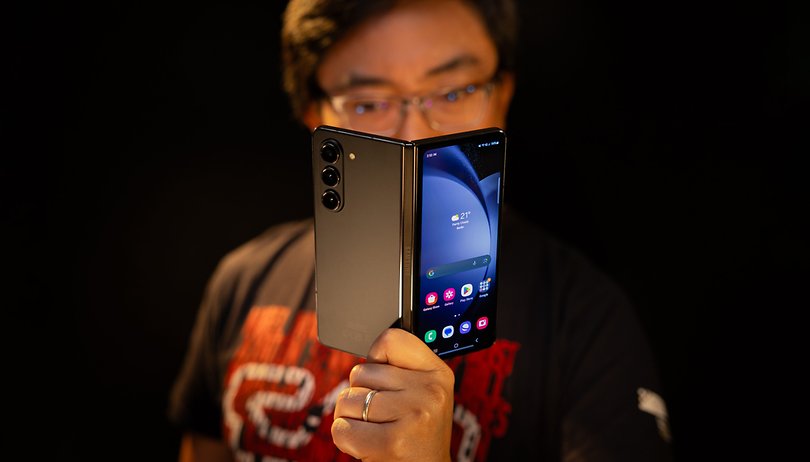 Five generations in, Samsung seems pretty much settled (pun intended) with its flagship foldable phone. The Galaxy Z Fold 5 looks a lot like its two predecessors on the outside and, except for the processor and (still) impressive hinge, a facsimile of the Galaxy Z Fold 4 specifications. Keep reading to see how these ingredients interact in 2023 in nextpit's full review.
Good
Good build quality

Great battery life

High-quality camera performance

Consistent performance

Best Android update policy
Bad
Under-display selfie camera is still noticeable

Design feels stuck in time

25 W charging is not fast

Still missing a stylus garage

Gets hot under demanding tasks

Still expensive
Samsung Galaxy Z Fold 5: All deals
Samsung Galaxy Z Fold 5 release date and price
Just like Samsung's other product lines, the Fold family is already well established with a regular annual update cycle. For 2023, Samsung actually opted to launch the Fold 5 earlier than usual, which left the flagship phone without the traditional mid-year processor refresh from Qualcomm that usually powered the Folds. Worse, the smaller development time appears to have prevented upgrades in the camera, screen, battery, and charging when compared to the 2022 model.
Samsung spent most of its energy highlighting the technically impressive flex hinge on 2023's Fold 5, which results in a phone that folds flat without the gap found between the two halves on all previous company foldables.
The South Koreans apparently think that change is enough to justify charging the same price for the Fold 5 as the previous model, despite the very timid changes in other areas. In the US, the suggested price (MSRP) starts at $1,799.00 just like it was for the Fold 4.
For that price, buyers get the most powerful processor in the Android mobile ecosystem and the best update policy for the operating system in a market that is seeing renewed interest from companies such as Oppo/OnePlus, Motorola, and even Google.
Samsung Galaxy Z Fold 5 design and build quality
The Galaxy Z Fold 5 follows the overall design found in the Galaxy Z Fold 3 and 4, with basically a slight cosmetic change to the camera module . Its new "Flex Hinge", however, is new to the series, leaving no noticeable gap when closing the phone.
---
Pros:
The hinge mechanism is still a technical tour de force.
The matte coating on the Gorilla Glass back (still) feels premium.
The IPX8 rating is back.
Cons:
Overall design is largely the same for three generations.
No headphone jack.
A microSD slot is missing.
No storage compartment for the S Pen.
---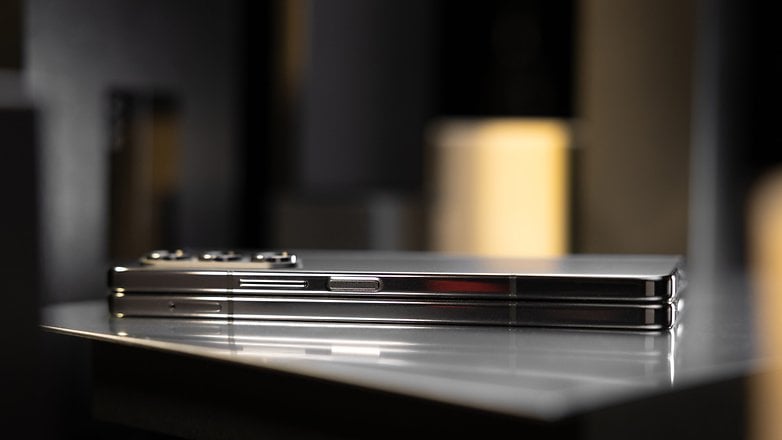 Comparing the Fold 5 with its previous generation feels very much like a game of spot the differences. But Samsung not only managed to design and implement its new hinge, the 2023 Fold 5 is actually more compact and lighter than the Fold 4 from 2022. Measuring 154.9 x 67.1 x 13.4 mm when folded (6.1 x 2.64 x 13.4 in), the Fold 5 is more than 2 mm thinner than the previous Fold, while also weighting 10 grams less at 253 g.
The Galaxy Z Fold 5 is still water-resistant following the IPX8 rating but is not resistant to dust particles. The aluminum frame is back, holding together the Gorilla Glass Victus 2 back and cover display (up from Victus+ on the Fold 4).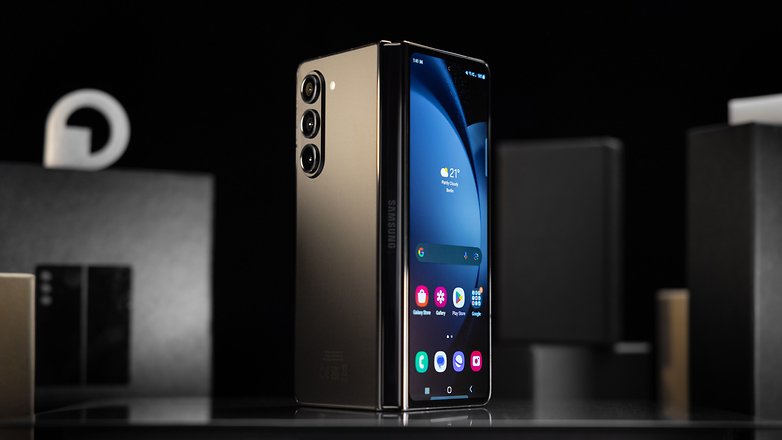 In daily usage, those who "join the flip (fold?) side" will need time to adapt to the extra weight compared to a regular smartphone, but it is worth noting that the Fold 5 is noticeably lighter than the Google Pixel Fold nextpit tested a couple of weeks ago. The same overall design means that ergonomics is already well-tested, with button placements perfectly fine when the device is closed, including the fingerprint reader.
Samsung Galaxy Z Fold 5 display
Both the internal and cover displays on the Galaxy Z Fold 5 feature the same diagonal size, 7.6 and 6.2 inches, respectively. One visible change from the Fold 4 can be found in peak brightness, reaching an impressive 1750 nits , which is more than enough for outdoor readability.
---
Pros:
Very bright internal display with a smooth refresh rate.
Cons:
Unusual aspect ratios still lead to some app scaling oddities.
---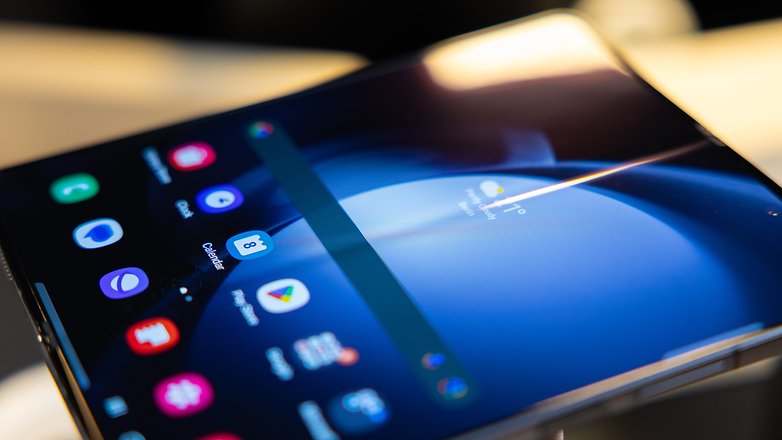 Samsung labels both the internal and external OLED displays on the Fold 5 as "Dynamic AMOLED 2x", which means they adjust their refresh rate according to the contents displayed. However, the refresh rate range for the cover display is between 48 and 120 Hz, while the internal screen can go as low as 1 Hz, for additional power savings.
On paper, the cover display's HD+ resolution (2316 x 904 pixels) may look weak, but the pixel density is even higher than on the 2176 x 1812 pixels internal display: 401 vs 373 PPI, respectively. The result is sharp images regardless of which screen you are using. However, the non-standard aspect ratios—21.6:18 inside and 23.1:9 outside—still lead to apps and games that do not adapt properly to either one of them.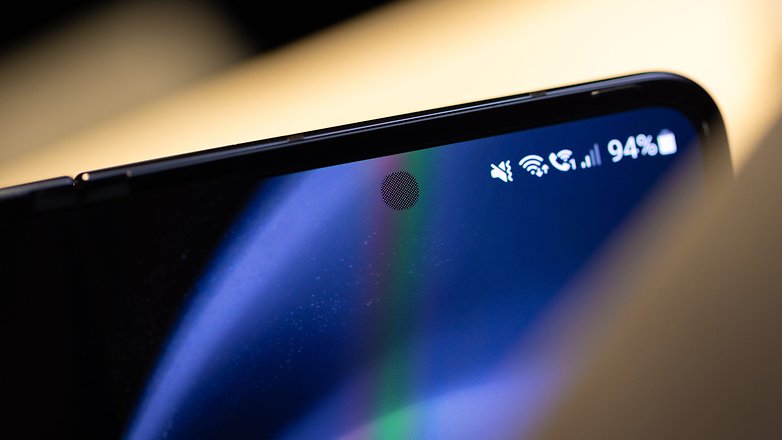 For the internal display, Samsung once again gave its Fold model an under-display selfie camera. Although the pixel density is supposed to have increased to better hide the camera underneath, the fact is that the component is still visible, especially when showing bright content on top of it. Another noticeable thing is the crease in the middle of the internal display, both visually and to the touch.
Operating System and UI
The Galaxy Z Fold 5 doesn't try to reinvent the wheel on the software side. Buyers will find the latest One UI 5.1.1 skin on top of the base Android 13 operating system. The software update policy is still the best in the Android market (unless you are a Fairphone faithful), and Samsung managed to sprinkle a couple of new productivity features for the Fold 5's big internal display.
---
Pros:
Five years of security patches.
Multitasking and productivity features.
Relatively small number of third-party apps.
Cons:
44 GB of used space by default!
Some apps and games still don't adapt well to the screens.
Timid updates to the software feature set.
---
The changes Samsung implemented on top of the base Android experience have a high cost when it comes to storage, although featuring a relatively low amount of third-party apps: Seven, the Galaxy Z Fold 5 displays a whopping 44.1 GB of used space after an updated factory reset.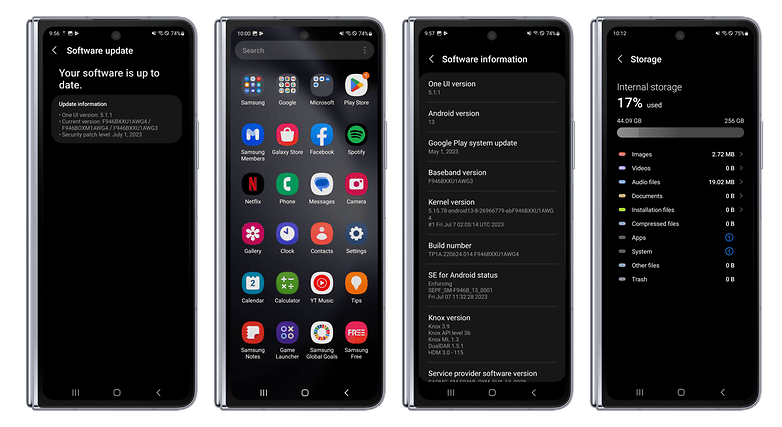 That is the price to pay for all the added features to make use of the screens' real estate—for comparison, the Z Flip 5 uses by default around 40 GB, while the Pixel Fold had 21 GB of used space after a clean installation.
For seasoned Fold users, Samsung advertises a new multitouch drag-and-drop feature that is similar to an option available on iPhones. Other new features expand on the existing productivity options found in previous generations.
For example, the taskbar introduced with One UI 4.1 can now display three or four last-used apps on One UI 5 instead of only two, and pop-up apps can be hidden without losing focus, for example for a voice chat during a shared video streaming session.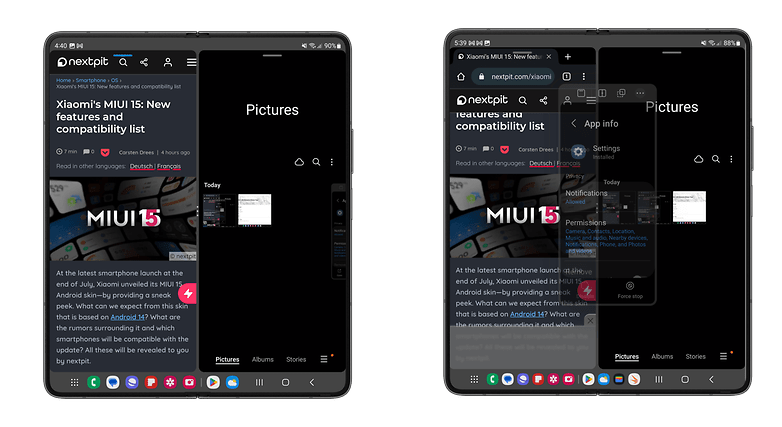 Samsung Galaxy Z Fold 5 performance
Samsung continues to equip its Galaxy Fold phones with the best available processors for Android, for 2023 that means the Snapdragon 8 Gen 2 chip. The memory specs are similarly high-end, with 12 GB of LPDDR5 RAM and up to 1 TB of UFS 4.0 storage.
---
Pros:
Cons:
Thermal throttling in games.
---
The Qualcomm processor is the same "for Galaxy" variant found in the Galaxy S23 family, with slightly higher processing speeds than the regular chip, nothing that should be noticeable in daily use. Just like all Snapdragon 8 Gen 2 phones we tested so far in 2023, the Galaxy Z Fold 5 offers snappy performance in apps, even while using the phone's multitasking features.
Samsung Galaxy Z Fold 5
(Snapdragon 8 Gen 2)
Google Pixel Fold
(Tensor G2)
Galaxy Z Fold 4
(Snapdragon 8+ Gen 1)
Oppo Find N2
(Snapdragon 8+ Gen 1)
Galaxy S23 Ultra
(Snapdragon 8 Gen 2)
3DMark Wild Life
3DMark Wild Life Stress Test

Best loop: 14126 (closed)
Worst loop: 6442 (closed)

14113 (opened)
7350 (opened)

Best loop: 6650
Worst loop: 3508

Best loop: 10332
Worst loop: 5606

Best loop: 10389
Worst loop: 6459

Best loop: 12278
Worst loop: 7386

Geekbench

Geekbench 6
Single: 2040
Multi: 5429

Geekbench 6
Single: 1479
Multi: 3784

Geekbench 5
Single: 1332
Multi: 3947

Geekbench 5
Single: 1046
Multi: 3556

Geekbench 5
Single: 1912
Multi: 4981
Synthetic benchmarks show the Galaxy Z Fold 5 crushing Android phones powered by 2022 (or earlier) SoCs, and roughly on par with the Galaxy S23 Ultra with one important exception: The "worst loop" result in the 3DMark stress test. The lower number—and most importantly, its difference in comparison to the best loop—shows that the Fold 5 had to lower its performance to avoid overheating under heavy tasks.
Thermal throttling was particularly noticeable with the Fold closed, with a smaller surface area to dissipate heat. The heat was also noticeable—on a smaller scale, however—while playing games like Call of Duty Mobile, but without drops in performance. Less optimized games could display signs of thermal throttling, so it is worth keeping that in mind for those who take gaming seriously.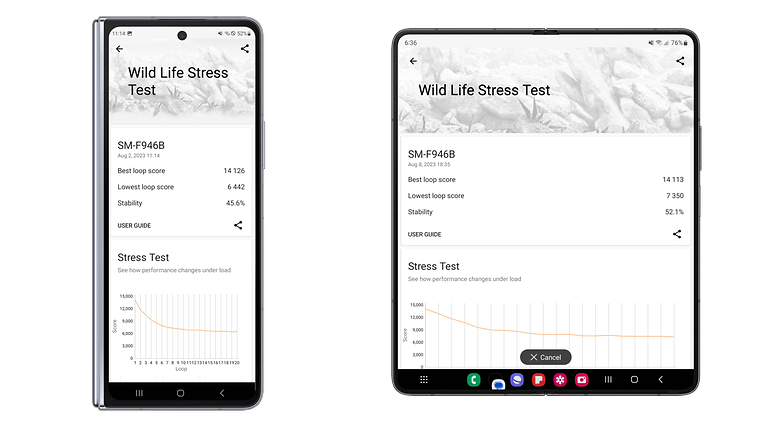 Samsung Galaxy Z Fold 5 camera
Anyone who read the Fold 4 review here on nextpit may feel strong flashback feelings by reading the Galaxy Z Fold 5 camera impressions. We would like to believe Samsung liked the camera kit on the Fold 4 so much that they thought it deserved another round: the 50 megapixels wide-angle, 12 MP ultra-wide, and 10 MP 3x zoom telephoto lenses are back, with similar results as in the previous season.
---
Pros:
Excellent daylight shots.
Good low-light photos with Night mode on the main lens.
An ecosystem of additional apps for expert users.
Cons:
The Under-display selfie camera is still weak.
Some color rendering differences between cameras.
Ultra-wide shots were noticeably inferior to the other lenses.
---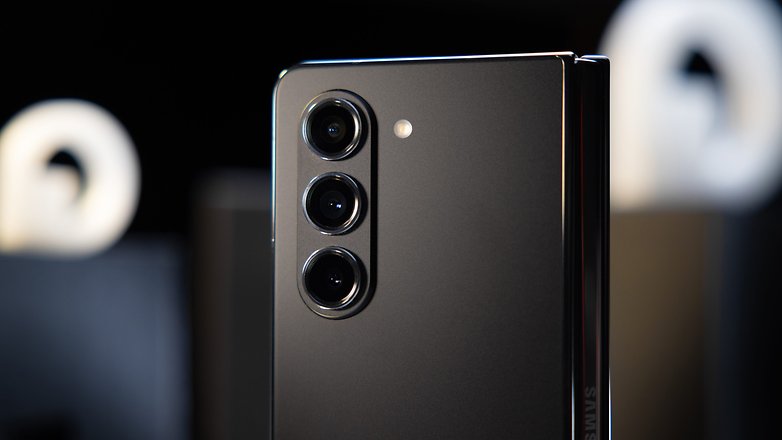 The usual characteristics of Samsung's camera modules are also back when it comes to image processing and color rendering. Daylight shots are usually vivid and saturated, especially on the main camera, perfectly suited to snap and share on messaging apps or social media.
The 3x zoom telephoto camera is still very welcome, adding more creative options for shots while also offering more reach with digital zoom—in some scenes resulting in usable 10x magnification.
Ultra-wide photos, on the other hand, disappointed us a little, while offering OK photos during daylight—although with usually more muted colors than shots on the main camera—, open shots during the night were noticeably blurry, different from the main camera or the 3x telephoto.
Speaking of the Night mode, with steady hands the results were quite good, without excessive blooming lights on both the main and telephoto cameras, and different from mid-range phones, a perceptible detail boost compared to the standard mode instead of a simply brighter shot.
For selfies, there are plenty of options available just like on previous foldables. The internal under-display selfie camera continues to offer mediocre results, with low-resolution blurry shots. But fine enough to simply take part in video calls and see the other participants on the big 7.6-inch display. Oh, and forget about using the internal camera during the night, in our tests, not even Night mode was available for it.
The external selfie sensor faired much better, including competent Portrait and Night modes. However, whenever possible, we advise opting to use the main or ultra-wide cameras. With bigger sensors, the level of detail was much higher during daylight or night, and it is also easier to fit everyone else during group selfies.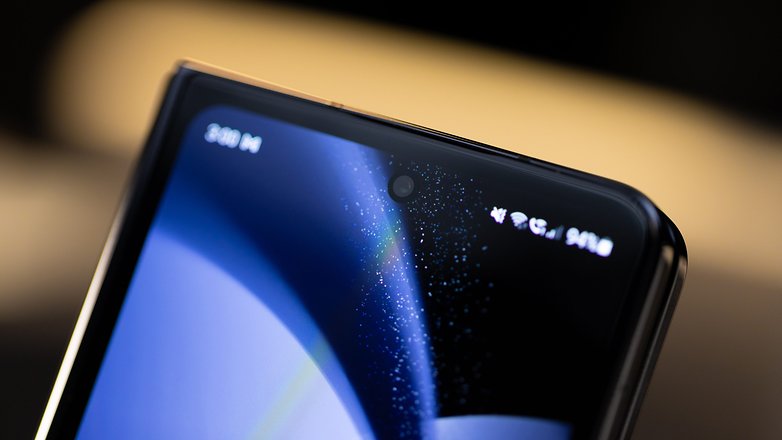 Lastly, we need to mention the efforts Samsung has made lately to offer additional apps to people who either like to tinker with manual settings and post-processing, or simply want to have better photos with straightforward AI-based suggestions.
We only wish using the external cameras was as easy as it is on the Pixel Fold: Instead of simply pressing a button on the internal display to pass controls to the cover display like on Google's phone, the Galaxy Z Fold 5 requires users to press a button to use the cover display as a viewfinder, then swipe-unlock the screen to enable controls on the smaller display.
Samsung Galaxy Z Fold 5 battery
Samsung announced an "optimized" battery for the Galaxy Z Fold 5, without disclosing what that means. In our test, the flagship foldable performed very well, especially while using mainly the cover display. On paper, however, Samsung kept the same specifications we found in the Fold 4.
---
Pros:
Good battery life.
Wireless and reverse wireless charging.
Cons:
25 W wired charging lags behind Chinese rivals.
Charger not included.
---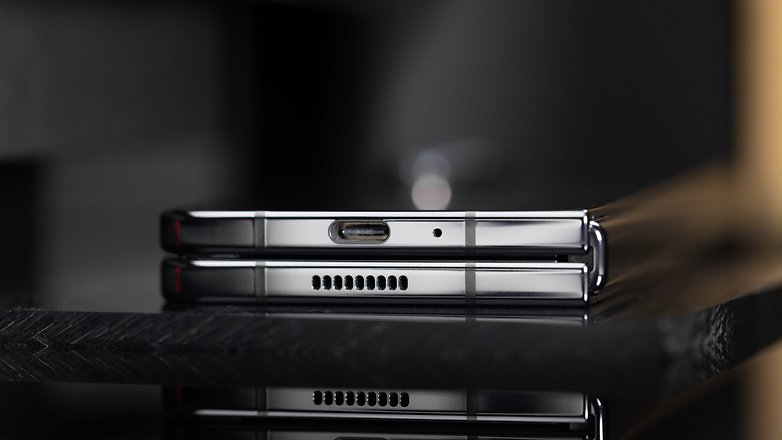 The battery and charging department also evokes a strong déjà vu, with the same 4,400 mAh battery capacity, 25 W wired charging, 15 W wireless charging, and 4.5 W reverse wireless charging found in the previous generation. Because of that, the same strong and weak points apply to the Galaxy Z Fold 5.
The option to use the cover display to do any task and only open the Fold 5 to read heavier texts, watch videos, or play games can lead to a two-day battery life. However, if you constantly open the phone to use the big internal display, expect to charge the phone more often.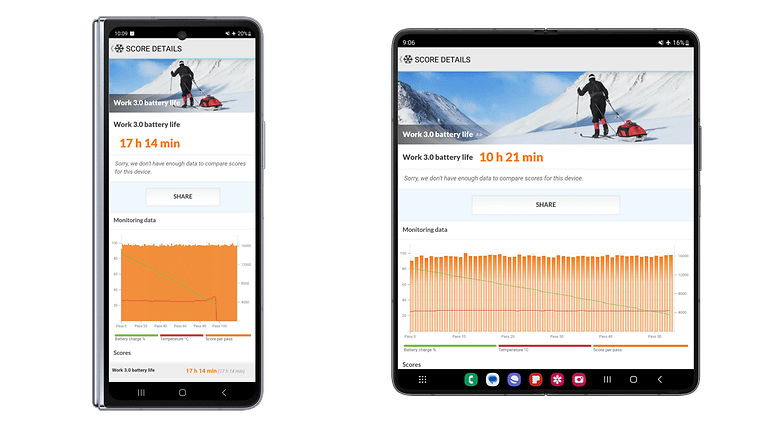 PCMark's Battery Test confirmed our real-world impressions with an excellent 17h14min score on the cover display, and 10h21min using the Galaxy Z Fold 5's internal screen. Curiously, the latter is exactly the same score as the Google Pixel Fold, which scored 14h30min on the external display.
Charging, however, continues to be an Achilles' heel for flagship Samsung smartphones. While even the compact Motorola Razr+ 2023 Matt tested (Razr 40 Ultra globally) supports 33 W wired charging, the Galaxy Fold once again maxes out at 25 W. To make matters worse, Lenovo includes the supported charger with the new Razr while Samsung doesn't bother.
Galaxy Z Fold 5
(4400 mAh | 25 W)
Google Pixel Fold
(4821 mAh | 30 W)
5 minutes
10 minutes
20 minutes
30 minutes
1 hour
Full charge
PC Mark Battery test

17h14 (external)
10h21 (internal)

14h30 (external)
10h21 (internal)
The results in the table above were obtained using a Samsung-supplied charger for this review, curiously topping at 15 W (9 V @ 1.67 A). Using a 45 W UGreen or Anker charger resulted in slower charging times at around two hours, further adding arguments to the test Matt conducted earlier this year with first and third-party chargers.
Samsung Galaxy Z Fold 5 technical specifications
Technical specifications
Product
Picture

Internal display
7.6" OLED
2176 x 1812 pixels
1~120 Hz
External display
6.2'' OLED
2316 x 904 pixels
48~120 Hz
SoC
Snapdragon 8 Gen 2
RAM
12 GB LPDDR5
Storage
256 / 512 / 1024 GB UFS 4
Expandable memory?
❌
OS
One UI 5.1 | Android 13
Four Android upgrades
Five years of security updates
Camera
Main: 50 MP, f/1.8, OIS
Ultra-wide: 12 MP, f/2.2
3x telephoto: 10 MP, f/2.4, OIS
Selfie
Internal under-display: 4 MP, f/1.8, 2 μm pixel size
Cover: 10 MP, f/2.2, 1.22 μm pixel size
Battery
4,400 mAh
25 W wired charging
10 W wireless charging
5 W reverse wireless charging
Connectivity
5G | LTE | Wi-Fi 6E | Wi-Fi Direct | Bluetooth 5.3 | NFC | UWB
eSIM
✅
IP Certification
IPX8
Dimensions and weight
Folded: 154.9 x 67.1 x 13.4 mm
Opened: 154.9 x 129.9 x 6.1 mm
253 g
Colors
Icy Blue, Cream, Phantom Black

Other points that may interest the nextpit community:

The Galaxy Z Fold 5 includes NFC support and is compatible with Google Pay for contactless payments.
The review unit packaging included a USB-C to USB-C charging cable, and a SIM card tray tool.
The software version during the test was F946BXXU1AWG4 (July 2023 security patch).
After resetting the updated handset, the operating system indicated 44.10 GB of used space.
Final verdict
In a vacuum, the Galaxy Z Fold 5 would deserve the same 4.5 score as its predecessor. However, 2023 is proving to be a foldable season, with more and better alternatives than ever before, including Google's Pixel Fold. The Galaxy Z Fold 4's review conclusion noted that it didn't bring many new features compared to its predecessor, and in 2023 not only did Samsung double-down on that, many important specifications made a comeback in 2023.
We could have forgiven Samsung for the lack of updates in general if the Galaxy Z Fold 5 were cheaper than the Fold 4, another issue Antoine Engels mentioned in his Fold 4 review.
Samsung cannot play the "cool factor" card anymore, despite how hard its marketing department tries. Oppo and Google—apparently OnePlus soon—brought refreshing options that were not restricted to the formulas Samsung and Huawei have been iterating on in the past four or five years.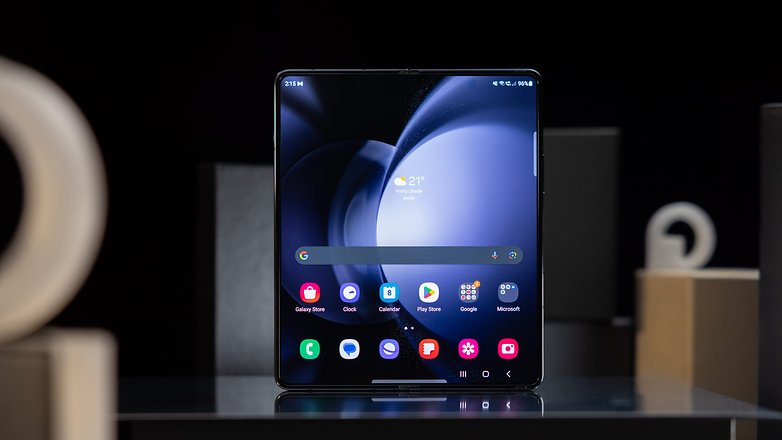 Foldable phones are still technological feats of engineering, mind you, and the new hinge is a welcome upgrade, but little things like not integrating a stylus garage on a device positioned for productivity feel like Samsung is still treating the Fold line as a proof of concept rather than the flagship range its price positions it.