AndroidPIT Competitor Analyses: New iPhone Backplate Caught On Video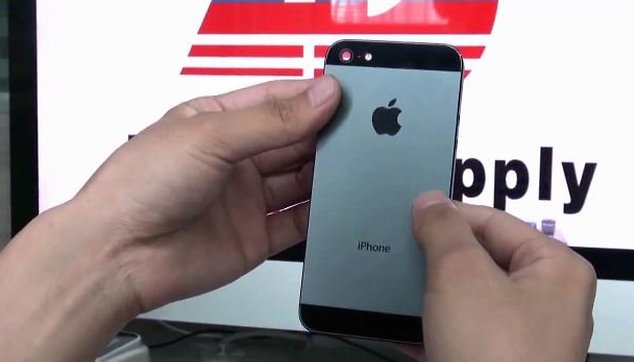 Before everyone loads their guns and starts sharpening their swords, I am well aware that the iPhone isn't an Android phone. As silly as it may sound to say that, people often like to ask me "if this is an Android site, why are you writing about the iPhone?". The answer to that is quite simple. Without the iPhone and Steve Jobs, that sexy Android phone in your pocket would most likely look like a Blackberry. Point, end, and out. With that being said, the release of the next iPhone is coming sooner than you think, and Slashgear has gotten their hands on what appears to be a very real video showing the backplate, shape, size, and many design features of Apple's newest baby.
Below is the 4 minute video that Slashgear originally published from the eTrade Supply Youtube channel. While we have no way to confirm this information as being accurate, I personally think the video is the real deal. The person describing it seems detailed and pretty knowledgable, and the parts he's holding aren't anything too far fetched. If you're curious to see what Android's next biggest competitor will look like, I encourage you to have a look (Youtube link here).
This isn't the first time the back panel of the device has been seen, and its size seems to indicate that the new iPhone could have the same width as the iPhone 4S, but would be taller to house a bigger screen. The headphone jack has also been moved to the bottom of the device (ala Galaxy Nexus), and the charging port is a lot smaller than on current iPhones.
The combination of grey and black on the device looks really sleek in my opinion, and it also appears that the new phone will be significantly slimmer than its predecessor. The phone could also reportedly rock a 1135 x 640 resolution, and move to a 16:9 screen ratio, which I'm sure would be something existing iPhone buyers would very much appreciate. Google Maps has also apparently been removed, which is a pretty risky move by Apple. But then again, in order to do something so risky, they must be pretty confident in their product, so lets wait and see.
What do you guys think? Real deal, or fake? What I can say is that if this video is indeed real, I am actually pretty impressed with the design. And remember, a sexy new iPhone is a GREAT thing, as it pushes Android to innovate even harder.