The best camera apps for Android: take better photos today!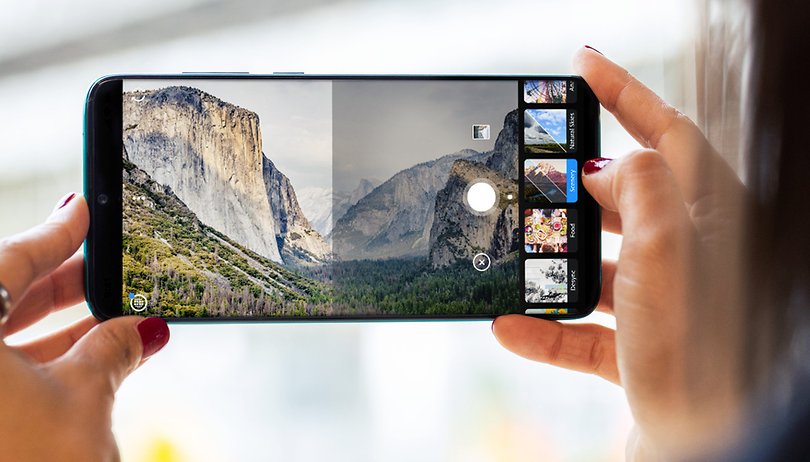 Do you want to take even better photos with your smartphone? Or do you want to manually determine how photos and videos are compressed? This time, our update of the best camera apps for Android focuses on apps that offer you more control. Furthermore, we present camera apps that we have tested and that you should try out.
Why use an alternative camera app?
Numerous smartphones are already equipped with very good photo apps. There are also many who offer extensive options for both manually controlling the exposure and for processing the photos in real-time. However, alternative camera apps sometimes have new functions and expanded setting options. And this is exactly what we address in the following examples.
Unfortunately, alternative camera apps have some, sometimes serious, disadvantages. Google has made changes to the programming interface so that third-party providers can make full use of the new cameras with several sensors. But this only works with devices with Android 9 Pie or younger. It is therefore only available in beta versions of the apps, if at all. Some of the camera apps shown here cannot access the wide-angle or telephoto optics. Certain HDR modes (such as HDR+ on Google smartphones) can usually also not be used via the alternative camera apps, since they are encoded in the manufacturer's camera app or in the hardware.
Vector camera: real-time alienation
Vector Camera provides you with exciting post-processing effects. The free open source app focuses on flashy color effects. Its specialty is live vectorization. Your photo subjects are outlined in real-time with closed lines, transforming them into an artistic drawing.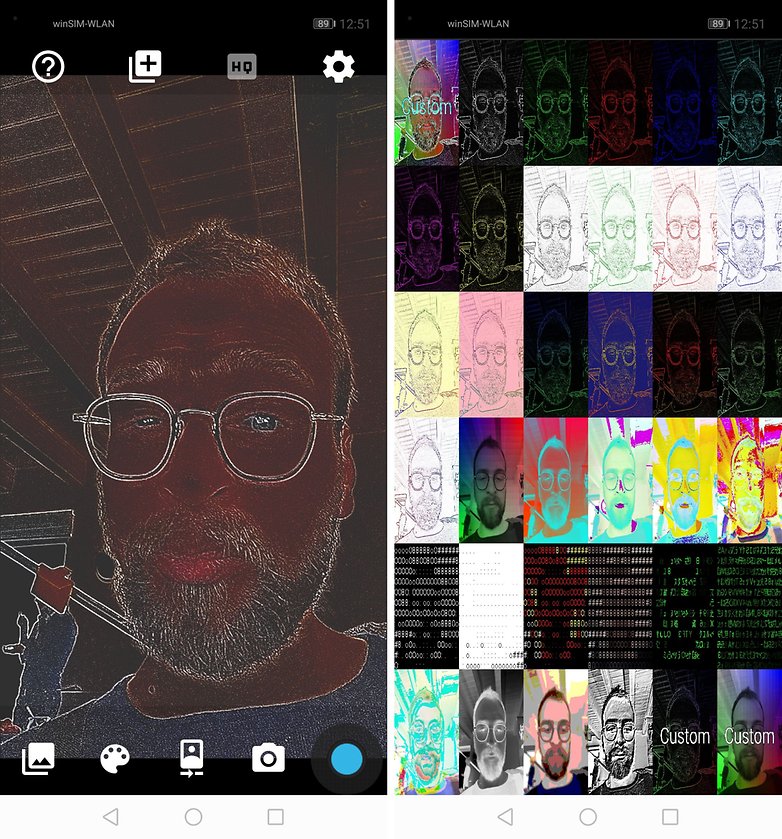 FreeDCam: Full codec control for photo and video
Do you want more control over the output of your camera? In FreeDCam you determine how much the photos are compressed or with which codec videos are to be compressed.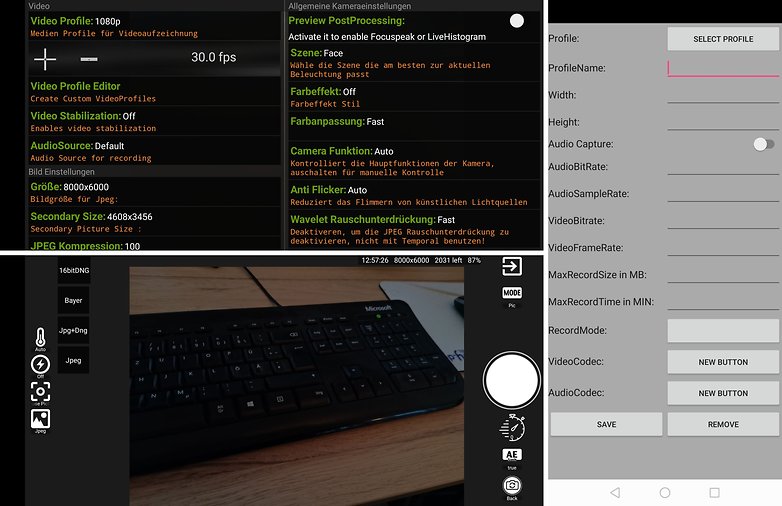 HedgeCam 2: Modifies image processing (HDR and Co.)
Similar to FreeDCam, the focus of the free HedgeCam 2 is on manual control. Here you can not only vary the compression, but also define the logic of the high dynamic range algorithm. Its predecessor HedgeCam is a further development of the Open Camera shown below. HedgeCam 2 is the much better camera app, especially when it comes to user-friendliness.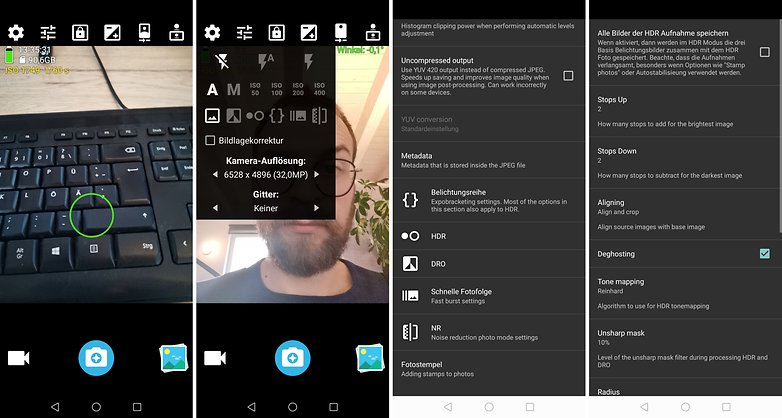 Photoshop Camera: coming soon
Adobe launched a beta test of the camera app for Android in November 2019. You can register and try the app for free. The full version should be coming out very soon.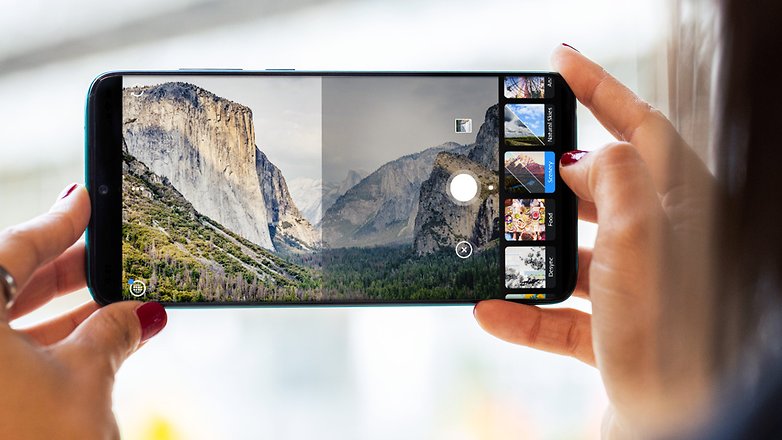 Open camera: full control
Open Camera is a free, open-source camera app. At first glance, the user interface is kept simple. In addition to a few general information, such as how much device memory is still free or the time, you can also see the virtual trigger for photos and videos as well as some options. Open Camera can show you the angle at which you are holding your smartphone - together with the optional fade-in guidelines you can ensure the best perspective.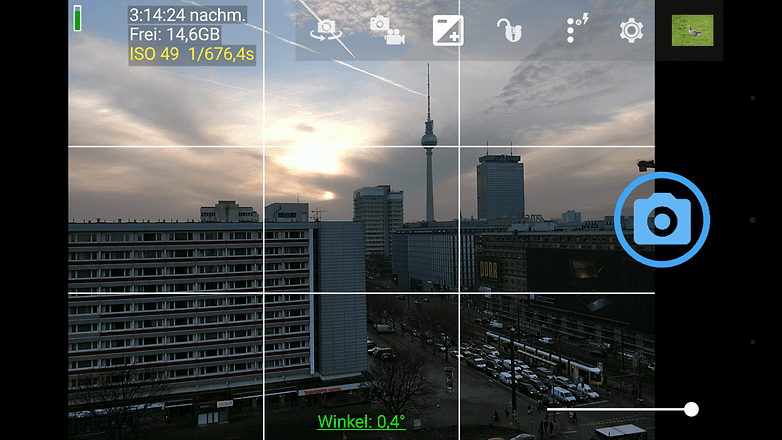 In the side menu, there are numerous other options to choose from, which can help, for example, with smartphones that only have a camera app without manual mode. One of the options is the exposure control. The lock symbol for the exposure lock is also helpful. This helps with backlighting.
VSCO: for your filter bubble
VSCO is an exciting mix of camera app, filters, image editing, and an artistic social network. The app is designed in an unusual way and initially appears to be limited to the simplest functions. After taking or importing an image, the user has access to numerous filters - many of which are subject to a fee - as well as a wide range of image editing options to change a photo so that the desired look is achieved.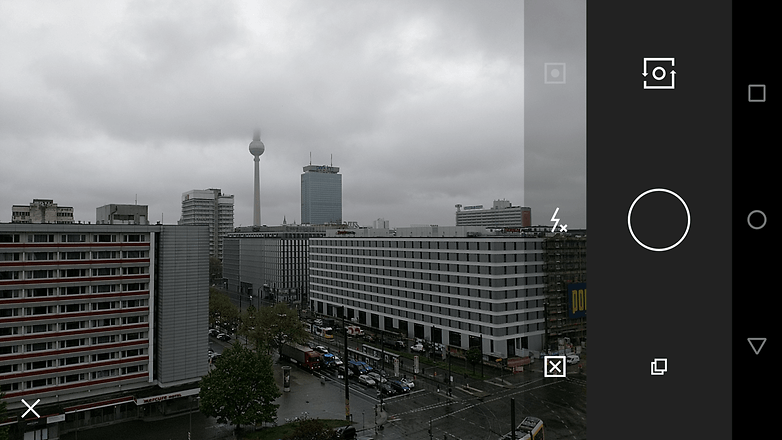 Within VSCO, users can share their photos with the community. Like other social networks, VSCO also allows you to network with your own friends, acquaintances, and contacts so that you can admire pictures together. The app itself and many basic options are free of charge. However, there are many in-app purchases and ways to spend your money with VSCO. The filters and presets that VSCO sells for up to $59 can also be used with other software, such as Adobe Lightroom or Camera Raw.
Camera MX: look into the past
The Camera MX app from Magix comes with a whole range of features and options that ambitious photographers, in particular, should appreciate. But even beginners should not be put off and try Camera MX, because Magix has also integrated scenes, filters, and similar functions. Video filmmakers will be delighted with the easily adjustable time-lapse function.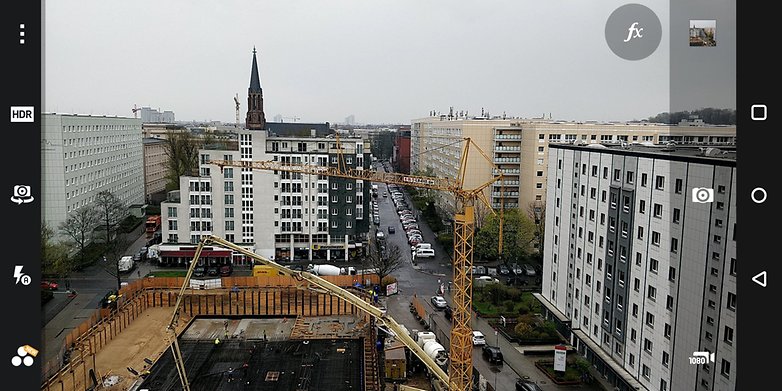 One of the most exciting features of Camera MX is called "Shoot the Past". This means that the smartphone not only records a single image but also a few seconds beforehand. The user can then select exactly which moment is to be saved on the touchscreen. This is particularly helpful for scenes with a lot of movement and is reminiscent of the motion feature of pixel smartphones or live pics of the iPhone.
A Better Camera: forgive your mistakes
As the name suggests, A Better Camera wants to be a better camera than the camera pre-installed on many smartphones. The app offers a number of interesting functions, including group selfies, burst modes and the ability to easily remove unwanted objects from images, as well as the ability to use focus and exposure metering from separate points. There is also a useful option that works like Google's "Top Shot" feature. Several pictures are taken here, from which users can then choose the best.
Immediate post-processing is also possible within the app and videos can be recorded with real-time HDR. Unfortunately, many of the best features are only available through purchase, so A Better Camera can sometimes feel a bit like an annoying free-to-play game.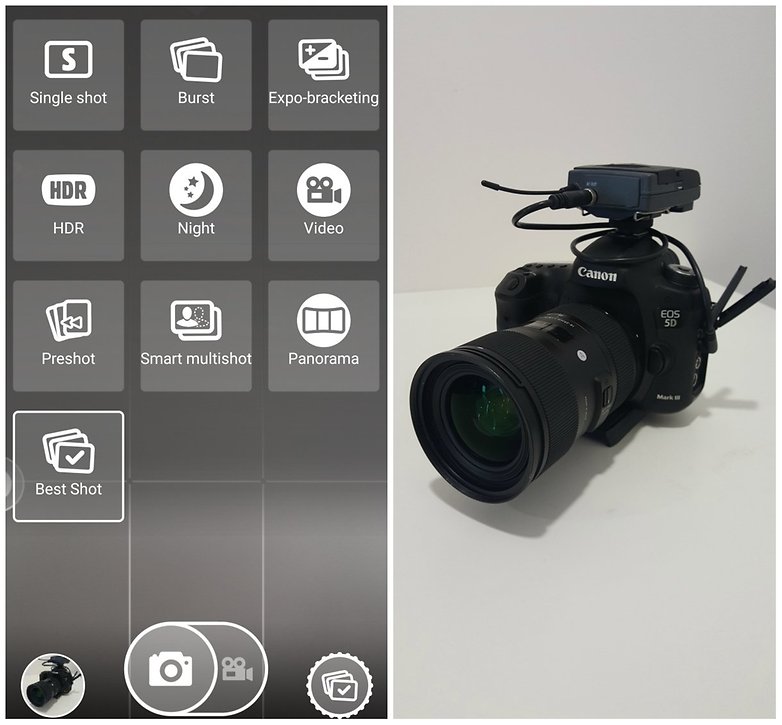 If you take a lot of photos and are ready to make the small investment, then the camera app lives up to its name. If you want to edit recordings directly after taking the snapshot, you have to install the companion app called A Better Editor.
Cymera: get into the mask!
Cymera is the perfect app for the selfie generation. With the integrated filters, beauty options and postprocessing options, you can make even more stylish self-portraits of yourself.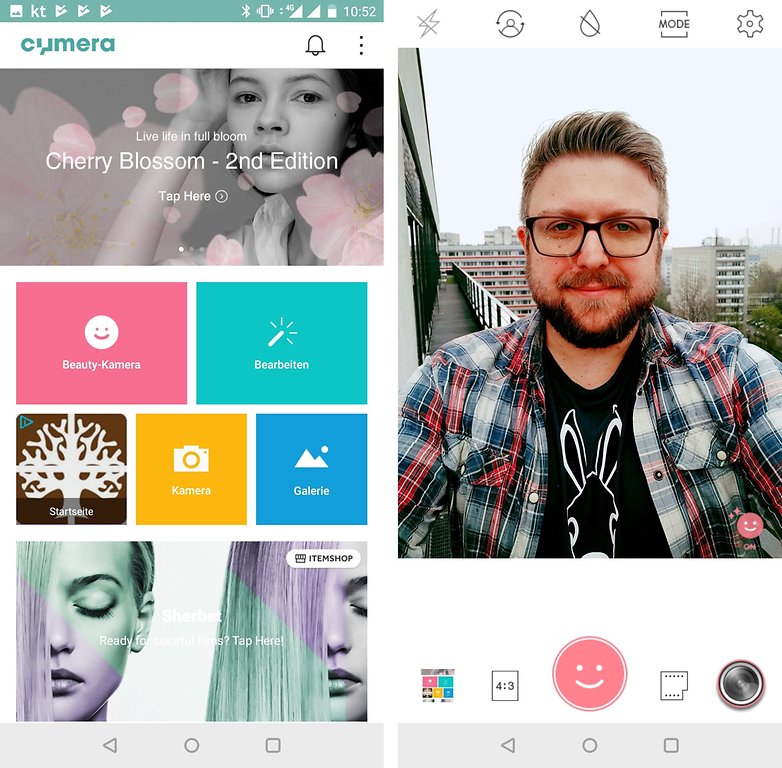 But Cymera can do more than just selfies. The app includes its own gallery, numerous options for editing your photos and many options for playing around with the camera.
Google Camera (port): Best HDR and spherical panoramas
Beginner-friendly, fast and exclusive: This is the short summary of the Google camera. But there is more: In the Play Store, the app is now Google exclusive, because it offers Nexus and Pixel smartphones the HDR + functionality. This is a special HDR mode that combines several differently exposed images into a single one.
The camera app is not recommended for most smartphones - at least not the version in the Play Store. Resourceful developers have managed to activate ("port") HDR + on other smartphones with a Qualcomm chip. Thanks to these modified app versions, you can take HDR photos with non-Google smartphones and use some other features.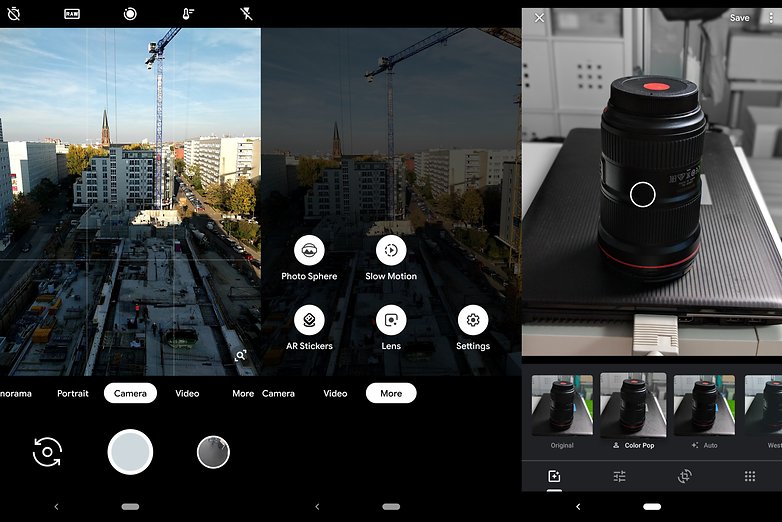 You can take pictures as panorama and as photosphere. The latter is a walk-in spherical panorama that you can view with the appropriate photos app via the motion sensors; although 360-degree cameras are more suitable for such shots.
But some self-research is required: there are now countless different app versions and not all work equally well. Maybe there is a variant of the Google camera adapted for your smartphone. If so, you will find it on the corresponding hub page at the XDA developers.
Do you have any other tips for good camera apps? Let us know your preferred app in the comments!
---
This article is updated regularly. Older comments can, therefore, refer to an earlier version of the article and appear out of context accordingly.