Best email apps for Android & iOS: Inbox like a boss
Update:

Rewritten & with iOS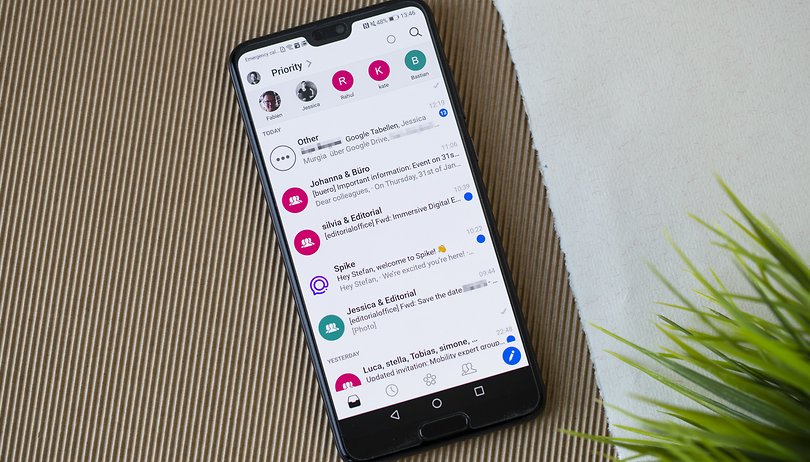 The pre-loaded email apps from Android and iOS happen to run well by themselves. However, numerous alternatives await you in the Google Play Store and Apple's App Store. Below are some of the best mail applications available that should offer additional convenience and better data protection.
If you set up your new Android smartphone or iPhone, you will be asked for an email address that you would like to have associated with the smartphone. This is also a rather practical move because you can browse through your inbox directly via pre-loaded applications such as Apple Mail or Gmail in the first place. However, there are also many alternatives!
This is because sending e-mails on a smartphone basically relies on the same principles as those found on a PC. So if you know your way around words like "Pop3 server" or "IMAP", then you are good to go. Thanks to these standardized protocols, you can also use your Google or Apple email addresses in many other email apps. A world of practical functions awaits you!
---
Jump to
---
---
Email apps for Android
Do you already have an email service that caught your eye? Then head directly to the short description via the following links!
Mail apps for Android
Gmail
Gmail comes pre-installed on Android smartphones, replacing the default mail app in Android some time back. During the course of doing so, e-mail addresses from third-party providers such as Outlook, Yahoo, GMX, or your local email service providers can also be configured accordingly. These accounts are then displayed either separately or in a unified mailbox under All Inboxes.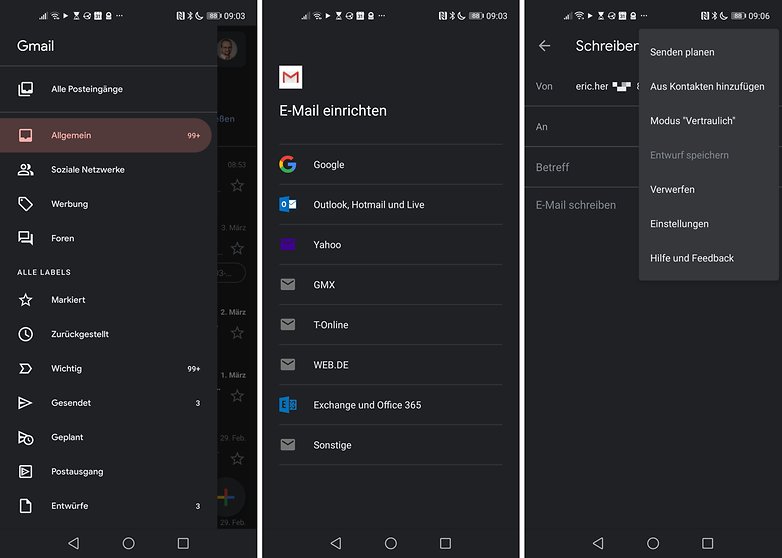 Gmail is free, but Google's AI reads your emails and suggests spam, filter, and reply options accordingly. There are also occasional ads disguised as emails; which are similar to the first two ads in Google search results.
The Gmail app is easy to use and offers a slew of useful features. You can undo the sending of e-mails (within a short time frame), schedule the sending time, and define swiping gestures in the overview. The Google integration intelligently connects contacts and calendars, so that you can send invitations without having to go through the calendar in the e-mail app. When searching, the Gmail app uses the index on the Google server instead of slowly searching the offline database - including for keywords within emails and PDF attachments.
ProtonMail
ProtonMail is an open-source secure email provider based in Switzerland, a country known for its strict privacy laws. This is where the ProtonMail servers are located. The project was launched at CERN in 2013 and has grown rapidly ever since, no doubt due to its mission to provide a safer and private internet for everyone. Therefore, you can always create an account and use the service for free. There are premium plans that also offer more features, but the free version is sufficient for most users.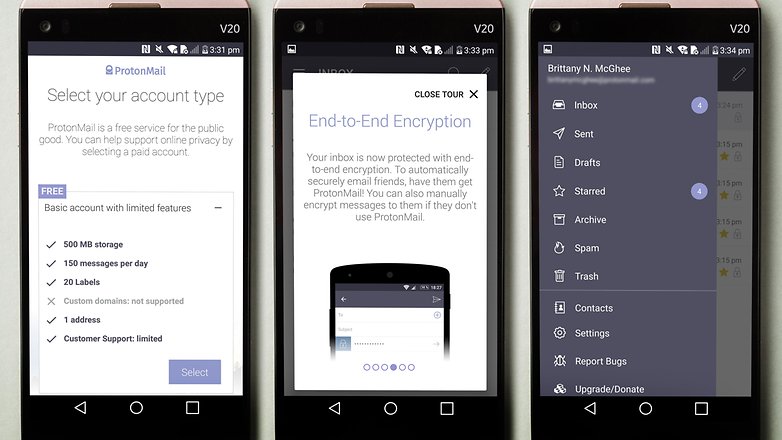 The service offers end-to-end encryption of your messages, even if the recipient doesn't have the app. In this case, you can secure the message using a password. Another nice security feature is the ability for you to set your emails to automatically "self-destruct" or delete themselves after a specified number of hours or days.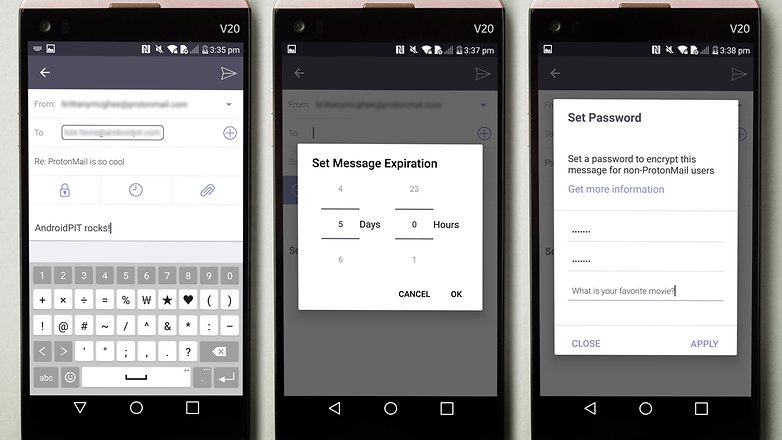 The inbox design is very modern and intuitive, so you won't have any problems with the user experience. Also, it has an elegant look with a light purple scheme that is very appealing to the eyes. You can use ProtonMail in your computer's browser or in the iOS and Android applications.
Aqua Mail
The freemium app known as Aqua Mail allows only one email account in the free version. If you pay the annual $19.99 subscription fee, there will be no more irritating advertisements in addition to the ability to manage all your accounts within this app. Aqua Mail allows private backups of e-mails and settings and has one advantage over Gmail: the application does not read your e-mails.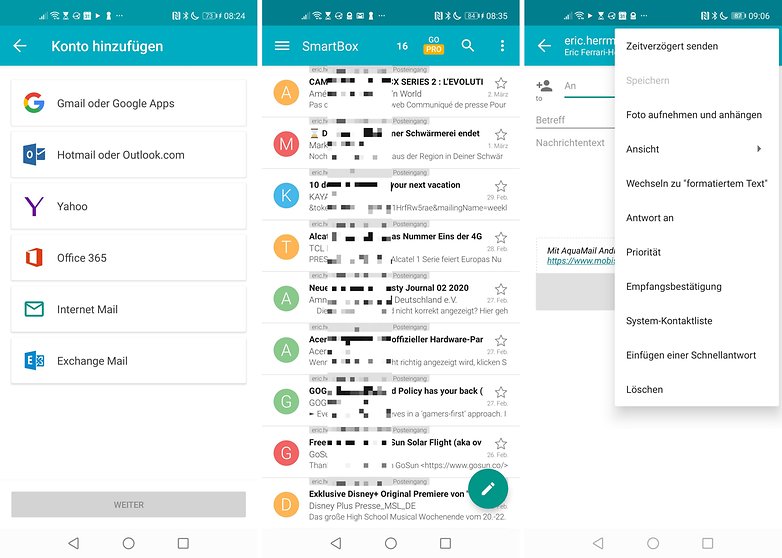 In addition, AquaMail is based on Apple Mail when it comes to its user interface. So if you've used an iPhone before, you will most probably dive right in without any steep learning curve. You can select all e-mails on a page by swiping on the sender icon, swipe left or right when reading an e-mail to jump to the next e-mail, or define swipe gestures in the overview. Images in emails are not automatically loaded (courtesy of its privacy controls) and links open in an in-app browser.
BlueMail
The completely free email app, BlueMail, turns emails into tasks. You can choose to be notified about them again later or mark them as "completed". You can also use a switch to filter the inbox for e-mails from address book contacts. This creates an overview in the mail app at the push of a button.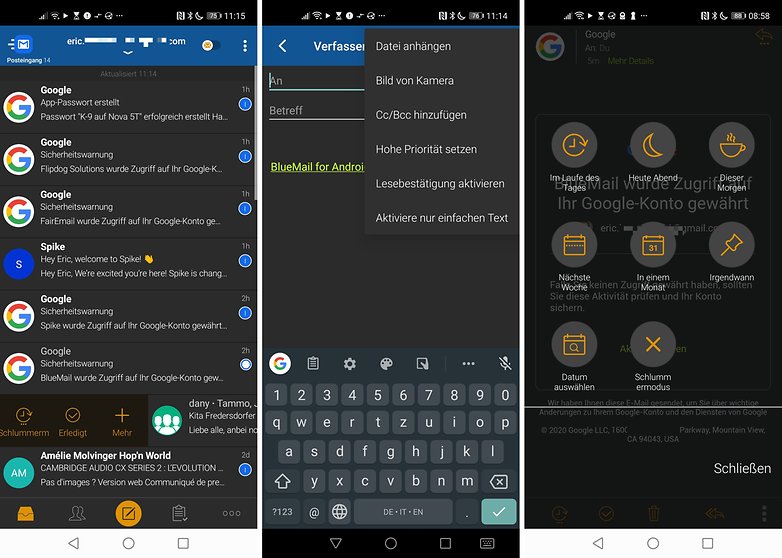 The actual writing of emails is not difficult at all, either. BlueMail's email editor is rather minimalistic. There are no encryption options to boot. BlueMail was primarily designed to manage multiple inboxes in parallel via the vertical tabs on the left edge. However, this feature was not part of the trial.
FairEmail
Completely open-source and rather lightweight but still armed with a wide variety of functions, FairEmail ticks most of the right boxes. The FairEmail app is available in the Play Store and in the "F-Droid" APK directory. The highlight? FairEmail can be linked to a PGP service provider. You can send fully encrypted e-mails, but S/MIME encryption is only available for cash.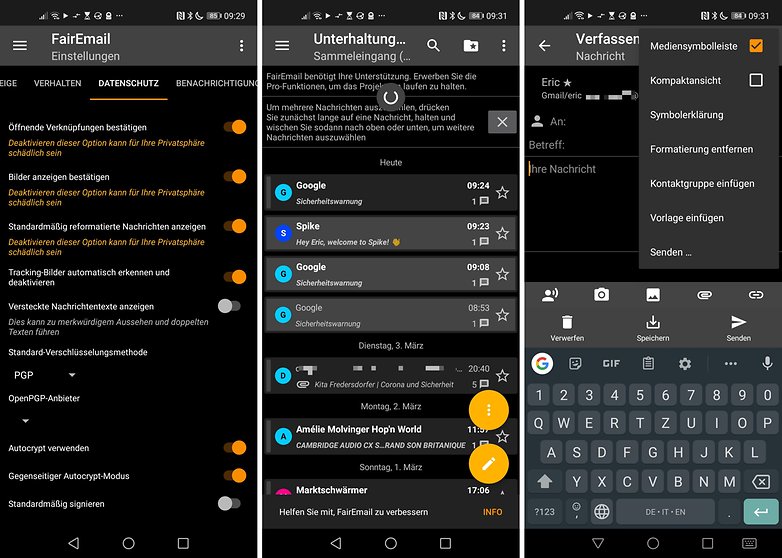 As an in-app purchase or after a donation, you will receive additional functions such as color codes for your accounts, notification channels (folder, account or sender-based), a snooze button for emails, delayed sending, reply templates, Filter, an online search index, keywords, S/MIME encryption and a practical widget for your home screen. So if you were to shell out several dollars in one go, this app can do significantly more than Gmail and also performs significantly better in terms of data protection and privacy.
Nine
After the two-week trial period, the fee-based mail app Nine costs a one-time fee of $14.99. I was able to navigate through this app with ease among the rest. If you press the delete button in an email, will you jump straight to the next one. A totally empty inbox can be easily achieved in this manner.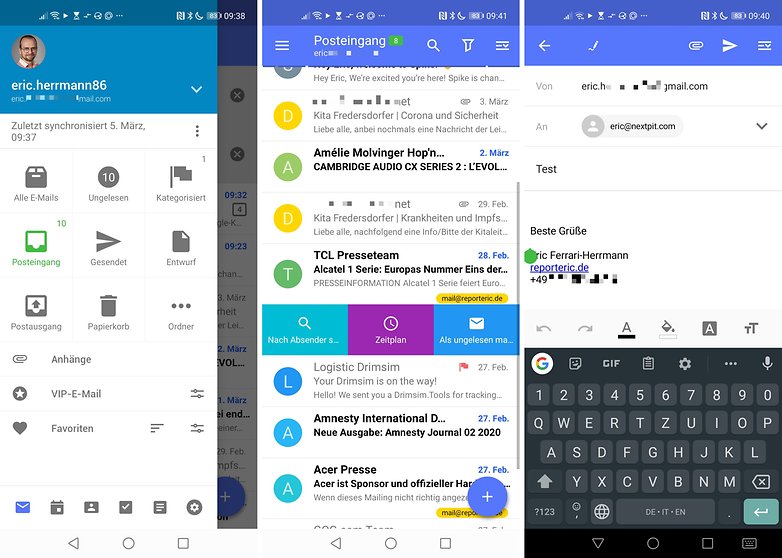 I also particularly liked the variety of swipe gestures in the inbox and the editor of Nine. There are numerous notification channels to boot. This allows you to let the smartphone vibrate until you read the email in a specific folder.
Another unique selling point is that Nine is the only email app that integrates a calendar which will synchronise with the built-in Google or Microsoft accounts. Unfortunately, CalDAV and CardDAV are still missing.
Spike
Spike's functional structure is well known, and anyone who has used WhatsApp, Slack, Skype or any other popular instant messenger will immediately feel right at home. However, Spike isn't meant for texting and instant messaging, it's for email. Basically, Spike brings all the convenience of instant messaging services like WhatsApp to your email threads. Gone are the bulky subject lines, the unwieldy threads, and all the rest of the email stuff that feels outdated in 2021.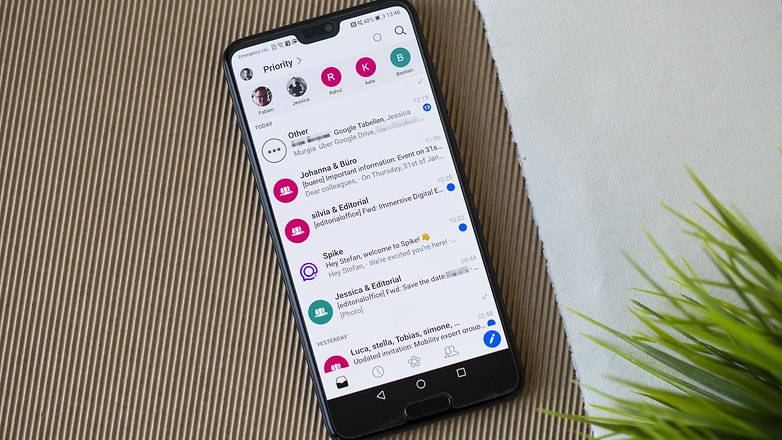 It also doesn't matter if you use Spike and the receiver doesn't. The person you reply to will still receive a normal email, as if you sent it to them via Gmail or something similar. Spike is available for Android, iOS, Mac and PC. You don't need a separate account, just log in with your email account and password and you're ready to send emails the same way you send WhatsApp messages - it's super easy!
Outlook
Microsoft is working hard to improve its email business (and its mobile apps across the board), and Outlook is further proof of that. It looks seamless, has all the features you'd probably need, and can sort incoming messages across several categories.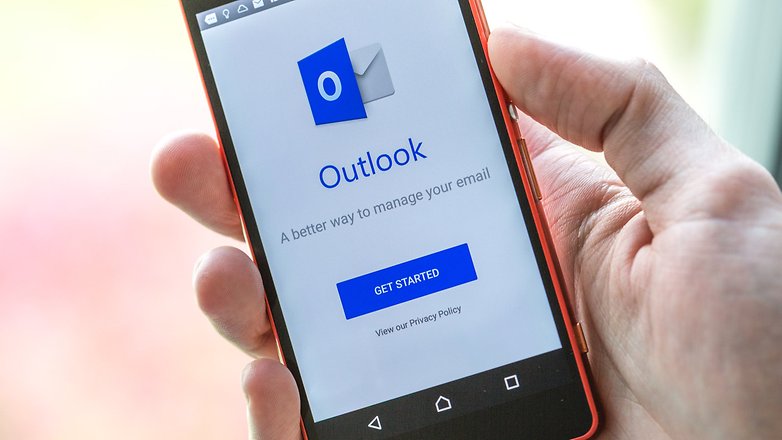 OneDrive and the Outlook calendar have been integrated, so it's perfect for Microsoft users (although other accounts are also supported). A tab displays the most important emails first, with quick filter options to help you sift through large numbers of messages easily.
Yahoo Mail
Yahoo Mail is still one of the most popular email management applications and allows you not only to read and send emails but also to have a look at the latest news at the same time. Like Gmail, the Yahoo app also lets you manage various email accounts, including Outlook and Google accounts.
The interface is particularly intuitive: you can use the sidebar to easily access the various folders or configure the account according to your preferences in the settings. In the settings, you can also determine which action should be assigned to the sideways swipe over an e-mail message, i.e. marking it as read or deleting it directly. But beware of the very first mail that appears in your inbox because it is a Yahoo ad.
10 Minute Mail
A really interesting thing if you have to enter your e-mail address on the web often: Here is the "10 Minute Mail" application to the rescue! Here, you can set up any number of email addresses, each which is only valid for 10 minutes. That's just the right amount of time to sign up somewhere and respond to the email confirmation. However, you cannot record your standard address in this free version.
For this, you will need the premium version, which is available for $7.99 per month. Alternatively, you can subscribe at a lower price of $19.99 per quarter. The premium version also gives you an ad-free experience, controlling the expiry of your temporary email addresses, and many other functions. All in all, 10 Minute Mail is a very good alternative to not giving everyone your email address on Android.
E-Mail-Apps for Apple iOS
With Apple iOS you already have a powerful e-mail application pre-loaded with "Mail". However, since some iOS versions, alternative standard applications can also be defined on iPhones and iPads, which means that you can now also make use of alternatives. Here's a list of featured apps:
Mail-Apps für iOS
Gmail
Of course, there must be a Gmail application for your iPhone and iPad! This is especially worthwhile if you have a Gmail address and are looking for a convenient application with a connection to the rest of the Google ecosystem. You don't end up with a diluted copy of an Android app, but a full-fledged alternative.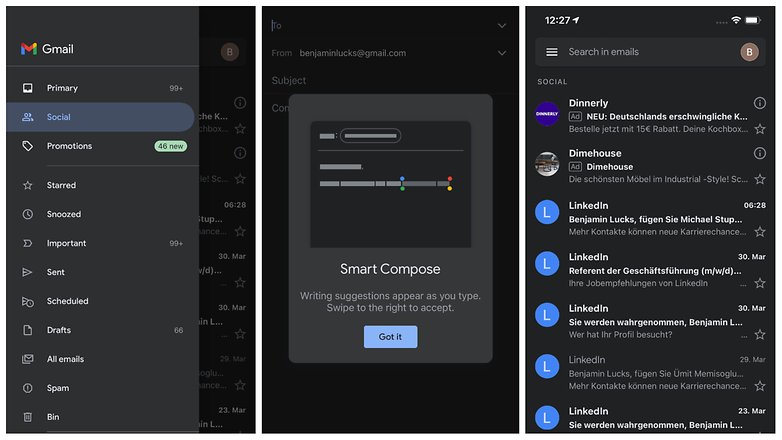 In terms of design and user-friendliness, there are those who prefer the Gmail app on iOS compared to the pre-installed version on Android. You will not find any hidden costs or advertising on either Android or your iPhone. If you find the app nice and clear to use, you can also set up other e-mail addresses there.
Spark
On the Internet, the iOS application "Spark" receives a lot of praise when it comes to mail apps. This is mainly due to the user-friendliness and the provision of a built-in calendar and a widget. You can simply place your inbox on the home screen of your iPhone. If you also use your iPhone professionally, Spark also has another interesting function: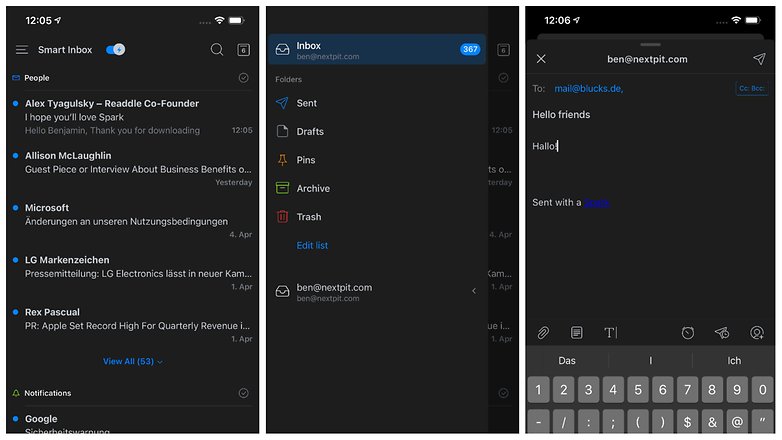 Because this app lets you can collaborate with others on e-mails before you send them off. For example, you can let your boss look at the first draft of an email to a customer. Other additional functions are a snooze button for e-mails, a chic dark mode and the scheduling of e-mails.
Proton Mail
Although iPhones and iPads are inherently considered to be quite privacy-friendly, with the ProtonMail app you can now also secure your entire e-mail traffic. As you might have guessed from the name, the email service is operated by the same provider as ProtonVPN! This makes them data protection professionals of sorts.
The idea behind Proton Mail was to create an NSA secure email provider. The company from Switzerland encrypts every outgoing e-mail and stores your data exclusively on encrypted servers in Switzerland. A cool feature: you can set an expiry date for your emails, which will automatically delete them after a certain amount of time. All such information is available on the Proton Mail homepage.
Outlook
If you use Microsoft's Office products, Outlook might be something for you! The provider has been providing a full-fledged iOS app for some time, which looks pretty nice with its blue and white design. Of course, the high-quality Outlook filters for your inbox are also part of the deal.
If you don't use a Microsoft client for your emails, you can also set up additional addresses in the app. Of course, it is particularly worthwhile if you also use applications such as Microsoft Office 365 or fill the Microsoft calendar with appointments. Outlook is completely free and does not come with any ads.
Temp Mail
Temp Mail application is a good alternative to 10 Minute Mail on Android! "Temp" of course stands for temporary and here, you can easily create disposable e-mails to register for online services or other services. If you are looking for such an app, you should take a look at the iOS function "Sign in with Apple".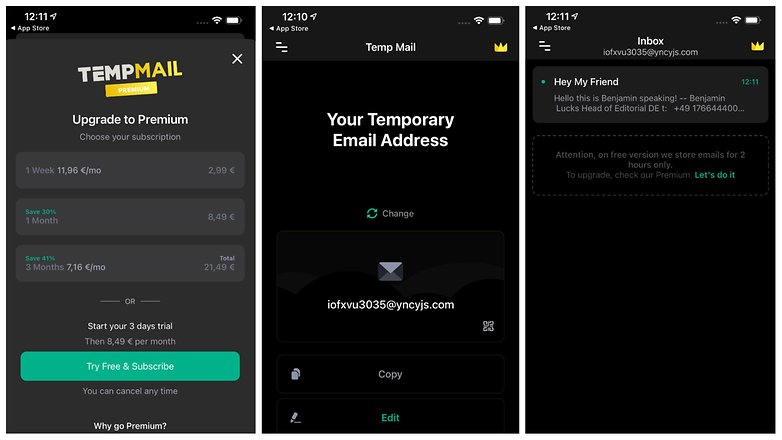 As there already is a feature integrated into the operating system, you can use that to keep your actual email address secret. Instead of your Apple e-mail address, a dummy e-mail is then automatically generated when you log in and saved to your keychain. The advantage: when you log in again on your iPhone, the fake address is automatically typed out.
However, e-mail apps are a contentious issue for both Android and Apple iOS users. So in order to achieve perfection in our comments section, why not argue about the pros and cons of your favorite email apps? Do you have any other tips that you think we should add to this list?
---
This article was completely rewritten in January 2022 and supplemented with apps for iOS. Comments prior to the article update were maintained.