Best email apps for Android: inbox like a boss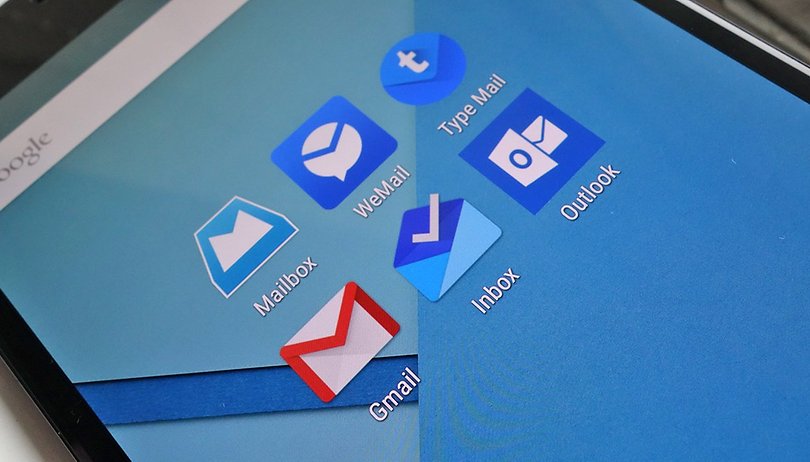 As far as digital modes of communication go, email has been around for a long time. And yet, it hasn't been replaced, as it remains central to the way most of us keep in contact with one another. However, it's become so popular and convenient that it can be difficult to stay on top of it, and that's where the right app can help. Here are the best email apps for Android.
There are a lot of email apps out there so you can pick the one that suits your needs and workflow best. Remember to customize the app notifications as required so you only get alerts about the messages that you're most interested in.
Jump to:
Gmail: the gold standard
It's easy to become so familiar with Gmail that you forget just how good it is. Chances are you also use your Google account for a range of Android services, so Gmail will often be a presence in your personal or professional life, even if it's not your primary email. The app boasts a unified inbox view, so you can check emails from all of your accounts at once, and that's on top of all the usual smart features (including a primary tab for the most important messages).
From the clever search features to the swiping commands to the familiar conversation view, there's a lot to like about Google's flagship email app. Delve into the settings page for your account to set which types of messages trigger a notification on your device and the sync period.
Spike: WhatsApp meets email
The functional structure of Spike is familiar, and anyone who has used WhatsApp, Slack, Skype or any other popular instant messenger, will feel at home straight away. However, Spike is not for SMS and instant messages, it's for email. Basically, Spike brings all the convenience of instant messaging services like WhatsApp to your email threads. Gone are the bulky subject headers, the clunky way threads work and all the rest of that email stuff that feels outdated in 2019.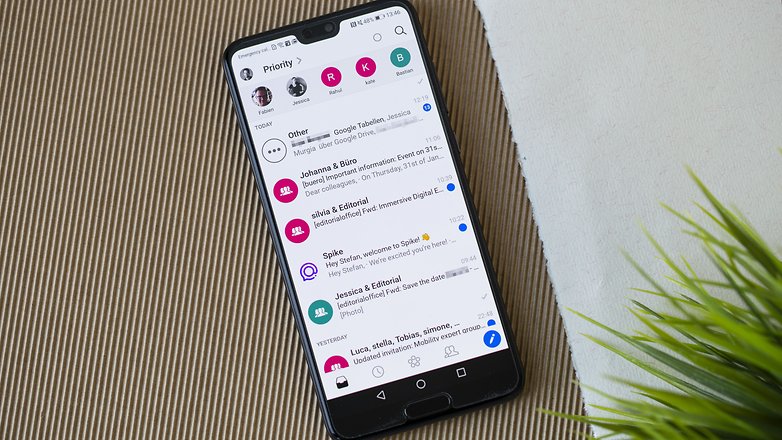 It also doesn't even matter if you are using Spike and the recipient isn't. The person you reply to will still receive a normal email, just as if you'd typed it out in Gmail, for example. Spike is available for Android, iOS (and Mac and PC). You don't need a separate account, you just log in with the password of your email account and you're ready to send emails the same way you WhatsApp - easy!
ProtonMail: free end-to-end encrypted emails
ProtonMail is an open source secure email provider based in Switzerland, a country known for its strict data protection laws. ProtonMail's servers are located there, and that is also where it is incorporated. The project was created at CERN in 2013 and has since grown rapidly, no doubt due to their mission of providing a more secure and private internet for everyone. That is why you can create an account and use the service for free. There are premium subscriptions available which offer more features as well, but the free version is enough for most users.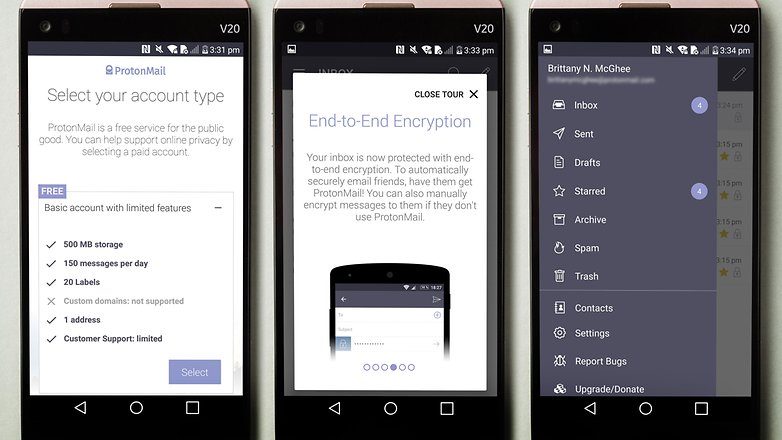 The service offers end-to-end encryption of your messages, even when the recipient doesn't have the app, in which case you can secure the message with a password. Another neat security feature is that you can set your emails to automatically "self-destruct" or delete themselves after a certain number of hours or days.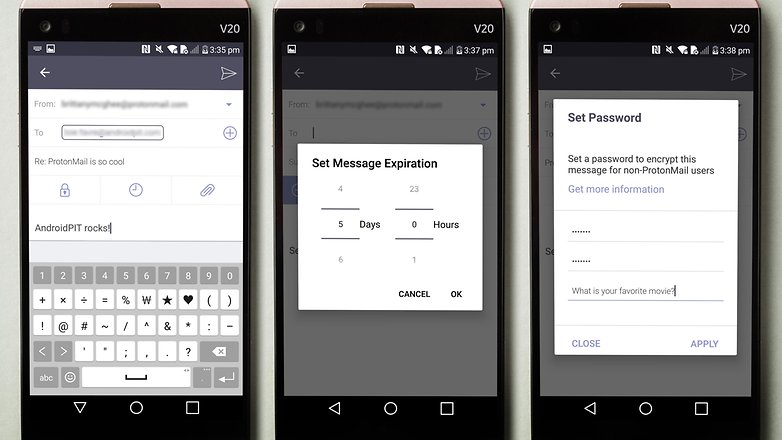 The inbox design is very modern and intuitive, so you won't have any usability issues. Plus, it has a sleek look with a light purple color scheme that is very appealing. You can use it on your computer's browser, or on their iOS and Android apps.
Outlook: Microsoft is still in the game
Microsoft is working hard at upping its email game (and its mobile apps across the board) and Outlook is further evidence of that. It looks the part, brings you all the features you're likely to need, and can sort your incoming messages into varying levels of importance on your behalf.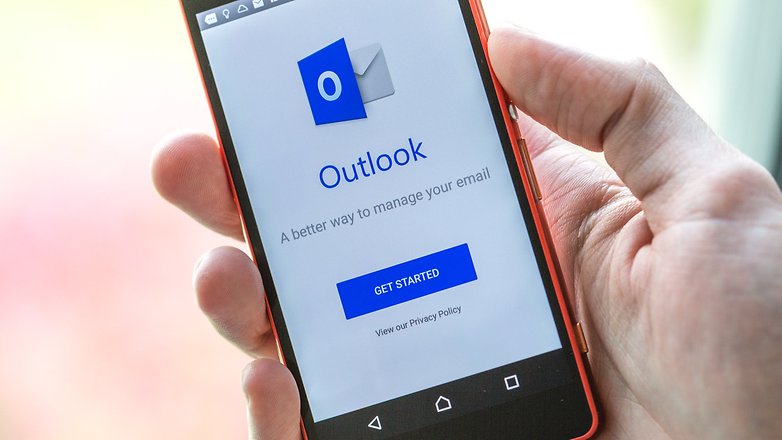 OneDrive and your Outlook calendar are integrated, so it's perfect for Microsoft users (though other accounts are supported too). The Focused tab shows the most significant emails first and there are quick filtering options to help you sift through large numbers of messages easily.
Yahoo Mail: not just email
Yahoo Mail is also one of the most popular e-mail management apps and allows you not only to read and send emails, but also to take a look at the latest news through the dedicated section. As with Gmail, the Yahoo app will also allow you to register different email accounts, including Outlook and Google accounts.
The interface offered is particularly intuitive: just use the sidebar to access the different folders or to configure the account according to your preferences from the settings. From the settings you can also determine what action to assign to the side swipe on an email message i.e. to mark it as read or delete it directly. But beware of the first message displayed in your inbox, because it is actually an advertisement.
MyMail: fast and secure
MyMail allows you to keep all your email stored safe, whatever your email client, supporting any mailbox, from IMAP to POP3. The service offers a modern, colorful and easy-to-use interface, suitable for both beginners and geeks. Designed for mobile devices, this app offers maximum security through data encryption and allows you to write, read and forward emails with a simple swipe.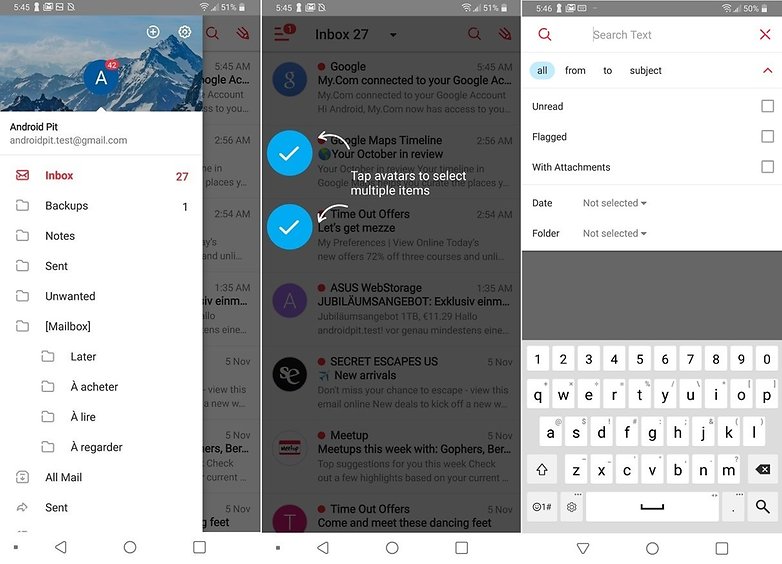 Among the features offered by the app are customizable and filterable push notifications, the use of icons and avatars to access faster to contacts and favorite functions, the automatic suggestion of contacts while writing an email. A fast and secure app that will allow you to manage your personal and business emails without too many problems.
AquaMail: simple but complete
Are you looking for an email service that allows you to keep track of all your email addresses, from Google to Hotmail via Microsoft Exchange, and provides a clean interface, and is simple to use? Download AquaMail and you won't regret it.
Basically, the application shows the bare essentials, including all mail folders and a section dedicated to the mail received from all registered accounts. However, by accessing the settings you can customize not only the synchronization, backup and actions related to the emails, but also the graphical aspects of the interface. Among the most interesting configurations you'll find one that will allow you to automatically change the theme of the app based on the day of the week and the time. Set a dark theme for the night and set up holidays so you won't be disturbed!
What do you think is best email app for Android? Do you have a favorite not listed here? Let us know in the comments below.