Best cloud storage solutions on Android smartphones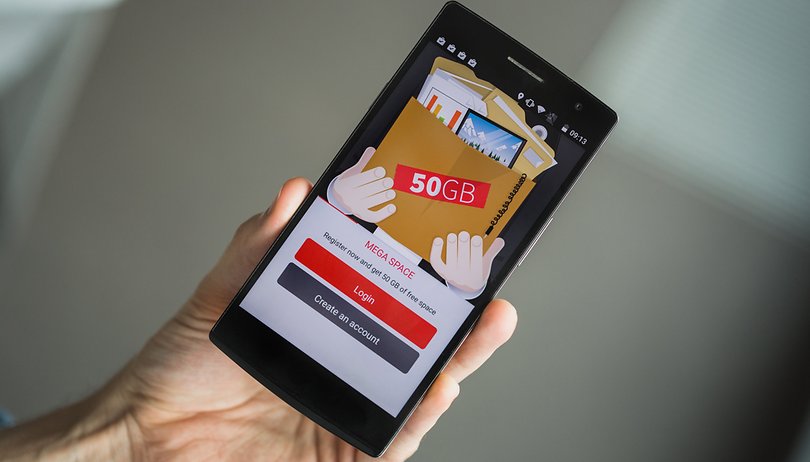 Cloud storage allows you to upload and back up the contents of your Android to an online source, saving you precious space on your phone or tablet. Here are some of the best cloud storage apps available to back up your Android device.
You can find more videos on current tech topics on our video page.
Best value: Amazon Drive
The Amazon Drive service comes in two flavors: Prime Photos and Unlimited Storage. Prime Photos, as you can probably guess, gives Prime subscribers unlimited free photo storage and the annual Unlimited Storage lets you keep an unlimited number of any files you like.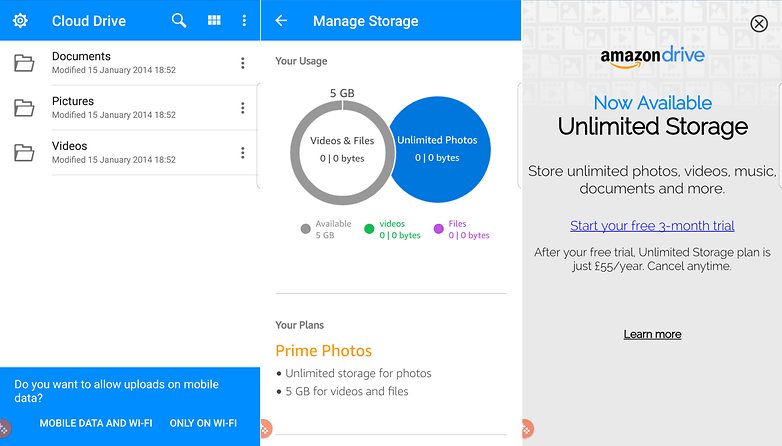 The Prime Photos option is interesting if you're a Prime subscriber perhaps, but it does little to stand out from Google Photos. It does, however, offer 5 GB of non-image storage for free too. There's also an easy way to see where your storage space is being used within the app's settings menu.
Amazon's Unlimited Everything offer will probably be more interesting though. For $60 per year, you can store unlimited amounts of anything you want for less money than Google Drive ($100 per year for 1 TB), Dropbox ($99 per year for 1 TB) and most other unlimited yearly subscription services.
It's secure, supports automatic backup, and is accessible on all your devices. The only real disappointment is that mobile and browser-based uploads are restricted to 2 GB file sizes, but larger files can be uploaded via desktop software if necessary.
Best for Microsoft users: OneDrive
This one probably isn't a huge surprise, as Microsoft has been working hard to make sure OneDrive is closely integrated into many of its products over the last few years. At its most basic, OneDrive is free online storage similar to that offered by Google Drive.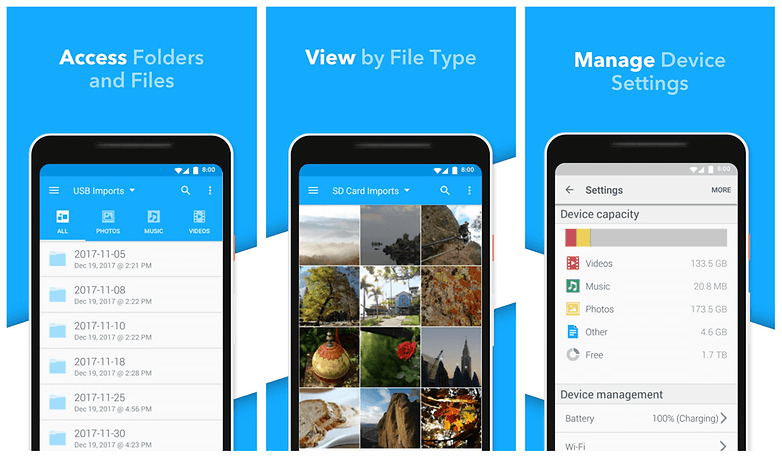 OneDrive, however, is primed for use with Microsoft products like Word, Excel and PowerPoint. It has also been integrated into third-party and Microsoft apps for easier access (like Microsoft's Arrow Launcher app for Android) and to provide storage for all your files. It features (optional) automatic photo and video backup, as well as simple sharing features. It also integrates with Android Wear, if flicking through pictures on your wrist is useful to you.
It's free for limited (up to 5 GB of storage) personal use, but you'll need to pay some cash to up that limit. The $100 per year package includes 5 TB of file storage and access to Office 365 Home edition. If you don't need up to five users, the $70 per year option offering 1 TB of storage and Office 365 Personal will be ideal.
Best for the average user: Google Drive
This might feel like a bit of a no-brainer for an Android user, but Google Drive offers a range of worthwhile features, as well as being the de-facto cloud storage option available on a new phone.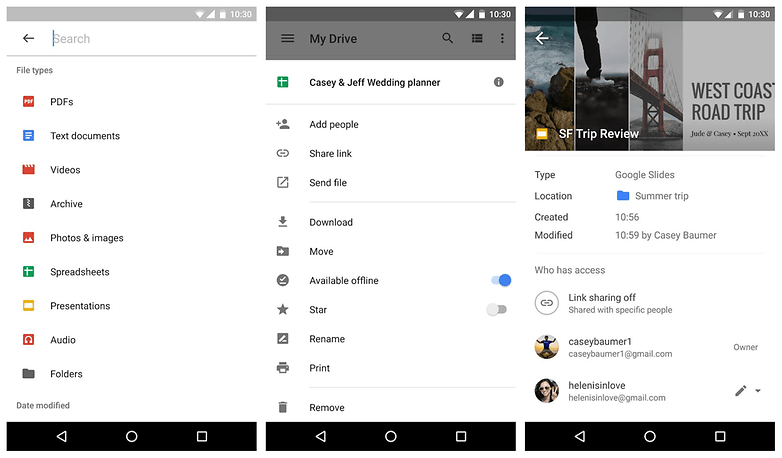 With 15 GB of free storage, its range of integrated document, spreadsheet and presentation platforms and straightforward collaboration settings, it's versatile enough to present a convincing argument for most users.
With deep integration throughout Android, as well as Google and many third-party apps, Google Drive is the logical choice for the average user that doesn't need to store their whole life in the cloud.
Perhaps the best part about using Google Drive for storage, however, is the Google Photos storage, which allows you unlimited image backups at a reduced resolution or choose to back up full-resolution snaps that count towards your overall storage quota.
Best for simplicity: Dropbox
Dropbox has been a firm favorite on Android for many years now, despite its somewhat limited free storage capacity of 2 GB – this can be expanded though by doing things like leaving feedback, following the company and referring friends without spending any cash.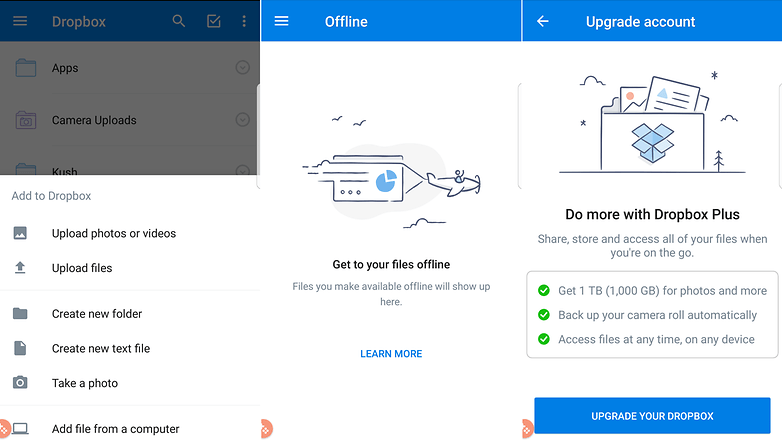 For up to 1 TB of space, it'll cost $99 each year or $9.99 each month on a rolling agreement. If you want more than 1 TB, you'll need to spring for a business plan. The Android app is largely glitch-free, fast and intuitive, plus it recently added an 'Offline' section that lets you access documents and files when you don't have a connection.
It's by no means the cheapest storage option available, but a wide range of desktop apps, integration with other services and its own set of business-focused tools are all designed to make sharing files and collaborative work a whole lot easier than it was in the past. If you're a business user that's not already tied to Microsoft or Google's tools, Dropbox picks up the slack.
Best for small businesses: Box
Box is free from the Google Play Store and similar in approach to Dropbox as a proposition. It offers 10 GB of free space with a 250 MB upload limit. Beyond this, you can pay $10 per month for up to 100 GB of cloud storage and a 5GB file upload limit.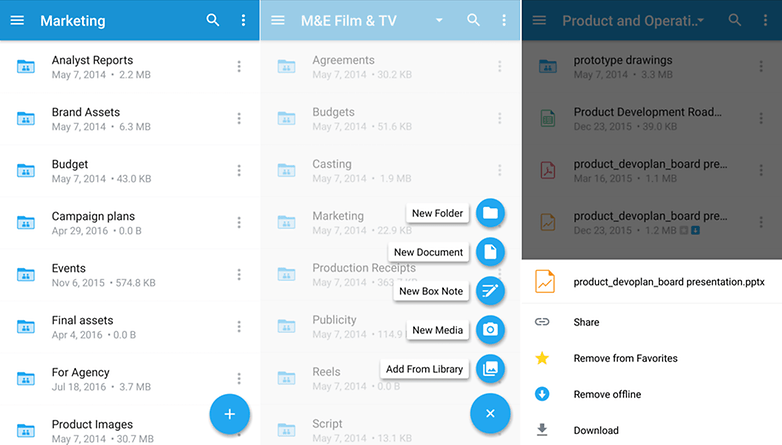 If that's not enough space, business plans that cost from $5 per user per month offer the ability to add more space, but come with the requirement of having a minimum of three users subscribed.
Where Box's Android app was once a feature-free affair, it now offers all the options you'd expect to see in a cloud storage app, including offline access to specific files and a particular focus on making it easy for you to collaborate on documents while away from a desktop.
Best for people willing to earn free space: MediaFire
MediaFire offers up to 50 GB of free space, which is a good amount of free storage, but you only get 12 GB to begin and have to earn the rest through things like referrals, if you don't want to hand over any cash.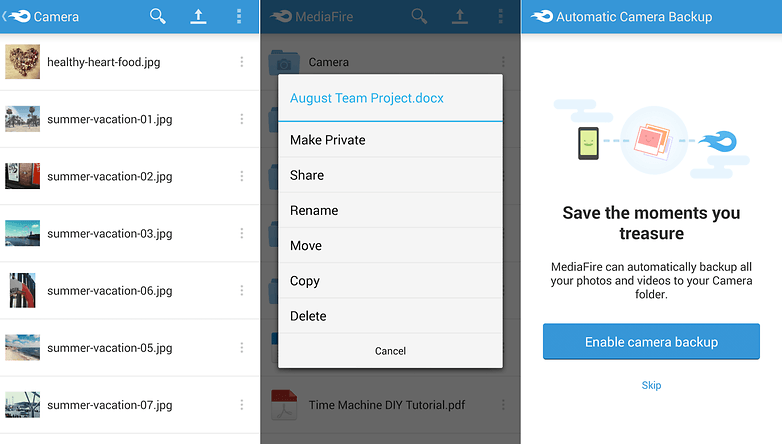 The Android app offers automatic camera backup for photos and videos, and you can preview documents and listen to audio files from within it too. It's not perfect, however, and is by no means the simplest or most pleasant to use.
If you want to spring for up to 1 TB of storage, it costs $3.75 per month currently if you choose an annual subscription, or $5 per month for a rolling payment plan.
Best for non-sync backups: MEGA
MEGA gives you a generous 50 GB just for signing up, but also offers a focus on privacy that the others in this list don't shout as loudly about.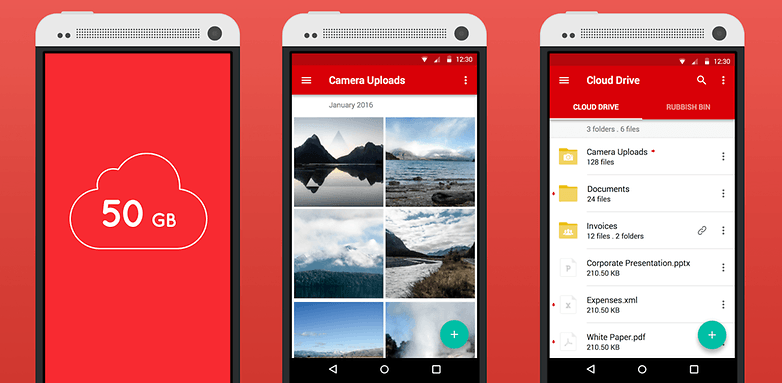 In short, what that means is that all your files are encrypted and decrypted on your device and not by MEGA's servers, keeping your private information private. It does come with the added complexity of bandwidth limitations though.
If you need more than the 50 GB of storage that's available for free, you can pay extra per month for up to 4 TB of space and 8 TB of bandwidth. If you value your privacy and don't need more than 50 GB, it's worth checking out as a free user.
Best for creating a private cloud: Resilio Sync
If you want the functionality of cloud storage without actually entrusting your data to remote cloud storage systems, Resilio Sync is one way of creating something that approximates a private cloud that works without a connection to the internet.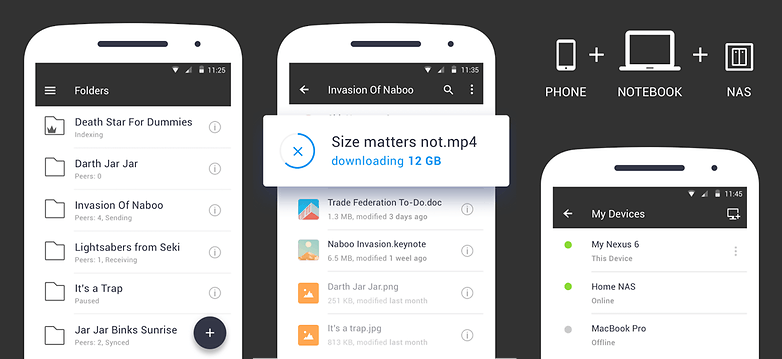 Resilio Sync lets you use peer-to-peer technology to connect your Android, PC, NAS device or other servers for automatic backup and syncing of various file types without sending your files to a third-party for storage. The downside, perhaps also the upside however, is that there are no file storage limits - only what you have available across your connected devices.
The drain on battery life will put some people off, but given that you tend to use this app when in your home or office, that shouldn't really be too much of a problem. Resilio Sync is free to download for device-to-device transfers, but if you want to hook up all your devices, use selective sync options and the ability to change file permissions on the fly, you'll want to make the one-time $39 payment for the Pro package - this is for lifetime access, not monthly or annually.
Best for people that can't decide on one service: Unclouded
If, in reality, you end up using a combination of many of these services for different reasons or to maximize your free storage, what you'll really need to do is keep on top of all those different files and folders, and what's stored where.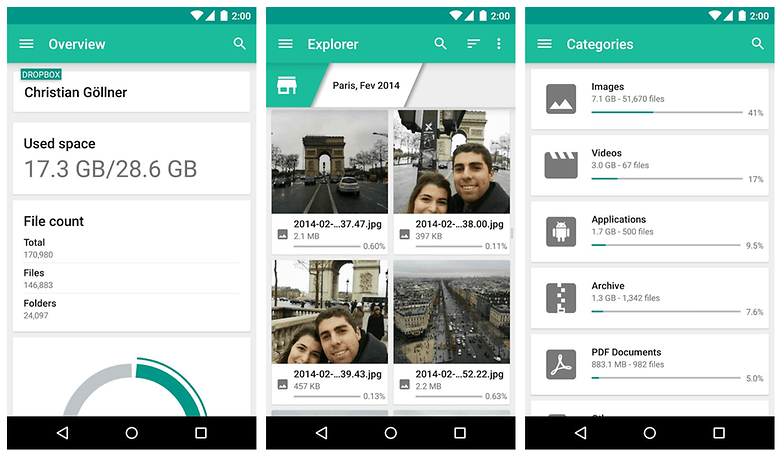 Unclouded for Android is a great way to do that without spending any money, though you'll need to pay to connect more than one cloud account. Happily, the app does allow you to pay only for the features you need, or you can unlock them all for a few dollars.
Best for people who to try secure cloud storage: SpiderOak ONE
SpiderOak ONE cares about your privacy, at least that's what the developers of this Android cloud storage app say. For a confidential backup that will protect your files from ransomware and data loss, SpiderOak ONE is the choice for you. The Android app lets you share and open documents on your smartphone or tablet as well as share files by creating a secure link. There's also a ShareRooms feature that lets you view files that others have shared with you.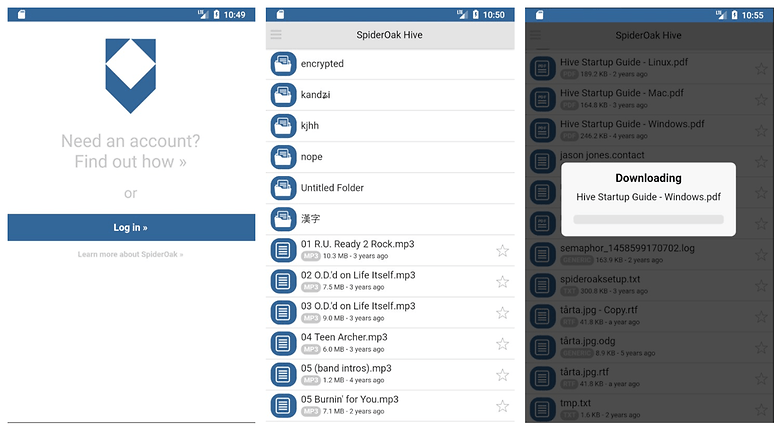 It works in conjunction with the SpiderOak ONE service, which is available for download on Mac, Windows or Linux. SpiderOak has been building end-to-end cloud products for a while now and these guys know how to look after your sensitive data. It's not free, but you can get a free 21-day trial to test out the service.
Best for people who to pay for the most secure cloud storage: Tresorit
Tresorit is not cheap, but it is super safe. If you are looking for something bullet-proof and don't mind spending a few bucks, Tresorit could be for you. The service allows you to create a secure place protected by end-to-end encryption. You can then store your photos, documents and sensitive files without worrying about leaks or hacks.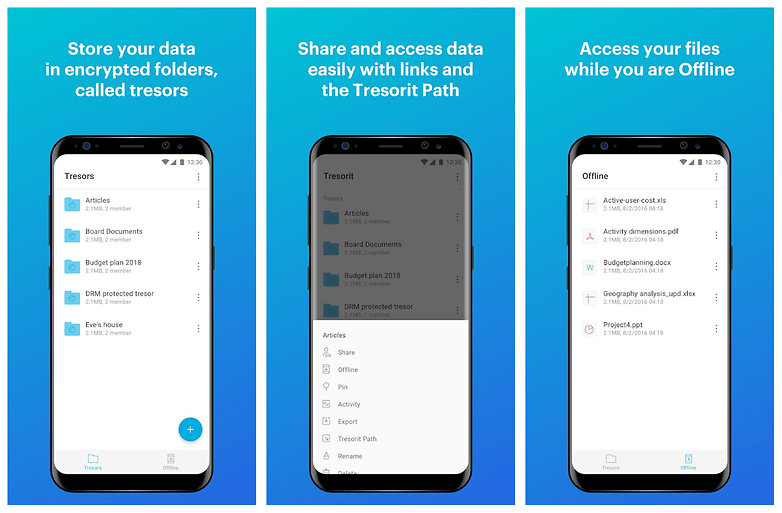 In the US, Tresorit stars at $12.50 a month for a 200GB of storage space. Stump up $30 a month and you can get 2TB of cloud storage. There are also packages for businesses. If money is not really a concern, it's a solid, safe option.
What's your favorite Android cloud apps? Let us know in the comments.