Galaxy Nexus Page Goes Live on Verizon's Site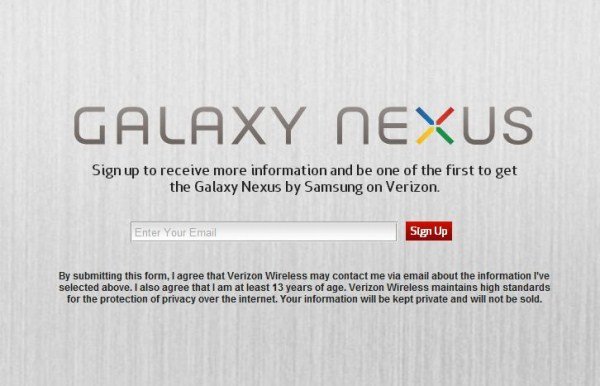 As of yesterday, the official page for the Galaxy Nexus has gone live on Verizon's site, confirming that Big Red will be the first carrier to offer the phone for an exclusive run. How long that run will last and when the phone will actually be released are two questions still waiting for answers.
In any case, if you'd like to sign up on Verizon's site for the newest information about the newest device running yummy Android Ice Cream Sandwich, you can do so simply by clicking the source lin below. All you need to do is confirm you're above 13 years of age.
How does everyone feel about Verizon getting first dibs on both the Galaxy Nexus and the Moto RAZR? Hopefully we'll hear soon when both phones will launch on T-Mo (sooner?) and Sprint (later?).
Related:
The Galaxy Nexus Will Come with a Barometer, But Not for Measuring the Weather