Xiaomi announces all-new Mi Note and Mi Note Pro: phones to challenge the best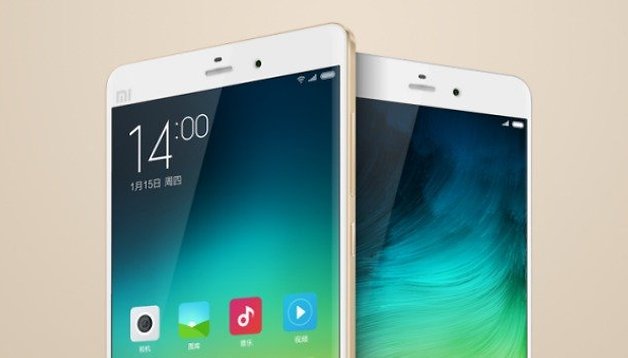 At an event in Beijing today, Xiaomi has announced two new devices: the Xiaomi Mi Note and the Mi Note Pro. While the Mi Note is a relatively standard affair, the Mi Note Pro has just become the second device to ship with a 64-bit chip and 4 GB of RAM (following the launch of the Asus Zenfone 2 last week at CES 2015).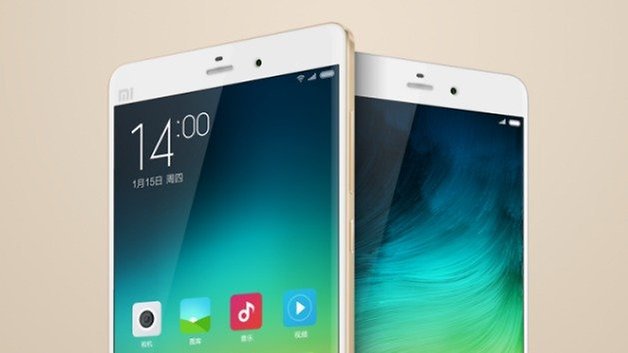 The Xiaomi Mi Note Pro specs are basically a beast checklist, with internals to rival the LG G Flex 2 – the only other device to currently be powered by a 64-bit Snapdragon 810, however, the Mi Note Pro rocks 4 GB of RAM. Up front the Mi Note Pro features a 5.7-inch QHD display with 2,560 x 1,440 pixel resolution and 515 pixels per inch.
There's 64 GB of on-board flash storage and Cat. 9 LTE, allowing download speeds of up to 450 Mbps. The Xiaomi Mi Note Pro is being priced at 3299 CNY, the equivalent of around 530 USD. Of course, simple conversions don't mean much, but the price doesn't look like it'll be too steep at all.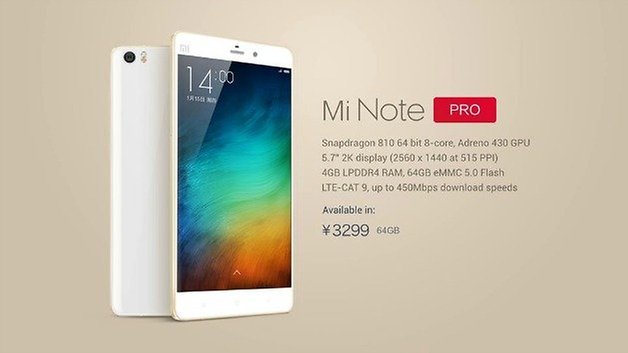 The Xiaomi Mi Note is a slightly less impressive affair, with a Full HD 5.7-inch display, Snapdragon 801 clocked at 2.5 GHz, 3 GB of RAM, 13 MP Sony shooter with Optical Image Stabilization, a 4 MP front-facing camera, 3D curved Gorilla Glass 3 (see diagram below) and 3,000 mAh battery with quick charging capabilities.
There are two versions of the Mi Note: a 16 GB version and a 64 GB version, priced at 2299 CNY and 2799 CNY respectively, the equivalent of roughly 370 USD and 450 USD. Although again, I'll remind you translating currencies is no simple matter of conversion.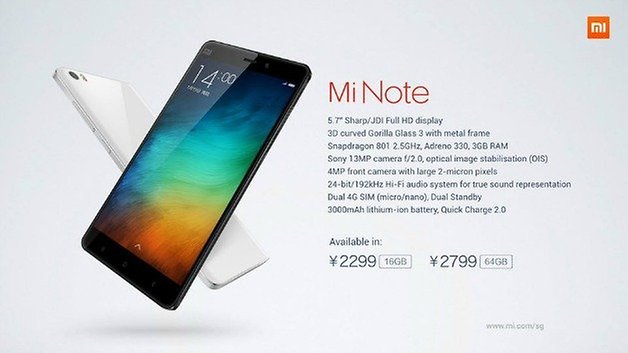 Besides a Q2 release in Singapore, there's no news yet on the Xiaomi Mi Note Pro release date further afield, but announcements will be forthcoming shortly and we'll update this article with more details - whether the Mi Note and Mi Note Pro will be the first Xiaomi devices to head to the US, we're not sure.
Considering the speed at which the Xiaomi Mi4 has been selling out though, we'll assume if you want to pick up a Mi Note Pro or Mi Note via importers or online, you're going to want to do it very quickly once these bad boys are made available.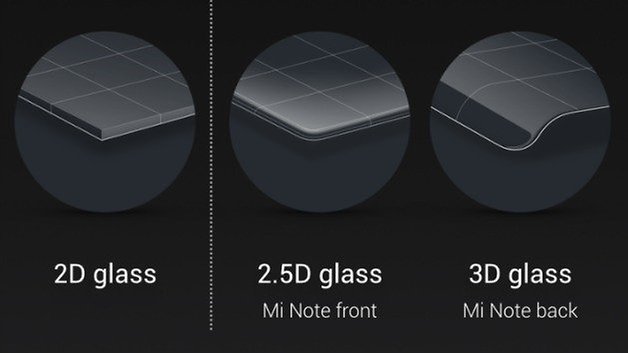 What do you think of these new offerings by Xiaomi? Would you snap up a Mi Note Pro?