TMA: Kindle Fire Round 2 And Apple Gets Double Teamed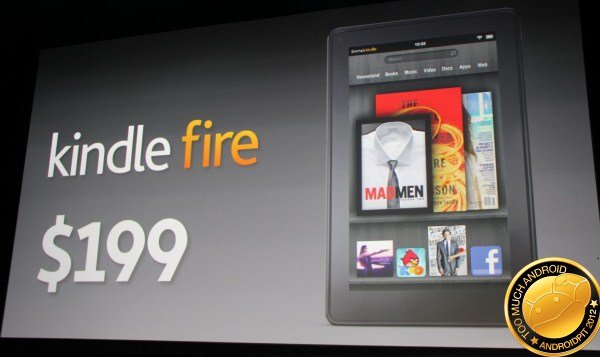 Too Much Android is back to bring you some of the headlines you may have missed! In Today's Too Much Android: Amazon wants the fire to keep on burning and both the DOJ and Samsung have Apple in their cross hairs.
Amazon Is All Fired Up
If you've been paying attention to the world of Android in the past few months, you may have notice a little tablet called the Kindle Fire which not only turned into a major cash cow for Amazon with its low, low sticker price of $199, but also managed to do the unthinkable: Take a bite out of the iPad's market domination. There had been rumors that Amazon was seeking to capitalize on the success of their first major Android tablet with a larger 8.9" model, but according to the Digitimes Amazon is thinking bigger. If the source can be believed then Amazon is going to go directly to a 2nd generation Kindle Fire, which will come in both 7" and 10" flavors. Just like with Apple's iPad, when the next generation of Kindles hits in Q2 2012 you only need to expect one thing: success.
Samsung To Apple: Never Give Up, Never Surrender
I had been hoping that the Great Patent War of 2011 would end with the dawn of the new year but apparently our two great super powers of mobile smartphone technology can't let bygones be bygones. After dozens of lawsuits in almost as many countries, a Samsung official has once again reaffirmed his companies readiness to fight Apple by land and by sea. Addressing the Korean Times Samsung mobile division president Shin Jong-kyun stated that concerning Apple there you be absolutely "no compromise". Samsung also set aside $260 million for patent litigation for the fiscal year.
Oh, boy....
DOJ Takes Aim At Apple Over Ebooks
I have never understood why Ebooks cost as much as store bought hard covers. And apparently I'm not the only one wondering why we have to shell out so much for our digital literature. According to the Wall Street Journal, the American DOJ has warned Apple and several other eBook producers that they can expect to be sued for their pricing policy. Apparently, the most major eBook producers all adopted the same pricing system a little bit too quickly for the Fed's tastes. If were lucky this will help drive eBook prices down to respectable levels.