Sony Xperia Quad Core Tablet Leaked (Specs, Prices, & Photos Included)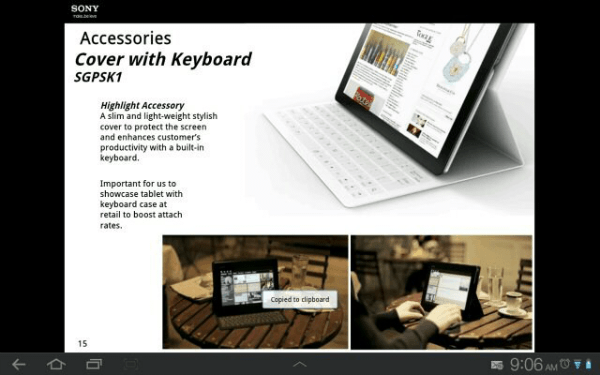 Sony's S tablet may not have been a huge hit in terms of sales, but it certainly wasn't a bad tablet. At the time of its release, I almost opted to purchase it instead of the Samsung Galaxy Tab 10.1, and I was pretty impressed with the tablet after playing with it. But it would appear that the next Sony tablet has arrived, as pictures, specs, and prices for the Sony Xperia Tablet have apparently leaked, and from what I see, Sony just might have a winner on their hands with this one.
The reason I feel this particular device could be successful is due to the entire package: looks, price, and hardware (the accessories are also pretty damn sexy). The leak comes via Mobiflip.de, which is a German news site. They managed to get ahold of pictures, specs, accessories, and even a price for the first Xperia tablet.
I can't remember the last time that a Sony product got me this excited! Spec-wise, we're looking at a Tegra 3 quad core processor, 16, 32, and 64GB memory options (with SD slot), 3G connectivity, an 8MP camera back cam with a 1MP front facing shooter, stereo speakers, a 6000mAh battery, a 9.4 inch display with 1280x800 pixels, and ICS running out of the box. The tablet is 8.8mm thick and sports an aluminum shell that's 42% thinner than the Tablet S".
The keyboard dock looks very similar to the Windows Surface tablet, and I have to admit that I'm a pretty big fan of it. Price wise, your're looking at $449.99 for the 16GB model, $549.99 for the 32GB model, and $649.99 for the 64GB model, which is cheaper per model than every iPad variant.
Here are a few photos of the tablet, the accessories (I really love the stand), and the hardware specs, courtesy of MobiFlip: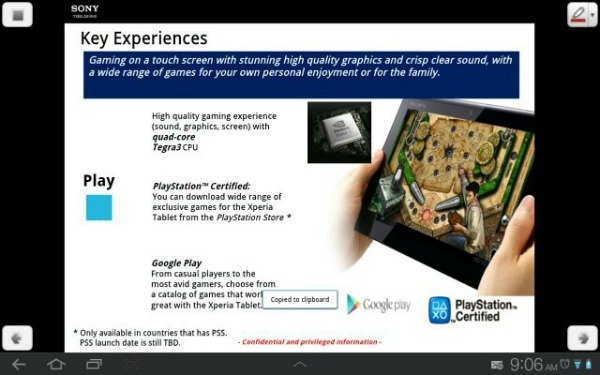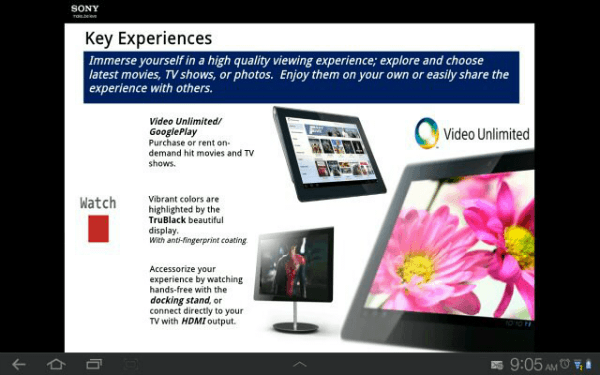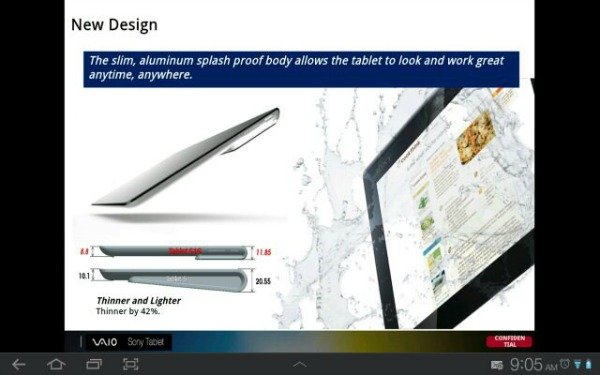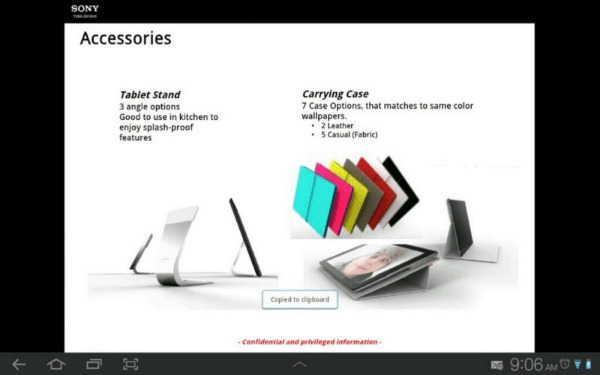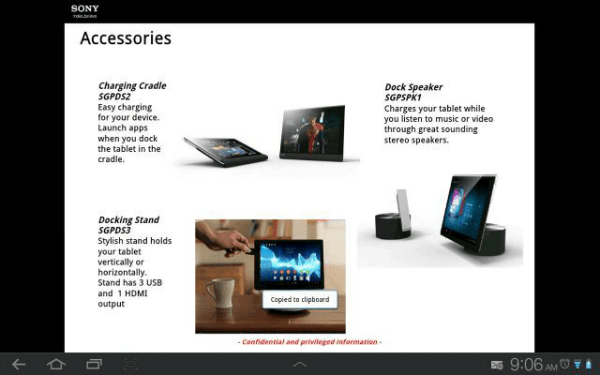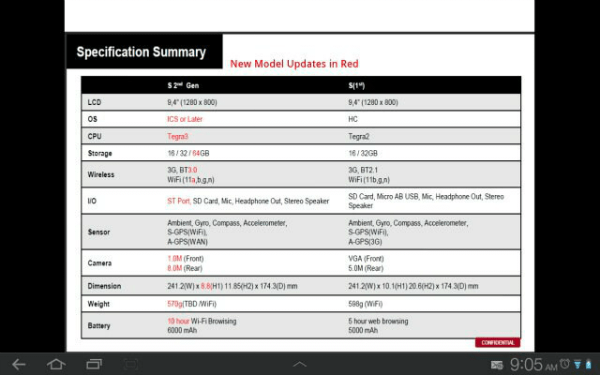 I must admit...for this price, Android ICS, those accessories, and with that hardware...this could be a pretty tempting tablet for me. Throw in the Sony certified benefits (I love games) and some hefty marketing, and Sony could have a winner on their hands with this one. Sony is holding an event on August 29th in Berlin (right before the IFA) to unveil a new product, and I would be very happy to see this tablet being unveiled there!
What do you guys think of the Xperia tablet? Impressive, or another Sony tablet that's destined for mediocre sales?
Let us know what you think in the comments below!
Picture credits: www.mobiflip.de/