[Update] Sony Xperia i1 Honami specs leak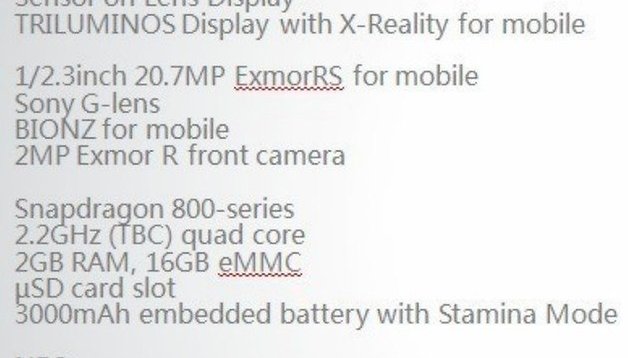 With the smartphone landscape so full of leaks lately, it comes as no surprise that Eprice has published a spec list for the new version of the Xperia Z that, while not confirmed, reveals some interesting tidbits to chew on.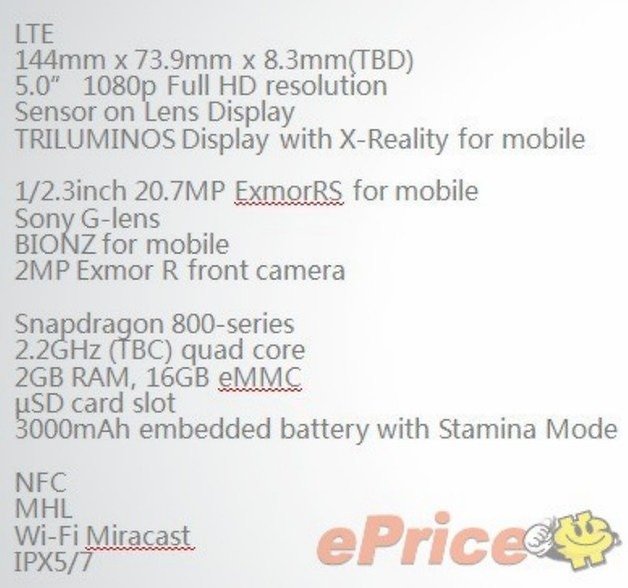 For starters, the Honami will basically be a Lumia 1020.
So what else do you get? Well, according to the spec list, the i1 will also ship with a quad-core 2.2 GHz Snapdragon 800 processor running Android 4.2.2 Jelly Bean. Now that's some serious muscle. You'll also get 2 GB of RAM, 16 GB on board with microSD expansion, and a beefy 3000 mAh battery with ''Stamina Mode.'' All in all, this sounds like one hell of a device, although only stocking 16 GB of internal memory for a phone with a 20 MP camera seems a bit peculiar.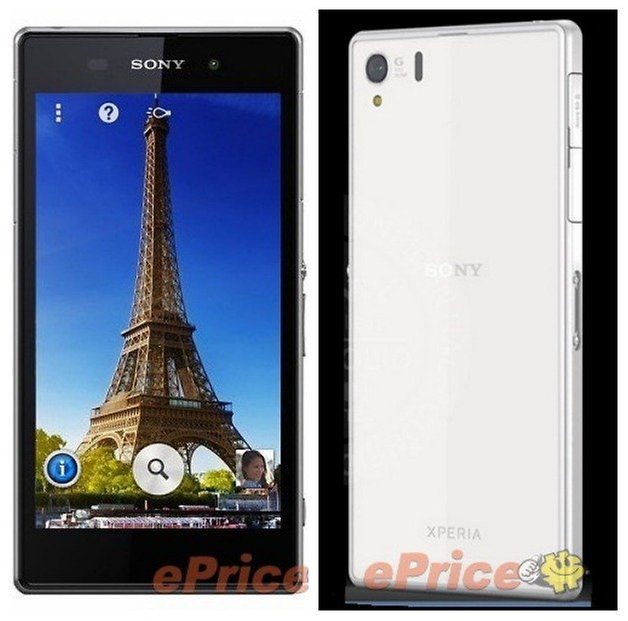 The Xperia i1 will feature a 5.0'' Full HD screen, with a 2 MP front-facing camera that also boasts an Exmor sensor. The spec sheet lists IP55/57 standards for dust and water resistance, with the device being ''dust protected'' and able to withstand submersion in water for a half hour at one meter deep. These standards are shared by the Xperia Z.
With an 'unveiling' event promoted for September 4th, two days before the IFA in Berlin, it seems pretty obvious the Honami will be revealed on that date. The IFA is the premier global innovation showcase for consumer electronics. We'll be at the event, so we'll let you know what the device is like as soon as we get our hands on it.
We can also expect a Honami mini at some point, but whether that will also be revealed at the IFA is anyone's guess. But it seems safe to assume that if it is, then it will be leaked long before the unveiling event ever arrives.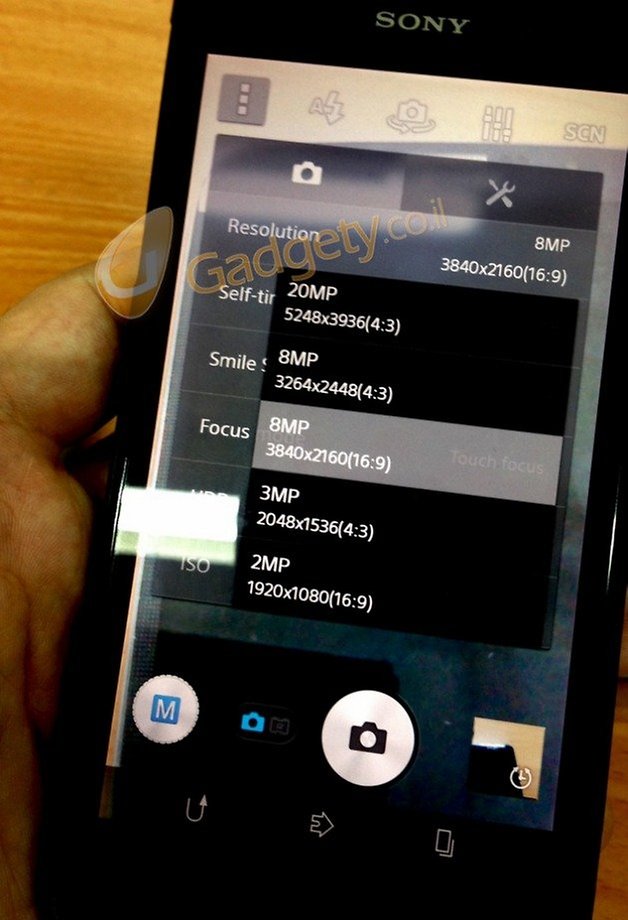 [Update 12:30 PM Berlin time 17.07.13]
Another leak image has surfaced today, this time of the Honami camera interface screen, confirming the 20 MP capabilities of the device. This was not really under suspicion, but we thought we'd add the image anyway. The photograph has reputedly been photoshopped only to remove identifying features of the device, to protect the leaker's identity. Fair enough, I just wonder why there are so few ratio options though?
What do you think of the new specs released for the Honami? Do you want a smartphone capable of replacing your pocket digital camera?