New Windows 8 Devices at Samsung London Event: the ATIV Q is Awesome!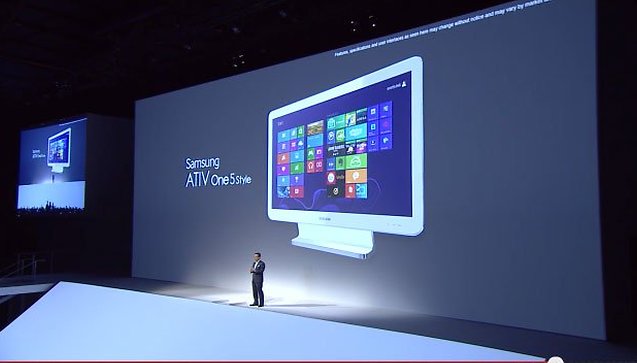 Samsung just announced 3 new devices that will join the ATIV family. The ATIV line from Samsung are the Windows based devices and at the reveal in London Samsung showed us two new laptops, A hybrid tablet running both Windows 8 and Android, a Windows 8 tablet and finally an all in one computer.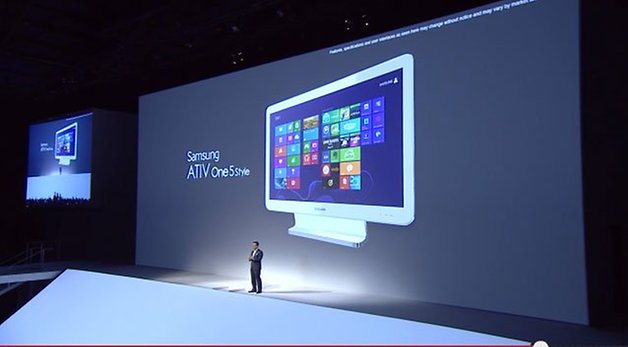 Samsung ended up showing us 9 new devices at the London event today, some of which where Galaxy devices which you can read about here. There were a total of 4 Galaxy devices revealed at the event and a total of 5 Ativ devices.
ATIV Q
The first device to be shown to members of the audience was the Samsung Ativ Q. This device is a hybrid one running two operating systems in Windows 8 and Android 4.2.2. One really neat feature about this device is that it allows you to seamlessly switch between the Windows 8 OS and the Android Jelly Bean OS. The Ativ Q also has a screen resolution of 3200 x 1800 which is the highest screen resolution in the world at the moment. The device can be used as a normal tablet, as a laptop with a keyboard, and can be placed in a reading or viewing position. Files can be shared around the two operating systems and the battery life is also impressive at it comes in at about 9 hours.
ATIV Tab 3
Samsung's Ativ tab 3 looks a lot like the Samsung Galaxy tab but this device is of course running Windows 8 and it is the world's thinnest Windows 8 tablet at well. The 10 inch tablet has a resolution of 1366 x 768 and has 64 GB of onboard storage. The storage is also expandable as the device comes with a Micro SD slot. Other features include an HDMI out port, and also a good 2 GB of RAM. This device along with the Ativ Q also includes a stylus which can be used for things like drawings etc.
ATIV Book 9 Plus
This is the flagship Windows 8 laptop from Samsung. This high end device has a wonderful design, comes in at a thickness of 13.6mm and weighs in at just over 1.3 kg's. The device has the same screen resolution as the Ativ Q at 3200 x 1800 and the same size display at 13.3 inches. Other specs include 256 GB SSD, a micro HDMI port and also 2 USB 3.0 ports. Gorilla Glass is the material protecting the screen which also boasts touchscreen functionality.
ATIV Book 9 LITE
This is the cheaper version of the Ativ book 9 range of laptops. It comes in with a lot of the things that the Ativ Book 9 has but at a more affordable price. The screen resolution is no longer the 3200 x 1800 qHD but a more humble 1366 x 768 which is a noticeable drop when you view the two side by side. On the outside though the two look very similar.
ATIV One 5 Style
This device is a desktop PC running Windows 8, with the same look and feel as the Galaxy family of devices. The machine boasts a quad core AMD A6 processor and 4 GB of RAM. As far as storage is concerned it goes all the way up to 1 TB which means you will probably not run out of storage space for all your files. Moving on to connectivity, you have 3 USB 3.0 ports, 2 USB 2.0 ports, Bluetooth 4.0 and HMDI in and out.
It seems as if Samsung is looking to replicate the success of its Galaxy line with these Windows devices. Tell us what you think of Samsung's latest efforts by leaving a comment below.