Samsung UK Punks Android At IFA? Says Windows 8 Devices Are "The Real Star Of The Show".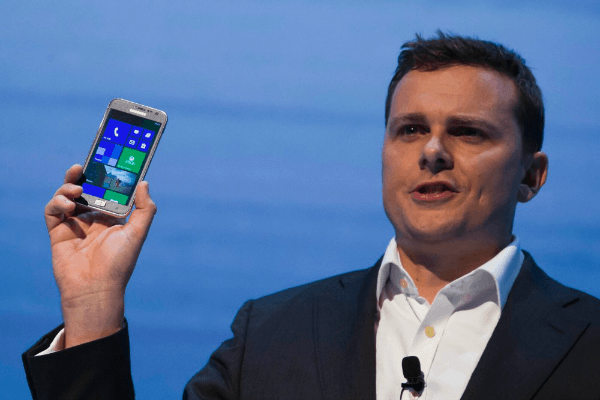 So I'm sitting at the IFA last night, blown away by the Note 2, and blown away by the Android powered Samsung camera. Thinking the event is over, I start packing my bag to hurry for a hands on. But then, Damian Cusick, General Manager of Samsung UK surprisingly takes the stage. I get excited and start thinking "new tablet?". He then comes out, talks for a minute about Samsung, tells us that he's about to show us Samsung's new Windows 8 product lineup, and then drops a sentence (direct quote) that I found very very strange: "And now, on to the real stars of the show". Umm...sorry what? Your Windows 8 lineup is the "real star of the show"? Are you serious?
Let's get one thing out of the way first: Samsung makes great Android products, and I am very confident that their Windows 8 tablets, netbooks, laptops, and phones will also be great. I got a few minutes to play with one of the new Windows 8 tablets last night, and it literally blew my mind (but that's another story altogether). So this has nothing to do with Samsung making Windows 8 products. But to hear Samsung, the company that is now the world's largest mobile phone vendor (ONLY because of Android) refer to Windows 8 as "the real star" after introducing the Note 2 (whose predecessor WAS a huge success) and Android camera was a bit of a slap to the face to Android, Google, and consumers.
Before Android, Samsung phones were CRAP. Fact. Without Android, they wouldn't even be CLOSE to having phones that truly rival the iPhone in the way that the GS2 and GS3 do now. Let's be honest: Samsung mobile would be NOTHING without Android. Over 20 million Galaxy S2 sales...over 10 million Galaxy S3 sales in less than 10 weeks, millions of Note 1 sales, solid Galaxy Nexus sales, and millions more Note 2 sales that are very likely to come. If anyone is the "star" of Samsung mobile, it's Android Mr Cusick, not Windows 8.
Considering how Apple basically backhanded Samsung in court recently, the last thing I would tell consumers at this point is how their "star" is a Microsoft based product. How about something for consumers along the lines of "we won't be intimidated, and we will continue to fight to keep bringing the quality Android devices that our consumers love"? Samsung has a HUGE base of Android consumers, yet all of a sudden Windows 8 is the "real star"? Has Microsoft really been so good to you? Are you really shipping that many Windows devices? Is Microsoft bringing you the record breaking numbers that you've had recently? I just don't get it.
Maybe I'm taking this out of context? If you want to see Mr Cusick make the statement, you can watch it on the video below (External link here. Fast forward to exactly 1:11:00. He says it a few seconds after that):
Maybe he made a mistake...maybe he regrets saying it...or maybe he meant it in another context. But then again, maybe he didn't. Whatever the reason, I don't think it's very fair to Android at all.
What do you guys think? Was Samsung UK a bit out of line for making that statement? Does anyone here think that Samsung has the right to make that statement, considering the new found fame that Android has brought them?
Let me know what you think in the comments below!
Picture credits: n-tv.de