Which smartphone under $500 has the best camera?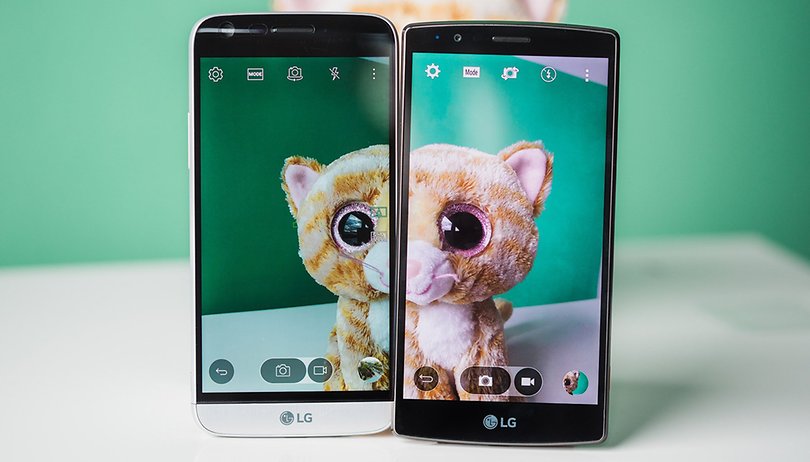 It's an eternal dilemma for fans of consumer electronics. If you're trying to save money, should you buy a new phone with mid-range hardware, or an older model with high-end hardware? With particularly short product cycles for smartphones, 'old' here often means just a few months. We decided to take a deeper look at cameras on these phones to see how noticeable the differences really are.
The Samsung Galaxy S7 is clearly the oldest device in our test selection. It was launched over a year ago, and the former flagship now costs around $320. The Huawei P10 and the LG G6 are less than six months old, and cost $400 and $250 respectively (at the time of writing this).
We're pitching these two devices against top range phones. The Honor 9 currently costs $420, and the OnePlus 5 is available for just under $500. In the following photo quality comparisons, we alternate between these two phones as they produce very similar results.
Night photography
When taking night shots, the LG G6 and Galaxy S7 have a definite advantage: they both come with optical image stabilizing. This allows both smartphones to use longer shutter speeds and thus achieve brighter photos. It can even lower ISO sensitivity to minimize image noise. As a result, the photos of this street scene captured by these two phones look nicer and are better illuminated than the others.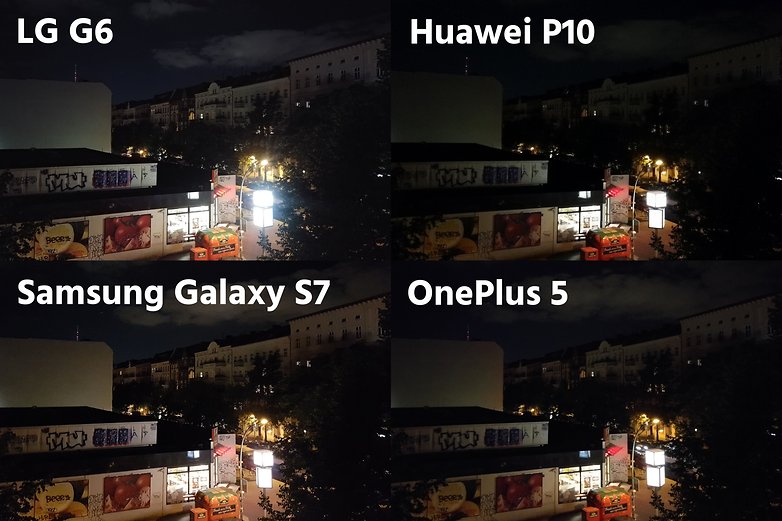 Artificial light photography
There are two factors to consider in this next challenge. Not only is there far too much light but there is also mixed light with two different color temperatures. The figure is first illuminated with a warm, incandescent light and then by a cold, LED light. This challenge tests the image processing algorithms of each manufacturer.
The Samsung Galaxy S7 probably has the best white balance. However, all photos of this subject have an overturned contrast, meaning a loss of detail in dark areas of the image. The LG G6 and OnePlus 5 win out here, with a similar white balance. The Huawei P10 ranks somewhere in between.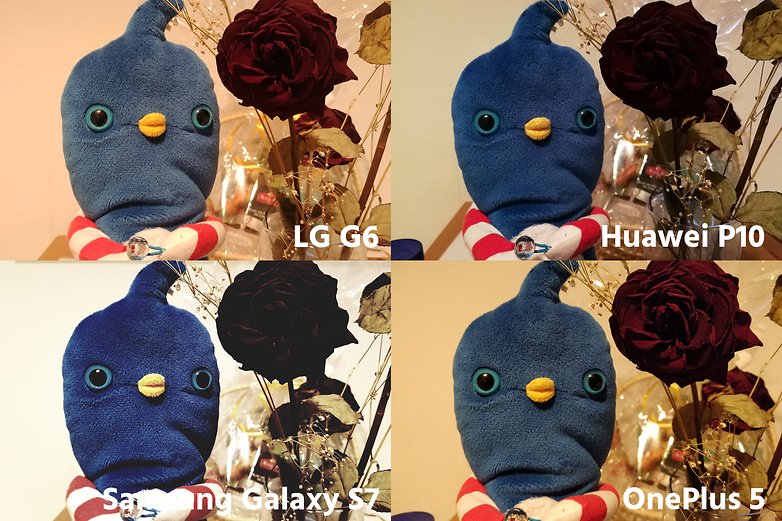 Daylight photography
Photos taken in daylight should pose no problem for today's top class smartphones, which all of our test subjects are. Our phones all performed well in capturing a street scene, delivering vibrant photos with popping and detailed colors. The differences are marginal, and ultimately it boils down to a matter of taste. For example, the LG G6 delivers contrast-rich photos, whereas the Honor 9 and Huawei P10 hold back here somewhat. But judge for yourselves: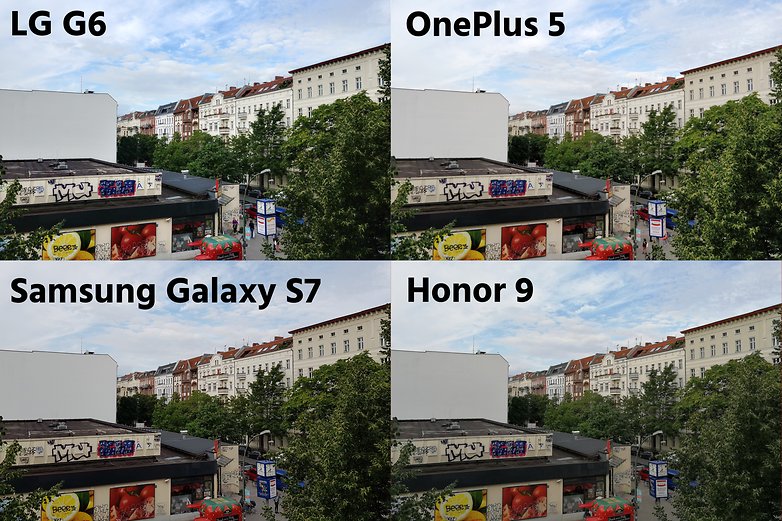 Macro and high contrast photography
Last but not least, we present our smartphones a familiar challenge - taking high contrast photos. The small image sensors in a smartphone are well-known for suffering from low dynamic range. Automatic HDR helps here, which manufacturers have eagerly been including in their devices since it first appeared on the Google Pixel.
As the oldest smartphone of the bunch, the Galaxy S7 has clear difficulties here. In the picture, its color reproduction has worked but has burned out the background sky in the process. The Honor 9 and Huawei P10 deliver the most balanced results. The high contrast picture from the OnePlus 5 is certainly a matter of taste.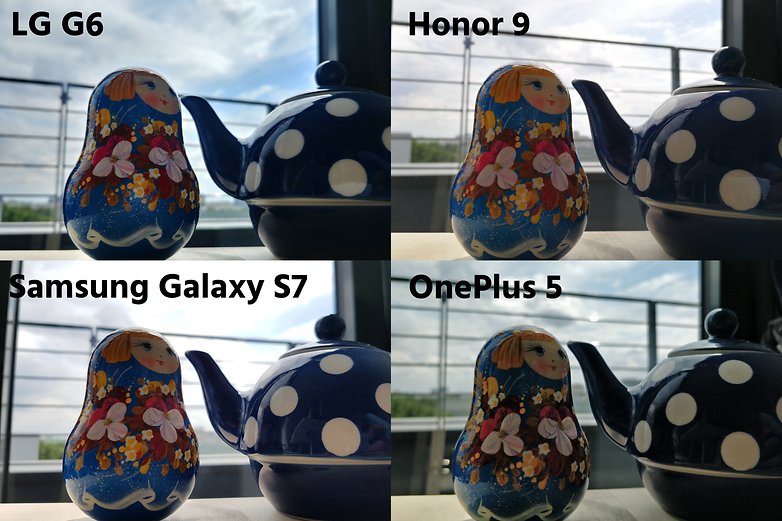 Conclusion
In good lighting conditions, the differences between these smartphones is negligible and they all perform well. The differences become visible in specialist areas. In conditions of differing brightness levels, the newer automatic HDR functions really prove their worth. But an optical image stabilizer is still beneficial in the dark, and this is missing with the cheaper, new models.
But the question of which camera performs best overall depends on what you use it for. Which smartphone delivers the best picture quality for your needs?