Google Pixel 7a Review: All-in-One Package Phone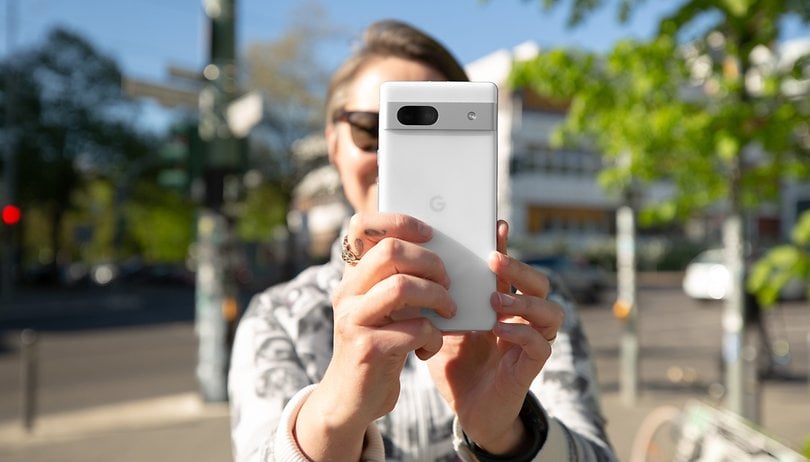 Apologies for the pun, but indeed, what's good is now even better. Google has just released the new budget-friendly Pixel 7a, and we had the chance to test it beforehand. Continue reading this review to discover what makes the Pixel 7a the best all-in-one device of 2023—so far.
Good
Compact design

Top-notch performance

Versatile and trustworthy camera

All-day long battery

Wireless charging
Bad
Slow charging time

No power adapter in the box
Google Pixel 7a release date and price
The Google Pixel 7a is equipped with the advanced Google Tensor G2 chip, ensuring a responsive and efficient user experience. Notably, the device's camera capability stands out, offering a commendable photography experience akin to having a professional-grade camera in your pocket.
However, the Pixel 7a isn't solely about high-resolution imagery and processing prowess. Google has made security a primary focus in this model. Along with the subscription-based VPN by Google One, it offers a protective layer for online activities. Further enhancing its practicality, the phone boasts an all-day battery life and supports wireless charging, aligning with users' active lifestyles.
The Pixel 7a will be available on-shelf today, starts at just $499. Available in a range of sleek colors including Charcoal, Sea, Snow, and the Google Store exclusive Coral, the Pixel 7a is as stylish as it is functional.
Last but not least, the Pixel 7a comes with a complimentary 3-month subscription to both YouTube Premium and Google One—with 100 GB of storage, along with automatic phone backup.
Google Pixel 7a design and build quality
The Pixel 7a stands as Google's sturdiest A-Series phone to date. With an original design, the phone boasts a sleek back complemented by a sturdy metal frame and camera bar. The phone is also made with recycled aluminum, glass, and plastic.
---
Pros:
Original form factor and compact size.
The camera module protrudes less compared to other models in the series.

IP67 rating

.
Cons:
---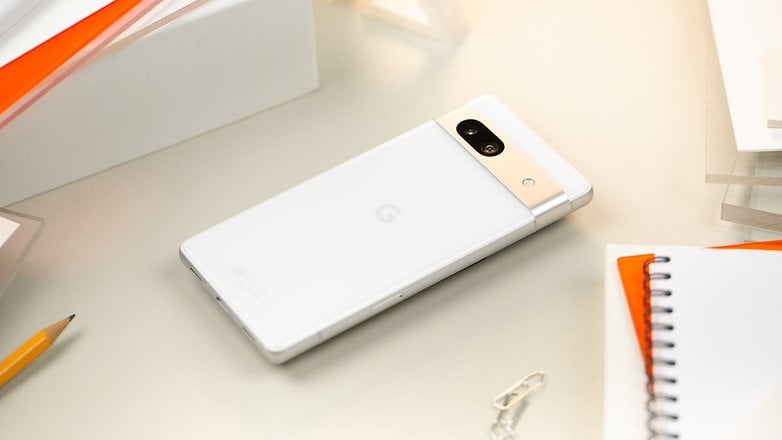 With an IP67 rating, the Pixel 7a is equipped to resist both water and dust, ensuring it can withstand the rigors of daily use. The display is just as resilient, with scratch-resistant Corning Gorilla Glass 3 adding an extra layer of protection.
This isn't just a phone that looks good; it's one that feels good too. Like the previous generation, the Pixel 7a offers a great grip, largely due to its compact size, making it one of the smallest lineups currently available. Also, it features a smaller protrusion of the camera module compared to the other models in the series.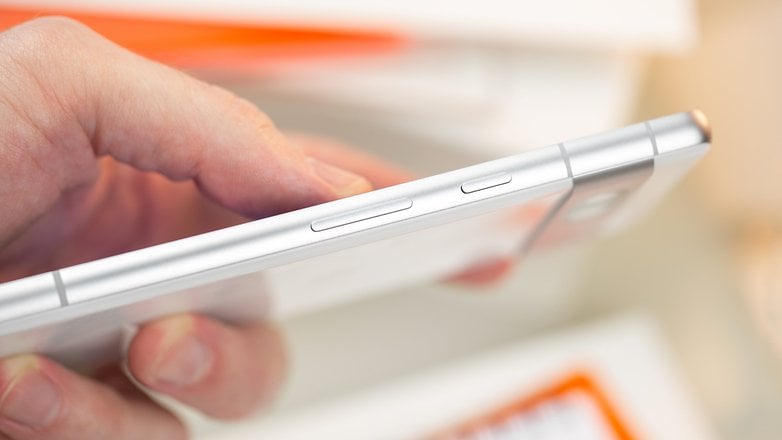 Featuring a 6.1-inch display, the physical buttons are easily reachable, making it perfect for one-handed use. Although the plastic back can feel slippery at times, it becomes more comfortable with use. However, for the sake of durability, I would suggest using a protective case. Google also offers some exclusive options.
When compared to its predecessor, there are some minor changes in the design, but they are minimal. In fact, the Pixel 7 and Pixel 7a are almost indistinguishable, which is a great selling point for me, considering that we're talking about a more affordable series here.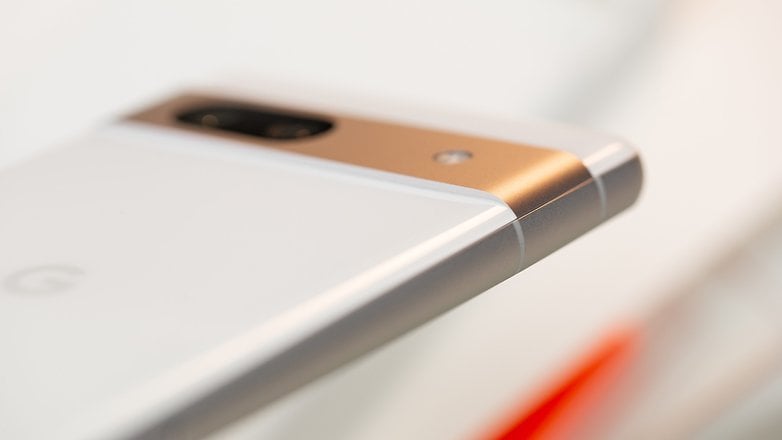 Google Pixel 7a display
As previously mentioned, the device boasts a 6.1-inch display and follows the construction style of the 7-series with a bolder frame around the screen, which I find charming. The display is fortified with scratch-resistant Gorilla Glass 3 and also includes a built-in fingerprint sensor.
---
Pros:
90 Hz refresh rate this time around

.
The adaptive brightness AI does an impressive job.
An intriguing addition: The "Dim More" feature.
Cons:
The display isn't the brightest for outdoor activities.
---
Google introduced some updates to the A-series in 2023: we now have an improved 90 Hz refresh rate, which makes browsing a delight. Everything feels smooth, thanks in part to the Tensor G2 processor.
Unfortunately, Google didn't disclose the peak brightness of the Pixel 7a display in their press materials. Based on experience, it doesn't appear to be the brightest display on the market. When set to maximum brightness, it feels equivalent to the 80% setting in other phones. This could be more of an issue depending on how often you use your phone outdoors.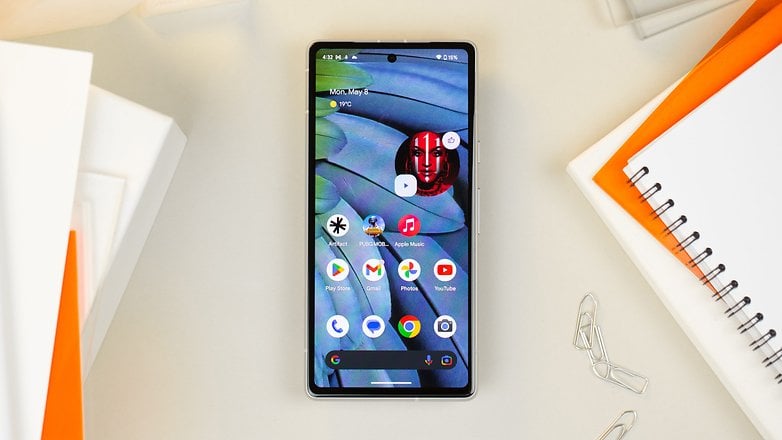 That said, something that truly impressed me was the adaptive brightness powered by Google's artificial intelligence (AI). Changes occur almost in real-time, and for the first time, I feel that it manages the task better than I could manually.
Finally, the biometric sensor performs well in unlocking the display, signing in to apps, and completing payments. However, initially, you might encounter some hiccups.
Google Pixel 7a software
As Google oversees the development of the operating system that runs on Pixel devices, you can expect to receive Android and security patch updates firsthand. This also includes exclusive Google features and software free of bloatware. Additionally, for those interested, some of the significant enhancements of Google's AI are available exclusively for Pixel owners.
---
Pros:
Reliable software update policy

.
Google's Feature Drops firsthand.
Free of bloat.
Cons:
---
The Pixel 7a comes with Android 13 pre-installed, and as a member of "Team Pixel," this device will regularly receive new features and enhancements through automatic software updates. This means your Pixel continually improves over time.
That said, Android 13 is a highly mature OS, offering ample opportunities for customization and a vibrant user interface (UI). The Material You design language makes the user experience more intuitive based on color coordination and design structure. It's straightforward to discern which features are active with a quick glance at the tile setups, and the notification center is both visually appealing and neatly organized.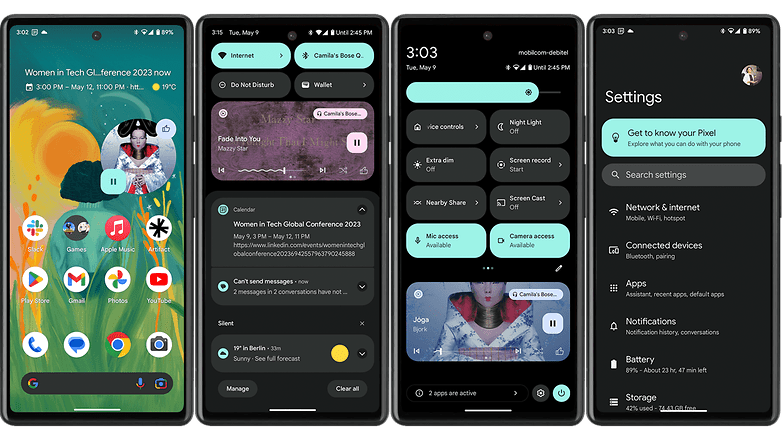 Furthermore, it's impressive to see how Google maintains a clean operating system even after initial setup, meaning no bloatware or unnecessary pre-installed apps. Additionally, Google provides several handy services such as voice message transcription, Assistant voice typing, and Clear Calling for improved audio quality.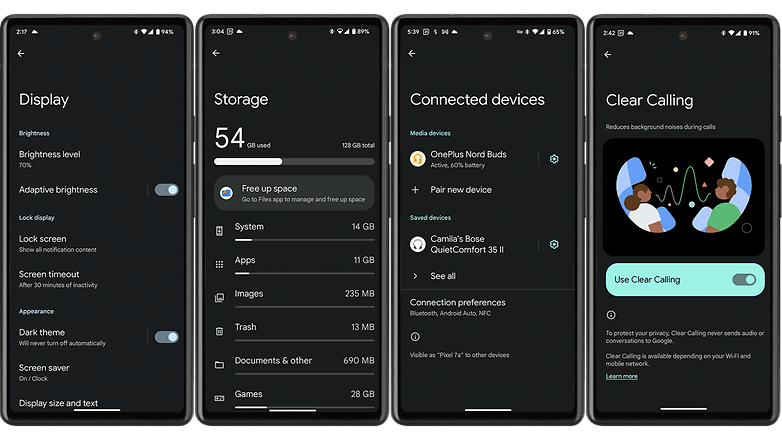 Finally, the Pixel 7a is guaranteed three years of Android updates and five years of security patches.
Google Pixel 7a performance
At the core of the Pixel 7a is the Google Tensor G2 chip. This processor, which is also utilized in the Pixel 7 and Pixel 7 Pro, powers Google's advanced machine learning and speech recognition technologies. Overall, it delivers smooth performance and manages heat effectively.
---
Pros:
Top-tier SoC

.
Very smooth performance.
Heat effectively experience.
Cons:
---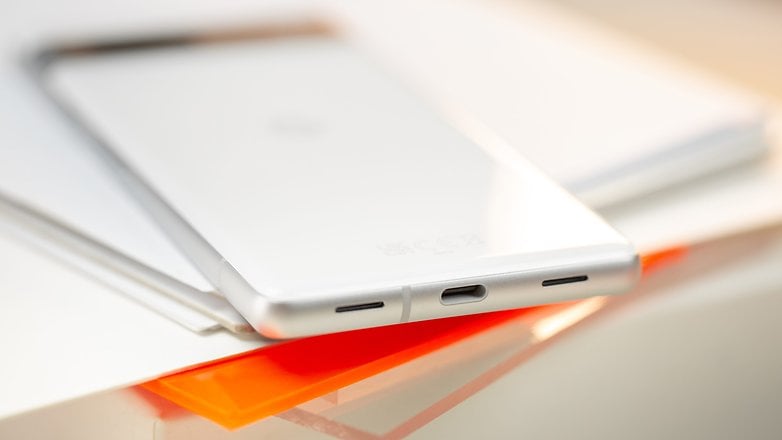 As someone who also reviewed the Google Pixel 6a last year, it's clear that Google has improved the new generation of Tensor chips. Contrary to my experience with the previous generation, I didn't experience any overheating. In short, the performance was impeccable, particularly when using features like post-processing in photography.
Utilizing benchmark software, it's evident that the Google Pixel 7a offers power on par with the flagship lineup, maintaining a stability of 75.6% in graphics. The Tensor G2 has 8 ARM Cortex cores and a 7-core Mali-G710 GPU, fewer than the previous generation's 20 cores. This decision seems to have been made to balance the number of cores with power consumption, making this generation less susceptible to overheating.
Google Pixel 7a
(Tensor G2)
Poco F5
(Snapdragon 7+ Gen 2)
OnePlus 9
(Snapdragon 888)
Google Pixel 7
(Tensor G2)
Google Pixel 6
(Tensor G1)
Nothing Phone (1)
(Snapdragon 778G+)
3D Mark Wild Life
6618
7625
5879
6656
6896
2809
3D Mark Wild Life
Stress Test
Best loop: 6590
Worst loop: 4980
Best loop: 7632
Worst loop: 7582
Best loop: 5889
Worst loop: 3228
Best loop: 6651
Worst loop: 4902
Best loop: 6927
Worst loop: 3553
Best loop: 2832
Worst loop: 2816
Geekbench 6
Single: 1417
Multi: 3549
Single: 1107
Multi: 4232
Single: 981
Multi: 3379
Single: 1454
Multi: 3794
Single: 1371
Multi: 3247
Single: 796 (v5)
Multi: 2889 (v5)
In everyday use, this means that the Pixel 7a delivers more consistent performance for heavy games. For gamers who enjoy titles like Genshin Impact or PUBG—used for this review—, the experience with the Tensor G2 is noticeably superior to that with the Tensor G1.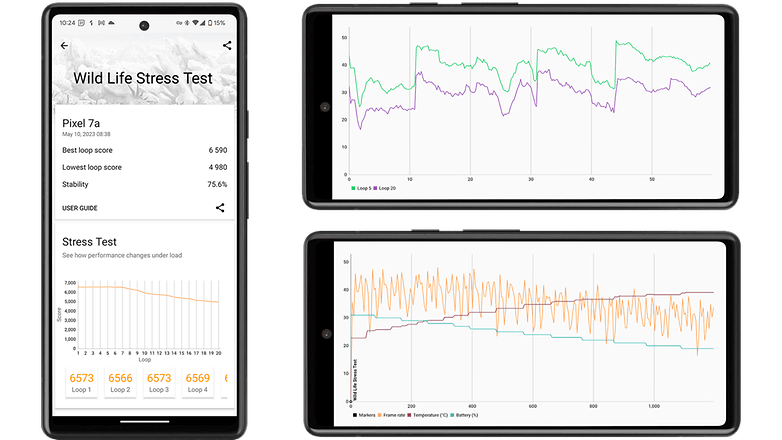 Finally, the Pixel 7a is fortified with the Titan M2 security chip, which provides a robust security framework designed to protect your personal information. Beyond the device itself, VPN by Google One extends this protection to your online activities, safeguarding your data across all apps and web browsers. I must say that it offers considerable peace of mind.
However, bear in mind that VPN by Google is a subscription-based service. While Google provides a complimentary 3-month subscription, you will need to pay for it once this period expires. The standard plan (the one I use), which comes with 20 GB of cloud storage and includes the VPN service, costs $2.99/month.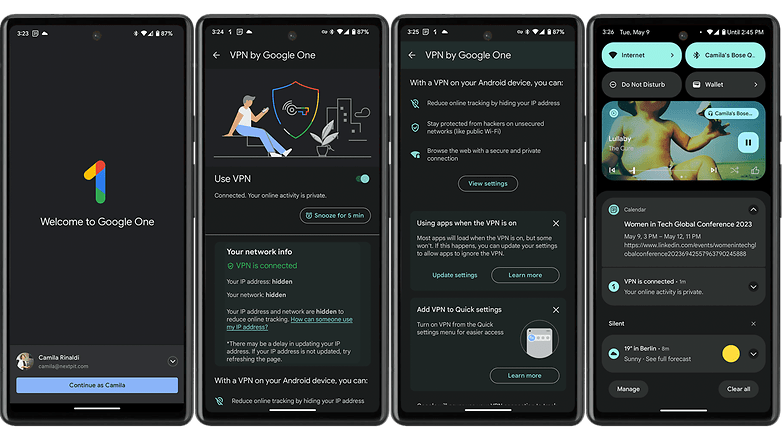 Google Pixel 7a camera
The Pixel 7a enhances the A-Series with a 64 MP main camera, a 13 MP ultra-wide lens, and an improved 13 MP selfie camera. Powered by the Google Tensor G2, it delivers impressively high-quality photos.
---
Pros:
A versatile set of camera modes

.
The night photos are impressively good.
The 2x digital zoom does a fantastic job.
Cons:
---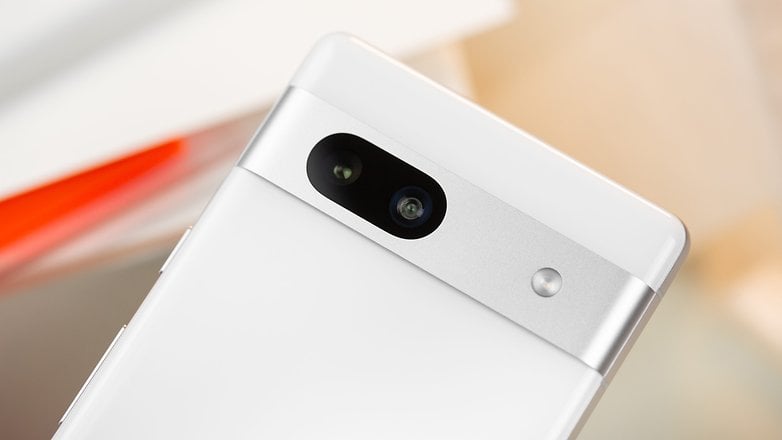 As it's a Pixel phone, the camera module is naturally the centerpiece... and it doesn't disappoint. Low light conditions? No problem. First off, it produces brighter and more vibrant images than the previous generation. There's a noticeable improvement, especially in low-light scenarios.
Aside from Cinematic mode, all the camera features of the Pixel 7 series are on board. This means you'll have access to the Real Tone feature for accurate skin tones, Super Res Zoom, and Long Exposure. In terms of editing tools, the Google Photos app provides Magic Eraser and Photo Unblur.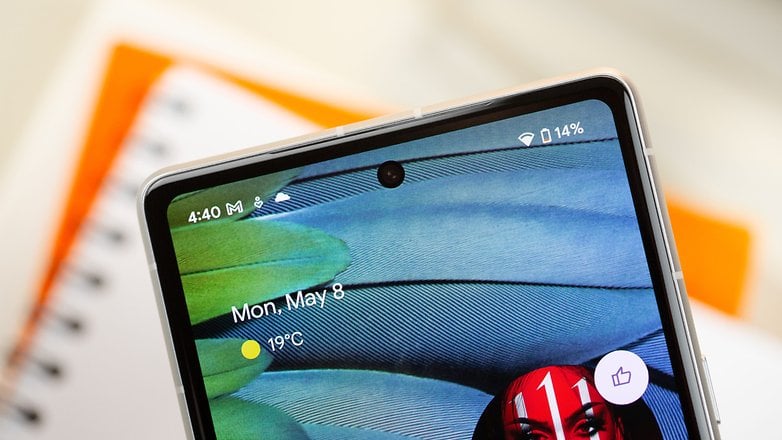 The phone also includes one of my favorite features of Pixel cameras: the exposure controls on the display. I always emphasize this option in any camera app because it makes it easy and straightforward to balance light and contrast right at the moment of capturing a photo.
Outdoor photos
In daylight, the Pixel 7a camera truly excels. The images captured showcase the natural colors of the scene and provide excellent contrast. Everything you see on the phone's screen is reliable; I had no unpleasant surprises when opening them on my MacBook later.
The digital zoom works almost as if we have a telephoto lens on this phone, but the ultra-wide camera exhibits noticeable distortion on the image sides. The camera focus and post-processing are speedy, and images in Portrait mode demonstrate great respect for the focus object's edges.
Indoor photos
Indoor photos are luminous and exhibit warm colors. Thanks to the warm/cold image controls, you can easily alter their appearance.
Night shots
Night shots were my biggest concern. Last year, while the Pixel 6a produced decent night shots, it didn't astound me. However, the Pixel 7a managed to capture an impressive contrast of colorful lights and darkness using the Night Sight feature.
The camera's capture time can range from 3s to 6s, and even with some shaking at the moment of the shot, the Pixel 7a managed to keep it steady. The night shots are my highlights for this camera in 2023.
Selfies
The front camera provides two configurations, essentially a wide and an even wider option. The 13 MP camera can capture a considerable amount of light, and it produces quality images even in extremely dark scenarios, although the hues can sometimes lean towards the greenish side.
Here, the Portrait mode does not initially respect the edges of the images as accurately as the main camera does, but this was anticipated. However, it's a Pixel phone and I would appreciate seeing the AI perform better in this respect.
Google Pixel 7a battery
The battery capacity of the Pixel 7a is slightly reduced this time around, at 4,385 mAh. However, it continues to offer all-day battery life on a single charge. Please note that to charge the Pixel 7a, you will need to purchase a power adapter separately, as it is not included with the device.
---
Pros:
Great battery life

.
The battery lasts up to 24 hours on a single charge.
Supports wireless charging.
Cons:
Fast charging could be faster.
Maximum charging speed of 18 Watts.
No Google adapter in the box.
---
The Tensor G2 is quite efficient at energy management. Although the display doesn't appear to consume as much power as many competitors, I stretched the device's usage limits with hours of gaming, music, and photo sessions, and it consistently managed to retain 20 to 30% battery life at the end of the day.
On a less empirical test, the PCMark battery life benchmark scored the Pixel 7a with an autonomy of 16 hours and 9 minutes, which is one of the best results in our reviews to date.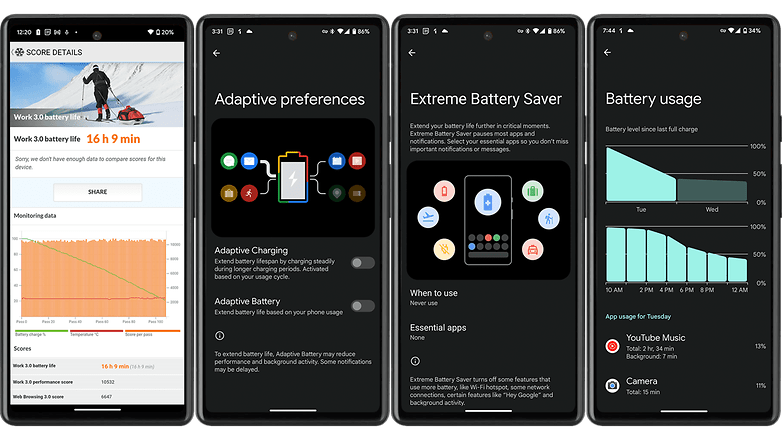 On the software front, the Pixel 7a features Google's Adaptive Battery technology, which is designed to intelligently learn your app usage patterns. This focuses power on frequently used applications while conserving energy for those you use less often. It also offers an Extreme Battery Saver mode, potentially extending the battery runtime up to an impressive 72 hours.
Personally, I may not be the target audience for these features, but if your work requires periods without access to a power source, both options could be extremely beneficial for you.
On a less positive note, Google does not offer a fast-charging technology that can power your phone at a significantly rapid pace. Quite the contrary, the Pixel 7a takes about 1 hour and 30 minutes to charge fully. Since Google does not include an adapter in the box, I used a 45-Watt UGreen charger for this test.
| | | | | |
| --- | --- | --- | --- | --- |
| Charging | Google Pixel 7a | Poco F5 | Galaxy A53 | Redmi 12 Pro+ |
| 5 minutes | | | | |
| 10 minutes | | | | |
| 20 minutes | | | | |
| 30 minutes | | | | |
| 1 hour | | | | |
| Full charge | | | | |
| PC Mark Battery test | | | | |
As you can see, in one hour you can replenish 78% of the battery, which I'd argue could be sufficient for a day's use of the phone. However, before considering investing in this phone, I suggest you read our editor's opinion on why a proper fast charge technology can make a difference, and alternatively, why it might not matter as much. Enjoy!
Finally, the Pixel 7a provides an extra convenience with its wireless charging capability. It's compatible with any Qi-certified device.
Google Pixel 7a technical specifications
Technical specifications
Device name
Image
Colors
Charcoal, Sea, Snow, Coral (Google Store exclusive)
Display
6.1-inch OLED,
1080 x 2400 pixels (429 PPP) resolution, 90 Hertz refresh rate
Corning Gorilla Glass 3
Dimensions and weight
152 x 72.9 x 9.0 mm, 193,5 g
IP Certification
IP67
SoC
Google Tensor 2 / Titan M2 security chip
7x ARM Mali-G710 (GPU)
Memory
8 GB LPDDR5 RAM
128 of storage in UFS 3.1
Software
Android 13 (Android security update: April 5, 2023)
5 years of security patches
Expandable storage
No
Main Camera
64 MP | Quad PD | Quad Bayer | f1.89 aperture | 1/1,73 sensor size | FoV 80º | 0.8 µm pixel size
Ultra-Wide Angle Camera
13 MP | f/2.2 aperture | FoV 120º | 1.12 µm pixel size
Telephoto lens
No
Video
4K at 30/60 fps (rear)
4K at 30 fps (front)
Selfie
13 MP | aperture f/2.2 | 1.12 µm pixel size | FoV 95º
Audio
Stereo speakers
Battery
4,385 mAh
Cable charging
Max. 18 W
Wireless charging (Qi)
Yes
Connectivity
5G, LTE, Wi-Fi 6E (802.11ax) with 2.4 GHz + 5 GHz + 6 GHz, Bluetooth v5.3 + BLE, NFC, Google Cast, GPS, GLONASS, Galileo, QZSS and BeiDou
Final verdict
Offering top-notch performance along with stable software and services, the Google Pixel 7a has outdone itself in the mid-range category, delivering a camera experience that exceeds expectations. Although the device doesn't quite surpass the Nothing Phone (1) in terms of coolness, it excels in every other aspect when compared to other premium mid-range options on the market.
At the start of this test, one thought constantly lingered: this is the phone for the cool kids. But it turned out to be much more than that. Anyone seeking an all-in-one device would be satisfied if they chose to invest in it.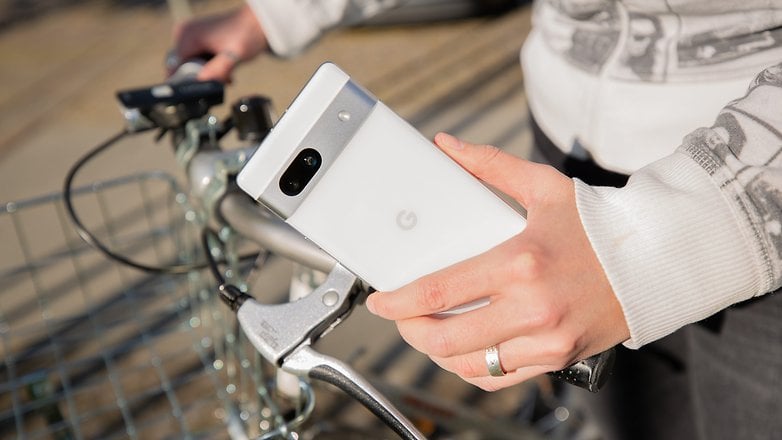 However, there is a substantial "but" here: Since the Pixel 7a is priced at $499, it's uncomfortably close to the flagship Pixel 7, which is $599. So, if you were willing to invest an extra $100 (sometimes even less depending on the time of year), you would get a better camera and a slightly larger display. So, when compared side by side, the 7a appears a bit less appealing.
Personally, I would opt for the Pixel 7a due to its more compact form factor. I realize that as reviewers, we should strive to be as impartial as possible, but I must admit, I really loved this phone!