Bluestacks Brings Android Apps to Windows This June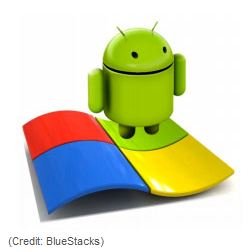 Ever wanted to play around with Androidify or the latest Angry Birds on your PC?
Bluestacks is promising you'll be able to do just that, with a program that'll use virtualization technology to allow Android to run on your Windows.
We've talked about Bluestacks before, but in case you need a refresher: the program will enable Window to use an Android app by simply clicking on an icon, much like a widget. While most Android apps were built for touchscreens, Bluestacks users will be able to use a mouse or mousepad to control applications.
Imagine printing something from within Android or making a call in Android's Skype application via Microsoft's VoIP drivers.
The company plans on releasing a free beta version of its software for people to download in June or July. It hasn't set a price for the final version, which is due to ship in the fourth quarter.
The app will have to use Amazon's App Store to sell its apps because Android Market apps are limited to those that run on ARM-based device; looks like Amazon has yet another potential scoop on the horizon.