Samsung Releases Mobile Unpacked 2012 App On Google Play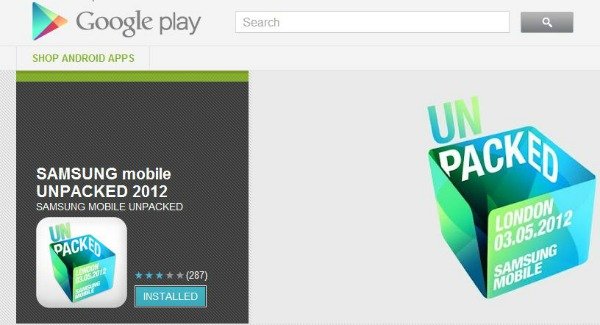 As much as we're looking forward to the unveiling of the Samsung Galaxy S3, booking a flight to London and finding a hotel in the city hosting the 2012 Olympics (EXPENSIVE) to watch the phones release is probably something that most of us won't be doing. But you're in luck, not just because AndroidPIT will be there, but also since Samsung has officially released their new Mobile Unpacked 2012 app in the Google Play Store. This app will allow anyone with a wifi or stable 3G connection to watch the unveiling of the GS3 device live on their phone or tablet, which is a cool idea. But there's only one problem...
I just tried installing the app on my SAMSUNG Galaxy Nexus, and my SAMSUNG Galaxy Tab 10.1, and on both devices the app crashed before opening. Maybe it's an Ice Cream Sandwich thing? If so, Samsung needs to fix that quick, especially considering that ICS is the stock OS on the Galaxy Nexus, and since it has already been rolling out to the Galaxy S2 for a while now. It would be a real shame if the app wouldn't work on Samsungs newest devices.
Anyway, if you want to grab the app, you can find it on the Google Play Store here. If the app is working for you, let us know in the comments which device and which version of Android you have it running on. Hopefully Samsung will roll out a fix for the app before the event happens next week in London.
Picture credits: Google Play Store