Android Powered Ouya Gaming Console Now Available For Pre-order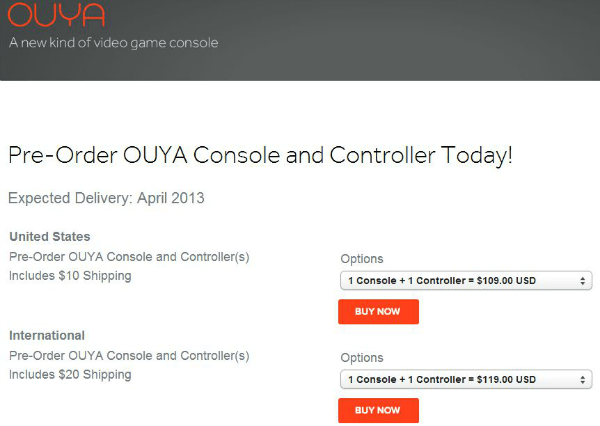 When I first wrote about the Ouya gaming console, I immediately fell in love with the idea. An Android powered gaming console to bring Android games/apps to your TV seemed like a winning idea for me from the get go, and after raising almost 9 million dollars on Kickstarter, I can see I wasn't alone. As the Kickstarter campaign is now over, fans of the console will be happy to know that it is now available for pre-order for the respectable price of $109.
Ouya "only" needed $950,000 to get the project off the ground, and after receiving 9 times that (one of the most successful projects in Kickstarter history), I am confident that this project could actually go somewhere. I pledged 150 dollars from day one in order to receive the console in March of 2013, and anyone interested in pre-ordering one now can expect them to ship in April of next year. That's certainly a long time to wait, but I'm already pretty damn excited about it.
So what can you expect from this console? For starters, some very popular game developers such as Robotoki, Namco Bandia, Madfinger, Square Enix, and more have already jumped on board the Ouya bandwagon. Onlive gaming will also be available for the console, and the console itself will ship with Android ICS, a Tegra 3 processor, 1GB of RAM, HDMI, USB, Wifi, and 8GB of internal storage. It is also open source and can be freely rooted, hacked, tweaked, and modded to your hearts desire.
Pre-orders for the console can be placed here. If you haven't heard about Ouya, you can read our previous coverage of it here, here, and here. Our 2 part interview with the CEO of Ouya can also be read here (part 1) and here (part 2).
Will you guys be pre-ordering one of these, or will you wait to see if it takes off first?