Gadget of the Week: Mini MicroSD Reader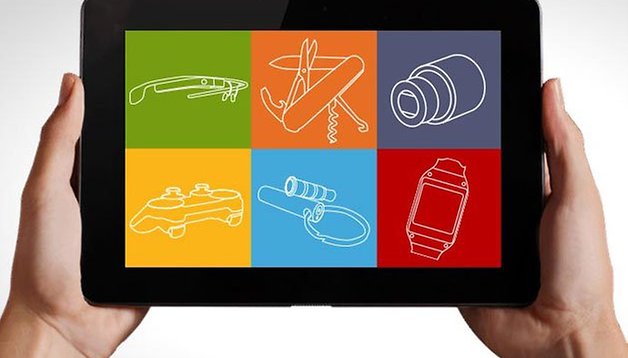 In our gadget of the week we show you a mix of extraordinary technology, simple solutions and cool gadgets that we find interesting - things that make life easier or just more fun. This week: the Mini Micro SD Card Reader for Android by MeenOva.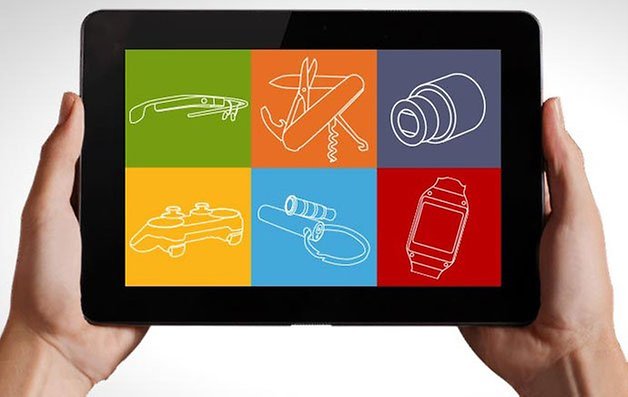 What is the Mini MicroSD Reader?
The Mini MicroSD Reader was realized via a Kickstarter campaign, as so many of the gadgets we see were and are. About 5,700 interested parties supported the makers with more than 70,000 USD of pledges, and showed just how big the demand is for such a simple gadget. Because this microSD card reader is one thing for sure: incredibly convenient! It facilitates the exchange of data between smartphone and PC or vice versa, allows you to play videos or music directly from the microSD card and also proves to be very helpful when making a complete backup of your smartphone.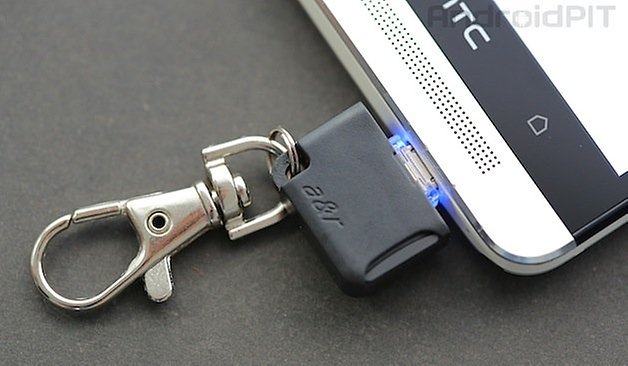 Specifications
| | |
| --- | --- |
| Dimensions: | 21 x 23 x 8 mm |
| Weight: | 2.7 grams |
| Connectors: | USB Micro-B, USB 2.0 |
| Supported memory cards: | MicroSDHC up to 32 GB, MicroSDXC up to 64 GB |
| Energy consumption: | 0.25 W |
| Compatibility: | Windows XP/Vista/7/8, Mac OS X, Linux 2.6+ |
| System Requirements: | Android 4.0+ with USB OTG support/software support for USB OTG |
How does the card reader work?
The Mini MicroSD Reader is easy to use: after inserting a microSD card, the reader is simply connected to the smartphone or tablet. Then you can access the memory card using a file manager just like you would a normal USB stick. For our test, we used Astro File Manager, and the data could be accessed and shuffled back and forth easily.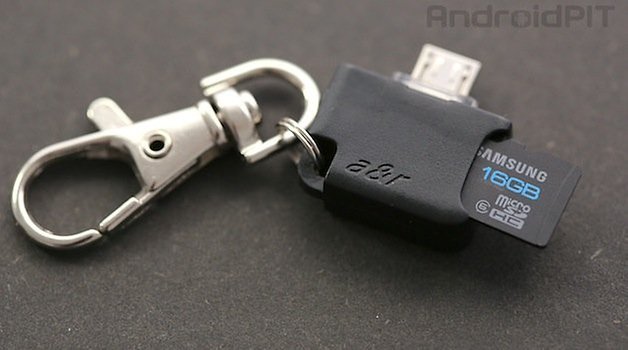 The following devices are compatible with the Mini MicroSD Reader:
Samsung: Galaxy S2, S3, S4, Note, Note 2, Mega, Galaxy Express, Galaxy Note 8.0 tablet.
HTC: One, One Mini, HTC First, One X +, HTC Evo 4G LTE DROID DNA.
Motorola: Moto X, Droid Mini, Droid Ultra, Droid Maxx, RAZR M, RAZR HD, RAZR MAXX, HD Xyboard 8.2 tablet.
Google: Galaxy Nexus, Google Nexus 7 (2012 and 2013), Nexus 10 (requires additional software, such as USB OTG drive or mount a device with root).
Sony: Xperia Z.
LG: G2, Optimus G Pro.
Other: Xiaomi 1S, 2, 2S, 2A, Xiaomi Box, Meizu MX, MX2, Asus MeMO ME171, Huawei Ascend D2, Ascend Mate.
Note: We have tested the card reader with the HTC Nexus One and Nexus 7 ( 2012). It does not currently work with the Nexus 4.
What's so cool about it?
With the Mini MicroSD Reader many devices get support for microSD cards, and thus more space, without necessitating a microSD card slot. The dimensions of the gadget are absolutely minimal and the card reader fits easily and conveniently on any key chain. For something that gives you up to 64 gigabytes of additional space it's perfect, especially for those who like to watch movies on your tablet or want to pack huge music libraries everywhere they go without using up precious app space on their device. With the Mini MicroSD Reader attached to your phone, you can record your movies in Full HD without having to worry about internal memory. Many more options for data transfer are also on offer.
Conclusion
Anyone without a microSD card slot in their phone or with large memory needs, and simply those who do not particularly trust cloud services needs to pick one of these up. The gadget is available in four different colors and costs $12 plus $3 for international shipping. The Mini MicroSD Reader can be ordered directly from MeenOva.
What do you think of this gadget of the week? Do you think it's a great little practical tool like us? Let us know in the comments!