Hotstagram Allows You to Rate Instagram's Hottest Users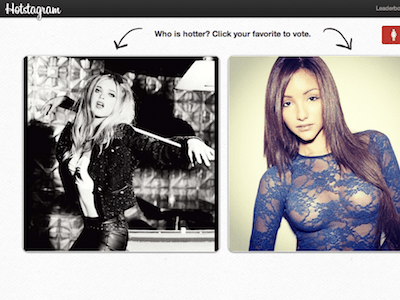 NEXTPITTV
An anonymous 27-year-old has created a website called Hotstagram, allowing the Internet to answer the old question, "which dude / girl is hotter?" Just like Mark Zuckerberg's first social networking project Facemash, Hotstagram splits pics of different guys and girls and lets the anonymous hive mind act as judge. The only difference is the pictures can be uploaded directly from users' Instagram accounts. Thankfully, following the release of Instagram for Android, our camp can now get in on the action too.
It's easy enough to submit a photo to the site. All you've got to do is add the hashtag #hotstagram to your Instagram photo uploads and await the public's judgement. I'm not sure if I'd ever submit myself or anyone I know to such scrutiny, but playing on the public's narcassism is never a bad business decision.
The project was launched by a San Francisco-based entrepenauer under the pseudonym "Captain Kirk." Rumors say he may or may not work at a start-up called Tracks.
Given the fact that the site has been down due to ridiculous traffic ever since its announcement, I'd say it's already off to a smashing start. Kirk told Business Insider the site was ranking 150 photos a second before it crashed and I have no doubt that number will have skyrocketed by week's end.
If your photo somehow ends up on Hotstagram without your approval, you can easily remove it – which should help with the inevitable backlash.
What do you guys think? Now Instagram has been released for Android, will you be uploading?