Self-Sustaining Smartphones Coming Soon?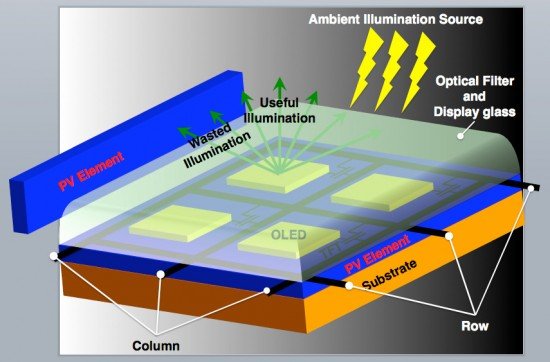 (An OLED display with integrated solar cells)
We've seen OLED display. Could this be the self-sustaining phone we've all been waiting for?
Only about 36% of the light generated by OLED screens is projected out of the front of the screen. The rest escapes to the edges of the screen, where it is ueseless. So the team at the London Centre for Nanotechnology set out to harness this excess light by putting thin-film PV cells around the displays edges.
Together with collection of ambient light (also from the screen), the innovation yields 11 to 18 percent efficiency, or 5 milliwats of power when the device is turned on. This may not seem like much, but every little bit counts when it comes to battery life.
The combined effects of hundreds of millions of smartphone users around the world using renewable energy to power their devices could have an effect on our long-term energy consumption. It isn't just about getting in an extra Angry Birds game (then again, that's nice, too).
While we're far from the release of a truly self-sustaining smartphone, innovations like these point us in the right direction. Since most of our phones spend the majority of their time in our pockets, it's just not realistic to be able to expect a phone to survive on solar panel alone; this innovation means they wouldn't need to.