English And Indian Android Fans Are Getting Ready For Galaxy Note Launch. Is It Worth The Hefty Price Tag?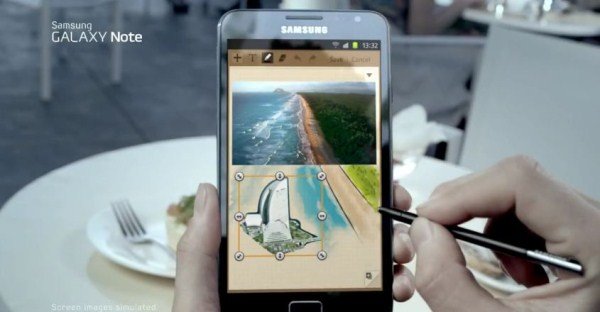 The Samsung Galaxy Note still hasn't been given a release date in the US but English and Indian Android Communities will be able to pick up the beast of a phone in the coming hours. But the Galaxy Note is a hard nut to crack. What is it? a phone or is it a tablet? Is it worth the approx. 500 pound price? Do I really need a stylus?
Since AndroidPIT's mission is to bring you all the latest about the best mobiles currently on the market, we've put together a summery of all you need to know about Samsung's new banner cell phone. If you've still wondering if the new Galaxy Note is the right handset for you, pull up a chair! We've boiled down all of our Samsung Galaxy Note information into one handy digest.
What is the Note? A cellphone or a tablet?
Let's get this one out of the way first. Featuring a 5.3 inch screen, the Samsung Galaxy Note is too big to be a traditional cellphone but too small to be an easy to use tablet so what is it exactly? A tablet you can place calls with? Or a mobile phone too big for your pocket? The answer is... both and neither. Samsung's philosophy is that each consumer needs a customized mobile experience. This philosophy is apparent in its product line where almost all screen sizes are represented–10.1, 7.7, 5.3,4.3– Samsung is anything but a "one size fits all" company.
But given the huge diagonal of the Galaxy Note, many have asked, is the phone just a tab bit too big? We had the opportunity to put a note through its paces here at the AndroidPIT news desk and in our opinion they actually did a great job maximizing the size of the phone while still maintaining it's ease of use, if you check out our hands on video (at the bottom of the post) you'll see that it's still comfortable to use despite its large size. What's more, the phone is designed to be a productive mobile handset so it needs the large size to allow you to take advantage of some of the notes unique functions, but more on that later.
Technical Specs
The Galaxy Note is not a cheap mobile by any means but if your looking for a high powered Android device, it's hard to find a better phone currently on the market. It's 5.3 inch Super AMOLED display features 1280 x 800 resolution (the best currently available) and the dual 1.4GHz processors assure for smooth use even during the most complex operations. If you need a refresher on what the Galaxy Note is packing, take a look at its tech specs.
1,4 GHz Dual-Core-Prozessor
5.3" WXGA(1280x800, 285ppi) HD Super AMOLED Touchscreen
Android 2.3.5 (Gingerbread)
Main camera with 8 MP and LED-Blitz
Front camera with 2 MP
Video recording and playback at 1080p
Bluetooth 3.0 + HS
USB 2.0
Wi-Fi 802.11 a/b/g/n, Wi-Fi Direct
16 or 32 GB internal memory with additional microSD card slot
Dementions: 146.85 x 82.95 x 9.65 mm
2,500 mAh battery
It is an impressive read out to say the least, but as I mentioned before, the Galaxy Note isn't designed as a purely passive device used to consume media. Where the Galaxy Note really shines is with productivity.
Special features
The vast majority of mobile devices are designed to allow users to better and more easily consume media but Samsung is hoping to reach a new market with their latest Android release: people wanting to produce content. This is apparent in all aspects of the Note's design; from the large format to the inclusion of a stylus, each design feature was chosen to help users better produce high quality media content.
Let's start with the most obvious new feature of the Galaxy Note, the S-Pen. When the Galaxy Note first debuted at this Fall's IFA trade show in Berlin, cries of "not another stylus" went up from around the blog-o-sphere. After the disappointing performance of the HTC Flyer, it's not hard to understand why. But Samsung has taken great pains to avoid another stylus fueled failure. The Galaxy Note doesn't use the S-Pen as a simple finger replacement. It is completely incorporated into the device and expands on the typical functionality of the Android operating system allowing you to quickly access menus, take screen shots and more precisely edit content. Our German editor Fabi prepared an extensive review of the S-Pen including a video displaying many of it's more advanced uses.
Where the S-Pen really shines with the Galaxy Note's photo and video editing:
Galaxy Note Video Editing Hands On From IFA Fall 2011
Galaxy Note Picture Editing Hands On From IFA Fall 2011
Is it the right phone for you?
So if you are currently sitting in England or India and asking yourself if the Samsung Galaxy Note is the right phone for you what should you take away from all of this? If you are looking for a cheap phone for texting and checking your emails, the Samsung Galaxy Note isn't for you. But if you are looking for a powerful multimedia device, that has made the jump from a passive PDA to a productive laptop replacement and you aren't afraid of a 500 pound price tag, then you may have just found your next Android device in the Samsung Galaxy Note.
Related Samsung Galaxy Note News: