No...This Is NOT The Samsung Galaxy S3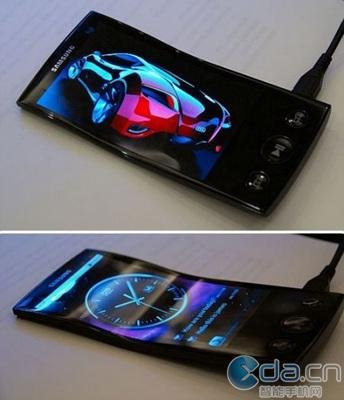 (picture from Xda.cn)
What...the...eff...is....this? Well, I can certainly tell you what it's NOT, and that's the Samsung Galaxy S3. My colleague Kamal saw this picture floating around a few Android blog sites that were apparently speculating that this photo might just be of Samsung's newest flagship device. Do I have a source to confirm it's NOT the device? Hell no, and I don't need one. I can tell you myself with 150% confidence that this "thing" is definitely NOT the S3, and anyone who's ever seen any of Samsung's newest devices would know that.
Man oh man..where do I start with this picture? The only, and I mean ONLY cool thing about this gadget is the curved screen. With that being said, I would like to direct your attention to the 3 big goofy buttons on the bottom of the device that look like they came off a VHS player from the mid nineties. I'm pretty sure those might be the same 3 buttons from the alarm clock in my fathers bedroom.
I also love the fact that you would never be able to lay the phone flat on anything, as it's forked in the middle like the letter V. This phone could literally give you motion sickness from wobbling back on forth on your desk.
I'm not sure how this charade got started, but lets just kill it before it starts ok? Samsung makes SEXY. The Samsung Galaxy S lineup, the new Galaxy 10.1 tablet, and their TV's are more than proof of that. So I guess...to some people...they really thought it might be possible that Samsungs cheif of mobile design walked into his bosses office and said "Ya know what? Screw our success and screw you too... Screw the fact that we have the only phone in existence that currently rivals the iPhone in sales. Let's change our design and make it ugly and craptastic, push it the way we push our other products, and hope for the best".
Honestly...someone really thought there was a 1% chance that this boomerang could be considered a Samsung Galaxy S UPDATE?
You have got to be kidding me....