Stay in shape with the best Android health and fitness apps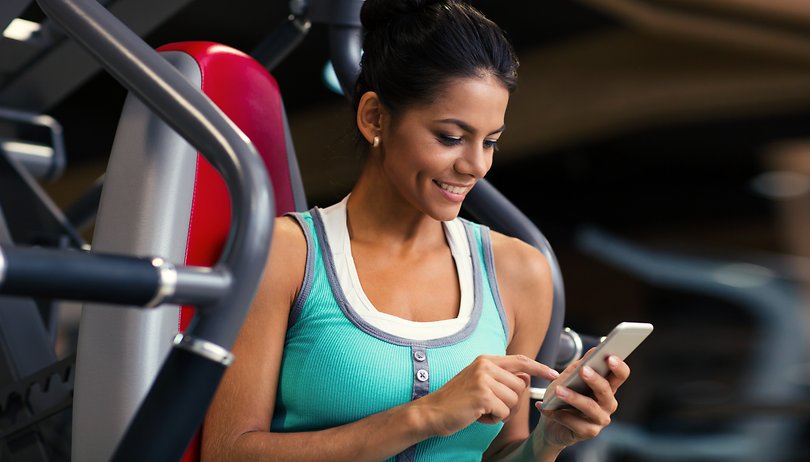 Thanks to improvements in the sensors built into our smartphones, fitness and health apps have never been so popular. They allow us to log various statistics, from the distance of a morning jog to the time spent lifting weights in the evening. If you're in the market for an app to help you record and make sense of all this data, there are plenty to choose from. Here are the best apps for tracking your health and fitness on Android.
RunKeeper has a good reputation and not because of the number of features in its own app, but also the number of third-party services it plugs into (it works with both Google Fit and Apple Health). If you're a keen runner, there aren't many better options than this one.
You can plot your runs on a map via GPS tracking, monitor distance covered and calories burned, set personal goals, integrate your indoor activities and more. Despite the app's name it can handle bike rides and gym workouts as well as running, so it's a comprehensive monitoring app.
Don't underestimate the power of community. There are social aspects to the app as well. You can share achievements with your friends, join and create running groups and use the chat feature to keep each other motivated. The app is free, but also has ads and optional in-app purchases.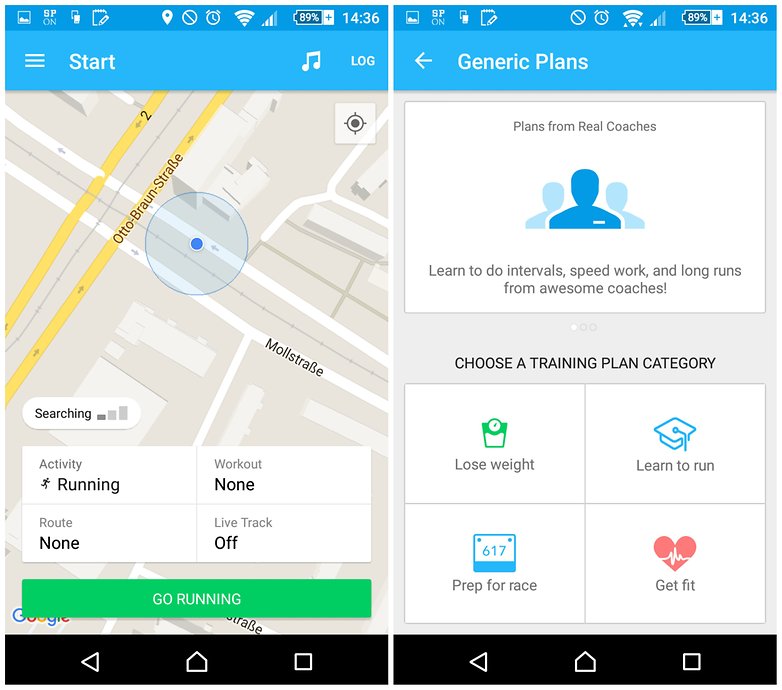 In addition to having all the features you need to set your goals and track your runs, the Nike+ Run Club app has an energetic and supportive community of millions of runners. You'll never lack motivation again, since with the Run Club you can compare your runs to others on the various leaderboards, participate in group runs, receive trophies and in-run audio cheers from your friends. The new audio-guided running feature with accompanying playlists guides you to improve your speed and endurance, while the personalized coaching plans adapt to your goals and progress levels.
Another well-known app with a strong reputation, Strava comes with a host of handy features, both in the core of the app and via separate add-ons. By tracking your bike riding (and running) via GPS, Strava can help you beat your own personal bests and challenge your friends as well.
Strava lets you track distance, pace, speed, elevation and other statistics as you go, and thanks to the data that's been collected from all of Strava's users, you can check out some of the routes that are popular with other people – even if you're a long way from home.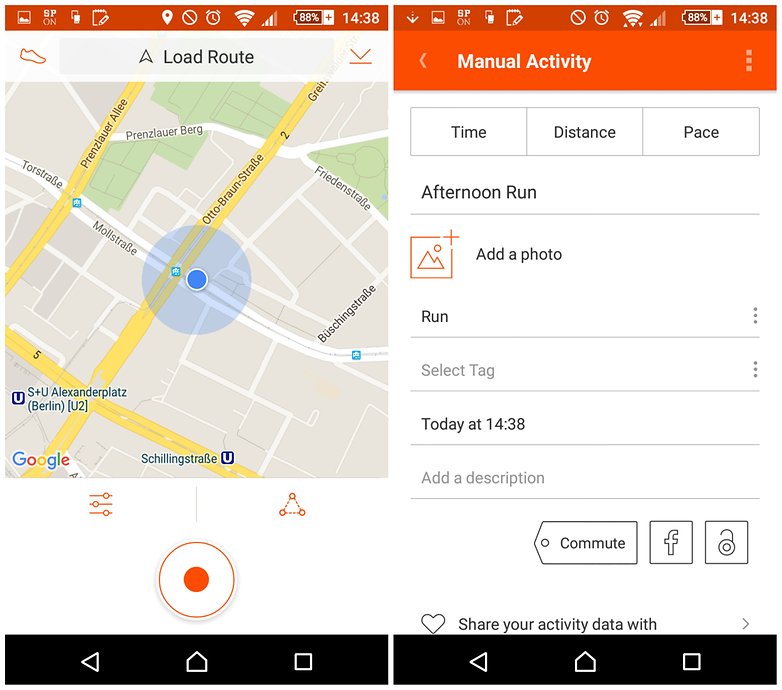 Do you ever wish you had a personal trainer? Here's a great alternative for those who are just getting started with fitness or only have time for quick workouts, as it has something for all levels and schedules. There are over 150 workouts, with something to suit everyone's taste, from intense endurance workouts to yoga. If you prefer a training plan, they are available in addition to the individual lessons. Plus, the app features some motivation from athletes like Serena Williams. There's no excuse not to get started, since there are many bodyweight exercises so you don't necessarily need equipment. And, of course, it syncs with Google Fit and Nike+ Run Club.
Google's own health and fitness app is no longer so sparse in the features department. It now can aggregate info from other apps, including Nike+, MyFitnessPal, Lifesun, Basis, Withings, Xiaomi Mi bands, and three from this list: Runkeeper, Strava, and Sleep as Android. It is tightly integrated with Android and Android Wear, so it's a convenient option as well. A web interface is available at https://fit.google.com.
Weight, heart rate, steps and activity time can all be logged automatically, and if you have the time to tell Google exactly what you're up to, you can choose from a long list of activities, from snowboarding to horse riding. You can set simple daily goals as well and get an alert when you've reached them. In addition to real-time stats, Google Fit will also give you personalized recommendations and coaching to help you reach your goals.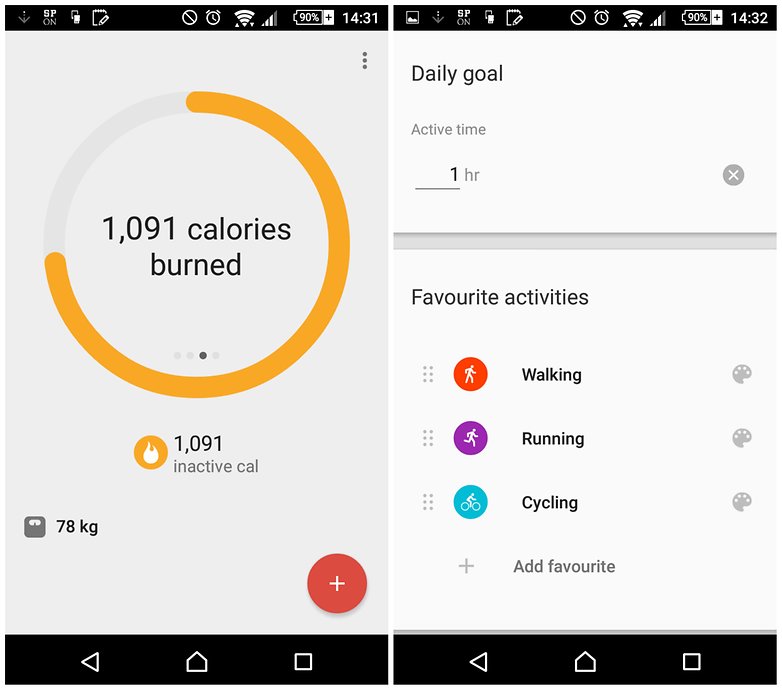 It's important to track your heart rate during the different stages of your fitness regimen. Whether this is before, during or after your workout, you should keep an eye on it. Instant Heart Rate gives you accurate heart rates when you need them so you can reach your fitness goals.
There are plenty of heart rate monitoring apps out there that track through a camera system, but Instant Heart Rate has some features that sets it apart. When you're working out, you can see what your heart rate is and check if it's moving towards the goal you want it to. For instance, you should have a different heart rate for weight loss and cardio and the app measures that.
Instant Heart Rate's tracking system gives you a timeline of your heart rate so you can track whether you've been hitting your cardio or fat-burning goals. You can also track your resting heart rate to look at the unhealthy stress put on your heart under normal conditions. The Pro version of the app is $2.99 and features unlimited heart rate tracking and no ads.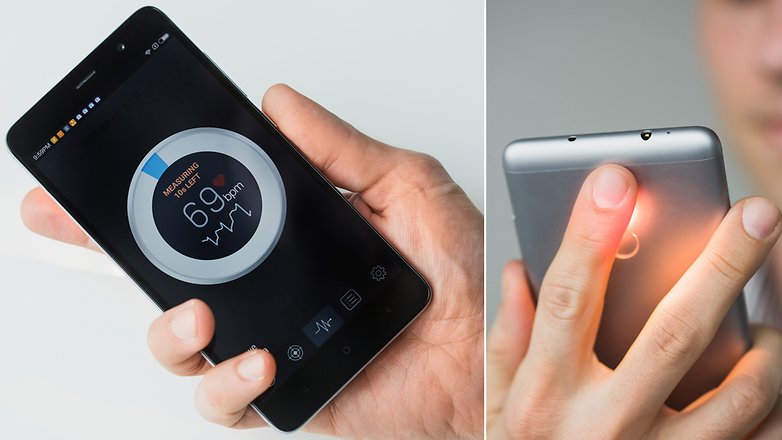 If you ever wondered how you're doing with your goals of eliminating excess body fat, then you should try BMI Calculator. The app is really simple, which sets it apart from other body fat measuring apps. All you need to do is plug in your height and weight and it will give you a percentage estimate of your body fat.
Once the app has calculated your body fat it will give you a recommendation about your exercise regimen. It tells you what category your body fat is in. There are eight classes of body fat on the app and they range from 'Very Severely Underweight' to 'Obese Class III'. It will give you a target weight so you know what your target goal is. Best of all, the app is totally free.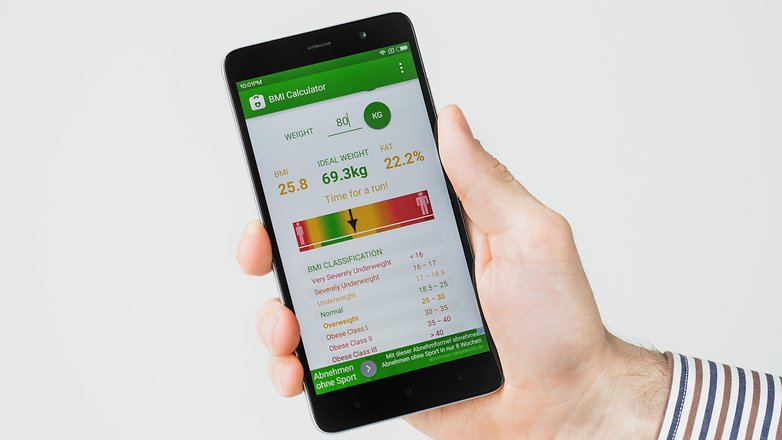 If you don't fancy the idea of going outside in winter or paying for a gym membership, there are still lots of ways you can keep in shape. The best app for working out in the comfort of your own home in Home Workout - No Equipment, from Leap Fitness Group. You will probably have come across apps from this developer in the Google Play Store before. The company is well known for its variety of weight loss and workout apps, and for good reason.
Home Workout - No Equipment teaches you daily routines that can be performed at home without the need for expensive gym equipment. There are a huge number of workouts in the app, so you can train all parts of your body from abs to chest and arms. You can also customize the workouts to find the right balance for your fitness regime.
What's your favorite fitness app? How often do you use it? Let us know in the comments.