Sprint Axes Popular Perks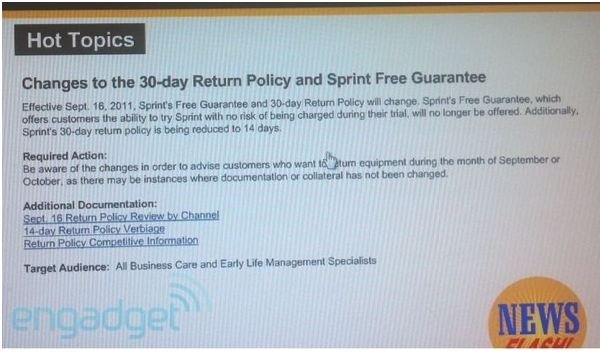 (Picture: Engadget.com)
After doubling their upgrade fee to $36 last week, Sprint went on a killing spree yesterday, trimming their return policy and eliminating both their premier program and 30-day-risk-free trial offers. What does this mean for current or potential Sprint customers? Read on to find out.
Sprint used to have a quite generous 30-day-risk-free trial offer that'd allow you to try out any phone and walk away at thend of the month without being charged a cent. This program got completely axed yesterday, with almost no explanation on Sprint's behalf and effective immediately. Sprint has also cut their return policy in half so now any customer that wants to return their phone will have two weeks to do so, rather than a month. That new rule will go into effect as early as tomorrow. Finally, any customers who've signed up for Sprint's Premier Program have until the end of the year to cash in on their remaining benefits.
Looks like Sprint is trying to cut costs where it can so it can focus on what customers really seem to care about: unlimited data plans. Still, these small perks undoubtedly drew new customers to the Now Network and, with them gone, Sprint is seeming more and more similar to the bigger networks; less flexible, less customer-centered and more focused on the bottom line.
Related:
Sprint Talks Up Nation's Only Truly Unlimited Data Plan in New "Charts" Ad