Samsung Wallet On Google Play It looks as though your smartphone is able to do yet one more thing, chalking up another feather in its proverbial cap in terms of everyday usefulness and convenience - if you use a Samsung device, of course. The Galaxy Note 2 - and it seems exclusive to those Samsung devices only at the moment. NEXTPITTV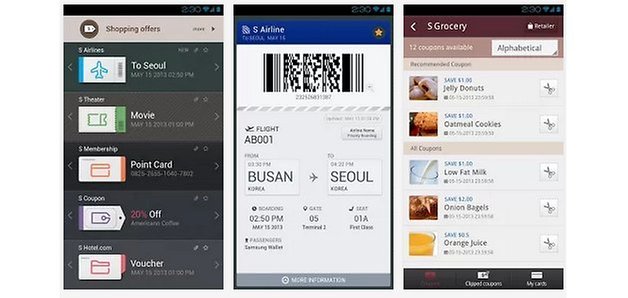 With the Samsung Wallet app, you will be able to begin to add Tickets from applications that you absolutely adore. All you need to do is keep a keen eye out for the 'Load to Samsung Wallet' button within your favorite application, press it, and you are good to go.
The Samsung Wallet app has been specially optimized for High Definition (HD) and Full HD Samsung devices as mentioned above, where its main function is to store and manage tickets, coupons, mobile boarding passes alongside membership cards in a solitary, convenient place. There are 5 default categories to choose from for the easy management of Tickets, and in due time, you too, are able to include additional categories for a greater degree of personalization.
There are also customizable time and location-based reminders which will depict the Tickets at the right time and place, and you are able to synchronize all your Tickets to different compatible devices which use a Samsung account. Advertisers might find the Samsung Wallet app to be another avenue for them to "share the love" as it can receive and store Co-marketing offers. All you need to do is download the Samsung Wallet app, sign-in with your Samsung Account, and start the journey of discovery of Wallet-compliant partners apps and offers from different loyalty cards.
Of course, other apps that you might want to consider getting as part of the essentials collection for your device would be Android Device Manager which will come in handy to track down your misplaced or stolen handset.