CyanogenMod Nightly Builds Now Available For the Samsung Galaxy S3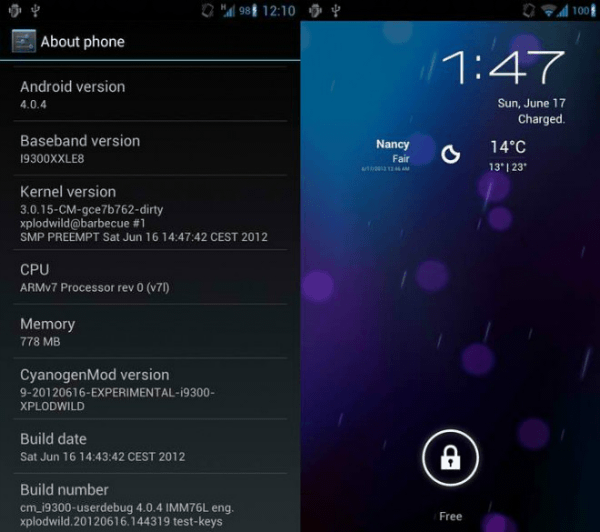 If you happen to be the proud owner of a Samsung Galaxy S3, but aren't a big fan of Samsung's Touchwiz UI, you're in luck. CyanogenMod, the well known group of modders responsible for bringing stock Android builds to dozens of Android devices, have now announced that nightly builds for the Samsung Galaxy S3 are now available for the public to download and test. If you're as big of a fan of stock Android as I am, I'm sure you'll love the tweaks the CyanogenMod team has added to Samsungs newest flagship device.
In order to use these builds, you will naturally need to be rooted. Keep in mind that while Cyanogen nightly builds are generally pretty stable, they are still in beta stages, meaning that bugs and minor issues might be present. As of the today, the "known issues" list contains the following bugs:
FM Radio: Currently not supported, try Spirit FM from market
Camera: Using LED flash causes FCs on some phones.
Wakeing the device up using volume keys might not work because the device is sleeping too deep and doesn't recognize key presses
The XDA thread for the nightlies can be found here, and rooting instructions for the device can be found here. After installing the nightly ROM, it will run Android 4.04 (stock with no Touchwiz), which is the newest version of Ice Cream Sandwich. Remember, rooting your phone can result in it ending up as a very expensive paperweight if you're not careful, so please follow instructions carefully if you do choose to proceed. You have been warned!
The good news is that you can root the Galaxy S3 via a Toolkit (similar to the toolkit used to root the Galaxy Nexus), and that it's a relatively easy device to root.
Picture credits: www.droiddog.com