"Because We May" Game Sale Now On Google Play = WINNING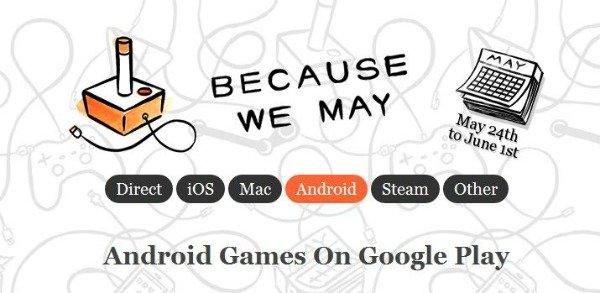 Attention Android gamers! If you're into gaming on your phone or tablet as much as I am, then get out your credit card and make sure your phone or tablet has plenty of space to install some new games! "Because We May", which is a new video game sale put together by a group of indie game developers, have started a sale that will last until June 1st, and are selling lots of heavily discounted Android games on the Google Play Store for a limited time only. It's times like these when I'm glad I have 64 gigs of storage on my tablet.
The concept behind this sale is that developers want to promote not only the games they sell, but the online stores that sell them. The sale isn't limited to Android, as there are also lots of heavily discounted IOS, Mac App Store, and for Steam, and I have already picked up 4 or 5 titles since finding out about this.
There are ALOT of games discounted, but just to name of few of my favorites that are currently on sale:
Osmos
Riptide GP
Anomaly Warzone Earth HD
….and so many more.
The sale only lasts until June 1st, so be sure to head on over to the Because We May website here and get your game on!