Sony Ericsson Xperia Android Update Roadmap Leaked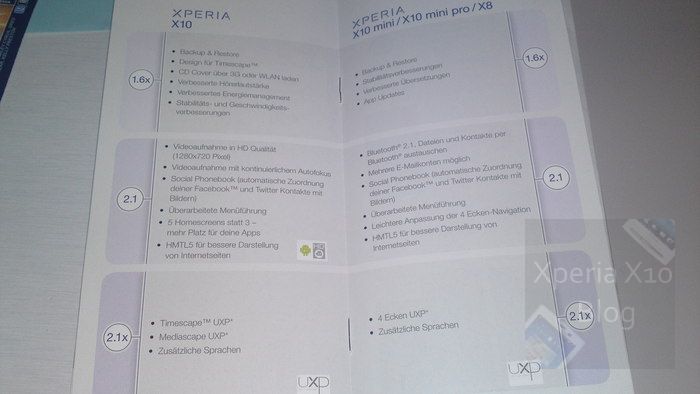 The document, which is in German, reveals that there will be an update after Android 2.1 for both the X10 and X8 line, focusing on UI and additional lanugage support. Most of the document only confirms features coming in the update, but fails to mention a date for the updates to be released.
The X10 family, like many other phones, was announced by Sony Ericsson to receive the next Android update in late Q3, but we are still waiting on the official specific date. Android Central adds that they "have been hearing that the X10 will be updated so often that anyone's guess to when that will be is as good as ours. "
Phandroid hasn't give up hope yet, however. They express their hope that the pamphlet mentions Android 2.2 on the next page:
Please tell me there's information about Froyo on the next page! The suspense is killing me.
The article from Xperia X10 Blog was updated with word from a user supposedly in the know, claiming that "the Android 2.1 update is expected in October/November" while "the Android 2.1x update will fall in December 2010/January 2011." They go on to infer that if his information is correct, there won't be an Android 2.2 update anytime in 2010.
Other Sources: Android Central, Phandroid
Image from Xperia X10 Blog