New HTC Commercial: a Rezound-ing Success?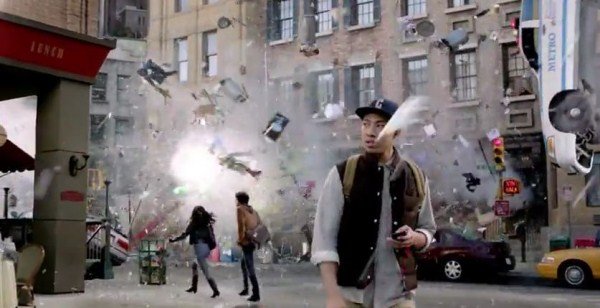 When it comes to wild, sensationalist advertising, Android is king, as we explored in one of our posts last week. From decapitated cyborgs to eight-armed ladies, it seems carriers will do anything to hype the newest smartphone. But, as far as budget is concerned, I think the latest ad for the HTC Rezound takes the cake.
In this 30-second spot, HTC shows off the Beats audio feature on the latest HTC phone: the Rezound. The earbuds on this phone are so powerful that they literally explode garbage cans! And police cars! Holy moly, it looks like a bomb just went off, but the bomb was a phone!
HTC Rezound actually has a lot more to brag about than just Beats technology: It'll also be the first phone ever released with a 1280x720 HD display...but perhaps the average consumer has no idea why this is a big deal. Other than that, the phone features a 1.5 Ghz processor, 1GB of RAM, an 8-megapixel rear camera with 1080p HD video recording, a 2MP front camera, 16GB of internal storage and a 4G LTE radio. Phew!
So far the video has racked up 34,000 hits with a majority of folks hitting the "like" button. What do you think about this costly ad?
Related:
[Video] HTC Rezound– New Dual-Core Beats Phone To Lead Charge in America