HTC Round Up: HTC Holiday Gets A New Name, HTC Gets New Profits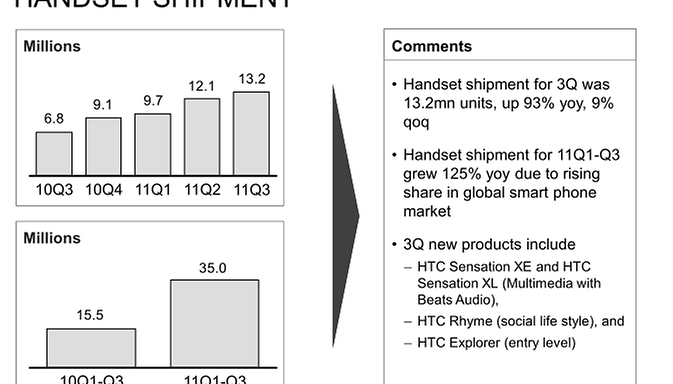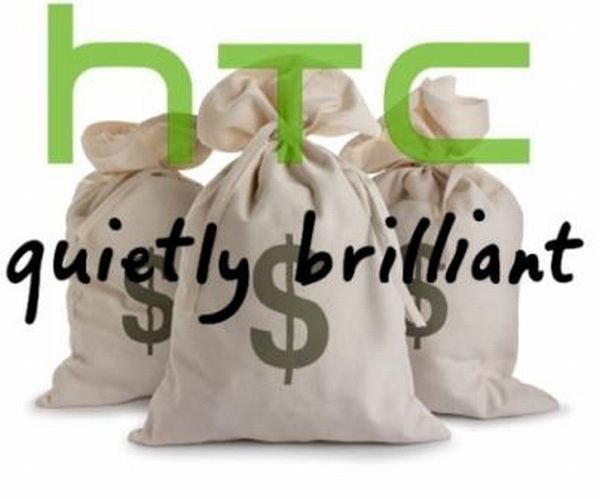 HTC is having a banner quarter. Not only is the maker of the Sensation XE and Sensation XL preparing to launch the re-branded HTC Holiday as the HTC Vivid in the USA, but the Taiwanese smartphone slugger has managed to rack up their most profitable quarter in company history. HTC may be quietly brilliant, but with their latest numbers, they're causing more then a couple ripples world wide.
HTC Holiday: New Name And New Specs
Up till now details of HTC's upcoming US release were few and far between but now the hard facts have slipped out regarding the HTC Holiday. The new Android handset has been renamed the HTC Vivid and according to the official spec sheet, the Vivid is shaping up to be a nice addition to the US smartphone market.
Android 2.3.5 with HTC Sense
4,5 inch qHD-Display
resolution: 540 x 960 Pixel
1,2 GHz Dual-Core Qualcomm APQ8060 Processor
16 GB internal meemory
Back: 8 MP camera with double LED flash, front: 1,3 MP camera
video recording at 1080p with 60 fps
GSM 850/900/1800/1900 MHz, UMTS 850/1900 Mhz, LTE 700 Mhz
HSPA, EDGE, GPRS
microUSB
microSD card slot (bis 32 GB)
The HTC Vivid is scheduled for a November 6th release in the contental U.S. and could shape up to be one of the best HTC smartphones ever released.
Good Time To Buy HTC Stock
As HTC's well rounded portfolio of Android mobile devices wasn't impressive enough, HTC decided to one up themselves in the business department. According to their blog, HTC's net profit in Q3 was just shy of half a BILLION dollars US– up 68% from last year and 7% from Q2 of 2011. I'll just let that sink in for a bit. Yes, that was billion with a 'b'.
Of course, along with their take-home profits, their total business improved as well. Their total business reached $3.24 billion as was due mainly to the high profile their devices have on the international market.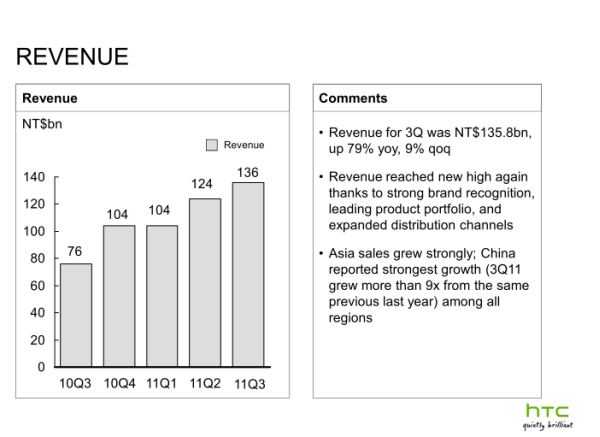 While their numbers world-wide were great, HTC's real success came in their expantion in the Chinese market, where they were able to move 13.2 Million handsets or 92% more then the previous year.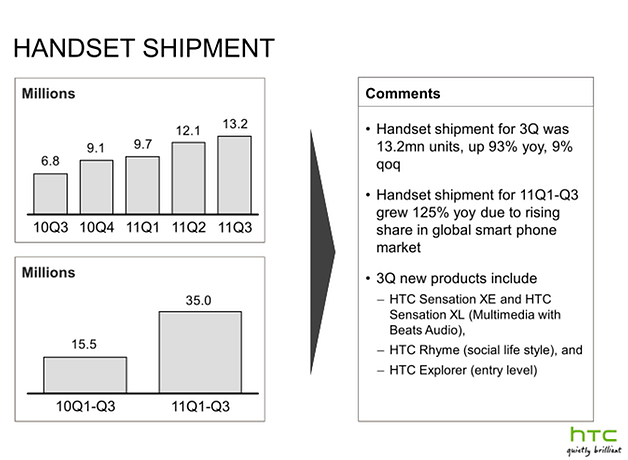 Related HTC News: